January 23, 2012 | Building, Natural Building, Water Harvesting + Reuse | 9 comments | Author: Kirsten Bradley
So just over a year ago, our house dam filled for the first time. And then went into scary nearly-melt-down. So we pumped the water out, fixed it, and then waited for it to fill again. And waited. For a … Continued
---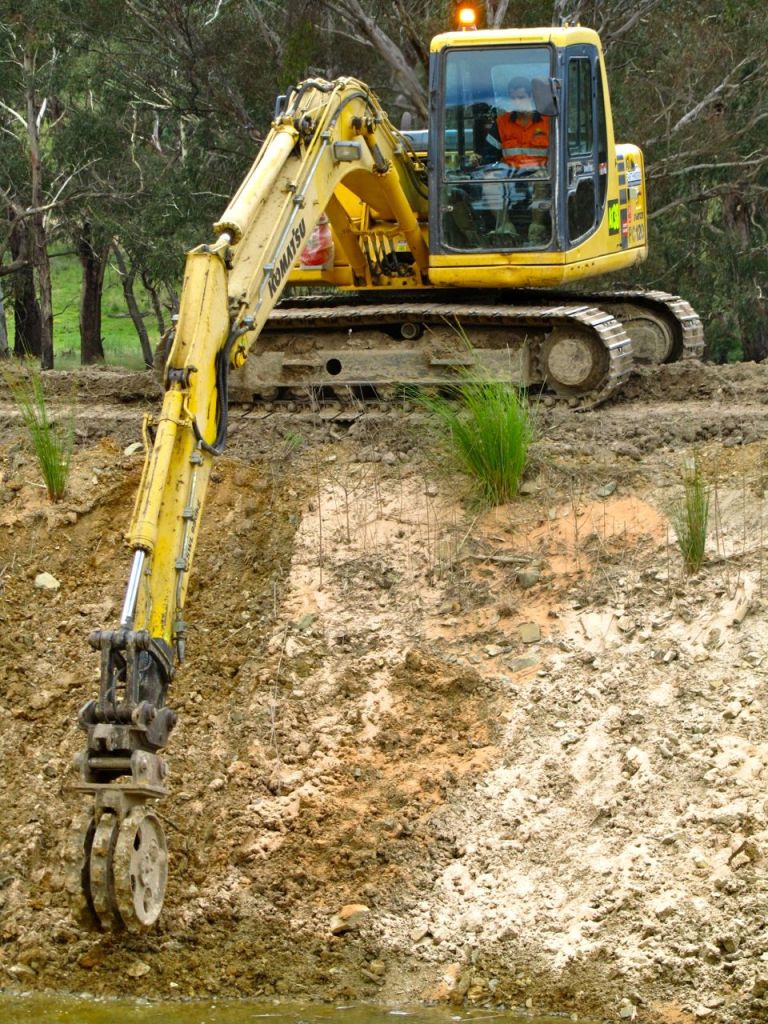 March 16, 2011 | Permaculture, Permaculture Design, Water Harvesting + Reuse | 21 comments | Author: Kirsten Bradley
First off, i would like to make an important point: we are yet to meet a challenge at Milkwood Farm that we could not fix with careful thought, good advice, relentless research, a strong dose of creativity and a stronger … Continued
---
January 27, 2010 | Farming, Uncategorized | 13 comments | Author: Kirsten Bradley
Nick and Mark discussing the merits of DIY dam sealing techniques
A leaky dam is an embarrassment to everyone concerned. The earthworks operator who built it feels terrible. The people who paid for it feel indignant. The folks who designed it feel responsible. And the ground beneath the dam wall feels wet.
---
February 15, 2008 | Video | 4 comments | Author: Kirsten Bradley
[youtube=http://www.youtube.com/watch?v=-cBerVdPsqk]
The studio dam, the one halfway up the ridge and in the middle of our system, was the first one we all sunk our teeth into. And boy oh boy…earthworks are something else… it's like having your skin torn off in large slabs, while someone tells you it's not skin, it's just butter. No problem…
---
January 31, 2008 | Video | 1 comments | Author: Kirsten Bradley
[youtube=http://www.youtube.com/watch?v=xJTssuxBMhU]
Having grand plans is all very fine, but there comes a time when one must make the first, single, decisive gesture towards action.
For us, this meant placing a small wooden peg, painted white, at the southern boundary of Milkwood. And then surveying a contour which continued aaaallllll the way around the hillside at the same height as that first peg, right around to the other boundary of Milkwood on the western side of the ridge.
---
January 17, 2008 | Permaculture, Permaculture Design | 3 comments | Author: Kirsten Bradley
Aerial photo of Kirwin, with Milkwood top left-ish. Taken in about 2002, we think.
Standing on a bare hilltop, with the creek below and a small creekflat to the left, it all seemed so easy when we first got here… all we had to do was figure out where to put some structures, avoid the big trees, and build a bridge over the creek to get in. Grow something on the creekflat, put in a vegie garden, and get water from the sky… and the rest of it all, all those complex ideas and fiddly bits, could just wait till we were nicely set up.
---
November 21, 2007 | Courses + Workshops | 0 comments | Author: Kirsten Bradley
Water is precious. And hard to find, around here. The process of designing hydrology into a site so that whatever water is available is used intelligently and for multiple purposes before it is allowed to seep out of the soil and into the creek is a tricky task. We have spend nigh on a year now, just watching the rainfall and the landscape and thinking and planning how we would best design Milkwood to make the most of our limited rainwater catchment.
---