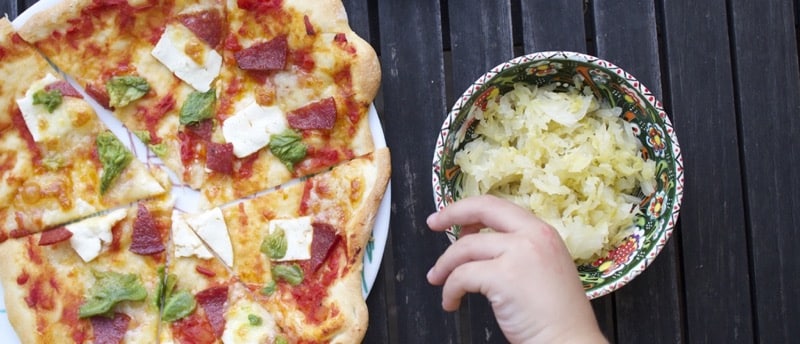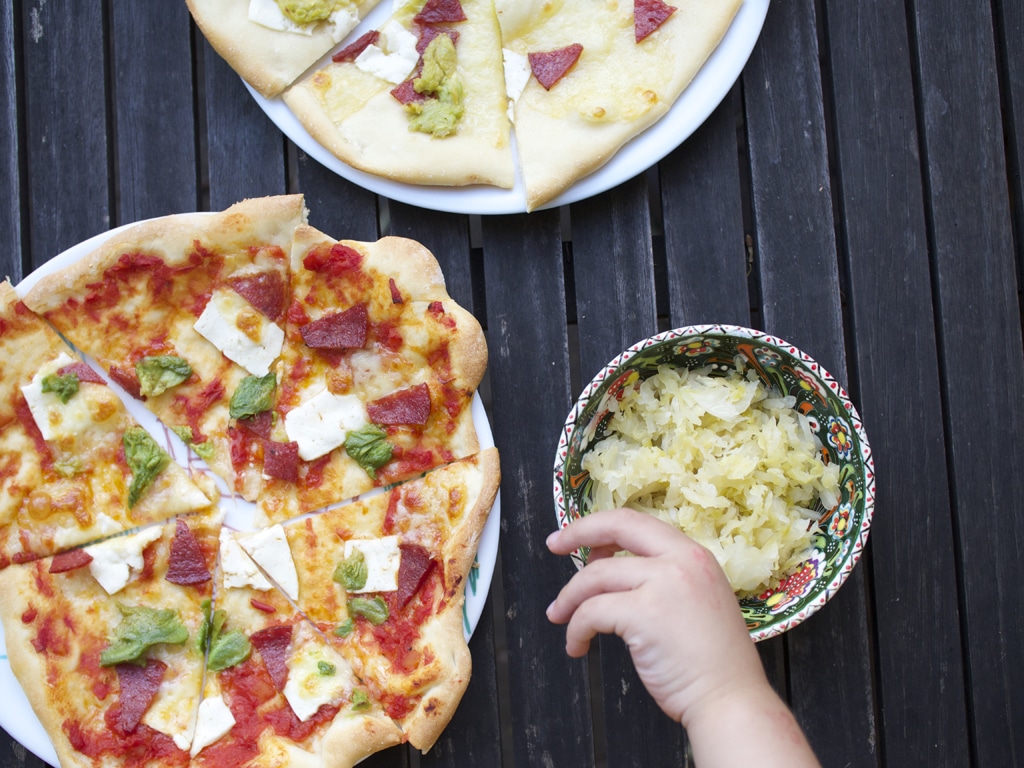 I always thought I was being fairly sneaky in stirring through sauerkraut in my two year old's dinner or lunch plate.
I would sit smugly, watching her eat it. Quietly high fiving myself, on my stealth like techniques in getting all that extra wonderful bacteria in to her.
Turn's out my smugness was just a little misguided (Although, I wasn't made aware of this until recently).
Our family had sat down to eat, and there on the table was a modest sized bowl of sauerkraut for, let's face it, my own eating pleasure as no one else was going to be eating it.

My small sized daughter went straight to the bowl. Heaved most of the fermented goodness on to her own plate and then started eating it with an unmatched enthusiasm.
Not a grimace, not a raise of an eyebrow, not a squint of the eye. Her little face was just as happy as if eating a flower covered cupcake.
Now this was a curious scene. It certainly stopped me in my own eating tracks.
Turn's out I wasn't 'sneaking' the stuff into her lunches at all, this instead it seemed, was the highlight of her meal.
She would have knocked the whole bowl back if I hadn't wanted a little for myself. The end of the meal and all that was left was the sauerkraut juice.
I watched her drink it down. All the while making happy slurping sounds.
This was a happy kid just quietly enjoying her sauerkraut.
My other two children? Not a chance. Not a tiny chance. For them I really have had to resort to sneakier methods in order to get more naturally fermented foods in to them.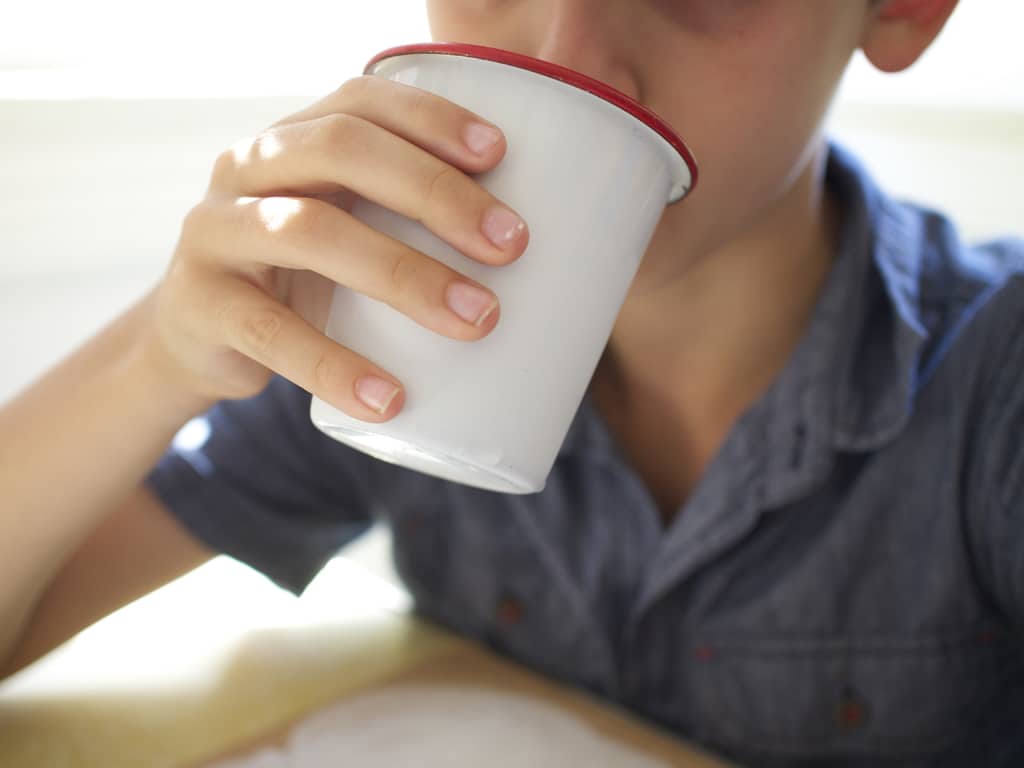 Kombucha
This is an easy one to start off with, and hide in their drinks. Ease into it by matching it with something that is easily palatable for them and then slowly whittle it down, and upping the kombucha ratio.
For my sauerkraut loving small one, sipping straight kombucha isn't much of an issue. For my other two however, it's Operation Stealth Health on a regular basis.
Matching the kombucha with something like fruit juice is an easy way to get it by them.
Adding a good slug of kombucha when making a banana smoothie is also another super simple method.
Flavouring the kombucha during the second ferment occasionally gets by my older kids. Depending on the flavour choices of course.
Ginger is usually more palatable to them as they love Ginger Beer.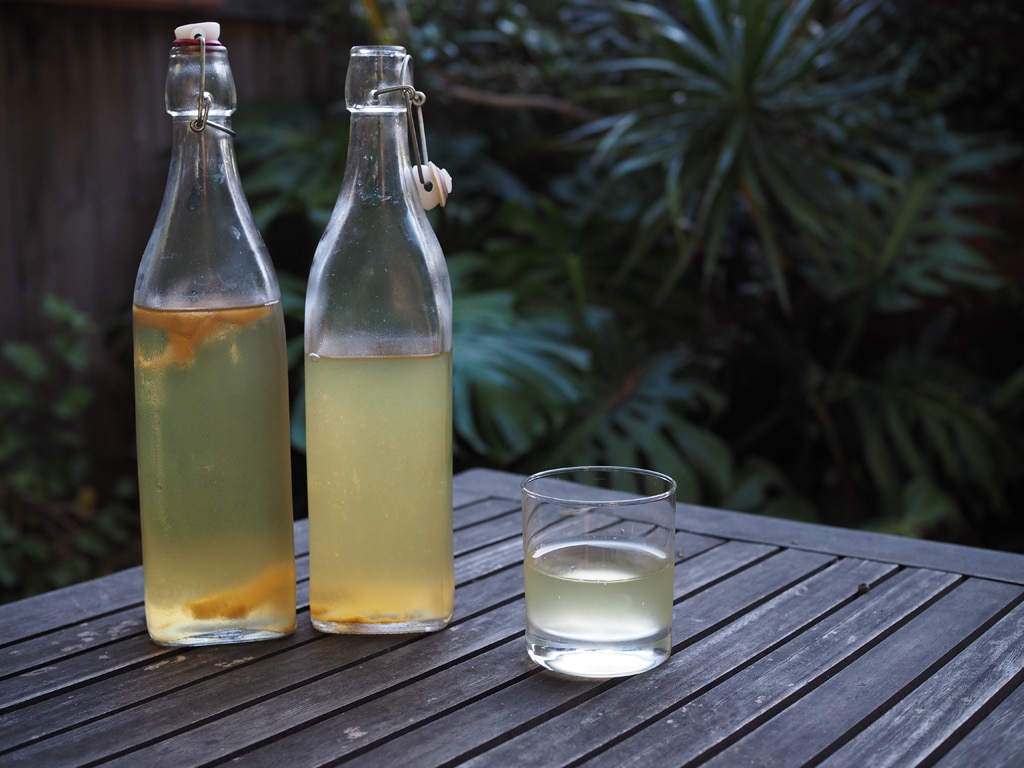 Ginger Beer
Probably the easiest of the fermented drinks to get by most people embarking on a more fermented diet.
Sugar is the key here as it makes things a whole lot more palatable for most people.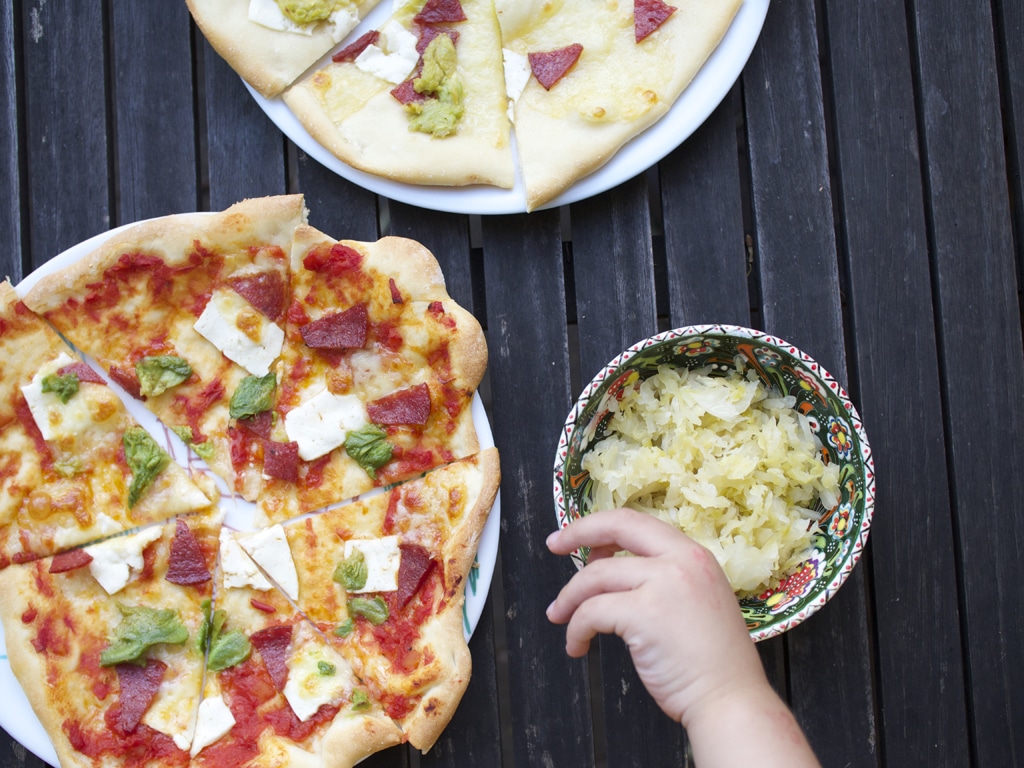 Sauerkraut
Now I know not everyone's kids will be pushing past others to get to the sauerkraut bowl.
If you would like to try them with a bit I would suggest stirring a little through another dish first.
A lot of people seem to forget that sauerkraut doesn't need to be eaten just as an accompaniment. Stir it through a rice salad, a pasta dish, soup, whatever it is that regularly is on your dinnertime table and mix a little in.
Sourdough Bread and Yogurt
are also really good (and easy to make) fermented foods that most kids will enjoy eating.
All of these fermented foods and drinks mentioned are great for kids to also get involved with in the making.
Most kids will adore helping with the almost science experiment of kombucha, the taste shaboom of ginger beer, the hands on feel of sauerkraut and the endless taste variations of sourdough and yogurt.
I do think starting kids off early on the different fermented tastes makes it a little easier, (which is why I have a sauerkraut gobbler perhaps?).
However, it's never too late; sneak some of the good stuff into their drinks today. Their gut health will thank you for it!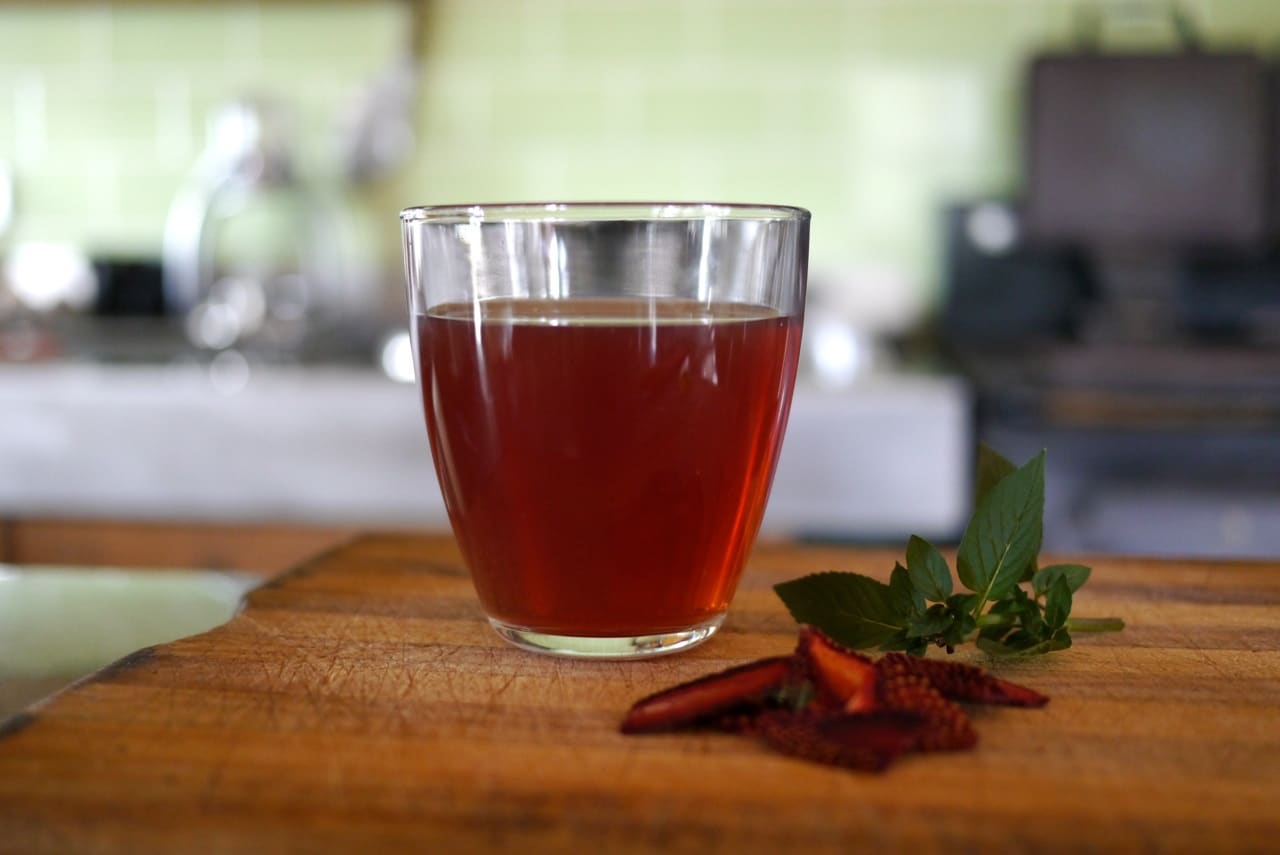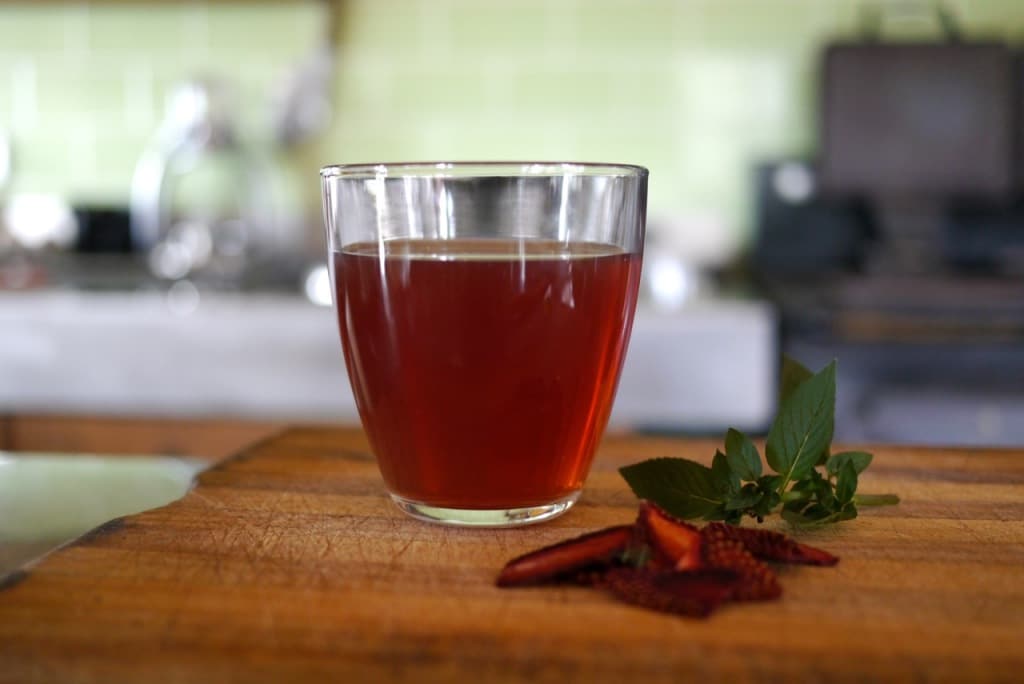 Here's some family-friendly recipes for…
Also, if you'd like to learn the fermentation ropes, do a fermentation course with us! We'll get you bubbling…
Do you have any fermented favourites in your family? We'd love to hear about them below…
Your guest writer today is Brydie Piaf – home baker, maker, blogger, photographer and wrangler of small people. Thanks Brydie! Yummo.