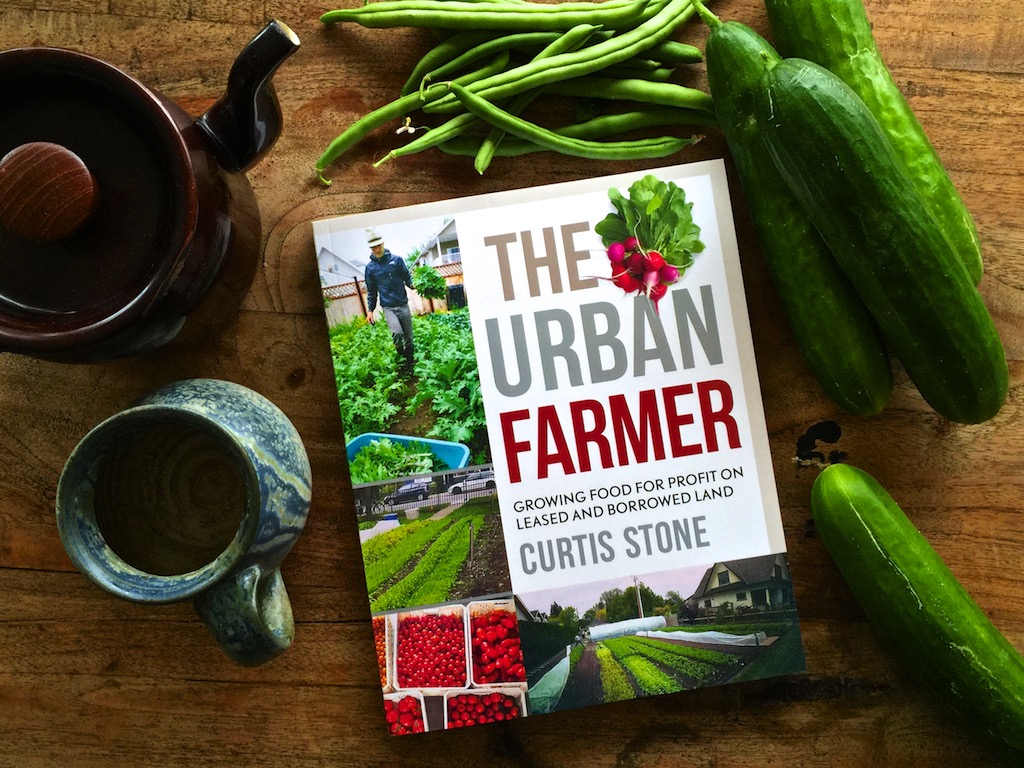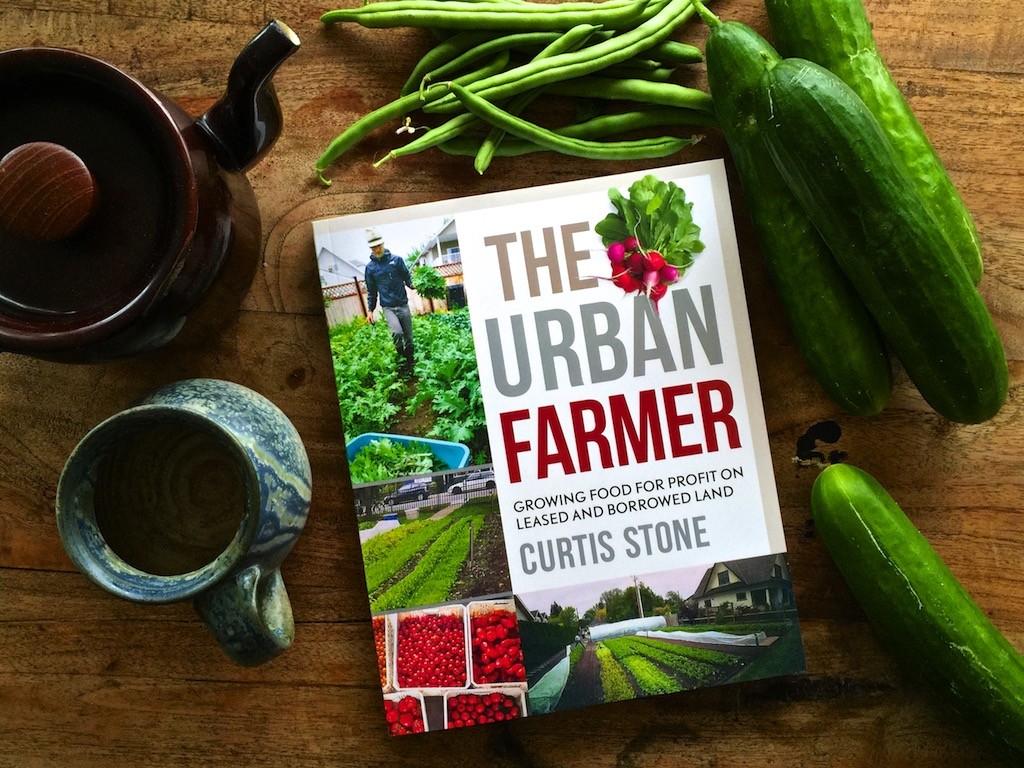 This book is well overdue. The Urban Farmer is a clear and concise manual covering both the how and the business of growing good food as an enterprise on rented urban or sub-urban plots.
Canadian urban farmer Curtis Stone (no, not the Australian colesworth pin-up chef, this guy represents the opposite of that kind of food system) is a man on a mission, and a good one too.
Farming as a livelihood. It's no small task. And therefore, many aspects of this book are about how to make a profit.
Because, put simply, unless you can figure out how to make a profit, and a decent one too, within a self-funded farming enterprise you won't be farming for long.

But it's not just the farmer who will profit from a farming system like this. This is the pointy end of local food, for cities and towns across Australia and beyond.
This is what retrofitting the suburbs requires, to enable a future for our towns as thriving communities.
This is what resilient food systems require. People who learn the skills, start farming, and make enough of a living to keep farming and providing their direct community with good food.
In each and every town. Are you up for it?
This book is the result of six growing seasons in his native town Kewlona in Canada, during which time he started with growing veg on one rented plot, and then expanded to multiple sites, basing his early techniques on the SPIN farming system.
Currently, he grows on multiple sites, under a variety of lease agreements, and bases his operation from his backyard – that's where the crop washing, processing and dispatch happens from. The produce is then cycled by cargo bike to downtown restaurants and farmers markets – both direct sell customers.
And so this book covers the nuts and bolts of growing chemical-free food in an urban context, from seed to market, as well as the logistics of working on rented land.
It's easy reading and full of tips and tricks of setting up, growing, harvesting + selling that are particular to certain crops and also particular to the urban context. But it's a more important book than that.
This book also explains and encourages the essential need for good record keeping and crop evaluation in an small-plot enterprise growing context, in order to ensure that your time + available growing area are best used to generate a stable livelihood.
Part of what Curtis has found (as you might expect, if you think about it) is that small-plot urban farming as an enterprise doesn't suit every food crop.
To make a living off small pots of land, the crops chosen have to be popular, fast growing, give a good yield from minimal space, and preferably crop over a long period of time.
But how do you tell which crops do this best? Good research and record keeping, that's how.
For deciding what to plant to ensure a profitable harvest Curtis scores each crop as he grows them with a range of parameters ( fast growing / high yield / sell price / cropping length / popularity ) that add up to a Crop Value Rating (CVR) – over time, this lets him balance diversity and new crops against those with a high all-round CVR – ie crops that are a sure thing.
And sure things mean profit, which in turn means getting to farm for another year. Happy farmer, happy community.
We'd recommend this book to anyone thinking about growing at scale in a small-plot environment; whether that be out the back of a cafe, on rented land, in their back and front yards, or indeed out the back of their farmhouse.
Grab a copy from one of the bookstores below, or better yet, get a signed copy when you come to our Urban Farming Masterclasses in Sydney or Melbourne this February.
One day of Curtis Stone, one day of Jean-Martin Fortier (aka The Market Gardener). Oh yeah.

Where to get a copy of The Urban Farmer:
If you're in Sydney, head to Florilegium Bookstore in Glebe – they also do great mail order.
If you're in Melbourne, Books for Cooks are getting some in.
Your local independent bookstore!
Australia's largest independent online bookstore Booktopia.
Or if you really must, there's also Amazon.
You can follow Curtis's farming journey on instagram or via his website.