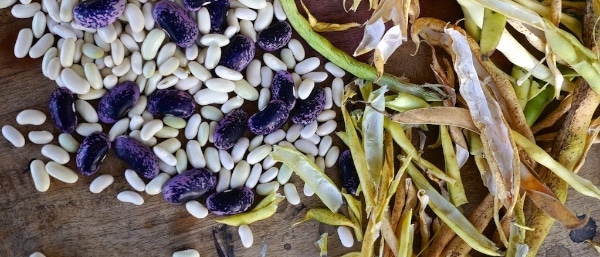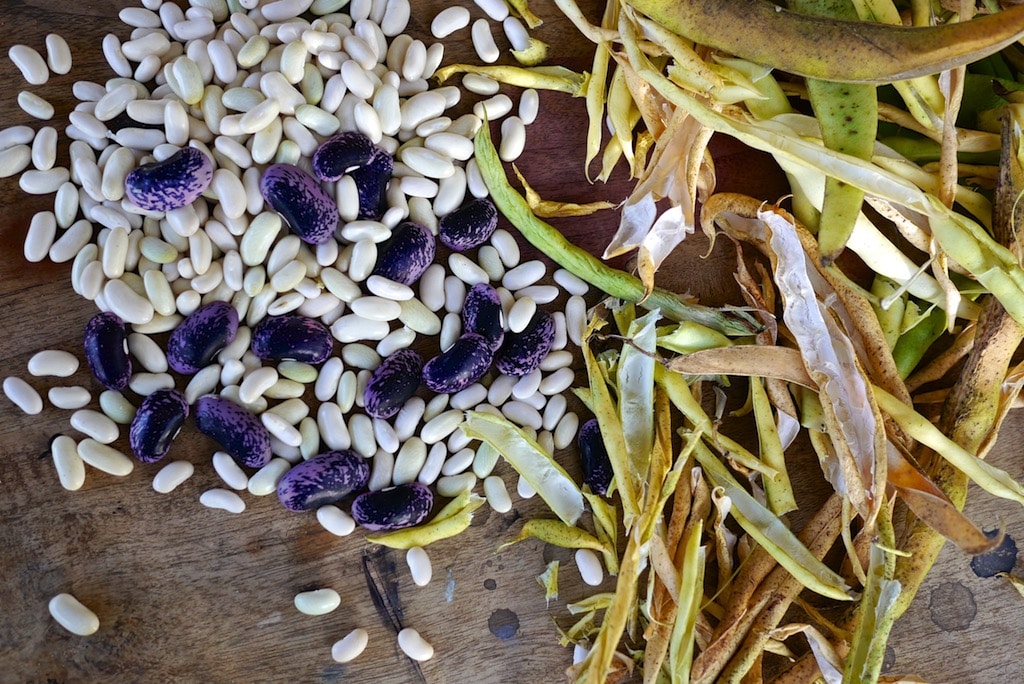 The scarlet runner bean and me. We go way back.
I'm sitting here, in the middle of packing up our kitchen. We move out tomorrow, after a year in this riverside cottage where we grew food, worked hard, and swam, and watched the sky.
The year's harvest of scarlet runner beans are sitting before me in a jar – for future planting, and/or for eating.
Mostly eating, I'd say, as you don't need to plant many of these to get a good harvest.

Beans. Shelf stable, protein rich, low footprint, soil enhancing, awesome to grow, easy to harvest and process.
Frequently laughed about by certain carnivore friends of mine as being something that people who 'can't farm' (read: don't have enough land for extensive grazing) live on. Sigh.
And before you start on the bean-fart jokes, you know that if you soak dry beans for 24 hours before cooking, the sugars in the bean change and they become eminently digestible, right? As they've always been prepared, in traditional cooking contexts.
Ok. Bean defensiveness aside, let's continue.
Beans hold a special place in many hearts, for many different reasons, and some have stories that go generations back. Some, like the Aztec Cave Bean are good stories. Some, like the Trail of Tears bean, are not.
And yet. When Spring comes again, into the ground they go, and up they rise.
I first met these particular scarlet runner bean in 2007, when we moved to Mudgee to establish Milkwood farm.
After some time spent in a small caravan on a hillside we upgraded to a larger caravan next to the woolshed, and started a vegetable garden that depended on the greywater outlet from our sink, and the once-in-a-blue-moon overflow from the woolshed watertank.
The area was in the middle of a 4-year drought. Water, and topsoil, were scarce in our daily lives.
The scarlet runner bean did not mind one bit. We planted many, beside and around our caravan home, and the climbing green and bright red flowers were the only precious patch of green we had, that first summer.
A season later, we harvested both beans and a baby in the Autumn. one of the first pictures I took of Ashar was with the scarlet runners I'd just shucked. It was just what happened to be near him at the time.
That winter was cold. We ate our beans in endless mutton stews (the larger family farm we were on had a lot of sheep) and felt slightly warmer.
The next Spring, we did it all again. And in the Autumn, the bean harvests got bigger.
A lot (a LOT of lot) of other things happened in these years too. We established a farm, built a rocket-powered shower, took on interns, built a tinyhouse (extremely slowly), ran lots and lots of courses in regenerative agriculture and permaculture.
We made life long friends of all types, and learned a lot about the land we lived on. I fretted about making more humans, and decided it was all a bit much.
But still, every year, the scarlet runners were planted, and grew. Sometimes in this garden, sometimes in that one. But always, I planted them somewhere.
We started a market garden. And grew even more scarlet runner beans.
The farm kept growing, and so did that baby. We eventually moved into our downright beautiful small house, after 5 years of building.
The next Summer was very dry, again, and getting things to grow was hard. My vision of green leafy tree-forts right next to our house for our small person just wan't happening.
And so we planted a bean tipi for him, with the great-great-grandchildren of those beans that I shucked when he was only weeks old. On and on those beans went.
The bean tipi grew high and green, once again providing much needed green and shade in the face of a big dry. And many beans for salads + winter, once more.
We decided to move on from the farm. Shucking the random last pods of scarlet runner + blue lake beans from the top of the bean tipi was, weirdly, one of the last things I did, before we said goodbye to our house.
And on. And on. Next house, plant beans. Next house, plant beans.
This last summer, the scarlet runners have kept our little cottage cool on its western side in a great green wall. We ate many, and dried the rest.
And those are the beans in the jar I'm looking at now.
Looking at them is making me think that this is just 9 years, and one small bunch of beans, and what they mean to me.
Yet these same beans, before they came to me, have been stewarded for hundreds, possibly thousands, of years by people to whom they meant something, and who depended on them.
People who planted and grew and lived and loved and succeeded and failed and and ate and shared and harvested and stored. People from far across the sea, whose names I do not know.
Yet here we are, at one end of that unknowably long string of heritage. My beans and I. In this half-packed kitchen.
Friends for life. And grateful for it.