February 2nd - 3rd, 2019 ( 9:00 am - 5:00 pm )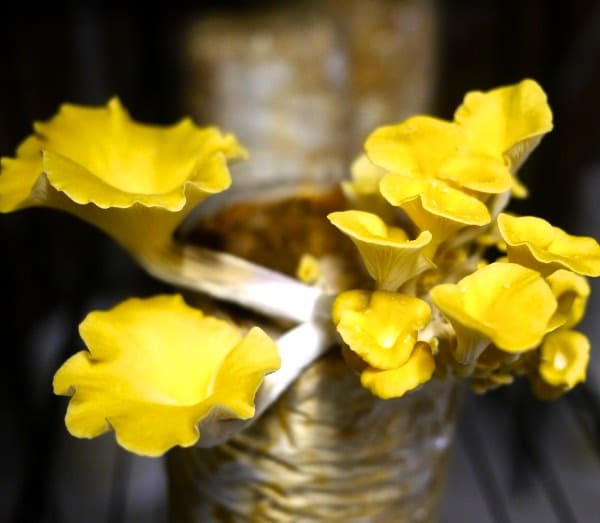 Join us for two jam-packed days of hands-on skills in edible mushroom propagation. Learn how to grow delicious oyster, shiitake, pioppino, enoki, reishi (lingzhi), lions mane, king stropharia and many other mushrooms at home, organically!
This practical workshop will take you through the details of home mushroom propagation and introduce you to the fascinating world of fungi. You'll also receive a host of take-home mushroom resources to get you growing.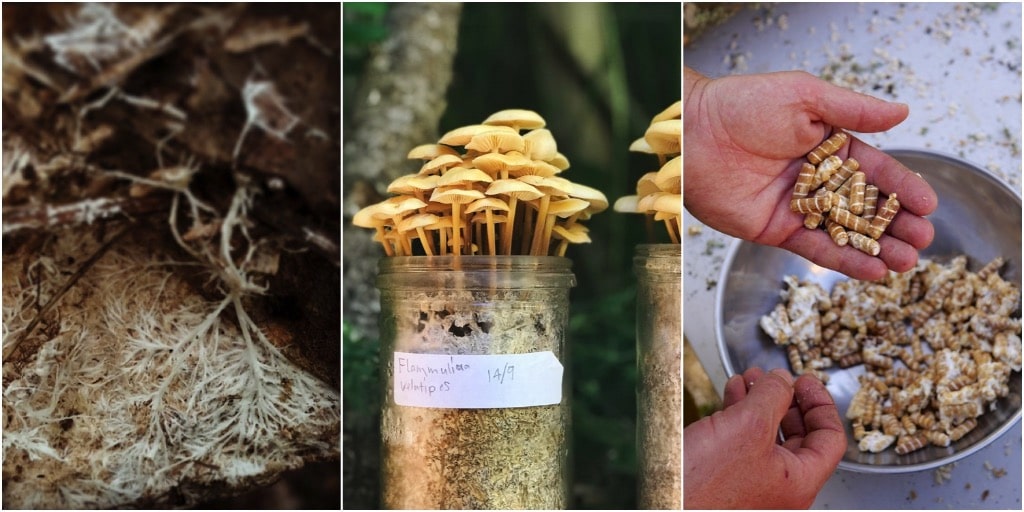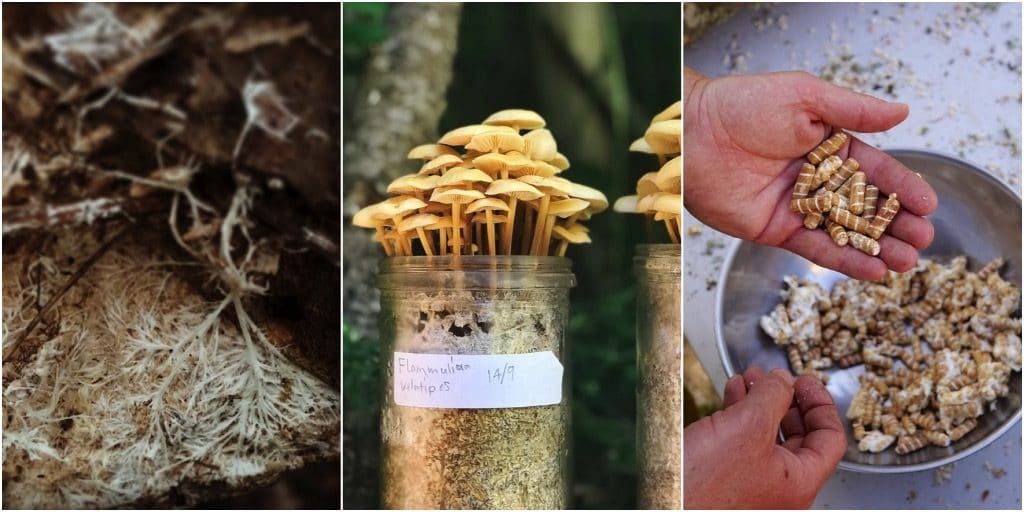 Our approach is designed to give you the knowledge and tools to grow a sustainable, diverse mushroom supply at home – all year round.
We encourage techniques that minimise waste and energy use and focus on teaching resilient processes that take advantage of the seasons and micro-climates around your property rather than the conventional approach of single use bags and expensive climate controlled environments.
You'll also learn advanced liquid culture techniques so you can avoid the expense of creating a sterile environment to make your of grain spawn.
By the end of this course you will have the skills to take any suitable store-bought or foraged mushroom, clone and propagate it in a variety of ways, and create a lifetime supply of mushrooms with minimal start up costs.
In this workshop you will learn:
The biology & ecology of Fungi
How to expand liquid culture syringes
How to make your own re-usable liquid culture equipment
'Cloning' store-bought mushrooms to make your own pure liquid cultures
Producing spore prints and using them to produce new strains
Duplicating liquid cultures so you can keep a master bank of different species
Using liquid cultures to inoculate organic grain to make your own spawn
How to use that spawn to inoculate freely available materials to grow massive amounts of mushrooms
How to modify recycled containers to grow mushrooms while avoiding single use plastics
How to create the right conditions to encourage your fungi to produce the best mushrooms
How to create a garden of giant mushrooms in your own backyard
How to inoculate logs with sawdust & dowel spawn in order to grow the highest quality shiitake mushrooms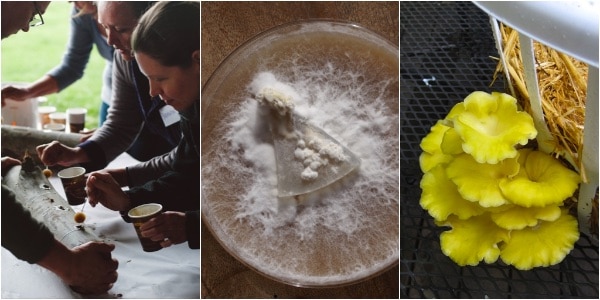 Growing your own organic mushrooms is a great way to introduce important trace minerals to your family's diet, as well as being a fun and extremely interesting thing to do.
Growing organic mushrooms can lead to a successful micro-enterprise that fits well with many small farms, homesteads and urban growers. Once you know how to do it, there is very little ongoing cost.
So if you're curious about how to start growing mushrooms in bags, logs or in the ground and how to propagate your own strains for a lifetime supply, join us!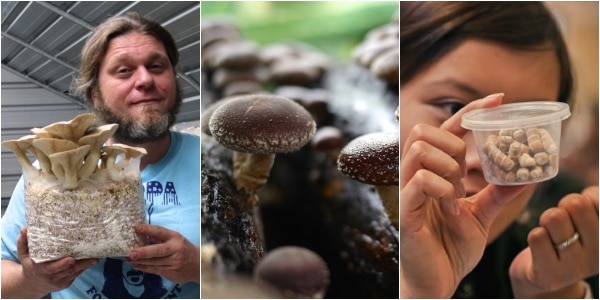 Your course fee includes:
Each student receives extensive mushroom propagation resources for this Gourmet Mushroom Cultivation course, as well as extensive digital resources & how-to's to help you get growing.
Each course's resources will vary, so the image below is indicative only but in a typical course your take home resources will include:
Five varieties of fungi as liquid culture syringes.
A modified mason jar with an airport lid (self healing injection port and biological air filter) filled with grain spawn you have inoculated in class.
A modified polypropylene bucket full of fruiting substrate that you have inoculated in class.
Your course fee also includes a local harvest vegetarian lunch spread each day – as well as refreshments, hot drinks and caffine during the course.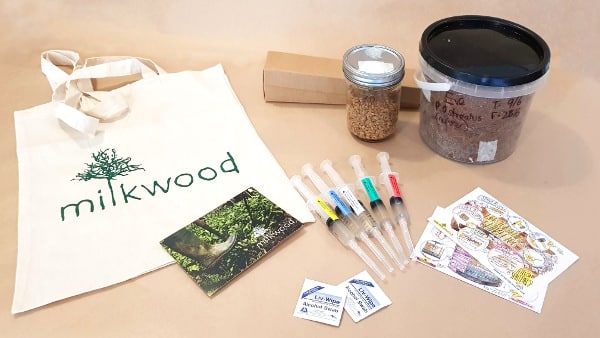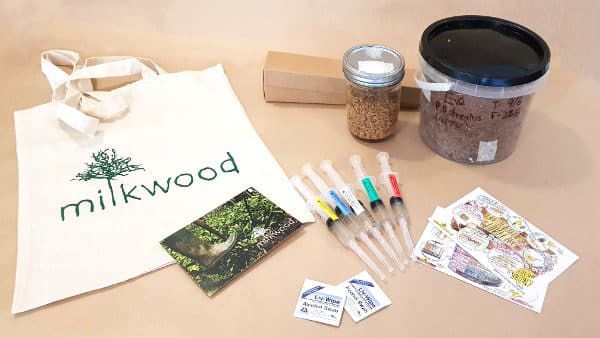 About your teacher
Nick Ritar is a passionate small-scale mushroom cultivator who heads the mushroom propagation project at Milkwood. Nick has trained with world-leading mycologist Paul Stamets from Fungi Perfecti and has been teaching mushroom propagation since 2011.
His passion for knowledge and hands-on skills is infectious, and his aim with this workshop is that you will leave confident and ready to take on a wide range of mushroom propagation techniques at home.
Some resources to get you thinking
About the venue
This course will be held in the school hall at Hepburn Primary School. There's also an optional Saturday afternoon after-class tour, to explore Nick's home mushroom cultivation setup just down the street at Melliodora Permaculture Farm.
More information about the venue, getting there, and accommodation options…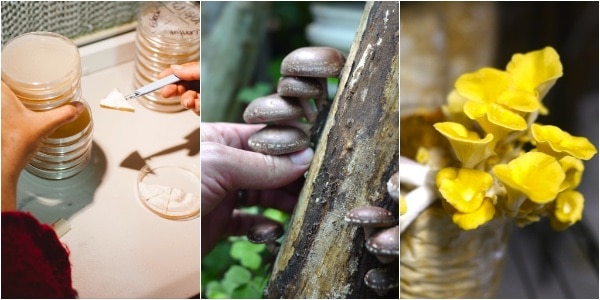 This course will open for bookings next week! Leave us a message via the form below if you want us to notify you when it goes live. As with all our Mushroom courses, it will sell out quickly.
Special Offers for Ticket
| | | | | | |
| --- | --- | --- | --- | --- | --- |
| | Offer | Discounted Price | Saving Per Item | Min Qty | Expires |
| Group Special | 15 % | $467.50 | $82.50 | 2 x | - |
Discounts will be applied at checkout.
Details
Organizer
Phone:

02 5300 4473

Email:

hello@milkwood.net
This course will be held in the school hall at Hepburn Primary School, 156 Main Road, Hepburn 3461.Hepburn Springs is a gorgeous central highlands village, right next door to Daylesford, 1.2 hours drive from Melbourne. The region is famed for it's mineral springs + spas, wine and amazing local food.
Getting there:
The address of Hepburn Primary School is: 156 Main Road, Hepburn 3461. It's 1.5 hours drive from Melbourne, and there's plenty of parking at the school. Or there's trains and buses to get you there that can drop you at the door -
use the PTV trip planner
.
Staying
Camping:
The two closest official camping areas to Hepburn School are
Mt Franklin campground
(10 minutes drive, free camping) and
Jubilee Lake campground
(15 mins drive, fees apply).Other picnic grounds that we love and recommend close by are Bryce's Flat (down Bald Hill Road, 5 mins drive) and Tiperary Springs (off midland highway, 10 mins drive) -
here's a map of the Hepburn Regional park
and all it's picnic grounds.
Accommodation:
Hepburn Springs has a wide range of accommodation to suit all budgets, some of which are walking distance from the venue. And just 3 km up the road, Daylesford has even MORE accommodation options. It's a very good place to spend a weekend.We love the local 
Mooltan Guest House
, our friends Meg + Patrick's 
permaculture love shack
in Daylesford, Kim's
Redwood Studio
 just down the road in Hepburn, or check out
Air Bnb
or local directories like
DayGet.
There are many lovely walking trail and lakes in the area, and of course the Hepburn Springs Bathhouse, as well as all the public springs (take a bottle and fill it up!).Local food options are many - highlights include 
Awkward Jeffrey
 in Daylesford who do a great local breakfast,  our nearest cafe the
Blue Bean
has live music fri/sat/sun nights, there's
The Surly Goat
just up the road, loads of great eateries in Daylesford and if you're into vino make sure you swing by
Wine and the Country
for a glass of something awesome.

Details
Organizer
Phone:

02 5300 4473

Email:

hello@milkwood.net
Related Events
November 1 @ 8:30 am

-

November 3 @ 4:30 pm

November 9 @ 9:00 am

-

November 10 @ 5:00 pm
Need more information?
Contact us using the form below if you have any questions, to arrange an alternative payment method or to be added to the wait list for a sold out event.