October 9th - 11th, 2015 ( 9:00 am - 5:00 pm )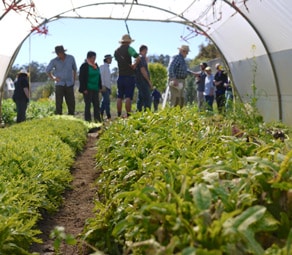 Dive straight into the nuts and bolts of how to run a thriving, diverse organic market garden, taught by long-term, established and successful market gardeners. Suitable for those with some prior growing knowledge who are keen to make a livelihood from growing great vegetables.
Join Joyce Wilkie and Michael Plane of Allsun Farm for three days of hard-won knowledge and on-the-ground experience of what you need to know and do in order to produce great organic vegetables for profit or community gain.
This course will cover:
Growing area design, planning & layout
Water supply + irrigation for Australian small farm conditions
Crop rotation. And then more crop rotation
Bed preparation + making
Planting techniques for different plant families
Maintenance, seedlings, harvesting
Nutrient and biomass strategies
Integrating animal systems
Marketing, value-adding and box schemes
Microfarming tools for different scales of operation
This course will involve both theory and hands-on components, with students getting a chance to understand how Allsun Farm works from top to bottom in terms of crop rotations, marketing and integrated animal systems.
Over its 25 years of operation, Allsun have done everything from CSA-style fruit-and-veg boxes for local families and restaurants to seedling supply and tool supply in addition to pastured eggs and other on-farm products. All products are grown organically with no chemicals whatsoever.
This masterclass is suitable for:
Confident gardeners investigating what it takes to move to commercial or community-scale production, as well as conventional vegetable growers looking to move towards organic techniques and landholders looking to diversify their on-farm income.
Assumed knowledge:
Students should have a good working knowledge of growing vegetables on at least a home scale. Knowledge about the basics of soil pH, nutrient cycling and organic pest management would be an advantage.
We recommend you read the following books prior to class, in order to hit the ground running…
The New Organic Grower – Eliot Coleman
The Winter Harvest Handbook – Eliot Coleman
Organic Gardening (7th edn) – Peter Bennet
About your teachers:
Joyce Wilkie and Michael Plane are passionate about growing vegetables, pastured poultry and creating and supporting fantastic small farms.
They run Allsun Farm and 'Gundaroo Tiller', an innovative tool and equipment company for microfarming. Following early careers in earth sciences and education, they have farmed for over 30 years near now farm at Gundaroo, NSW.
As they get older they are concentrating their efforts on growing more growers.
About the venue:
Allsun Farm is a small 'garden farm' that has been supplying both locals and top Canberra restaurants with organic produce for 30 years.
Focussing on low-tech and solar energy solutions to growing good food, Allsun Farm grows its crops with a combination of movable greenhouses, perennial crops and annual vegetable beds. How to get there, where to stay…
Included in your course:
Your course includes a stack of market gardening resources, including Allsun's famous Growing Annual Vegetables CDROM, and their crop rotation cards.
You'll also be fed with local organic goodness during course hours for lunch + snacks.
Check out photos from our previous Market Garden Masterclasses here…
Booking your place:
You can pay for your course now with your credit card, or contact Trev in our office via the form below (scroll down) to arrange payment.
Please ensure you read our refunds policy prior to booking your course.
Need more information?
Contact us using the form below if you have any questions, to arrange an alternative payment method or to be added to the wait list for a sold out event.