Update: Bookings for this course have now closed. Click
here
to find any
Natural Beekeeping
courses we have scheduled.
September 26th - 27th, 2015 ( 9:00 am - 5:00 pm )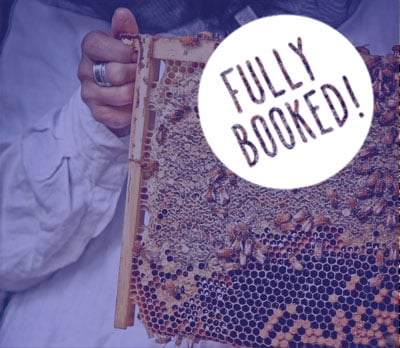 Join Tim Malfroy of Malfroy's Gold as he leads you through the basics of bee-friendly, natural, organic, small-scale beekeeping.
You will leave this course with a competent knowledge of the fundamentals of natural beekeeping, and be ready to take the plunge and keep your own bees, Warré style!
This course focuses on a style of apiculture that is exclusively designed for the small-scale beekeeper.
Warré beekeeping is a bee-friendly method that aims to care for the bees, allow them to control their own environment, and is a gentler approach than conventional beekeeping, resulting in healthy contented bees, and superb raw honey.
This course is a series of presentations that draw a wide perspective on the evolution of flowering plants and honeybees, and the long and rich tradition of apiculture. There will be open discussion, and loads of practical advice!
In addition to discussing the role of the beekeeper and how to keep bees, Tim will talk extensively about the amazing social behavior and biology of the honeybee, giving you a solid grounding in the intricate world of the honeybee and how to approach keeping them in an ethical, sustainable manner.
This course also includes a visit to a urban Warré apiary and a hive inspection (weather permitting).
You will learn the ins and outs of sustainable beekeeping in general, and leave this course all ready to take the plunge of keeping your own bees!

Topics include, but are not limited to:
Evolution of the Honeybee and flowering plants
History of Honey Hunting & Beekeeping
Beehives throughout History
Beekeeping in Australia
Honeybees: Understanding the Super Organism
Biology of the Honeybee
The Importance of Natural Comb
The People's Hive of Émile Warré
Getting Set-Up for Beekeeping: Buying bees, hives & equipment
Site and Forage Assessment
Forms required for keeping bees
Situating beehives in urban areas – backyards + rooftops
Handling bees gently and confidently
Introducing your bees to the hive
Ensuring the ongoing health of your colony
Pests & Diseases
Swarming
Raw honey & comb harvesting techniques
Honey appreciation
Strategies for safe and successful beekeeping within a neighbourhood
Planting a Bee-friendly garden
Native Bees
Some resources to get you thinking
About your teacher
Tim Malfroy is the founder of the award-winning Malfroy's Gold honey label with his wife Emma, and has been practicing organic and biodynamic beekeeping since he started keeping his own bees in 2006.
In 2008 he was the first beekeeper in Australia to build and trial a Warré hive, and traveled to the Apimondia in France 2009 to take part in the first conference session on Warré and top-bar beekeeping. Tim is a second-generation beekeeper, growing up on a large apiary in the foothills of the Blue Mountains.
Included in your course
Your course fee includes Natural Beekeeping with the Warre Hive by David Heaf, copies of the necessary forms needed to become a beekeeper in NSW, post-course notes and resources as well as tea, coffee and organic fruit throughout the course.
Course participants also have the option of ordering their bees and Warré hives direct from Tim Malfroy. This service is only available to course graduates, as Tim is committed to responsible beekeeping.
About the venue
This course will be held in our garden classroom at Alexandria Park Community Center in Alexandria, Sydney.
This amazing place has multiple thriving community gardens, school gardens, a bush tucker garden and outdoor classroom learning areas. More about the venue here…
Booking into this course
You can pay for your course now with your credit card, or contact Trev in our office via the form below (scroll down) to arrange payment.
Please ensure you read our refunds policy prior to booking your course.
Details
Start:

Saturday, September 26, 2015 @ 9:00 am

End:

Sunday, September 27, 2015 @ 5:00 pm
Venue
Park Road




Sydney

,

New South Wales

2015

Australia
Organizer
Phone:

02 5300 4473

Email:

hello@milkwood.net
Need more information?
Contact us using the form below if you have any questions, to arrange an alternative payment method or to be added to the wait list for a sold out event.