October 6th - 19th, 2018 ( 8:45 am - 5:00 pm )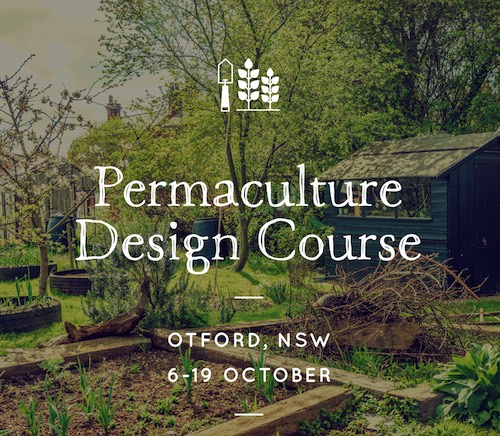 Join Beck Lowe, Nick Ritar and David Holmgren (co-originator of Permaculture) for a special two weeks of Permaculture design training – you'll leave this course ready to create abundance in a world out of balance, with solid design skills and techniques.
A Milkwood Permaculture Design Certificate teaches you the skills and knowledge to design and implement fundamental and life-changing resilience into your everyday home, community and beyond.
Permaculture is set of principles that result in sustainable and productive systems. Systems for living, architecture, food production, land management and community.
No chemicals and no excuses. Just good, thoughtful, innovative and effective design for the needs of our species.
This 2 week intensive course will arm you with the design thinking and skills to create resilient, synergistic systems for living, working and community.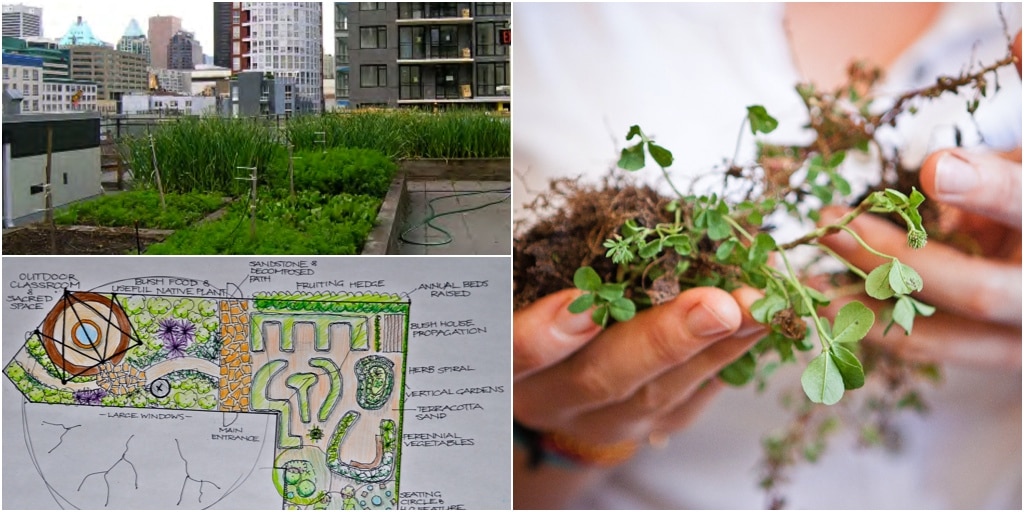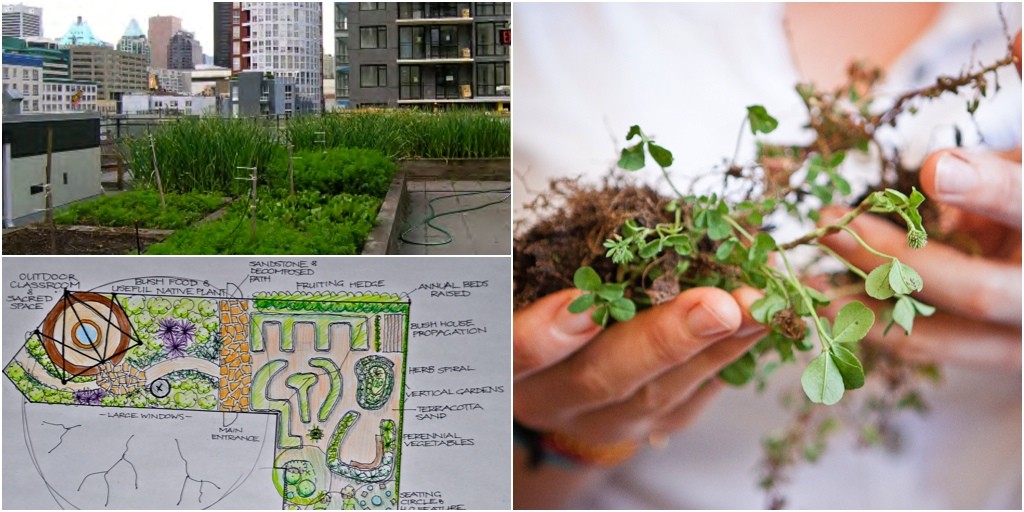 By observing nature we can use natural patterning to design and implement ideas and systems that build on natural processes with energy efficient, low cost and high yielding results.
Milkwood Permaculture PDC graduates leave this course ready to design and implement permaculture into a wide range of scenarios; from urban permaculture systems to small farms and community projects.

[testimonials]
[testimonial author="Charl Crous"]"I love the whole design process that these guys go through. Really thorough – they know their stuff"
[/testimonial]
[testimonial author="Kathryn Scobie"]"I can't think of a better stepping stone for making a positive change in your life towards something more sustainable, more healthy, more satisfying and more connected. Don't think about it. Do it. You won't regret it."
[/testimonial]
[testimonial author="Claire Lane"]"After just two weeks, I am armed with a ridiculous amount of knowledge that will enable us to build a sustainable house, with a bountiful garden."
[/testimonial]
[testimonial author="Kirsty Van Grinsven"]"Absolutely inspirational! I feel so proud to have been able to take part in this"
[/testimonial]
[/testimonial]
[testimonial author="Michelle Packwood"]"What an incredible 2 weeks of life changing inspiration and good times. Thank you Milkwood for providing this platform for provocative and progressive thought and practical applications."
[/testimonial]
[/testimonials]
What you will learn at a Milkwood PDC
Our Permaculture Design Certificate is steadfastly dedicated to turning you into a better holistic designer. The learning outcomes of this intensive course have been built around a powerful design frameworks to realise this goal.
By the end of our course you will be able to:[row] [third_column]
Design human habitats for abundance while improving ecosystem health
Explain the origins of the permaculture concept and appreciate permaculture ethics and principles in a whole new light
Implement the permaculture design process and integrate systems thinking and design theory into your design approach
Analyse the strengths, resources, boundaries and limitations of the people involved in your project and produce an inspiring goal statement to get everybody on board
Create an accurate base map of  any site
Complete a thorough Site Analysis and Assessment taking into account climate, legal framework, land form, wind & sun, water, access & energy flows, biology, micro-climates, soils & aesthetics
Build functional connections between elements of your design to reduce labour and eliminate pollution
See the underlying patterns in our ecosystems, understand their meaning and how to apply patterning to achieve harmony with the natural world
Design for different climatic conditions and adapt to our climate future
[/third_column] [third_column]
Design water into landscapes to drought-proof your designs
Build the structure, fertility and biological diversity of your soils
Enhance the soil food web to bring your soils to life
Harness the power of trees to modify climate, build habitat and produce food with a minimum effort
Understand the strengths and weakness of using each food producing ecosystem
Use annual gardens to produce food quickly and reliably
Design stable, abundant forest gardens
Design animals into ecosystems for the benefit of all species
Use aquaculture and aquaponics to enhance your designs
Make use appropriate technology for power generation, energy efficiency, food preservation and comfortable homes
Enhance local communities and local economies through permaculture design
Open up new career pathways while making the world a better place
[/third_column] [/row]
Detailed Course Schedule  –  Detailed Learning Outcomes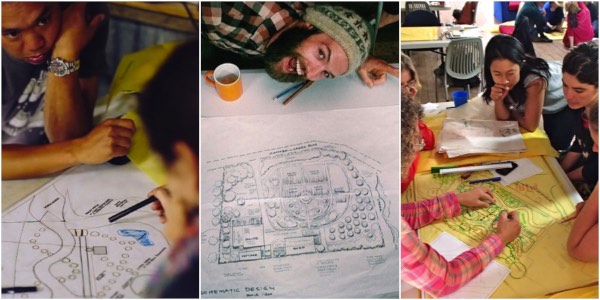 Designing your future
A Milkwood Permaculture Design Certificate can lead anywhere – we've had students use it as a springboard into new careers of all types, from farming to conscious accounting, school garden enterprises, and design services.
Completing a Milkwood Permaculture Design Certificate gives you the accreditation to teach and design with permaculture commercially – supported of course by your ongoing learning + doing! This course can also be recognised as relevant prior learning for the nationally accredited VET Certificate IV in Permaculture and also the Graduate Certificate in Permaculture.
Previous student designs  |  Permaculture Futures stories
You will leave this immersive experience with the confidence and ability to create exceptional permaculture designs for any situation.
A full blown agricultural enterprise, an apartment balcony, a quarter acre farm, an intentional community, a company structure whatever human habitat that needs designing.

Why do your PDC with Milkwood Permaculture?
We are unique in the permaculture design learning space. Our 'people care' is exceptional, our teachers are both incredibly experienced AND excellent communicators, and we run our PDC's in a way that no other organisation does. Our most frequent PDC student feedback is that we offer the best organised, best value and most inspirational course that the student has ever done.
We work with a world-class teaching team who are not only deeply involved in the theory and practice of Permaculture on a daily basis, but who passionate about passing their knowledge on to you. We know from experience that there is no 'one way' to design a system with Permaculture, so we encourage a principles-based approach.
We teach principle-based permaculture design, so that students emerge confident to design regenerative systems all over the planet, not just where certain bioregion-specific techniques for water harvesting, food production etc will work.
Our PDC focuses on best-practice design process – to enable you to gain the skills to apply permaculture design to a multitude of contexts. This is not a 'learn to make gardens and swales' PDC. We teach you solid design skills, with a principles-based approach that takes you through an effective design process – from start to finish. By the time you leave this course you will Get It. You will be able to effectively design, with permaculture.
We offer a pragmatic and down to earth attitude to permaculture as a design science; metaphysics and ideologies are not included in our curriculum. Students of all backgrounds and religions are respected, and welcome.
We do Permaculture full time, as a livelihood. You will not find a more committed crew of people actively being the change they want to see in this world. We are growers, teachers, writers, designers, mechanics, educators and more, who have successfully used Permaculture to create right livelihoods. We're here to share what we've learned with you, so that you can forge your own path towards a regenerative and resilient future.
We support our students after they leave with complimentary registration to Permaculture Australia, as well as the ongoing support you'll receive from the Milkwood Permaculture alumni network – it's growing into an amazing collection of folks from all over the world, many of whom have gone on to implement permaculture effectively at many levels of home, community and beyond.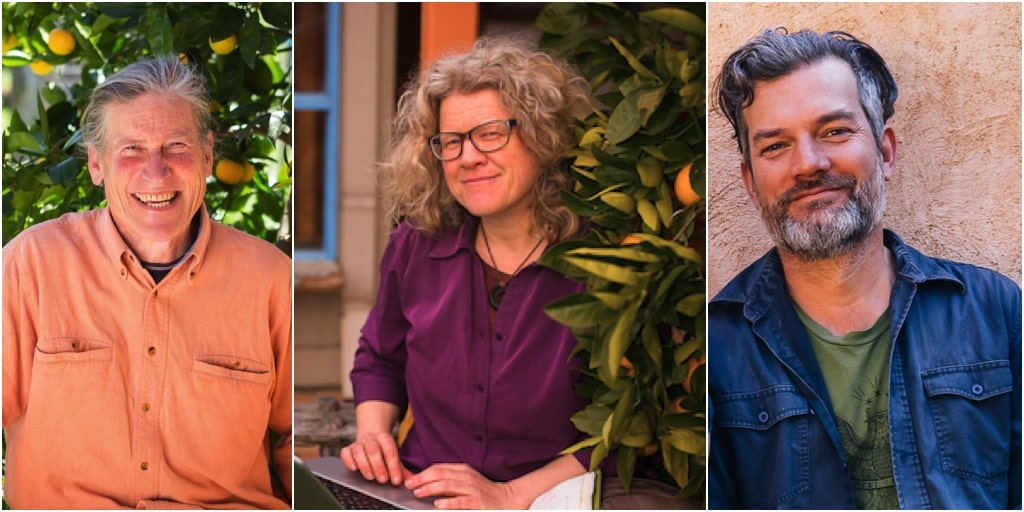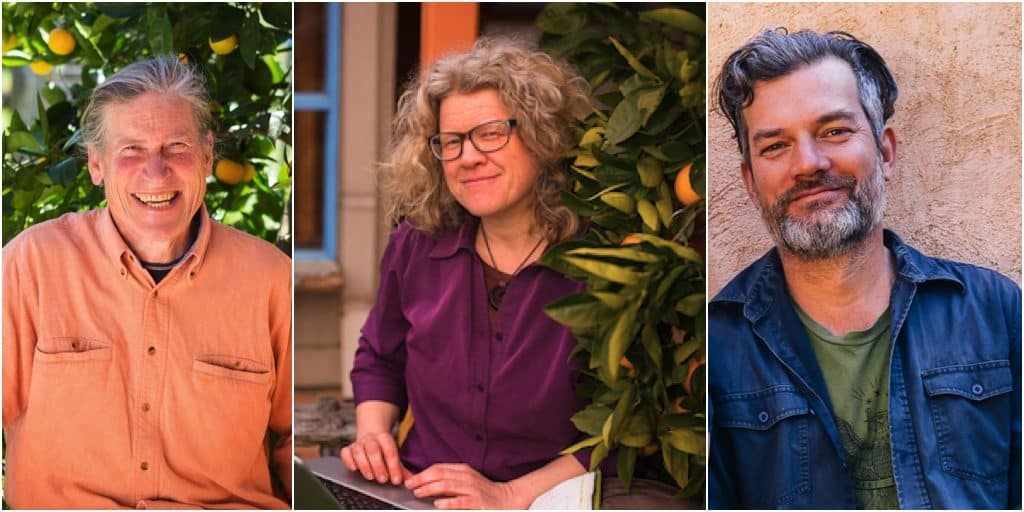 About your teachers
Beck Lowe has a science degree majoring in zoology & a masters in sustainable agriculture and has been teaching permaculture since 2003. She is also delivers Accredited Permaculture Training (APT), the nationally accredited suite of Certificate and Diploma courses in permaculture.  More about Beck…
David Holmgren is an ecologist, ecological design engineer and writer. He is perhaps most well known as co-originator of the permaculture concept with Bill Mollison. He is the author of several significant permaculture texts, (including the brand new RetroSuburbia) and together with his partner Su Dennett runs Holmgren Design.
Nick Ritar is co-founder of Milkwood and a permaculture designer, consultant and educator who works extensively across a wide range of bioregions, farms, watersheds and city environments. When he's not teaching, he's growing mushrooms and keeping bees at Melliodora, David Holmgren + Su Dennett's iconic permaculture farm in Victoria. More about Nick…
We also support students through their learning + design process with extra teachers and staff who are all experienced in permaculture design, group facilitation, and diverse learning methods.
Our exceptional level of 'people care' during this two week intensive is yet a major factor of what makes Milkwood courses unique, and which we pride ourselves on.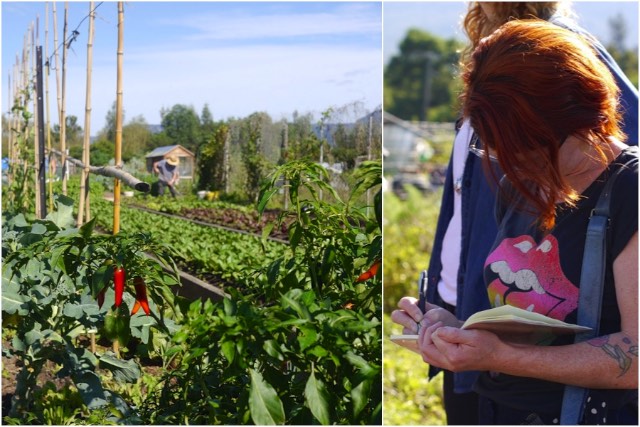 Site Visits
As part of this course we'll take you out and about to visit an excellent variety of examples of permaculture design being used to create different types of resilient, abundant systems – from backyard food forests to community organic farms.
We'll also explore the surrounding rainforest, to learn and consider how diversity and biomimicry can be used in permaculture design.
While you're on this course:
Course hours are 8:45am – 5pm each day. In addition, we offer extra workshops + film screenings most evenings, and as the course progresses many students choose to spend their evenings working on their designs. There is a full rest day on the 7th day of the course. We wrap up by 3pm on the last day.
If you need to take a break, this course's beautiful venue Govinda Valley has a variety of rainforest trails to explore, as well as swimming holes and a riverside fire circle (which we'll be sure to fire up). There's also the beach and the coastline cliffs 10 minutes away.
 "Just all round bloody fantastic." – Milkwood PDC graduate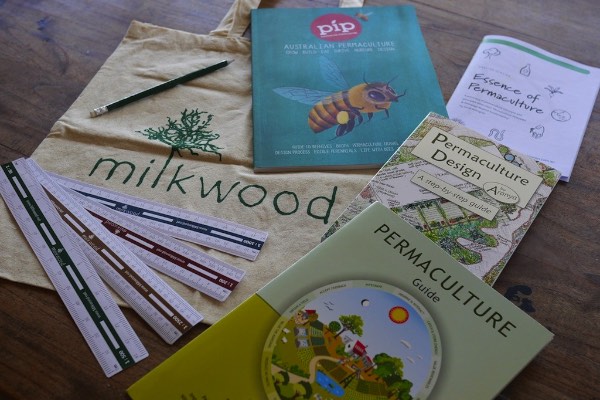 Included in your course fee
Your course fee includes:
A campsite within the rainforest campground, with access to communal laundry and bathrooms with hot showers. (BYO tent, towel & bedding)
Full catering (breakfast, lunch, dinner + snacks) each day. The catering at Govinda Valley is vegetarian, delicious and sourced as locally as possible. Catering and accommodation begins the evening before the course.
Visits to inspiring examples of Permaculture projects in the local area
A practical kit of resources to help you succeed in designing:

A copy of 'Permaculture Design – a step by step guide' by Aranya
Permaculture Guide + The Essence of Permaculture reference texts
Paper scale rulers to help with your design work + an eco pencil

Extensive digital resources + downloads on all subjects covered including access to all presentations
Accommodation options
If you'd like to upgrade your stay at Govinda Valley Retreat from camping to a single bed in a room, your options for the 14 nights are:
Sharing
Private
A campsite in the rainforest campground, with access to communal laundry and bathrooms (BYO tent, bedding & towel)
Included
Dorm-style room with access to shared bathrooms, includes bedding (BYO towel)
$31 per night
($434 total)
Max 4 occupants
$67 per night
($938 total)
Just you
Ensuite room, includes bedding & towels
$67 per night
($938 total)
Max 2 occupants
$124 per night
($1736 total)


Just you
Beds in shared rooms can be added to your ticket in the shopping cart before checking out.
Limited numbers of rooms are available for private use. Please get in touch if you would like to book this option.
If you prefer to stay offsite, that's fine too – full catering is included in your course price, so feel free to join us for breakfast and dinner. We are unable to offer discounts for those who choose to stay off site for all or part of the course.
Booking into this design course
If you're one of our Intro to Permaculture alumni – contact us to book in with your additional 15% discount.
Please note that as per our fair share policy we offer discounts to people who are unwaged & would like access to our education programs, but cannot afford it. If this is you then please get in touch using the form below. And please ensure you read our refunds policy prior to booking your course.
THIS COURSE IS CURRENTLY FULL – contact us via the form below, and we will let you know if and when a place becomes available!
Details
Start:

Saturday, October 6, 2018 @ 8:45 am

End:

Friday, October 19, 2018 @ 5:00 pm

Cost:

$2750.00

Event Categories:
Organizer
Phone:

02 5300 4473

Email:

hello@milkwood.net
Related Events

Need more information?
Contact us using the form below if you have any questions, to arrange an alternative payment method or to be added to the wait list for a sold out event.