Update: Bookings for this course have now closed. Click
here
to find other scheduled courses.
Permaculture Design Course
June 29th - July 12th, 2014 ( 9:00 am - 5:00 pm )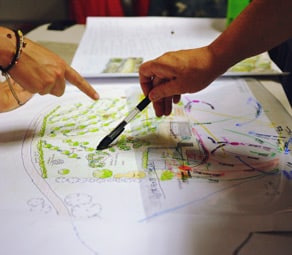 Join Nick Ritar, David Holmgren (co-originator of permaculture) and special guests to get inspired and skilled up for creating abundance in a world out of balance, with solid design skills and techniques.
A Milkwood Permaculture Design Course teaches you the skills and knowledge to design and implement fundamental and life-changing resilience into your everyday home, community and beyond.
Permaculture is set of principles that result in sustainable and productive systems. Systems for living, architecture, food production, land management and community. No chemicals and no excuses. Just good, thoughtful, innovative and effective design for the needs of our species.
This 2 week intensive course will arm you with the design thinking and skills to create resilient, synergistic systems for living, working and community.
By observing nature we can use natural patterning to design and implement ideas and systems that build on natural processes with energy efficient, low cost and high yeilding results.
Milkwood Permaculture PDC graduates leave this course ready to design and implement permaculture into a wide range of scenarios; from urban permaculture systems to small farms and community projects.
"The entire two weeks were truly awesome. I learned so much and I am excited to start implementing some of my personal design ideas back at home" – Graduate of Nov 2012 Milkwood PDC
What you will learn at a Milkwood PDC:
A Milkwood Permaculture Design Course is steadfastly dedicated to turning you into a better holistic designer. The learning outcomes of this intensive course have been built on what we see as the most useful design frameworks, tools and techniques to realise this goal.
Our intention is that you leave this immersive experience with the confidence and ability to create excellent permaculture designs for whatever situation is presented to you – an apartment balcony, a quarter acre farm, an intentional community, a company structure or whatever else needs designing.
"You helped me to open another door to see the world. Thank you…" – Graduate of Nov 2012 Milkwood PDC
Why do your PDC with Milkwood Permaculture?
We work with a world-class teaching team who are not only deeply involved in the theory and practice of Permaculture on a daily basis, but who passionate about passing their knowledge on to you. We know from experience that there is no 'one way' to design a system with Permaculture, so we encourage a principles-based approach.
We teach principle-based permaculture design, so that students emerge confident to design regenerative systems all over the planet, not just where certain bioregion-specific techniques for water harvesting, food production etc will work.
We offer a pragmatic and down to earth approach to permaculture as a design science; metaphysics and ideologies are not included in our curriculum. Students of all backgrounds and religions are welcome and respected.
We do Permaculture full time, as a livelihood. You will not find a more committed crew of people actively being the change they want to see in this world. We are growers, teachers, writers, designers, mechanics, educators and more, who have successfully used Permaculture to create right livelihoods. We're here to share what we've learned with you, so that you can forge your own path towards a regenerative and resilient future.
We support our students after they leave with complimentary registration to Permaculture Australia, as well as the ongoing support you'll receive from the Milkwood Permaculture alumni network – it's growing into an amazing collection of folks from all over the world, many of whom have gone on to implement permaculture effectively at many levels of home, community and beyond.
"My experience with Milkwood was not only wonderfully educational, it was very inspirational. I feel i now have the resources to explore, create and implement what I learned." – Milkwood PDC graduate
Site Visits
As part of this course we'll introduce you to some of Sydney's secret permaculture gardens, comunity food verges and food forests. We'll also visit an inspiring eco-house right in the city that is proving that living lightly can be done anywhere.
While you're on this course
Course hours are 9am – 5pm each day with a day off on the middle Saturday. Outside course hours there's extra evening workshops, film nights and a mini permablitz for those interested and able to attend. Students can learn more about and/or get their hands dirty helping out with compost making, planting, mushroom propagation, nutrient cycling and more.
"Just all round bloody fantastic." – Milkwood PDC graduate
About your teachers:
Nick Ritar is a permaculture designer, consultant and educator who works extensively across a wide range of bioregions, farms, watersheds and city environments. He is recognized nationally as a leading advocate on how permaculture principles can contribute to food security through good design and regenerative farming and living.
Nick divides his time between extensive permaculture teaching, permaculture consultancy, writing and farming in central western NSW. More about Nick…
David Holmgren is an ecologist, ecological design engineer and writer. He is perhaps most well known as co-originator of the permaculture concept with Bill Mollison.
Through the spread of permaculture around the world, his environmental principles have exerted a global influence. He is the author of several significant permaculture texts, the best known being Permaculture: principles and pathways beyond sustainability. David lives at Melliodora near Hepburn Springs, Victoria, with his partner Su Dennett. More about David…
Included in your course fee:
Your course fee includes all site visits, extensive take-home resources on all subjects covered in this course, as well as design materials, access to our extensive library of Permaculture and associated texts, and tea + coffee + organic fruit during the day.
Booking into this design course
You can pay for your course below with your credit card. If you prefer, contact Trev in our office on 02 5300 4473 or [email protected] to arrange payment by credit card or direct deposit over the phone.
Details
Start:

Sunday, June 29, 2014 @ 9:00 am

End:

Saturday, July 12, 2014 @ 5:00 pm

Event Categories:

Event Tags:
Venue
Park Road




Sydney

,

New South Wales

2015

Australia
Organizer
Phone:

02 5300 4473

Email:

hello@milkwood.net
Need more information?
Contact us using the form below if you have any questions, to arrange an alternative payment method or to be added to the wait list for a sold out event.