Update: Bookings for this course have now closed. Click
here
to find other scheduled courses.
You Can Farm – Joel Salatin: Sydney
February 21st, 2015 ( 9:00 am - 5:00 pm )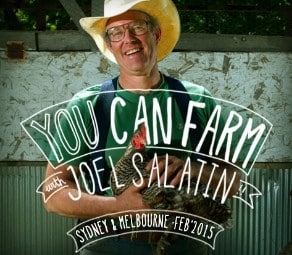 Join Joel Salatin for a unique one-day masterclass exploring how to set up a thriving, profitable and ethical small farm, using Polyface Farms' innovative techniques.
This masterclass is perfect for beginner farmers, wanna-be farmers, tree-changers, landholders and clean food advocates who are ready to get serious about regenerative agriculture and fair food systems, built from the ground up.
This masterclass will look at how to succeed in a diverse small-farm enterprise, focusing on:
 Getting started: what you need to know and how to approach the first 5 years
 Setting up, budgeting, farm design and planning for success
Whole farm water design including dams and passive-feed stock watering solutions
Integrating different animal systems for maximum effect, fertility and yields
Integrated nutrient cycling and on-farm composting
People power – internship and apprenticeship schemes
Direct marketing, buying club models and building a successful customer network
Joel's seminal book You Can Farm has been highly influential to many small-farm producers and beginner farmers in Australia, who are looking for cost effective and ethical ways to get into farming on a small scale.
Joel will spend an entire day explaining the nuts and bolts of PolyFace Farm's innovative animal and operations which are now taking off in the small-farm scene in the USA, partly due to so many farmers going to Polyface Farms to see how it's done.
This masterclass is the next best thing to spending a week at PolyFace Farms in Virginia, observing and learning about the farm. Joel's accessible and friendly conversation style means you'll leave this day informed and inspired
Regular Q&A during the masterclass will ensure that  you'll leave this masterclass with a good understanding of what is involved to get a profitable small farm operation up and running, so you can get farming!
**Northern folks! RegenAG are doing events with Joel in Brisbane, Noosa, Byron Bay, Cairns & the QLD Tablelands the following week, so go check those out if they're closer to you.
About your teacher:
Joel Salatin is a third generation family farmer working his land in Virginia's Shenandoah Valley with his wife, Teresa, son Daniel, daughter Rachel and their families. The Salatin Polyface Farm, an organic grass-fed farm, services more than 4,000 families, 10 retail outlets and 50 restaurants through on-farm sales and PolyFace initiated 'buying clubs'.
Joel  has been called 'the world's best farmer' by TIME magazine and is internationally respected for his farm's innovative, integrated animal systems.
He is also the author of 8 books including the best seller Folks, this Aint Normal. Joel also writes extensively in magazines such as Stockman Grass Farmer, Acres USA, and American Agriculture.
Queenslanders! Following this event, Joel is also up your way with our mates at RegenAG – schedule here.
During the day
We'll provide you with complimentary drinks and a light lunch, thanks to the fine folk at Cornersmith – expect shared platters of tasty pickles, breads, cheese, veggies + cured meats.
Please note that if this spread won't be to your tastes, plan to bring your own lunch, or pop out to one of the many eateries of Surry Hills.
Booking into this masterclass
You can pay for your course below with your credit card. If you prefer, contact Trev in our office to arrange payment by credit card or direct deposit over the phone.
Please note that there are no refunds available for tickets to this event.
Need more information?
Contact us using the form below if you have any questions, to arrange an alternative payment method or to be added to the wait list for a sold out event.