Registrations for this webinar series are now closed!
Join Joel Salatin of Polyface Farms for this series of live, in-depth,  90 minute sessions that explain all the details you've been wanting to know about these specific topics.
Includes live Q&A and the ability to replay the entire webinar at your leisure after the event.
In these intensive webinars, Joel will go straight to the heart of the matter and discuss the intimate nuts-and-bolts of designing and running successful enterprises in: pastured eggs, pastured chickens, pastured+forested pigs and direct farmer-to-consumer marketing.
All from the convenience of your own computer, because we know how hard working and spread out across the globe our communities' future farmers are!
PASTURED EGGS
AEDT [localize_time tz="Australia/Sydney" fmt="jS F, Y g:i A" before_local=" | " after_local=" "]02/23/2015 10:00 am[/localize_time]
PASTURED CHICKENS
AEDT [localize_time tz="Australia/Sydney" fmt="jS F, Y g:i A" before_local=" | " after_local=" "]02/23/2015 1:00 pm[/localize_time]
PASTURED PIGS
AEDT [localize_time tz="Australia/Sydney" fmt="jS F, Y g:i A" before_local=" | " after_local=" "]02/24/2015 10:00 am[/localize_time]
FARMER DIRECT MARKETING
AEDT [localize_time tz="Australia/Sydney" fmt="jS F, Y g:i A" before_local=" | " after_local=" "]02/24/2015 1:00 pm[/localize_time]
 ~~~~~
Click on the webinar topics below for a full synopsis of what will be covered.
More about Joel Salatin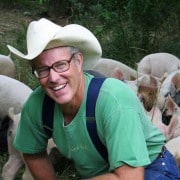 Joel Salatin, 57, is a full-time farmer in Virginia's Shenandoah Valley. The Salatin family farm – Polyface ("The Farm of Many Faces") services more than 5,000 families, 10 retail outlets, and 50 restaurants through on-farm sales and metropolitan buying clubs with salad bar beef, pastured poultry, eggmobile eggs, pigaerator pork, forage-based rabbits, pastured turkey and forestry products using relationship marketing.
Polyface has been featured in Smithsonian Magazine, National Geographic, Gourmet and countless other radio, television and print media.
The farm achieved iconic status as the grass farm featured in the New York Times best-seller Omnivore's Dillema by food guru Michael Pollan and the award-winning film documentary, Food INC.
---
 WEBINAR FAQ – Your questions answered
---
What happens after I book into this webinar?
After you book in, we will send you an email telling you how to log into the webinar on the day, as well providing you with all the system requirements you'll need (outlined below) and also a toll-free number for technical support that you can call to fix any problems you may have.
Then, on the day of the webinar, login with the link we've emailed you, and get ready to learn something new!
What will my experience inside the webinar be like?
During the webinar, once you've logged in, you'll see a frame on your screen with a live video stream of Joel Salatin discussing the topics outlined with a mix of pictures, diagrams and straight-at-you discussion.
You can type in your questions in the chat side panel, and come the 30 minute live Q&A time we'll do our best to get your questions answered.
What if I miss the webinar? Can I still view it afterwards?
Yes. If you've registered + paid for the webinar, you will be able to view video of the webinar for watching later via the same link that works for the live webinar, regardless of whether you login on the day. This link will be available for 12 months after the webinar. No sweat.
---
  Terms & Conditions
---
– Refunds are not available for these webinars, however you may pass on your webinar login to someone else in your place.
– Please note that every webinar login issued may be used by only one user, so don't share your login with others or you risk not being able to access to the webinar. We cannot help you if this occurs.
– The '4 for the price of 3' webinar package is only available when all webinars are booked at once, as a batch. Add-on webinars will attract a standard price.
– All prices on this page are in Australian dollars.
Comments
comments