Update: Bookings for this course have now closed. Click
here
to find any
Backyard Aquaponics
courses we have scheduled.
September 13th - 14th, 2014 ( 9:00 am - 5:00 pm )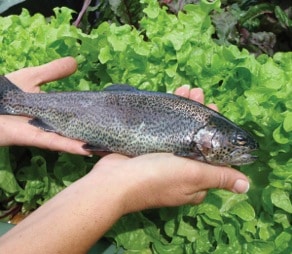 Does growing water-wise organic herbs, leafy greens and vegetables at your back door sound good to you? How about growing fresh fish while you're at it?
Join us for a practical aquaponics workshop on how to build your own aquaponics system and produce organic, water-wise vegetables and fresh fish in your own backyard.
This 2-day intensive workshop is designed to de-mystify home aquaponics systems, and give you the knowledge and confidence you need to build a range of DIY backyard aquaponics setups.
We know there's no 'one way' to do aquaponics, so in this wokrshop we ensure you get a good grasp on all the options out there for home aquaponics systems. Then you can build your own with confidence.
No chemicals, no fuss, just fresh fish, herbs and vegetables.
With 10% of the water usage and five times the growth rate of a conventional vegetable garden, an aquaponics setup can see fingerling fish grown to plate size in under 12 months.
This workshop covers the basics of:
The theory and history of Aquaponics
Nutrient cycling in different types of aquaponics systems
Integrating aquaponics with a permaculture approach for low-energy, high yeild systems
Different types of setups, grow beds, pumps and equipment
Integrating an aquaponics system efficiently and aesthetically into your backyard
Then we'll move into the nitty-gritty of adaptable, modular, upgradable, DIY, media based aquaponics systems:
Design and hands-on construction of different aquaponics systems
Which kinds of pumps your can use, and how they're different
The pros and cons of different fish food strategies (including Black Soldier Fly production, water weeds, worms and so on)
Selecting the best fish species for your backyard system
Selecting the best plants for your backyard system
How to approach the design of your system, to ensure success
And finally we'll look at system maintainence and troubleshooting:
Understanding 'system cycling'
Understanding basic water testing methods, including pH, and interpreting their results
Fish disease prevention strategies for a super healthy system
Natural strategies for nutrient management of your leafy green and veggie crops
Some resources to get you going:
You will leave with a competent beginners level knowledge of aquaponics, and with the confidence to build and maintain your own abundant aquaponics system, for many harvests to come. You will also leave with solid student resources to enable you to get cracking with building your own aquaponics setup.
About your Teacher:
Floyd Constable is an experienced permaculture and aquaponics designer and teacher. He's built aquaponics systems of every size and shape over the years, from patio to vertical pallette-based aquaponic systems, as well as larger, in-ground setups designed to feed large crews of people.
Floyd is a hands-on teacher who is passionate about learning outcomes and having his students leave full of knoweldge and the confidence to get making and growing.
Included in your course fee
Your course fee includes course notes and tea + coffee + organic fruit during the day. For lunches, there are many organic cafe options within a block or two – or feel free to bring your own.
Booking into this workshop
You can pay for your course below with your credit card. If you prefer, contact Trev in our office on 02 5300 4473 or [email protected] to arrange payment by credit card or direct deposit over the phone.
Details
Start:

Saturday, September 13, 2014 @ 9:00 am

End:

Sunday, September 14, 2014 @ 5:00 pm

Event Categories:

Event Tags:
Venue
Park Road




Sydney

,

New South Wales

2015

Australia
Organizer
Phone:

02 5300 4473

Email:

hello@milkwood.net
Need more information?
Contact us using the form below if you have any questions, to arrange an alternative payment method or to be added to the wait list for a sold out event.