Update: Bookings for this course have now closed. Click
here
to find any
Natural Building
courses we have scheduled.
November 19th - 22nd, 2015 ( 9:00 am - 5:00 pm )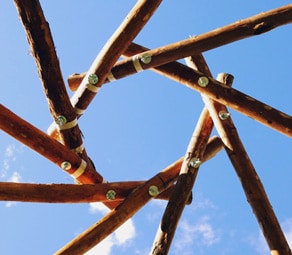 An intensive, hands-on four day workshop for anyone who is dreaming of building their own earth friendly home. Learn how to build with a variety of natural building techniques: light earth, strawbale, cobb, roundwood timbers, reciprocal roofs, lime and mud renders and much much more!
Skill up with professionals and get set to design and build your own. Taught by Sam Vivers of Viva Eco Homes.
This course will be an intensive blend of class sessions where students will learn the theory of each natural building technique covered,followed by practical hands-on sessions where students will help construct a variety of building elements which puts into practice all the techniques listed above.
You will leave this workshop confident in the basics of a range of techniques, and all set to start planning and implementing your own Natural Building project.
---

This Milkwood course is eligible for The Industry Skills Fund, providing up to 75% off course costs to folks in small businesses that meet the fund's criteria. More info here…
---
Natural Building techniques you will learn about include:
Rubble footings
strawbale building
Earth rendering
Lime rendering
Constructing a reciprocal roof
Using round-wood construction
Cobb building
Light earth building
Sam Vivers will be bringing his own working crew to assist on the construction during this course. Sam is highly experienced in creating comfortable, natural homes of all sizes, from large two-storey homesteads to suburban houses to small experimental cabins.
This course brings together the best of Sam's experience working across many types of natural building.
Students will be surrounded by many decades of knowledge of how to build with natural materials AND the 'build it once, build it right' ethics of a superb crew of craftspeople.
Our aim is that you leave this course tooled up, skilled up and fired up to get building.
What will I leave this course knowing how to do?
You will leave this four day course with a competent understanding of how to utilize various natural building techniques: namely strawbale building, light earth building and cobb building.
You will also have a working understanding of what is involved to build a load bearing reciprocal roof and build an earthern floor, and you will have hands-on training in both earth and lime rendering techniques.
This four day course is designed to skill people up to realize small scale natural building projects, and to empower people with the essential knowledge they need to work towards larger natural building projects.
About your teacher:
Sam Vivers is director of Viva Eco Homes with his wife Simone. They began building and renovating homes over a decade ago. It was right at the beginning of starting the business when they discovered straw bale building and building with natural materials.
Sam couldn't build with toxic chemical based building products anymore so then decided to build his own dream home from natural materials.
It evolved to a point where he thought these homes need to be made available to everyone – Australian homes with style, which were actually good for the world, made from the earth and were smart in every way possible.
Sam is a licensed builder, building supervisor and carpenter. He is a member of the Master Builders Association, the Australasian Straw Bale Association (Ausbale) and the Earth Building Association of Australia.
Included in your course fee
Your course fee includes scrumptious wholefood catering during course hours. Your course fee also includes a range of take-home resources on the techniques covered in this course.
How to get there + where to stay
Click here for directions and accommodation options for gorgeous Kangaroo Valley – there's everything from riverside camping to sumptuous B&B's.
Some resources to get you thinking:
Booking your course
You can pay for your course now with your credit card, or contact Trev in our office via the form below (scroll down) to arrange payment.
Please ensure you read our refunds policy prior to booking your course.
Need more information?
Contact us using the form below if you have any questions, to arrange an alternative payment method or to be added to the wait list for a sold out event.