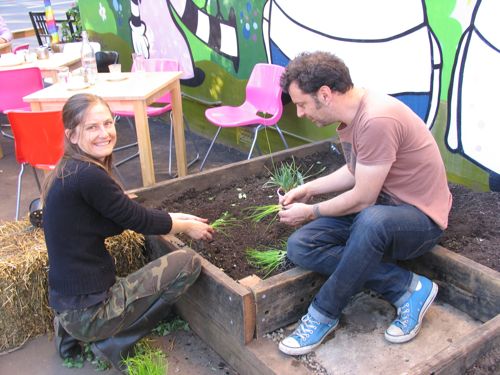 Around the corner from the community center where we run our Sydney courses is a funky and friendly little cafe called LoveGrub. Down the side of LoveGrub lies a little strip of dirt which the cafe have claimed as their garden. One day LoveGrub asked us "erm, don't suppose you could turn our little garden into a happening thing, could you?"
So we said "Yes! Of course!" – and with the help of our fabulous Milkwood interns David, Andrew, Adam and Alexe, we did. We used the opportunity of a weekend Urban Permaculture course we were running to completely re-design and renovate LoveGrub's little strip into a functional permaculture kitchen garden to supplement the cafe's menu with uber-local, naturally grown, seasonal greens and herbs.
In order to create a functional, useful garden designed with permaculture principles, we firstly needed to identify the needs of LoveGrub and the community that used its outdoor area. LoveGrub is next to a little triangle of space with a large Jacaranda tree shading it in summer, which the cafe uses partly as their outside eating area.
This area is very public: one side faces a major arterial road and another faces a laneway, with the wall of LoveGrub making up the third side.
Despite these un-ideal features, the little triangle of space is a bit of an oasis: every day the cafe puts out two big baskets of toys under the tree and kids can play while their parents have a cuppa. Kids are welcome, dogs are welcome, and you get the feeling it's ok just to sit down and chill out there – it's a very democratic, community driven space.
So first of all, the garden we wanted to make for LoveGrub needed to be kid and community friendly. It also needed to be a functional source of salad greens and herbs for the chefs of LoveGrub. It also needed to be dog-proof (within reason), as many people bring their furry friends to the cafe.
The design we all devised is a simple one, but it's also practical and appropriate for the context. This design is flexible, with room for the garden to grow, and I think it will be a blooming, beautiful and productive thing very soon. Here's what we did, in a nutshell:
Garden Design parameters: The design had some fairly major parameters on it, the biggest being the following: 1. The site was a thin strip of dirt with a path down one edge and a west-facing wall on the other. 2. There was a very limited budget. 3. It had to be done in 3 days, as part of a Permaculture course. 4. The garden had to be very kid, and dog friendly, and still produce a decent yield for the kitchen within these conditions. 5. The cafe wanted to process all the coffee ground wastes from the cafe in this garden, and preferably all the food scrap wastes as well.
Garden Design approach: So we came up with a super-simple, very affordable and community friendly design which can be expanded and built apon in due course:
– Raised, no-dig, single reach beds with deep mulch. Every garden bed needed to be 'single reach' – i.e. no longer than one arm's reach, so that everything could be accessed from outside the garden borders, to minimise compaction of the beds.
The beds were raised partly for easy access for the chefs, and partly to make them more kid-friendly (and kid-proof, too). Raising the beds also helped minimize the canine interaction with the garden.
Because these are no-dig beds, a technique which aims to minimize compaction and therefore the need for soil disturbance, salad greens can be continuously planted here and there, with minimum disturbance to the rest of the garden. The herbs are more seasonal but can operate on a  similar pattern where needed.
– Keep it simple, keep it accessible: the design allows for easy access to the beds for everyone, especially a chef in a rush.
– Coffee grounds disposal: we renovated the two existing worm farms to allow them to process all the coffee grounds form the cafe. If these farms are fed only the coffee grounds, the worms will process them into worm juice and castings to bring further fertility to the garden. (if there's other scraps in there however, the worms will preference those and not eat the coffee grounds – so coffee only in these worm farms).
– Kitchen scraps disposal: to do this we put in a bunch of Worm Towers, which are essentially small, vertical worm farms. See our recent post on worm towers for a little lowdown on this excellent technique.
Garden construction: with the help of our 4 amazing interns, this garden was constructed in less than 3 days, from Friday to Sunday. The process of construction also formed part of an Urban Permaculture course we held that weekend. It was a lot of work, but well worth it.
Following a mass de-planting of the existing garden, we placed all the herbs and plants we felt we could re-use onto tarps. We then renovated the soil structure as best we could, and balanced the pH in readiness for the new plants.
We made the garden edges out of recycled hardwood and sanded them down to make sure they were splinter free before installing them. Then in with the edges, more soil and a thick mulch of lucerne.
We installed the worm towers down the length of the bed to introduce further nutrients and fertility into the soil, which will leach out of the base of the worm towers as they continue to be fed kitchen scraps.
By Sunday the new kitchen garden was all ready for a great plant-athon. Our urban Permaculture workshop students got stuck into it and we planted a wide variety of salad greens, herbs, flowers and vegies for the cafe and its surrounding community.
And now our task is to stand back for a while and see how it goes. Did we get it right? Will the garden function as it should? Will the chefs really use its produce? Only time will tell. We'll keep you updated.
So if you'd like to lounge about having delicious Japas in Alexandria some evening, now you have an excuse. LoveGrub is at 38 Michell Road Alexandria and is open every day. The garden is there for the picking by anyone who wants to, so feel free to wander down and have a munch on whatever the garden is blooming with at the moment.
Note: Many thanks to Jacqui and the crew at LoveGrub for fuelling our fire and keeping our bellies happy during the install. Also big thanks to our amazing Milkwood interns Andrew, Alexe, Adam and David for going above and beyond the call in the name of all things good and growing. And lastly, thanks also to our Urban Permaculture course students who helped plant the whole thing out!
[slideshow]