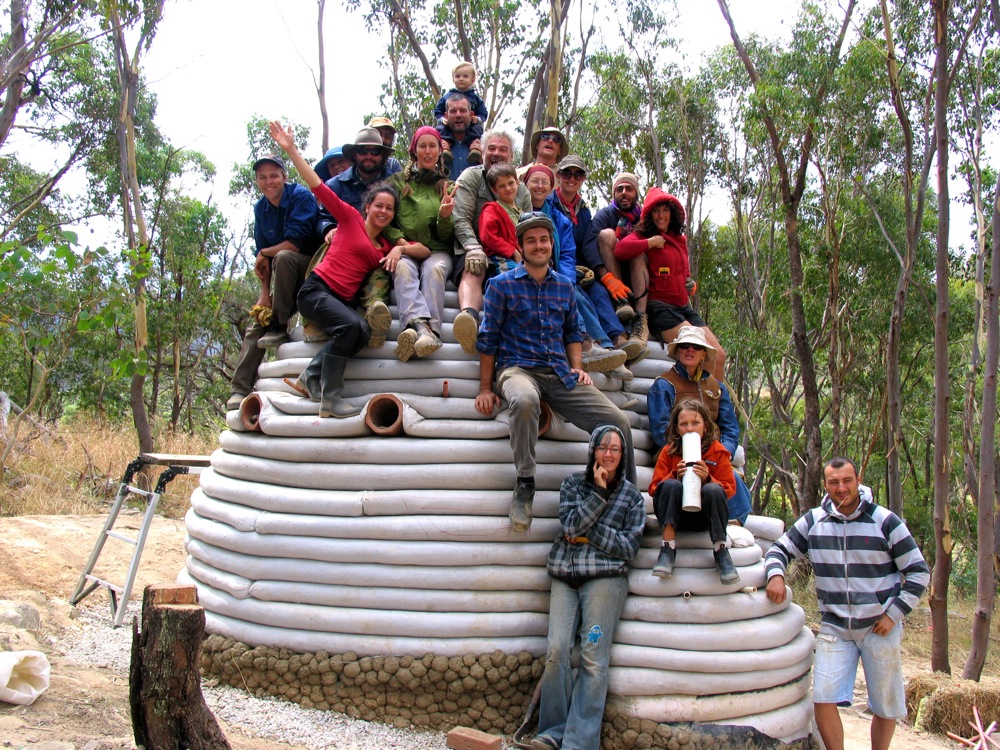 A couple of months ago we had the opportunity to build an earthbag dome at Milkwood Farm, and run a workshop while we built it. We jumped at the chance. We'd always wanted to try earthbag building, but where do you start with such a venture?
And so it was that over six days, Neil and Stella guided us and 20 other workshop participants through the dirty, intricate but surprisingly simple process of raising an earthbag dome from the soil of Milkwood. It was one hellava week.
Earthbag is a building technique we've been interested in for a while. The basic gist is that it grew out of experimenting with sandbags to erect crisis housing in disaster zones. In short, the technique involves filling bags with earth and/or other stabilizing material, laying them down and flattening them out, and using multiple layers to build permanent structures with excellent tensile strength.
The week we spent raising the walls of our first earthbag dome turned out to be as much about what happens when 20 people come together to build something, as it was about the actual structure.
For this workshop the group at our farm was formed of families, licensed builders, owner-builders, wanna-be owner builders, the curious and those who just wanted to escape the city for a week and do something (very) physical.
So over these six days we collectively raised a building which will likely still be hugging the hillside at Milkwood Farm long after Nick and I are compost. The dome is made from the earth of our farm and will be a safe and warm little house (okay, room) for our guests for many years to come.
All done with earth, bags, gravel, barbed wire and a heap of collective effort.
I've decided that I'll break down the specific stages of the build of the earthbag dome into separate articles so that, rather than just giving you a pretty slideshow, our experience can actually be of use. So from here on in you can go to the following link to get to the entirety of articles on this build:
To report back on the build in general, however, it was… like nothing we've ever done before. Unlike our ongoing cottage build at Milkwood, this project was a concerted effort that raised the entire structure of the dome (except for the skylight) all in 6 days.
I loved the simplicity and elegance of the form, and the fact that, while the design and structural approach took some thought, it wasn't rocket science. This is natural building at its best. Simple, effective, low embodied energy and non toxic. A room that is a pleasure and a balm to sit within.
This time frame also allowed for class time and design time, so if you were just focusing on building with a crew, I guess it would be a shorter build. The cost of materials will, by the time we are completely finished, be about $3,000. Note that this is the cost in raw materials – it doesn't include labor, design or consultancy. But it's a useful figure none the less.
The feeling inside the dome, which is being rendered as i write this, is one of solidity and protection. It just feels good in there. We'll be putting in a small bed in the dome and a rocket stove in the domelet (i believe an 'apse' is the correct term for the domelet) to heat the inside space. It should be a wonderful little nook for guests at Milkwood sometime soon!
Stay tuned for Earthbag Buidling specifics, starting with building the foundations…
Some Earthbag resources:
Hooray to the entirety of our 2010 Earthbag Workshop crew, and to Neil and Stella of Guiding Star.