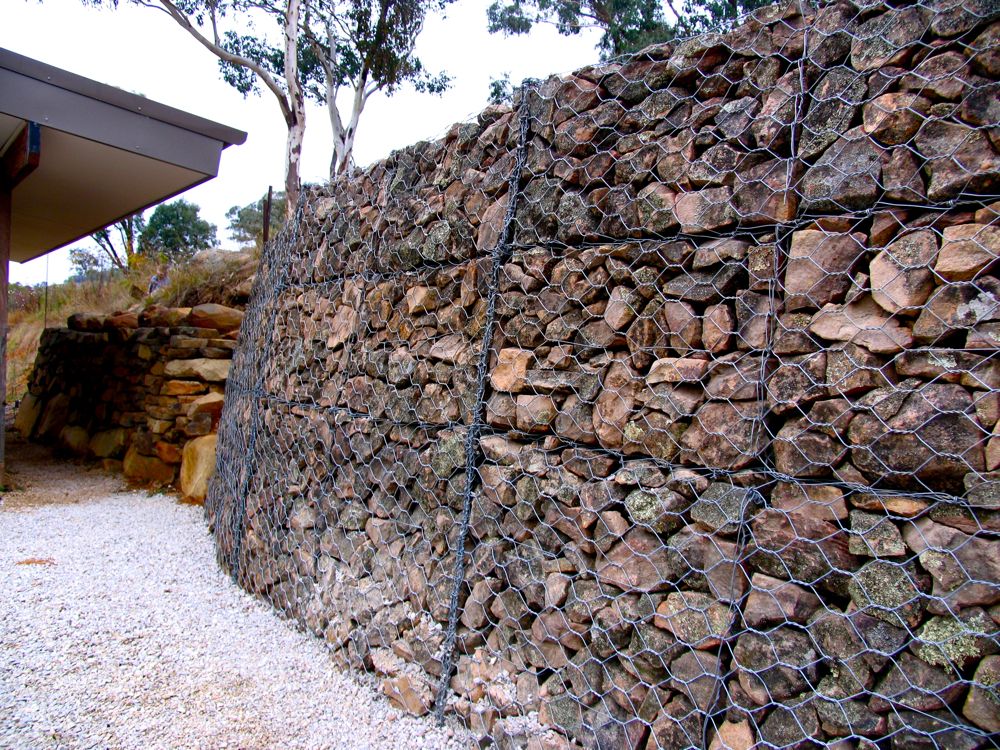 I am now fully convinced of the glory of gabions. Not only can they create leaky weirs in dryland gullies, they can also liberate courtyards. Like ours, for example. After years (yes, literally) of trying to figure how best to create a low-cost, low footprint, 2m high retaining wall in our courtyard, we discovered the solution. Wire baskets of rocks. Yes.
Previously, gabions always seemed to me the sort of thing you find next to a highway, holding up a mountain side. Or next to a government building. They seemed very official and well beyond the scope of a DIY home builder. I don't know why I thought this. But it turns out they are our friends. Sturdy wire baskets ready to hold anything. Bring your own rocks.
The mission with this retaining wall was fundamental to building our tinyhouse at Milkwood. We had cut into the hillside to make a two-tier flat place: to build our small house, to harbor our kitchen garden, and to generally provide somewhere you could sit without tipping downhill.
The problem (ahem – i mean challenge) was that this cut then needed a retaining wall to stabilize the earth. Pretty simple, I hear you say. Well, kindof. The next challenge was that we soon discovered that our cut was full of immovable boulders. These massive lumps poked out of the ground and out of the walls of our cut.
After trying (and only partially succeeding) for 2 weeks straight to remove just one of these monster rocks, we decided to work around them. Our teeth gnashed and we swore we could hear the trolls cheering deep beneath the earth.
This wall, and our entire courtyard surrounding the tinyhouse, faces north-east. We wanted to create a space full of warmth in winter by using the retaining wall as a giant thermal mass collector that will then radiate that heat back into the courtyard in the late afternoon and evening on a winters day. So making this wall out of rocks seemed an obvious choice.
For the top retaining wall we started with a drystone wall, but we soon found it was not right for our build. The small 5m section we did with stonemason Maurice looked wonderful, but it took 3 weeks to collect enough of the right kind of rocks, and one week with two men to build it. There was no way we could keep that up for another 32m long by 2m high.
So gabions became the solution . They were perfect for the job. We could alter the bottom and back faces of the the baskets to account for our boulders, we could use our own bush rock to face them with, and they were suitable to build with to 2 meters high.
If you've ever been to Ballast Park on Sydney harbor, you would have seen some serious gabion action. It turns out gabions can be quite a creative and pliable form, too. You can curve around corners, put anything you like in them, and get seriously funky if you chose. We, however, just wanted a wall. A good, old fashioned, heat radiating, lichen covered, rock wall.
The gabion baskets we sourced came in a range of sizes. We used one row of 1x1x2m baskets for the bottom course, followed by 2 courses of 0.5×0.5x2m baskets. When put together, they are literally a wire box with a lid. A bit like lego, but with added rocks. Our kind of fun.
We drove bits of iron bar into those immovable boulders so that the bottom course of baskets, when filled with rocks, would not be able to move or shift at all. Once the first course of baskets were filled we wired their lids on, and wired the second layer of baskets to the first, and so on.
We chose to collect rocks from our very rocky paddocks for just the facing (outer) layer of rocks in our gabion baskets, mostly because it would take a huge about of time to collect enough rocks to fill all the baskets. While i do love picking up rocks off our hillside, other aspects of life call after a while. So we cheated and got some ballast from our local quarry to fill the back of the baskets.
The result is a wall that, once it's got espaliered orange trees growing up against it with prostrate rosemary cascading down from above, will look like it's always been there. In the meantime, it looks like a big, solid solution to our big, tricky problem of how to prevent our hillside merging with our courtyard.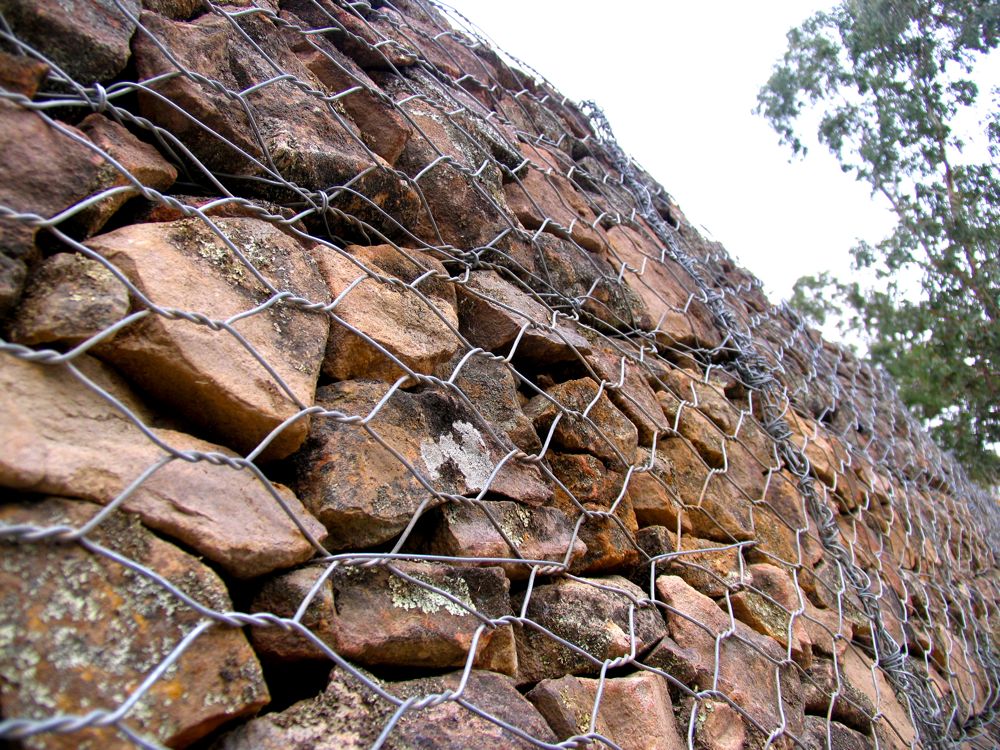 The gabion baskets we used came from Maccaferri Australia. They were very helpful to deal with, quick to deliver, and generally great. Thanks to Damien Stephenson (awesome Mudgee builder) for having the bright idea that we should be using gabions, and for telling us so.
Related posts: