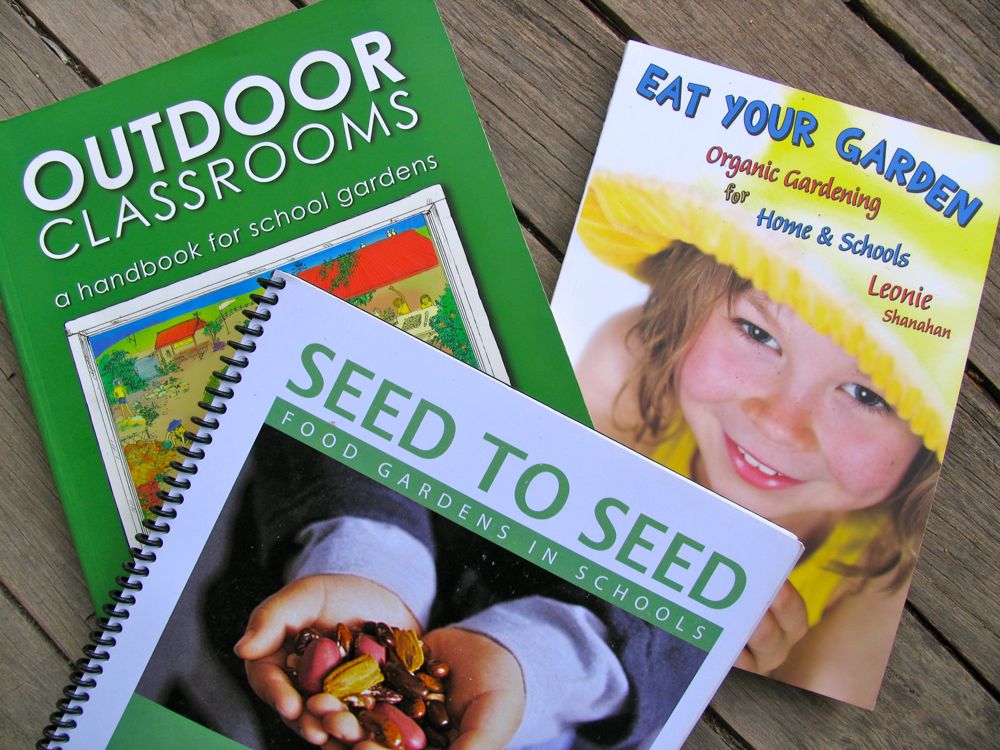 School gardens are enjoying a growing revival currently, which is great because they have the power to be pretty transformative places. Since meeting Aaron Sorenson, I've begun to understand just how a good school garden can truly intersect with more aspects of learning than perhaps anything else that happens in a school day.
At this point in my ongoing research into school gardens I thought I'd share my 3 current favorite books that focus on how to start your own. Crucially, from my perspective, all of these titles focus on permaculture school gardens where the emphasis is on gumption, ideas, biomimicry and building community, as well as the growing and the eating.
You might say that these three books are three complimentary flavors. They all deal with taking permaculture gardens into schools, and each in their own special way. All are based on the author's extensive experience in developing and implementing school gardens, and their styles come out in the pages. Each may suit a different sort of person to inspire action.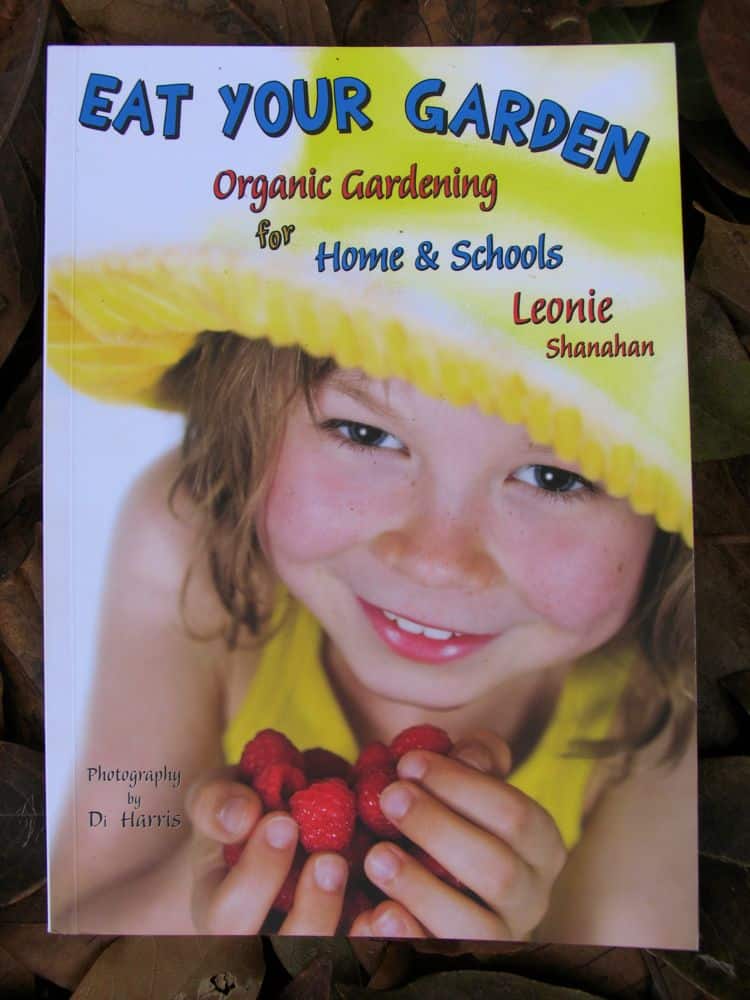 Eat your Garden – Leonie Shanahan
This books is a great place to start. It's both a how to grow food and also a how to help kids learn to grow food resource. Leonie's approach is beguilingly simple, fresh, honest and open – and from the reports I have heard from the school gardens she has initiated up north, hugely successful as well.
The book is designed for Australian readers (but you could always flip it on its head if you're in the northern hemisphere) with tasks and ideas set out term by term for the Australian school year. It is packed with beautiful pictures and practical how-tos. I learned a lot from reading about simple gardening tasks I thought i knew how to do.
Unlike many self-published books on this subject, Eat your garden is full of photos. This really helps – give me an instructive photo over a well-meaning diagram any day! And each page has multiple shots of kids in action, which is also good to see. They seem to be enjoying themselves hugely as they mulch and grow green manures and make worm towers and eat vibrant heirloom vegies.
This book is a great resource for anyone wanting to initiate a school garden with minimum funds and maximum energy. There's also some insightful info on how to get the community involved, how to approach garden setup, and how to retain the momentum of the project once it's off and running.
But the best thing I like about this book is that it makes the entire process all seem achievable, and it distills the cloud of what to plant when + how + why + where down into a doable framework. And after reading it, you feel like you're itching to give the ideas all a go. Leonie also has heaps of great tips and info on her website.
>> Buy Eat your Garden from Leonie's website
Also check out: Eat your Garden excerpts / upcoming Ecofilms title Edible School Gardens with Leonie.
Outdoor Classrooms – Carolyn Nuttall and Janet Millington
Okay this is probably the closest thing to a comprehensive manual amongst these three titles. It is very, very thorough. It has excellent illustrations throughout and is something you feel you could whack a P&C meeting over the head with to get everyone onside with your proposed school garden project.
Carolyn Nuttall and Janet Millington are both experienced primary school teachers whose passion for both permaculture and school gardens is evident. And this book is definitely written with a teachers eye – it goes into depth on curriculum building and and general why of a permaculture school garden as much as it goes into the how.
This book also goes into depth on how to tie outcomes to what the kids do in their school garden – ie assessment. And, for many school gardens, this is very important. So if you're intending to integrate a school garden deeply into the school curriculum (or are having trouble convincing teaching staff to do so) then I would a have a good look at this title.
Seed to Seed: Food Gardens in Schools – Jude Fanton & Jo Immig
Seed to Seed is written by Jude Fanton of Seed Savers (a very important and venerable Australian seed saving crew who have done amazing work worldwide), and Jo Immig, an environmental scientist who is co-ordinator of the National Toxics Network and has played a role in getting many unsafe materials banned from Australian playground construction.
This book is like a big, loud, long friendly conversation about school gardens and how to create one. It is packed to the rafters with info on how to do just about everything to do with a permaculture school garden. It is very comprehensive and of course has a large focus on seed saving, which is not only an essential skill, but also one that kids jump at learning.
The book is designed for teachers and parents who want to get a school garden growing, and is a very comprehensive resource on how to make it all happen.
Just don't forget to buy a copy to support the work that these two fine people are doing:
>> Buy Seed to Seed: Food Gardens in Schools from Seed Savers website
Also check out: The utterly brilliant and far reaching SeedSavers.net / Jo Immig's website.
You might also like to have a look at:
Our other posts about School Gardens
Other good books we're reading