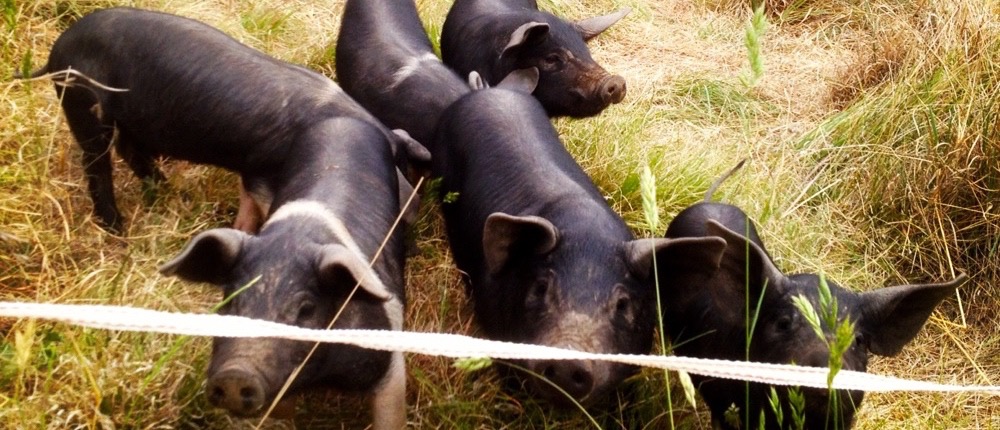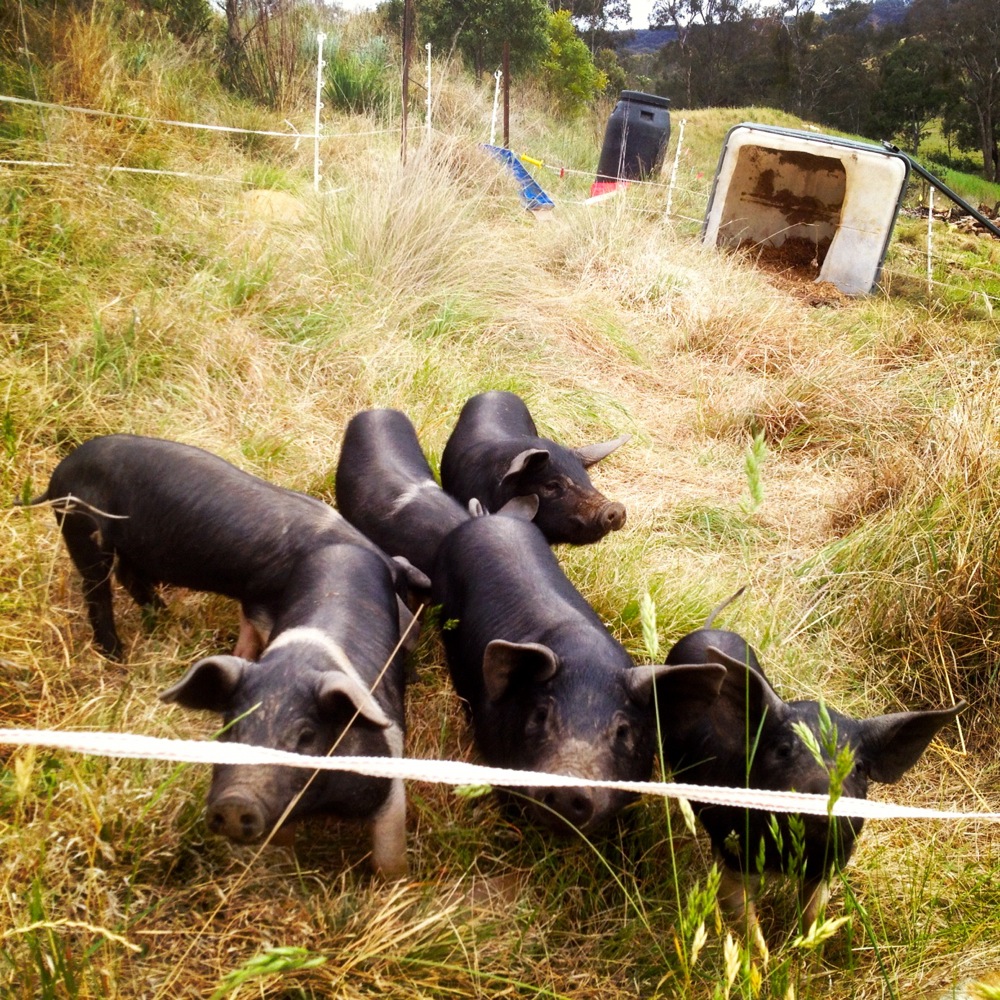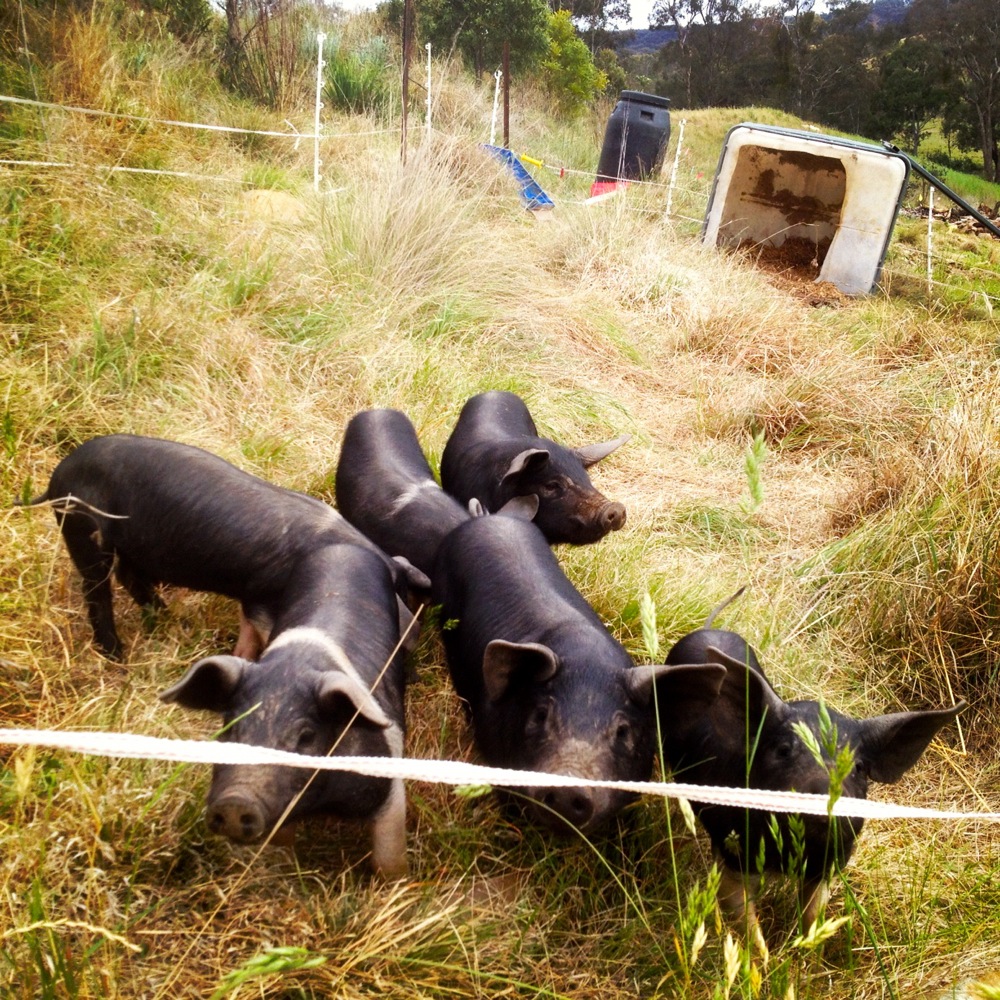 Figuring out the puzzle of successful pastured pigs has been interesting, but luckily we've got excellent mentors like Joel Salatin to help us along the way.
One technique Joel explained to us during his visit last year is how he trains his piglets to 'respect the fence' at an early age so you're not chasing after runaway piggies. This year we got a chance to try it out and it's proved a really useful technique – simple, and effective…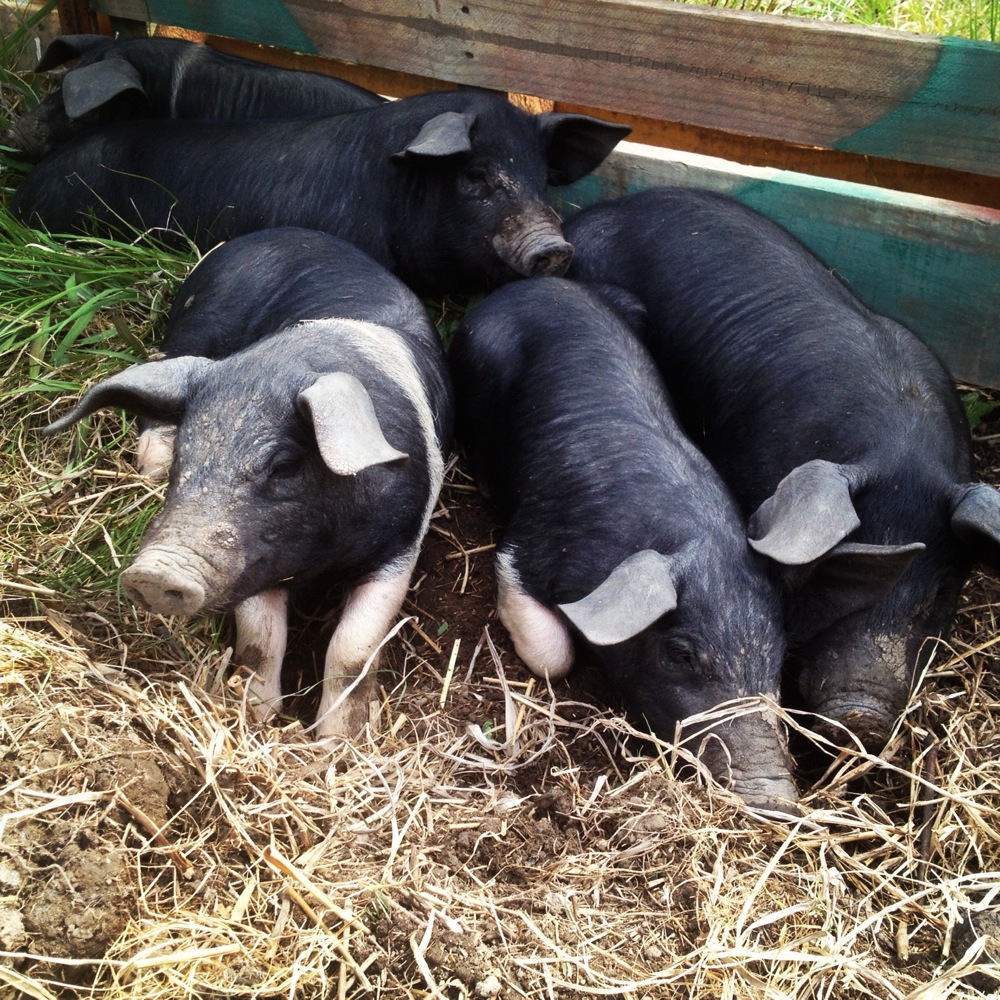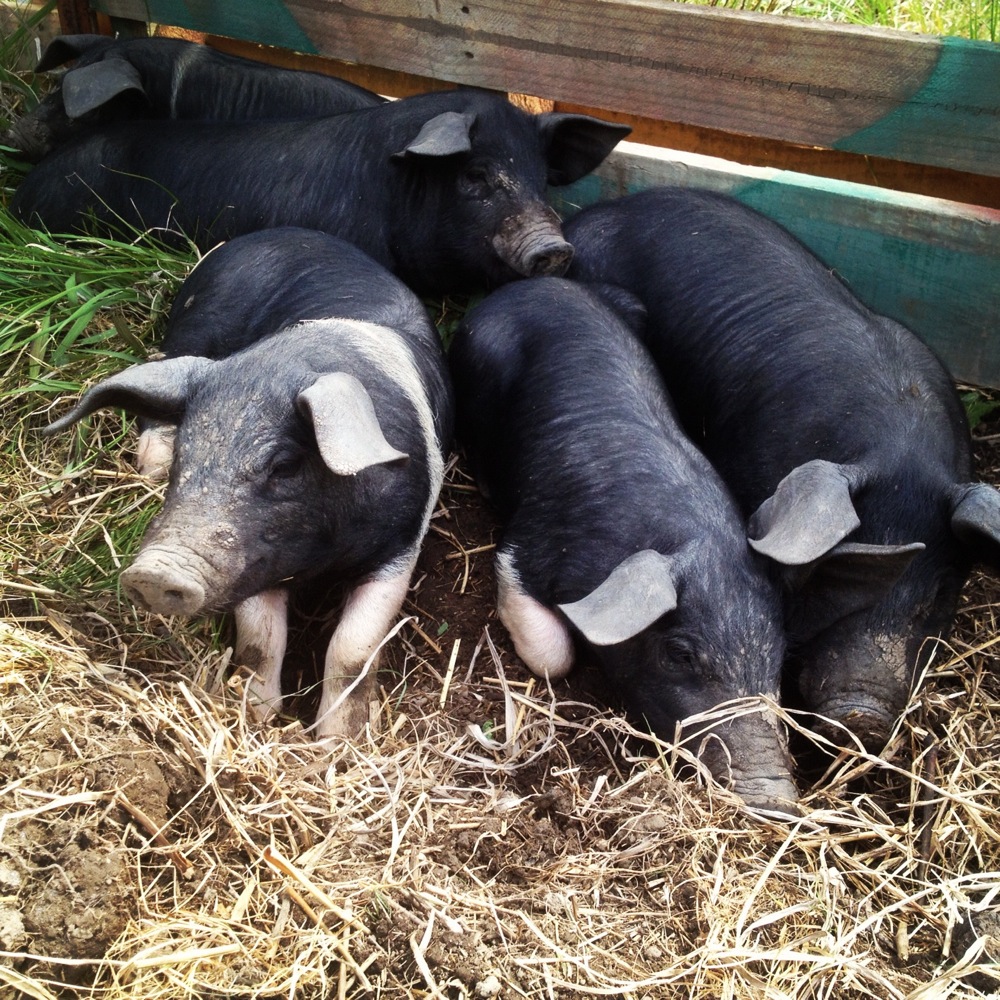 What we don't want with our micro pastured pig systems here is to spend our time chasing runaway pigs out of important plantings or dams. What we do want is happy, contented piggies who stay in their allotted patch so we can let them celebrate their pigness while tractoring ground that we want to regenerate.
The solution is to train the pigs to respect the electric fence while they're young, in as short a time as possible. That way, we can get on with letting them out into pasture quicker, and go on with the next job of the day.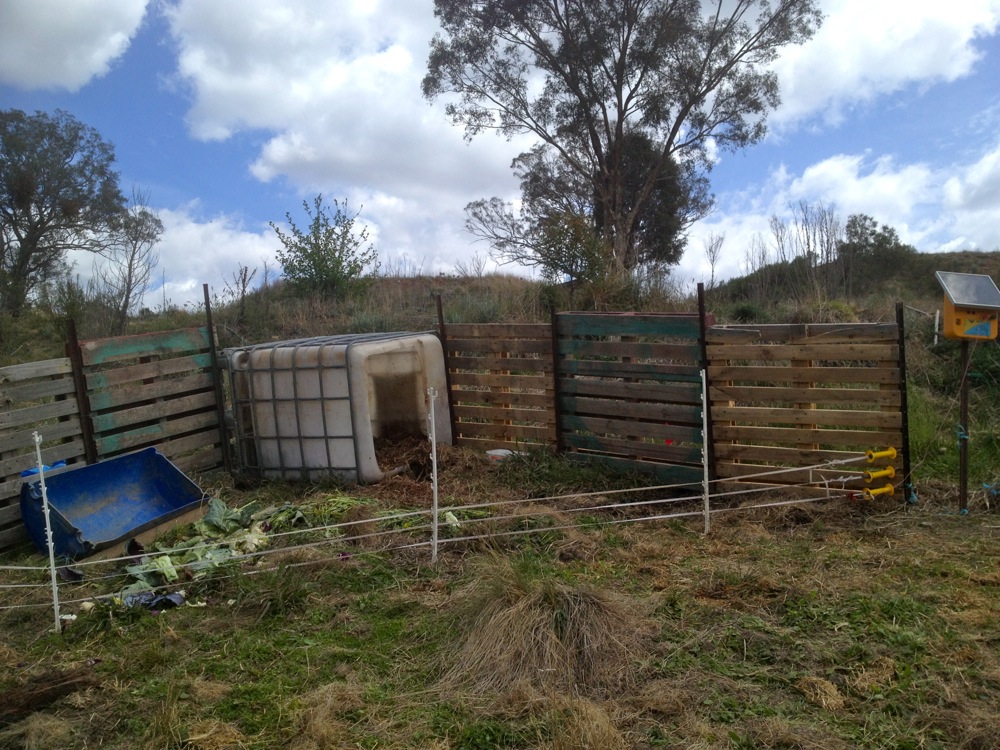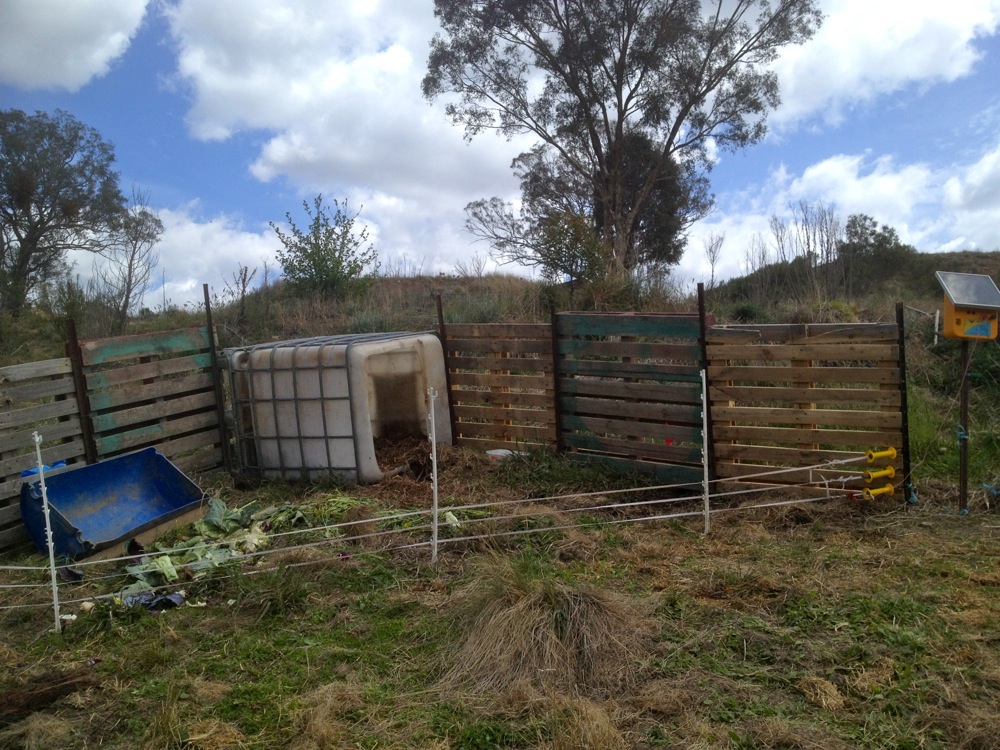 The setup for the piglet training ground is simple: a small triangular area, where two of the sides are pig-proof, and the the most accessible side is electrified fencing at a high voltage (enough to give a pig a big surprise, but not enough to hurt it). Inside this small area you have the pigs food, shelter etc for the week it takes them to understand the nature of the electric fence.
It doesn't take long – one good zap each, and the piglets had decided that going anywhere near that electric fence stuff is not their cup of tea… so they hang out in the remainder of the triangle.
The thing I like about this system is that only one side of the triangle is electrified – the pigs aren't in a 'fear zone' where there's danger in every corner. Thus they learn pretty fast that going near the white two-strand electric fence is a dumb idea, and hang out in the comfort and safety of the rest of the triangle, like the happy little pigs they are.
And because of the limited size of said triangle area, all the pigs get their chance to learn what's what.
This training system results (according to Joel's experience over many years) in pastured pigs who collectively respect the fence and don't make a break for it, because they've all learned as piglets that the white fence strands bite.
In a small farm system like ours, having pigs who don't break out is pretty important – we've an intensive system with many things close by that we really don't want the pigs to get into (intensively planted forest garden, market garden, garlic beds, house dams etc etc).
At the same time, we want an energy efficient solution for pastured pigs that doesn't require four hours to move them onto new ground… so the simpler the fencing system, the better for everyone, including the pigs.
In time we may go down to one electrified wire instead of two strands, as Joel uses to great effect at Polyface. But while we get the hang of this pastured pig thing we'll leave it at two strands, to be sure the pigs stay where we puts them.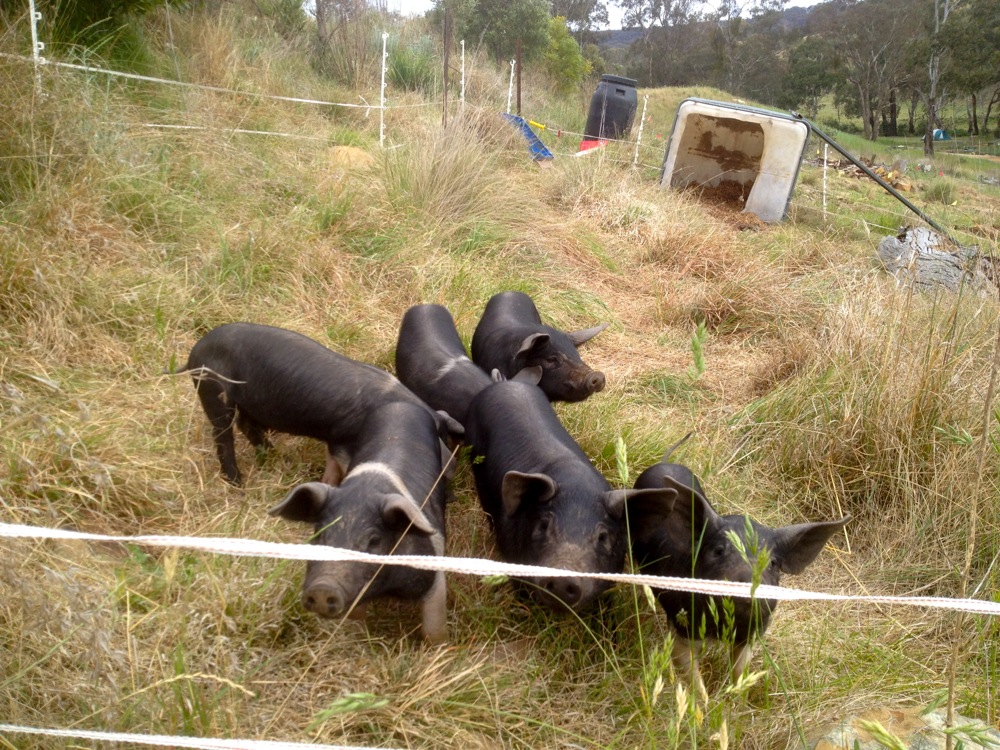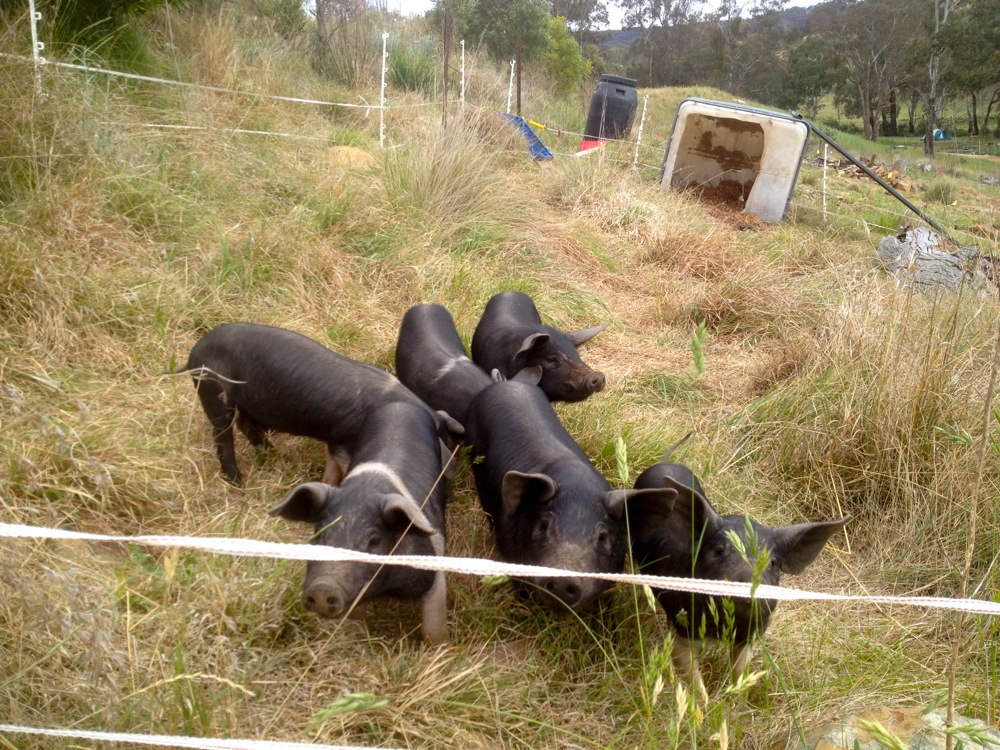 Following their training week, Floyd fenced off a bigger area and set the 6 piglets up with two strand electric all around. They've been loving it ever since, as there's plenty of space to dig for roots and sleep and play and generally be pigs.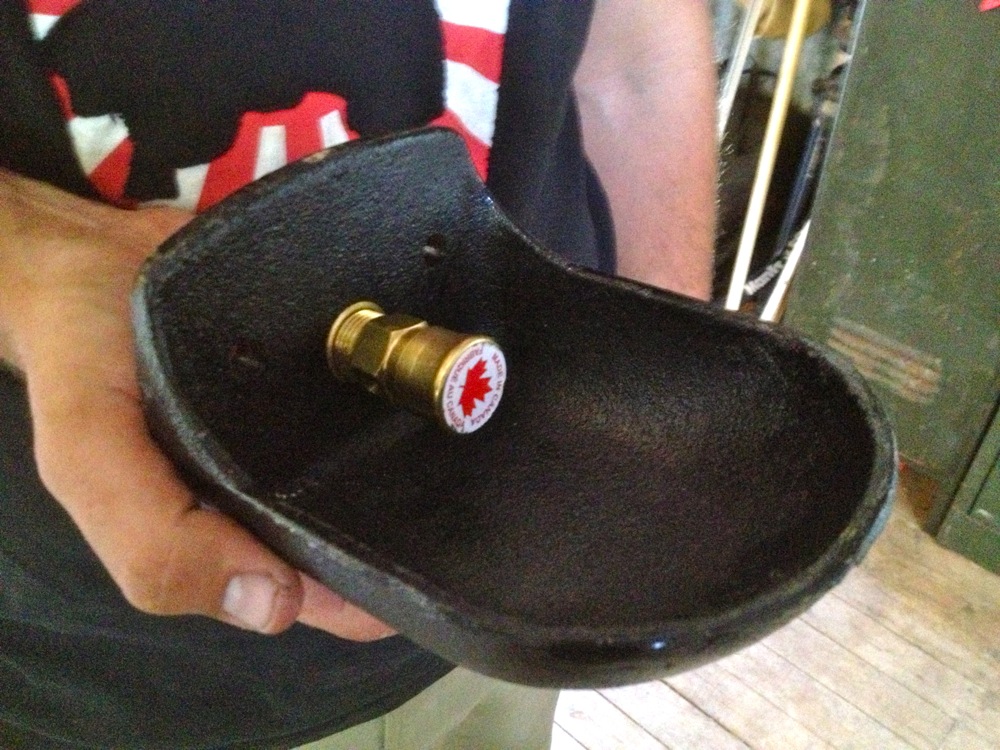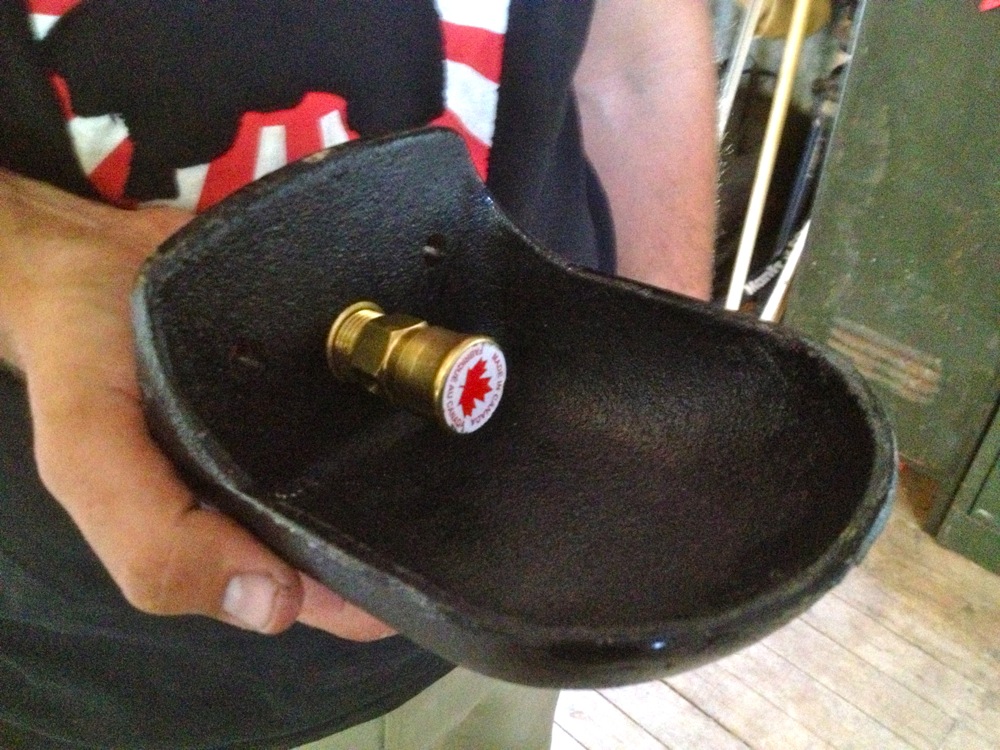 Following a visit to Taranaki Farm for part of their Joel spectacular last month, Floyd got a lead on these great pig waterers. Pigs need clean water available at all times, but if you give them a trough they tend to turn it into a wallow and jump right in.
These pig waterers are activated by the pigs' snout nudging up against the brass valve- this pushes it in and fills the small bowl with water. Once the pig stops nudging, the valve shuts, closing off the water. Nice one.
The water for these pigs is gravity fed from our top dam via a hose point, but you could use this system anywhere by adding a pickle barrel to the back of the waterer and filling that up every other day (noting that pigs drink an awful lot once they get bigger).
So we're off at a trot with 2-strand. It's proving much quicker to set up than the electrified netting we were using previously, though that electric netting is indeed a brilliant solution for cell grazing many other animals (sheep, for instance, who seem to calmly disregard stranded electric fence in our experience).
We'd also been told that someone had had bad experiences with netting and pigs, with them getting tangled in it. That said, we know other folks who have been using the netting with pigs for years with no problems. Hmm.
Ultimately at Milkwood we want to be doing forested pigs, which means weaving electric strands through trees to set up each new pig patch. That's going to be much easier with single or double strand electric, so we're learning what we need to learn now.
Like any system, it's a learning process. But we do love pigs here for all sorts of reasons, and I think they're an excellent addition (whether seasonal or year-round) to any small farm system. Pigs are great for cycling veggie + fruit wastes, building fertility, and of course providing the most ethical, local and scrumptious bacon you will ever eat.
Just a note for pastured pig enthusiasts that we'll be hosting Joel Salatin for a Masterclass on Pastured Pork and Beef systems aimed specifically at the small acreage farmer at Jamberoo NSW in February.
It will be a jam packed day of in-depth knowledge and details of how he's designed and managed his pastured beef and pig systems at Polyface Farms to regenerate his farm while providing his family with a great livelihood.