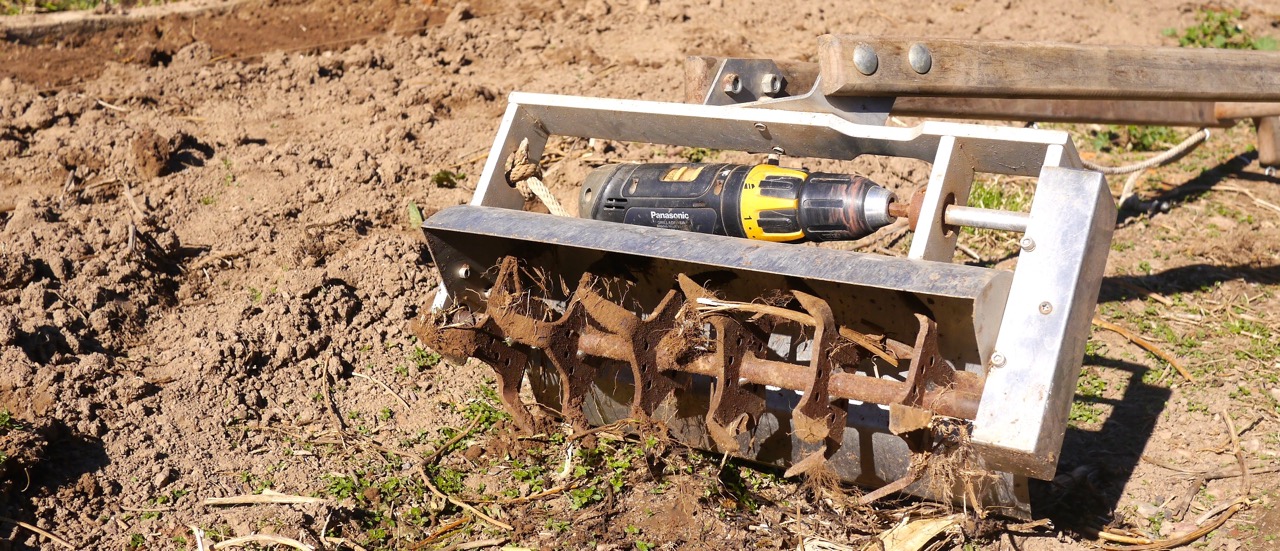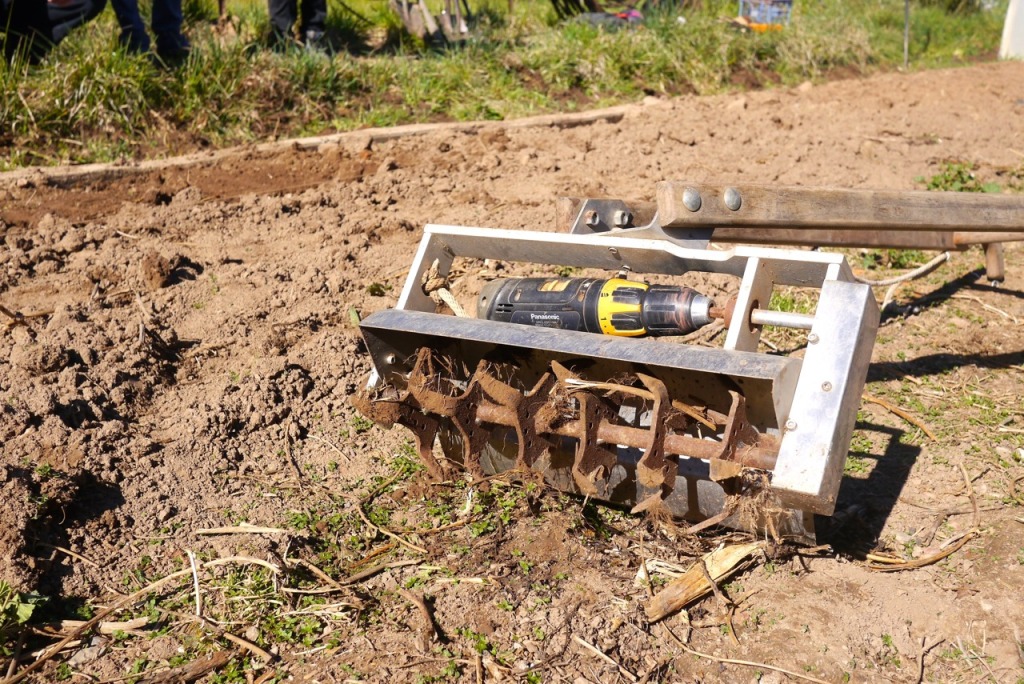 The thing about farming on the small is that big machines just don't make sense, and often aren't affordable to your small, regenerative farming enterprise anyway.
And yet, once you've brought 18 beds to a fine tilth to plant your precious carrots using hand tools alone, you could be forgiven for longing for the efficiency that machines, gizmos and general do-hickery provide.
So when it comes to small-scale organic market gardening, judicious use of machinery is key.
You don't want a whole shed of it (and you couldnt afford it all anyway) – but you wouldn't mind a few pieces of kit that got certain extra-tricky jobs over the line.
It's also, for some, about the attitude.
Many small-scale growers we know want to use their time and energy efficiently, but they also want to find a balance between automation while keeping themselves in direct relationship to the soil, each and every day.
Lastly, in a small enterprise, it's also about stacking functions – and finding tools that can do multiple things, in multiple aspects of the enterprise.
A easily portable motor would be good though. A cordless drill, for example.
Powerful motor, easily swappable and rechargable batteries, and it's already in your shed.
Enter a clever idea conceived by Eliot Coleman, in the form of the drill-powered cultivator.
Seen here in action at Allsun Farm, NSW,  during our last Market Garden Masterclass there.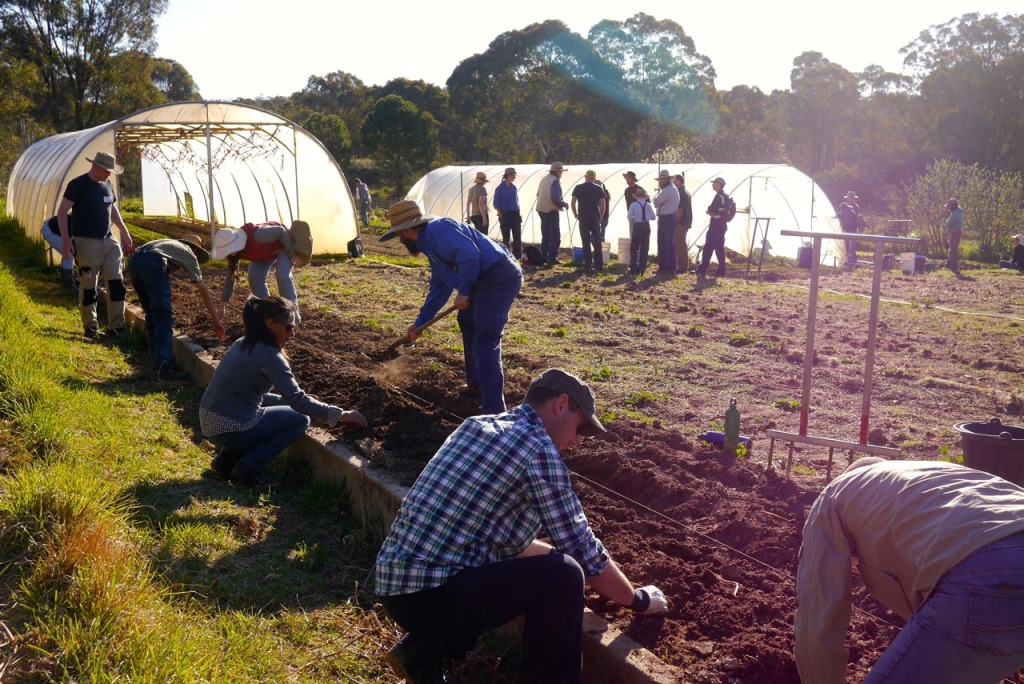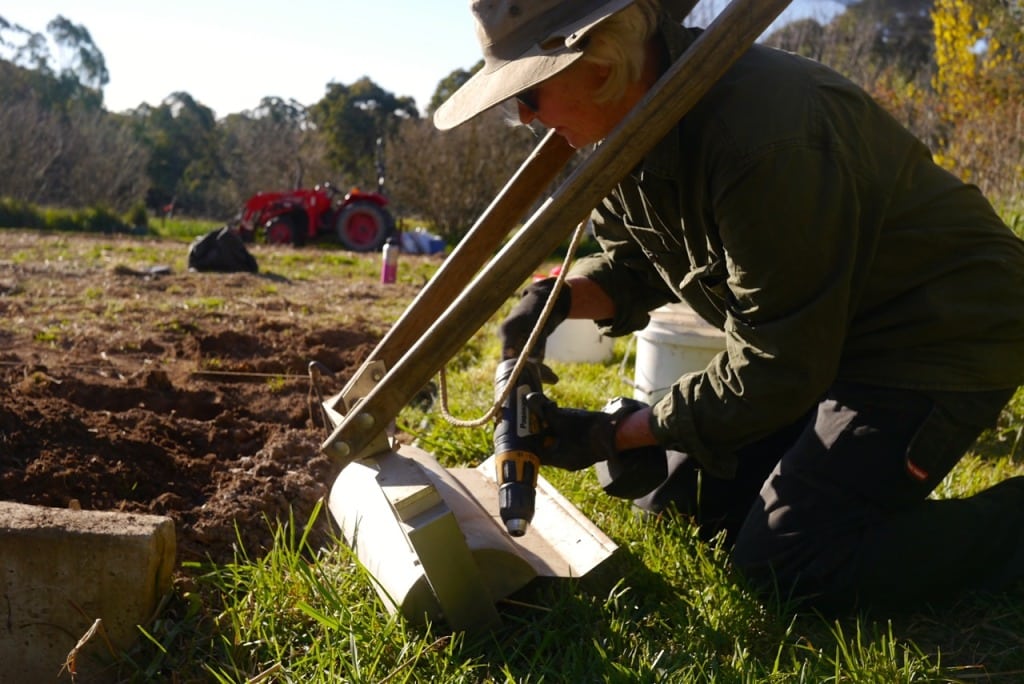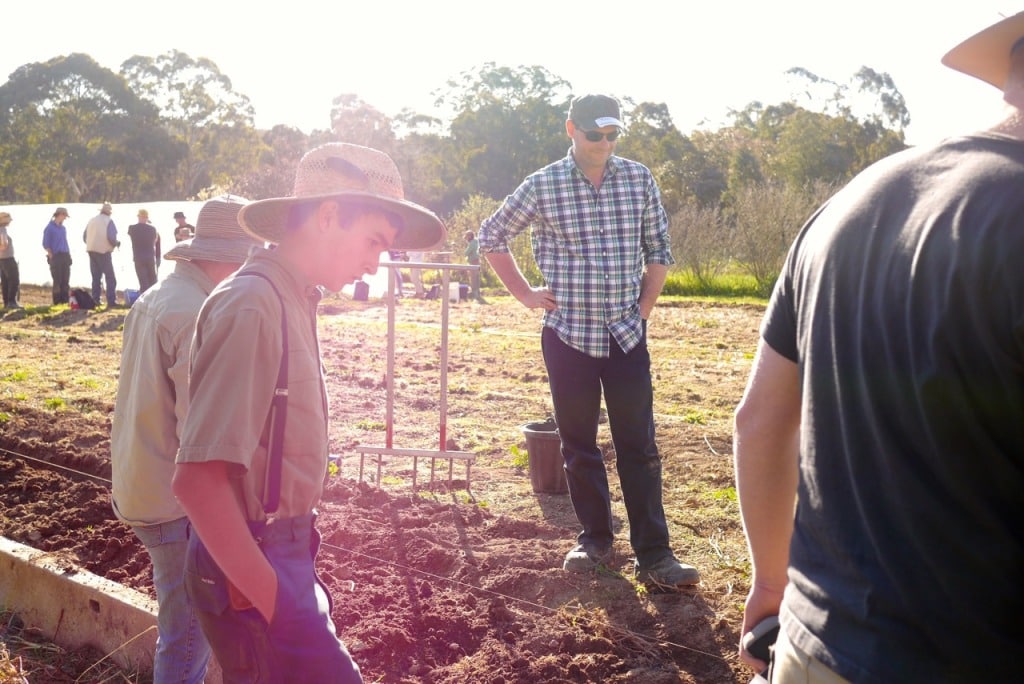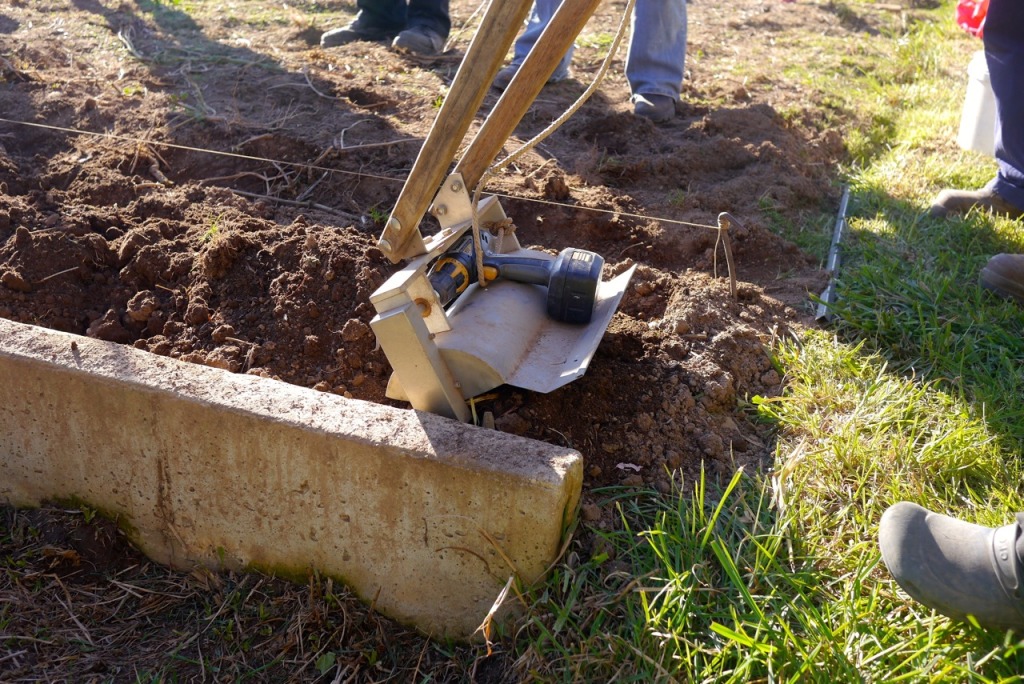 The idea of this tool is that it takes a standard cordless drill (the type of kit you'll have anyway) and attaches it to a hand-powered cultivator, using the drill's motor as a power source.
The trigger mechanism is a rope (i really like that aspect) that is twined a certain way to allow you to squeeze the trigger on the drill.
Potentially, this means that if you're on solar power (or whatever renewable power source) then you can re-charge this device, in the form of the drill batteries, as much as needed, with no fossil fuel inputs.
It's also quiet (or, only as loud as a drill), and light to carry.
This cultivator doesn't get you out of jail with bed prep entirely, mind you – it's designed to cultivate the top of an already prepared bed to a fine tilth – either as a final stage before planting small seeds, or to incorporate compost into the future seedbed layer.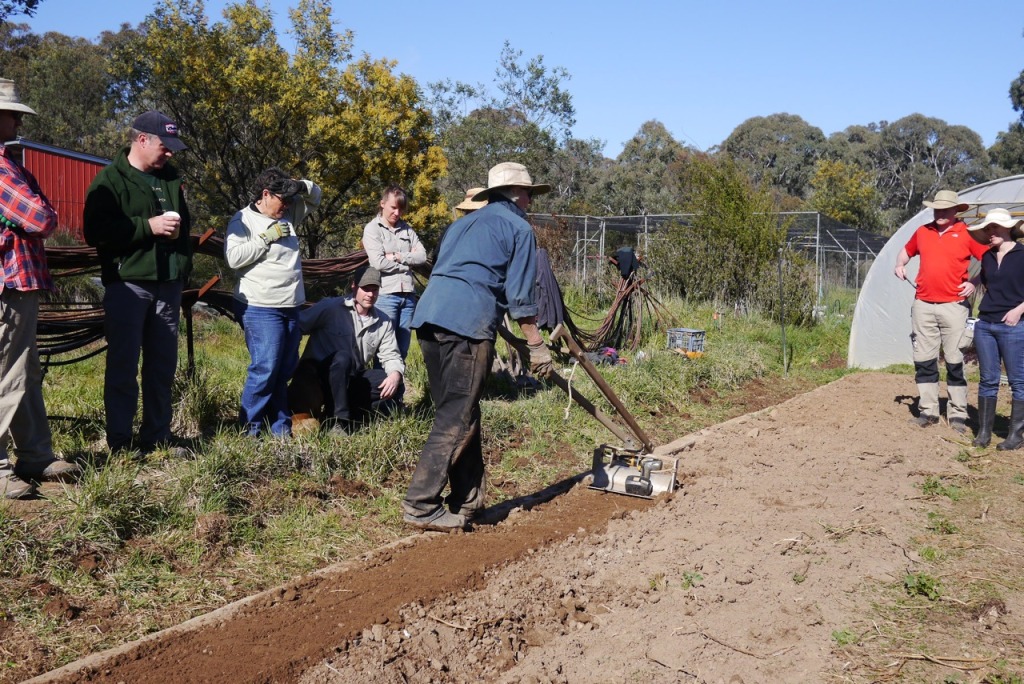 If you're in Australia, you can get one of these from ActiveVista in Tassie.
Further afield, check out  Johnnys Seeds in the US.
The drill-powered microfarming tool thing has definitely got legs, as shown in another drill-powered piece of kit, the quick cut greens harvester:
http://youtu.be/-DWcY24fBrU
Again – a human-scale solution to a time consuming task, using a great idea and simple, lo-fi technology.
There's a term emerging for this sort of small-farm tech that's providing highly thought out, lo-fi solutions to enable time and energy effective, small-scale growing…
Slow Tools
By which is meant: tools that do not aim to make everything quicker and bigger and faster until they become a destructive agriculture that breaks our soil, our sky, our climate and our futures.
But instead, tools which allow the grower, and thereby, the consumer, to stay more closely connected with the soil, and therefore their community – in appropriate scale with the resources and landscapes around them.
May our communities' futures involve more tools and farmers like these ones, please.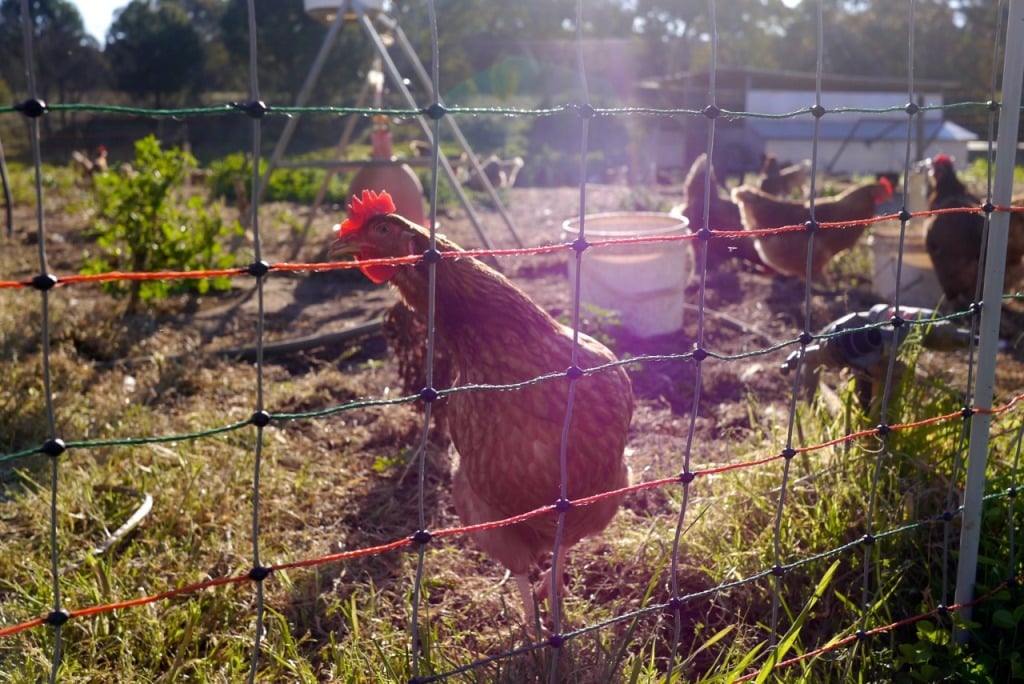 More slow tools info: