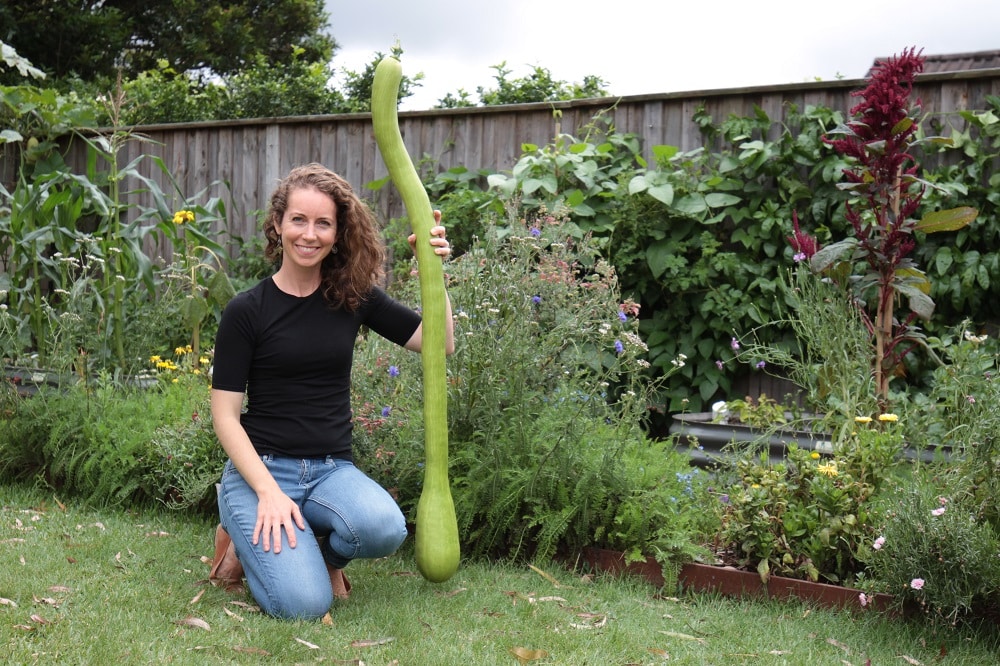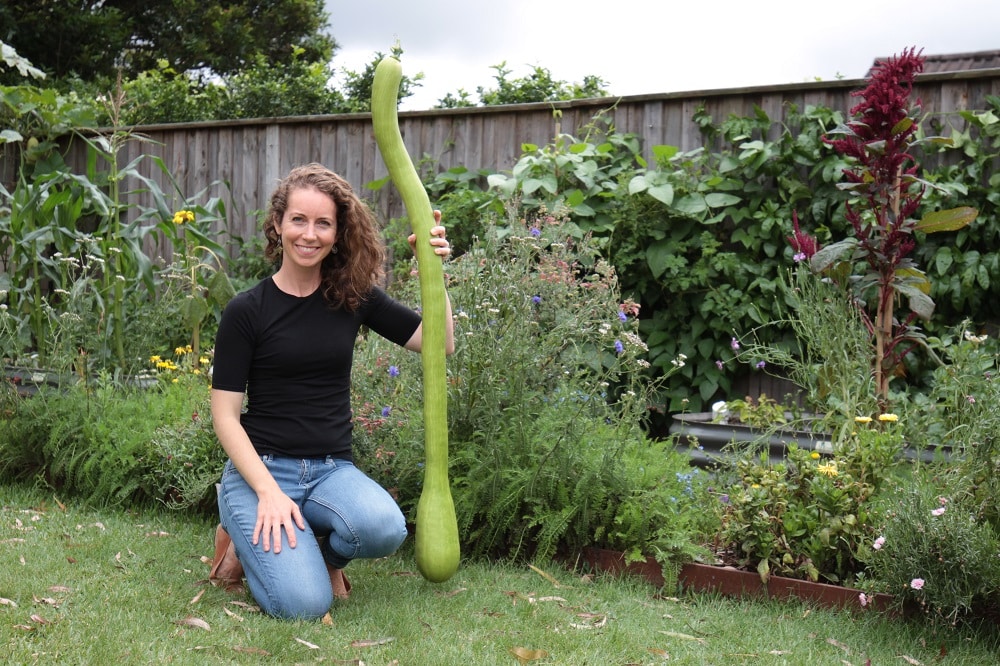 Each year, Laurie Green's family saves about $2,500 on groceries – by being part of a network of gardeners who regularly exchange their homegrown fruit and vegetables, all for free.
Rewind to 2015, and Laurie was facing a high cost of living and a bare backyard. As she started to grow food and connect with other gardeners in her street, she decided to go one step further.
And so Laurie founded Crop Swap Australia – which has now grown to a network of over 60,000 swappers. Go, Laurie!
These days, Laurie grows as much as she can in her own suburban permaculture garden while running a small co-op and working in permaculture design and consultancy. She's also a founding member of the Sydney Edible Garden Trail.
We've actually known Laurie for a good decade – she studied permaculture with us back in 2012 and collaborated on a workshop and food swap at our 107 Rooftop Garden project. And last year, a friend gifted her a spot on our Milkwood Permaculture Living course.
So great to see our alumni learning and growing, and stewarding a heap of ace community-building projects.
Alrighty, let's sit down with Laurie and learn all there is to know about crop swapping, so you have the tools to get started in your own community…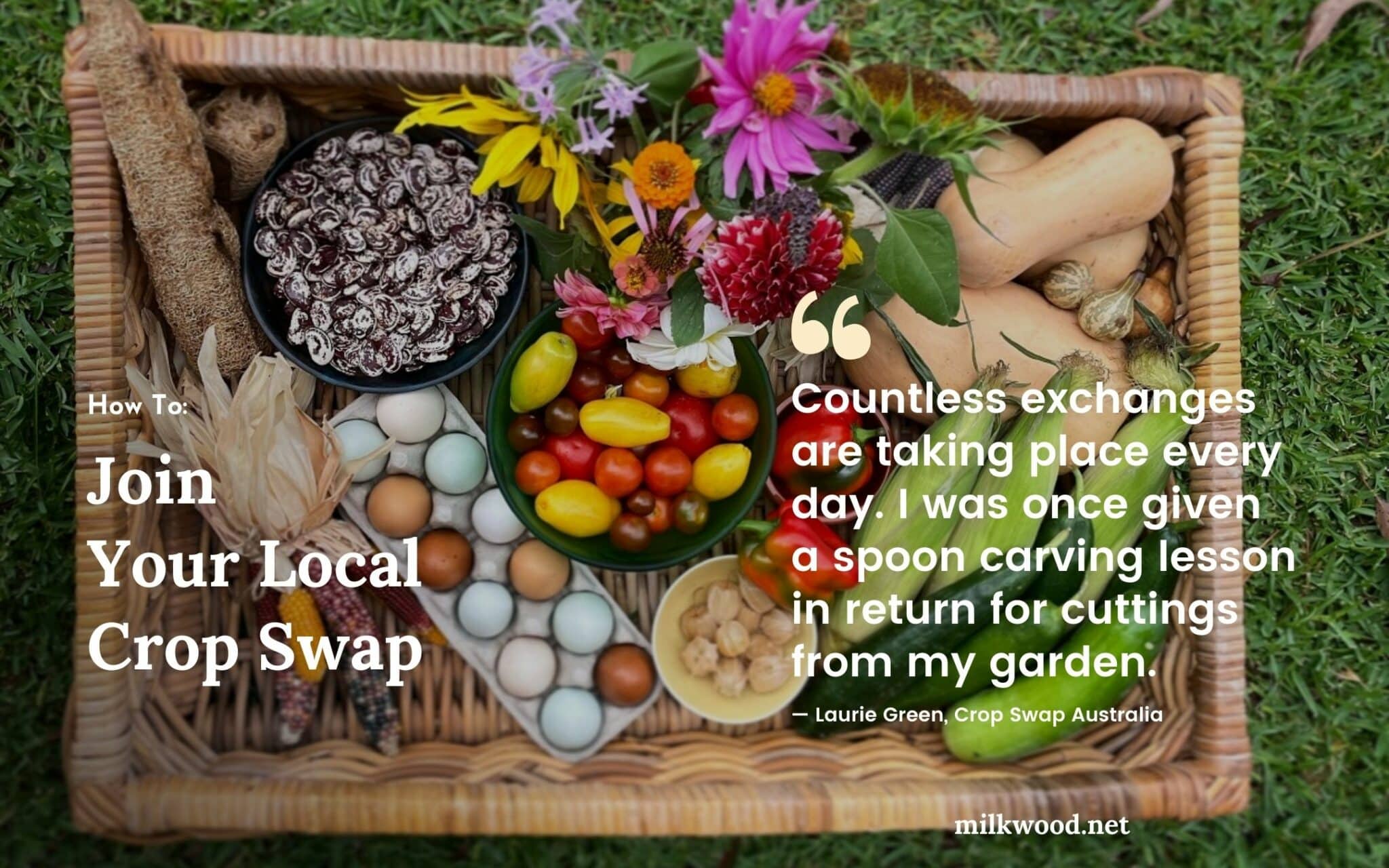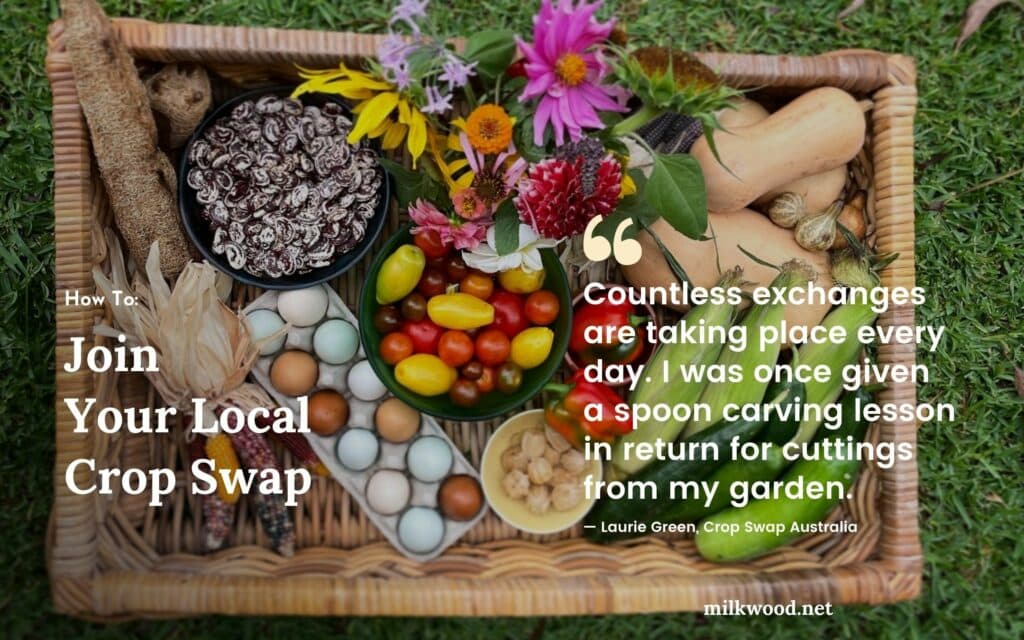 How does crop swapping work and how can people get involved?
There are two ways in which people can participate.
The first way is online. People can swap by joining their local Crop Swap Facebook group (find yours at www.CropSwap.Sydney) and then post a photo of what they have to offer, plus details of what they'd like in return (if anything) and the pick-up suburb. Within minutes the offers should start rolling in and collection can then be arranged offline.
The second way is by face-to-face events, which really are what Crop Swap is all about. Often held in community gardens, schools or inspiring public spaces, these meets allow people to connect with the origins of their food and are about far more than just an exchange. People swap recipes and growing tips, and really get to know each other.
People come from all different backgrounds, from young families to those swapping to save money or to meet like-minded individuals. Some people do it to benefit their health.
I never anticipated how the idea would be embraced! There are almost 40 groups under the Crop Swap Australia banner, with many more unofficial ones being established all the time. There is also one in Vancouver, Canada.
These communities make up a network of over 60,000 swappers, with countless exchanges taking place every day.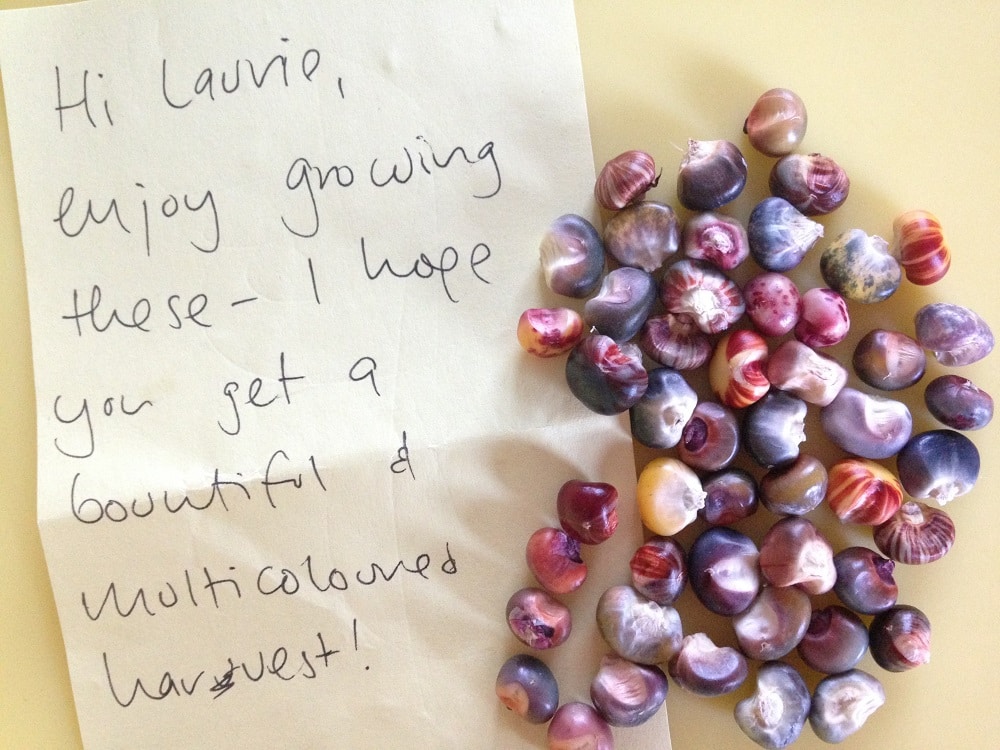 What sorts of rules are usually in place when attending a face-to-face Crop Swap?
Each group operates slightly differently but, due to the high number of attendees at our Sydney events, this is how we run things:
Goods are laid out on the tables. There is an understanding that anything here is offered as excess and is for the taking.
Items left under the table are off-limits.
High-value items are held back and conversations are had with others to arrange a suitable direct swap. These are sometimes organised prior in the online group.
Offerings should be labelled.
Seafood, meat and dairy products are not allowed.
Leftovers should be taken home, unless it has been stipulated that these will be donated after the event.
If it's a hot day, it's a good idea to bring a jar of water to keep harvests happy.
We acknowledge that some specialty items may hold higher values than what other members have to offer in return.  Organisers should be contacted to seek approval to offer these with an associated monetary amount.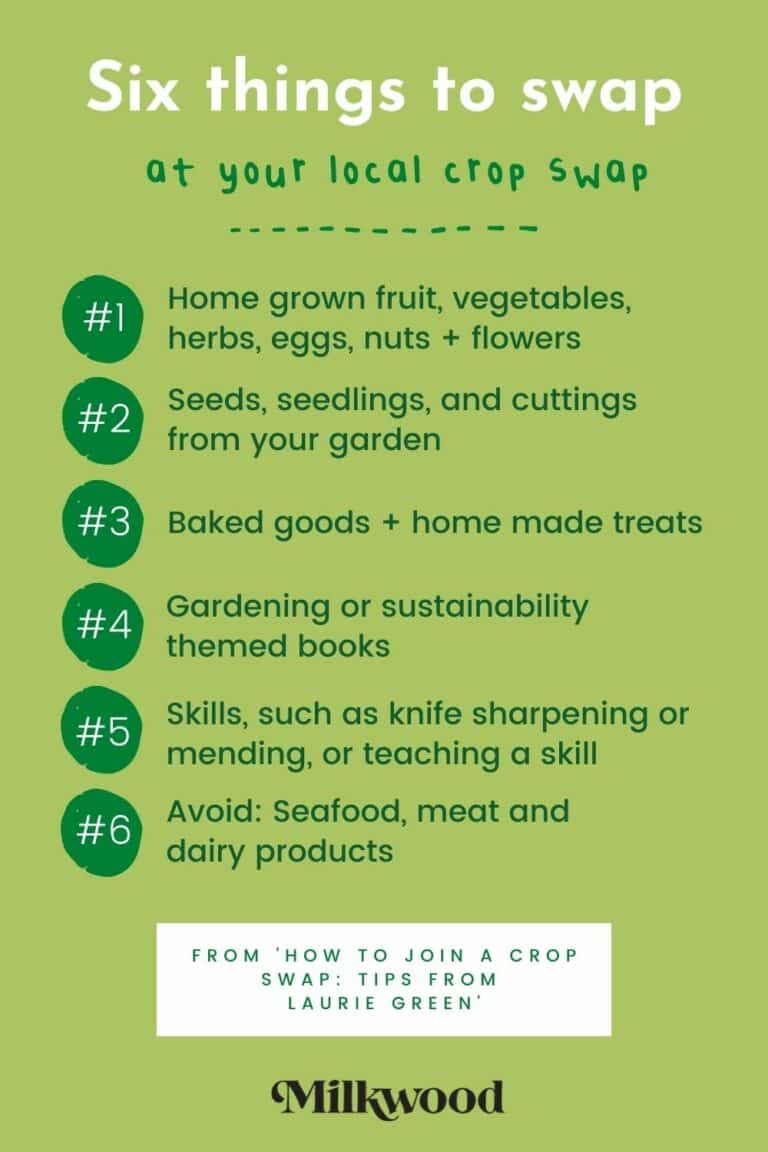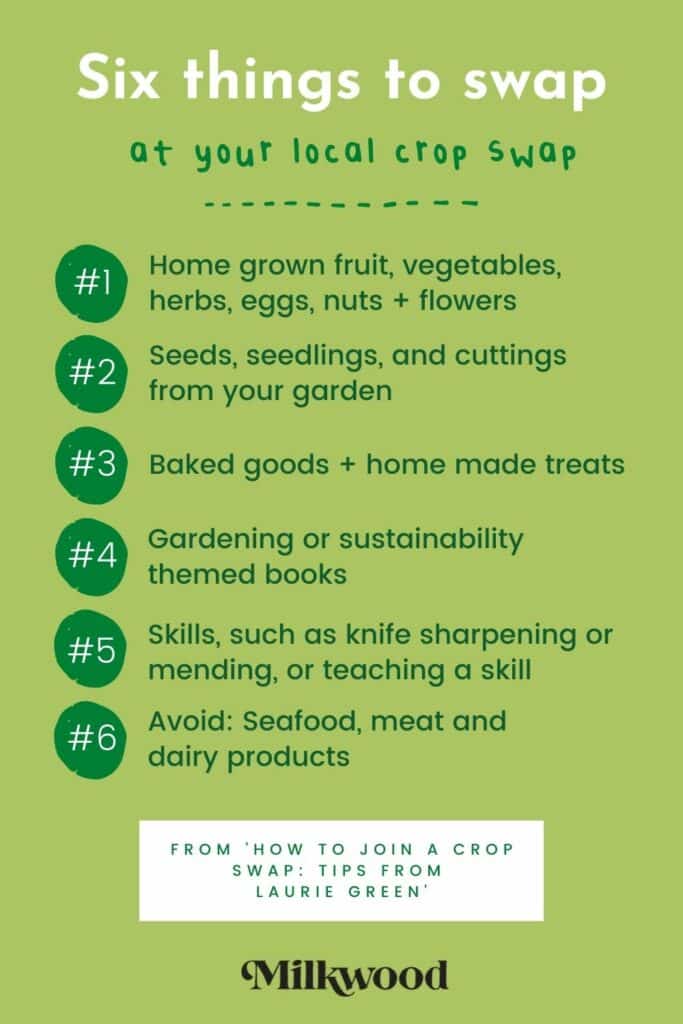 Is this just for gardeners, or can people who don't have surplus homegrown produce get involved in other ways?
Absolutely. Baked goods, seeds, gardening goods or relevant books are often swapped.
You can even share skills, such as knife sharpening or mending, in exchange for what's being offered.
A lot of the time swappers are just happy for their excesses not to be wasted, so will gratefully send them off to a good home with the promise of a future swap, or even without anything in return at all.
I was once given a spoon carving lesson in return for cuttings from my garden!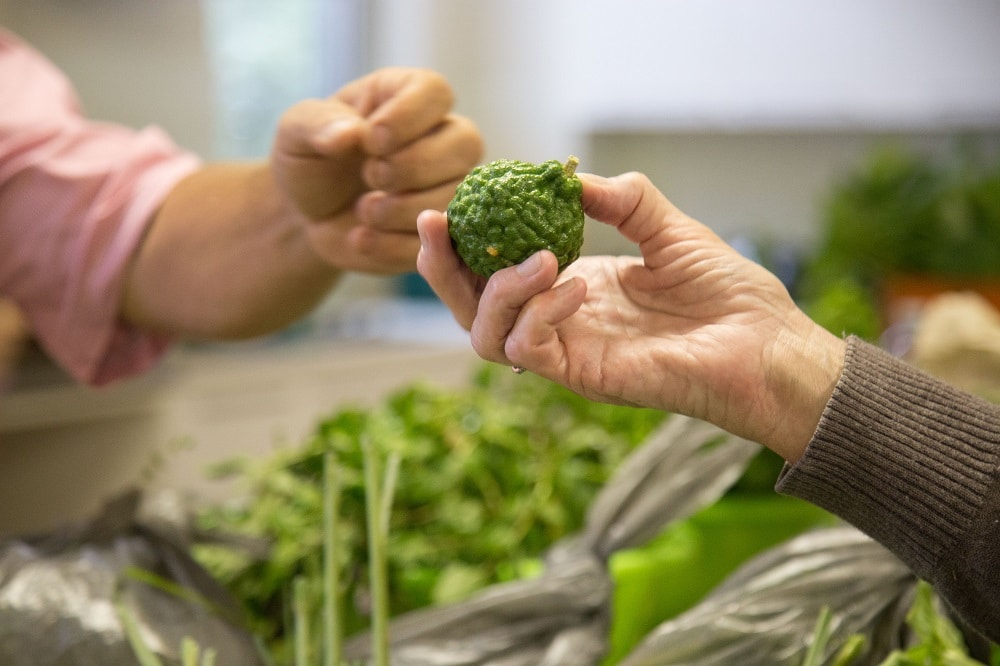 What are the benefits of getting involved in regular crop swaps?
From connecting with your local community and reducing waste to gaining access to nutritious food at a lesser cost, knowing the origins of what you're eating and reducing food miles – there are so many benefits to swapping.
Eating locally is better for our planet and reduces the need to rely on the inefficiencies and unpredictability of large supply chains.
In 2016, I calculated that we saved approximately $2,500 a year by crop swapping just a few times a week.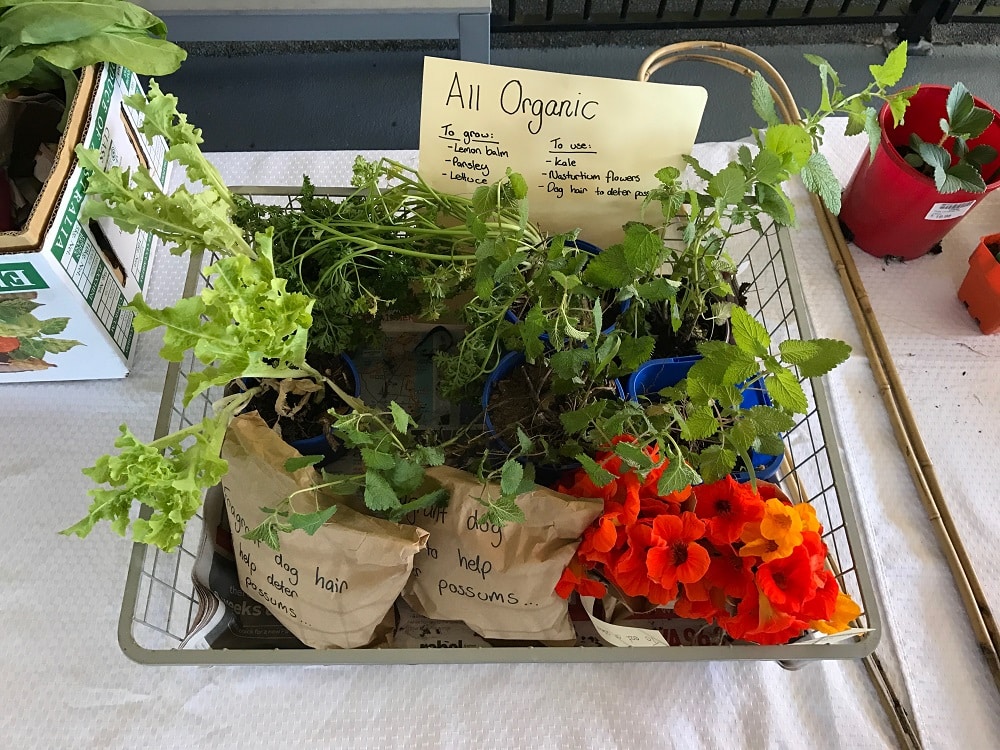 What's the best bit about swapping produce, for you?
Crop Swap has honestly changed our lives in ways that I would never have expected. It has connected us with a grassroots community and given us experiences that we would otherwise not have had.
Because of Crop Swap, my garden has been planted using locally acclimatised seeds and plants, many of which are varieties that can't be readily purchased.
Most of all I reflect on the lessons in patience that it has brought us in what is often a fast-paced world. Patience to sow the seeds, rear their seedlings, plant them out and then harvest their bounty so these crops can then be transformed into something else that we need.
For a long time, the kids honestly thought our garden was magic because of this process – I still do!
Anything else you'd like to add?
Just that – someone very dear to me gifted me the Permaculture Living course last year, knowing the value of giving experiences rather than things. It was so appreciated and I loved the real world, practical modules that I could complete at my own pace.
Although I have already completed my Permaculture Design Certificate, this was a fabulous, well-paced and structured course that celebrates permaculture in many forms.
Thanks for sharing your knowledge and for helping me to move forward on my sustainable living journey.
So good! Big thanks to Laurie for sharing her story and tips. If you'd like to know more about Laurie's journey, you can follow Crop Swap Australia on Instagram.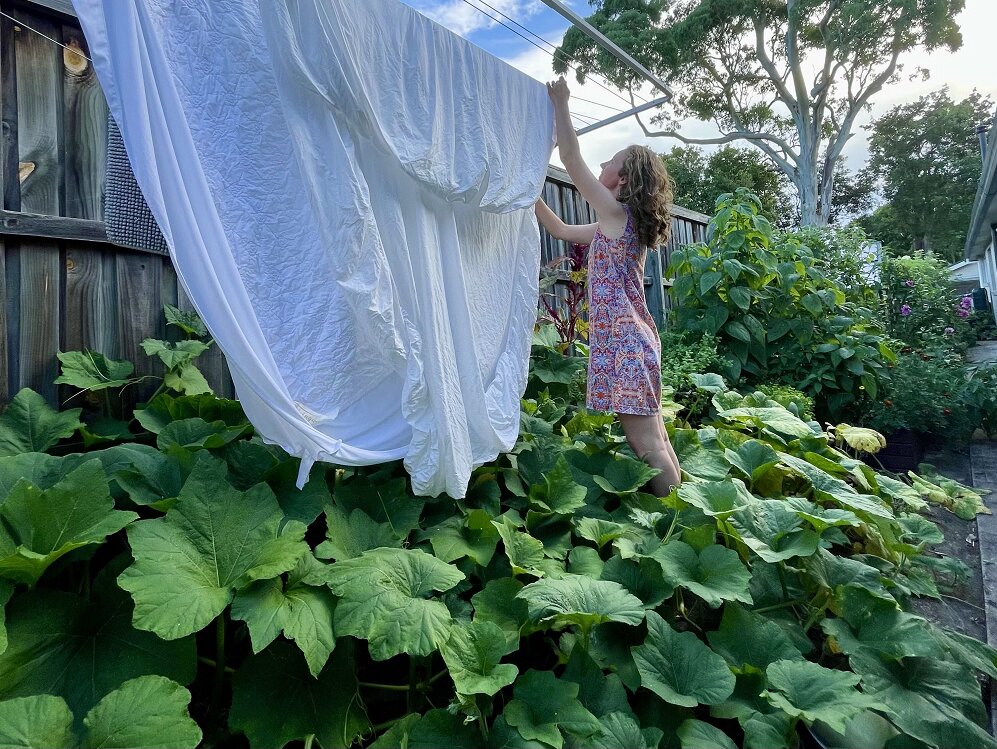 Extra resources
About the author: Koren Helbig is a storyteller, urban permaculturalist, Marketing Manager here at Milkwood, and keeper of The Local Yum, a Tarntanya / Adelaide city honesty stall full of homegrown produce.
We acknowledge that permaculture owes the roots of its theory and practice to traditional and Indigenous knowledges, from all over the world. We all stand on the shoulders of many ancestors – as we learn, and re-learn, these skills and concepts. We pay our deepest respects and give our heartfelt thanks to these knowledge-keepers, both past and present.⁠