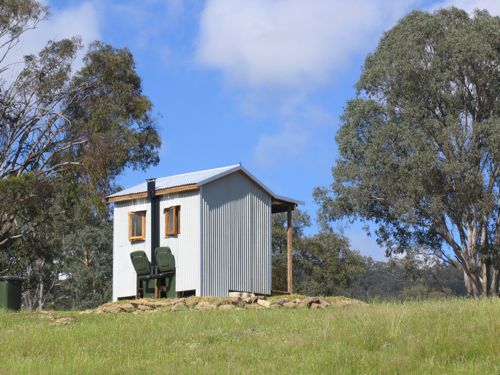 Now tell me this is not the prettiest compost toilet block you have ever seen. Go on. I dare you.
The issue of poo at Milkwood has been a long-standing source of discussion. We know that when poo is processed into humanure it contains valuable nutrients that would greatly help establish aspects of our farm. We know it can be processed effectively and safely by simple means, especially on a small scale. And we've been doing just that, ever since we arrived.
But what do you do once you've got 120 people descending on your farm for 2 days for a workshop with Joel Salatin? There was no way our  small domestic humanure system was going to be able to cope!
Essentially our options in this scenario were: dig pit toilets  and stick a shack on them (solves the problem short term, but isn't the best use of this valuable resource as it's very hard to use elsewhere), hire in porta-loos (and export the poo, the chemicals and the impact at the end of the event – hmm no thanks), or bite the bullet and make a kick-ass compost toilet system that can handle all comers.
We chose option 3. It took much longer than we wanted it to (in the way of such things) but the result is just gorgeous – although i never thought i'd say that about a toilet.
We now have a composting toilet system which can handle large volumes of people, has no smell, is pleasant and comfortable to use and results in a shitload (sorry) of humanure later down the track, perfect for increasing fertility in the soil of our food forests and other tree-crop systems.
To back-track ever so slightly: up until this point we were using a variety of bucket-style humanure systems, and they had served us well. Simple to make and easy to maintain, they were built in response to researching the important work of Joseph Jenkins, he of the Humanure Handbook.
Jenkins now sells a bucket system compost toilet called a Lovable Loo which is essentially the same idea as our bucket system: a box with a bucket it in and a toilet seat on top. After every deposit you put a scoop of sawdust (or rice husks, or woodchips) in the bucket and when it's full, you take it out, put a well-sealed lid on it and put an empty bucket into the box. Simple.
The next step is processing the contents of that bucket. If you have a lot of buckets, you could just leave it in there for a year. We opted for active processing via a humanure hacienda. Whenever we were running out of buckets we would do a trip to the hacienda, empty all the full buckets into the bay currently in use and cover them with a thick mulch. Then we hosed out the buckets and took them back to the toilet.
This system is fine for domestic scale use, and it's the system we've been using so far at Milkwood. This system can (just) handle our busy periods when we have 30 people around 24/7 during a PDC, or 70 during the day for one of our RegenAG courses. It's also the system we'll use in our tinyhouse once we're finally living in it.
However 120 people around for days in a row was going to be just too much. So we designed and built a new compost toilet based on wheelie bins, which have a much bigger capacity, and also composts the humanure in the bin. No more daily shit-schlepping for us.
This wheelie bin system has one big difference to most wheelie bin systems: no chute between the seat and the bin. That means the lip of the bin is hard up under the seat. And this, in turn, means no cleaning a splattered toilet chute for us!
This design feature also reduces the overall height of the structure considerably, which means less materials used. And we don't end up with the common 'toilet tower' effect. Less steps up to the toilet seat means more access for everybody.
Within this system, the humanure is processed in the bin. When a bin is full, it's rolled out and placed in the sun. It essentially sits there for a year, composting quietly, and then, when it's ready, we use the humanure!
It's a 'sortof-dry-compost-toilet system'. There is a sieve in each bin about 1/4 above the base. Liquids fall through, solids stay above. There isn't that much liquid though – the woodchips we add after every deposit seem to absorb the most of it.
The liquid then goes out through a tap at the bottom of the bin and ends up in a trench of rocks and soil just near the block. It then proceeds to fertilise the twisted willows planted on the downhill side of the trench, which we then use for stickwood for our rocket powered shower nearby.
One of the great things about this new system is removing the task of regularly emptying buckets of poo + woodchips into the hacienda. Not that the poo factor bothered me that much, but it was heavy work – what with everything in them, those buckets sometimes weighed 20kg. And it was much easier to run out of buckets and then have a crisis.
With this new system you just roll the wheelie bin out, wheel a new one in, put the full bin in the sun and come back to it a year later. I like that. I like it a lot. And one wheelie bin lasts far longer than one bucket (of course, given that it's 50 times the volume). Which means a lot less labour on our part and no more early-morning crises where we run out of room in the last bucket all of a sudden.
Here's the details of making the wheelie bins to suit this toilet.
We also decided to make a urinal, since that would further lighten the load, and give us access to a nitrogen source. We made the urinal out of an old watertank, and as you can see it's pretty basic.
The trough is a slightly sloped roofing gutter that runs the length of the wall with a steel splashback, and the liquid drains to a pipe which empties into in a big drum down hill.
Twice a day when it's in use (we only use it during on-farm courses and events), we throw a bucket of water in the trough to keep it smelling lovely. After an event, we have a big drum of urine which we dilute and spray out over various paddocks.
The high nitrogen content in the urine makes it an incredibly valuable, natural fertiliser. And this urinal is a great way to collect that nutrient simply and effectively.
Have I grossed you out yet? I'm sorry. But seriously, this is the reality of taking responsibility for your inputs and your outputs. It's gotta be done.
And once you realise what a valuable (and free) resource humanure and urine is, harvesting, processing and using it starts to sound like a bloody good idea.
In fact, now that we're starting to get on top of utilising our waste-streams, we're seeing this for what it is: just a necessary part of permaculture design. The problem is the solution. Catch and store energy. Every output is an input. All that stuff.
[slideshow]
With elegant, efficient design of these waste-stream systems, the yuck factor is minimised.  And there's no need to hide it all. It is what it is, and it all contributes towards closed-loop abundance.
And besides, let's face it. You gotta poo somewhere! So why not make it a kick-ass compost toilet which cycles fertility back through the farm?