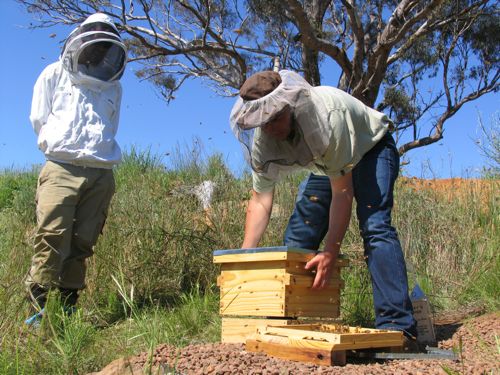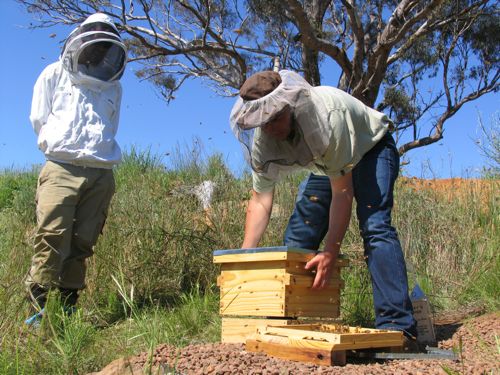 Much excitement this week as the bees finally arrived at Milkwood. Tim Malfroy brought around 3 Warré beehives, complete with bees, to install on our farm. And so I have officially become a Warré beekeeper, with all the fascination, responsibility and of course delicious raw honey that goes with that territory…
I have a theory that beekeepers tend to develop really crazy eyebrows in sympathy for their bees – a bit like how some dogs and their owners seem to merge in facial attributes. I've had this theory since i was a child, and have done a sporadic survey over the years whenever i see honey sold at markets.
I have to say I never thought I would become a beekeeper until recently, but now I am one, I suppose i will have to keep a check on my own antennae-eyebrows progression. Hmm. I'm sure it will be worth it.
The place we chose for the hives is up in a little nook between the top dam and the suntrap ( i.e. the former top dam. All is explained here). This nook is protected from the hot western sun and all the wind sectors on the farm. It faces north-east, which we're told is ideal, and is directly uphill from our slowly emerging upper food forest, which is scrambling across the slope.
We made 3 separate pads for the hives and leveled them carefully. As bees 'draw' their own comb in Warré hives (as opposed to building on existing artificial foundations), it is important for the hives to be level as the bees draw comb using gravity as their compass.
If the hive is off the level, the bees will draw comb which is slightly diagonal, and makes it very hard to inspect the hives without breaking the combs.
As we'll be using these hives for demonstration in our Natural Beekeeping courses at Milkwood next year, Tim thought it would be good to try 3 slightly different hive formats, so we can all benefit from a bit of experimentation.
The first hive has full frames, but with only a beeswax 'starter strip' of foundation in each frame, to get the bees going.
The second hive has 'side bar' frames, with no base, and again a small starter strip. The bees will attach the comb to the sides of the  frame, but will define for themselves where the comb stops on the bottom.
The third hive has just top-bars with a small starter strip, and is closest to a classic Warré hive.
The experience of getting up close and personal with these intricately made creatures was nothing short of amazing. What impressed our crew the most, though, was how calm the bees were, and how comfortable we felt with them by the end of the morning.
I think at one point someone said "i can't belive we're all just standing right here, next to an open beehive". I understood Tim being calm, he does this every day. But here we were, Nick, I and 3 interns, less than a meter away from thousands of buzzing, crawling bees who were busy settling into their new homes.
And we were all grinning our heads off.
Whether this is a tribute to natural beekeeping and gentle bee-handling or we just got lucky with 'gentle bees' I don't know yet. But it was a great start to what I hope will be a lifelong relationship.
The hives arrived as three boxes which contained three colonies who had already started drawing comb. Each box arrived with an entrance board beneath it, and so were essentially a one box hive.
Once we set each box and entrance board up on its pad, we then nadired a second box underneath so that as the colony grows it can progress down into the box below, leaving a dome of honey above. By the time we harvest, these hives may be 5 or even 6 boxes high.
And when this dome of honey above the colony is big enough that we can have some without depriving the bees of their wintering supply, we get some honey! Maybe in the autumn. It depends how this season goes, i suppose. But there is many a flower a-bloomin' on Milkwood this luscious spring, so we are hopefull![slideshow]
You might also like to have a look at: