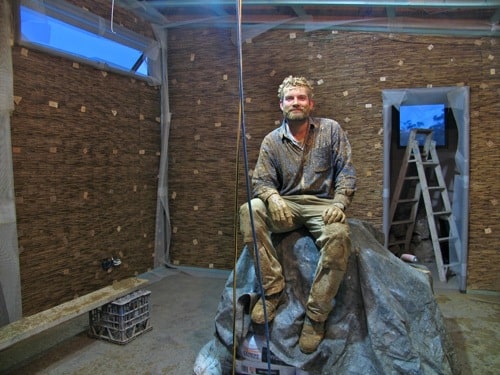 Mud is the most amazing building material. It's beautiful, it's local, it's completely non-toxic, and it's free! And perhaps the best bit is that your house takes on the colors of the hills around you, as you wrap your home in the clay of that particular place.
As outlined previously, our experimental wattle-and-daub walls haven't been all plain sailing, but now we're up to the fun bit – rendering the wattles with the daub (i.e. the mud). So back came Frank Thomas, master strawbale builder, and we were off at a muddy trot.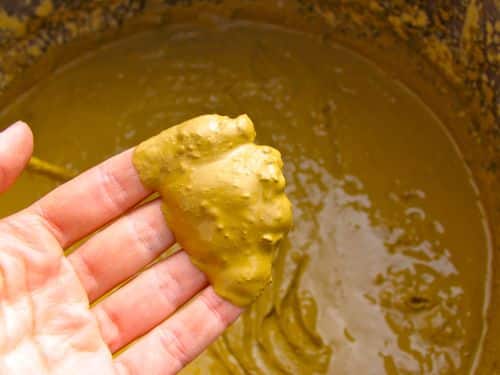 We collected the mud for all the walls of our tinyhouse from a pile of clay up the hill, that had been left over from dam building. The process was heavy work but quite simple: collect clay in drums. Cover with water. Stir of a very long time until gorgeously liquid. Apply to walls.
Ok there's a few steps in between but that's the general gist until the last step.
The last bit involved a very large and noisy machine called Priscilla, Frank's trusty mud rendering rig. You put your liquified clay in the top of Priscilla with some sand, and out the hose comes clay render, splattered on to the walls. Ta da!
Our walls needed an unusual amount of render – about 80mm thick for each wall all up. That's actually quite a lot of mud once you count up all our walls. Don't ask why we needed it that thick – it's yet another owner-builder 'if we had our time again' story. Another lesson learned!
Apart from the downsides that a very think render means in terms of time and cost to apply, it was all good. Everyone pitched in to make the rendering happen, including all our Spring interns (thanks guys). We all learned a lot about both the glory of natural building and hard work in the process.
The internal walls are now entirely finished and they look extraordinarily beautiful. They'll take quite a while to dry, but that's ok with me. The clay will create a 'breathing' home that slowly absorbs and releases moisture from the inside air, modifying the humidity inside year round. Yay.
The external walls are a lime and sand render, to help make them weather proof. Initially we planned to use a natural paint on the outside walls to match the color of the inside clay render that didn't have the addition of lime.
Now, however, I'm coming around to the color of the lime render and we've decided to leave it as is. There's a couple of advantages to this: the lighter in color the building, the better that building can cope in a bushfire (as it reflects instead of absorbing heat). This seems a small point but it's a big one for us, given where we live.
The other reason for going with a white(ish) outside is that: it is what it is. I'm really valuing the truth in this very small building – the wood, the clay, the simplicity and the effort gone into every detail. And the lime render is part of that simplicity. It is what is there. And so we will live with that, joyfully.
As you can probably tell from these images, we're not in much danger of moving in anytime soon. But that is, mostly, ok with me.
Until further notice, we're back into 'open mode' here at the farm – we've got 6 (really) amazing interns working with Nick and Trev to design and implement all sorts of projects. We've got on-farm education coming out our ears. And we've got a little one who needs his mum and his dad every day, right now, not just once the house is finished.
Once again, if I have a hair-tearing moment about living in limbo, I don't need to think far outside our life to realize how insanely lucky we are here at Milkwood: good people around us, a clear purpose, a chance to share truly useful knowledge and more than enough food to eat.
Amen, and let the house rest. It's walls will breathe quietly until the next flurry of building energy.
Thanks to our fabulous spring interns Sabina, Jurgen, Ashley, Adam, Claire and Olivier for lending a hand for a day (wasn't it fun?). Thanks also to Frank Thomas + Tom from strawtec for all their efforts.
Thanks most of all to Nick for yet again holding it together on this ongoing owner-builder adventure, when I would have thrown up my hands and sat down in a puddle of mud. We'll get there, my dear.
Related posts:
all our posts about the tinyhouse