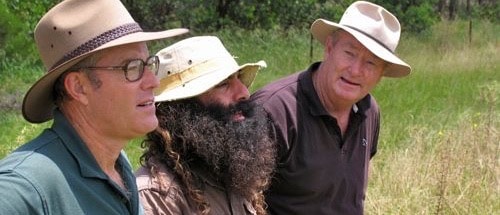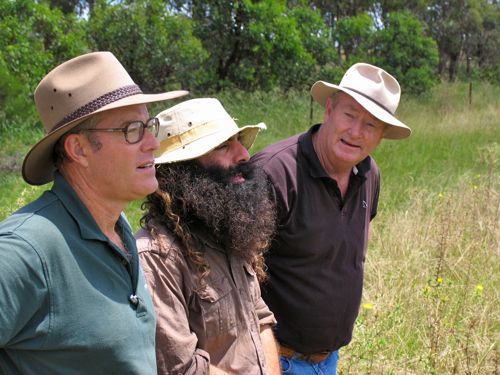 Why was Joel Salatin so excited when we took him to visit Col Seis's pasture cropping farm last year? I think it had to do with Joel wanting to close the loop on his regenerative farming enterprise by plugging one of the biggest holes Polyface Farm has: grain inputs for animals.
The idea of truly regenerative grain cropping within a mixed-farming system is really exciting. So we're working with Col Seis to deliver a course on it:
>> Pasture Cropping Workshop: 15th October, Winona, Gulgong NSW.
It's a chance to learn how to design and integrate regenerative cropping into a small farming enterprise that can produce grain for animals and/or people, while using the same paddocks for grazing, and building topsoil to boot.
As i tried to explained a while back in Why Pasture Cropping is such a Big Deal, this is pretty radical stuff. It ain't your normal western agriculture. Pasture cropping involves seeding directly into pasture (no soil disturbance) and then grazing in between harvest and re-planting, to encourage pasture species diversity and resilience.
For us and for other aspiring 'beyond organic' small-time farms, grain inputs are a big thing. It's very hard to feed animals (especially when you are establishing a new system that doesn't have masses of good things for them to eat) without buying in grain. Which means bringing in inputs.
If you're doing production of pastured poultry on anything other than a strictly domestic scale, for example, you need grain to feed the chickens. In a best case scenario, Polyface Farm's pastured poultry still get 80% of their food needs from grain. Hmm.
So growing your own grain, on a small scale or a larger scale, is a very good idea. Only problem is, our grain growing skills need work. Here in the west we've been growing grain in a way that depletes the soil for quite some time. Wanting to stop and move on is good. But move on to what?
Hence why we're excited about pasture cropping. And also why Joel Salatin was so excited about pasture cropping. When Joel and Col met, they started talking and they didn't stop for about four hours.
Each was pumping the other farmer for info and ideas on how to make better, more integrated biological systems that have multiple outputs with the whole thing using just inputs of sunlight and water. And the occasional tractor.
I'm hoping we'll see some aspiring (and active) permaculture designers as well as farmers at this workshop, because i really do think that designing and implementing effective regenerative grain cropping, on both small and larger farms, is a crucial part of the food loop that we need to address on a community scale.
This intimate (30 students max) one-day course will involve intensive info sessions in Col's woolshed, question and answer time and a farm walk to study pasture cropping in action.
We're really looking forward to putting this knowledge to work at Milkwood. And I know Joel Salatin would be there if he possibly could!
>> Pasture Cropping Workshop: 15th October, Winona, Gulgong NSW.
 This Pasture Cropping Course is part of RegenAG's 2011 Australian program.
RegenAG is a global alliance of farming families & organisations who are committed to helping regenerate the world's farms, soils, communities and on-farm livelihoods. We are the providers of RegenAG in NSW. Nick is also a founding director of RegenAG©.