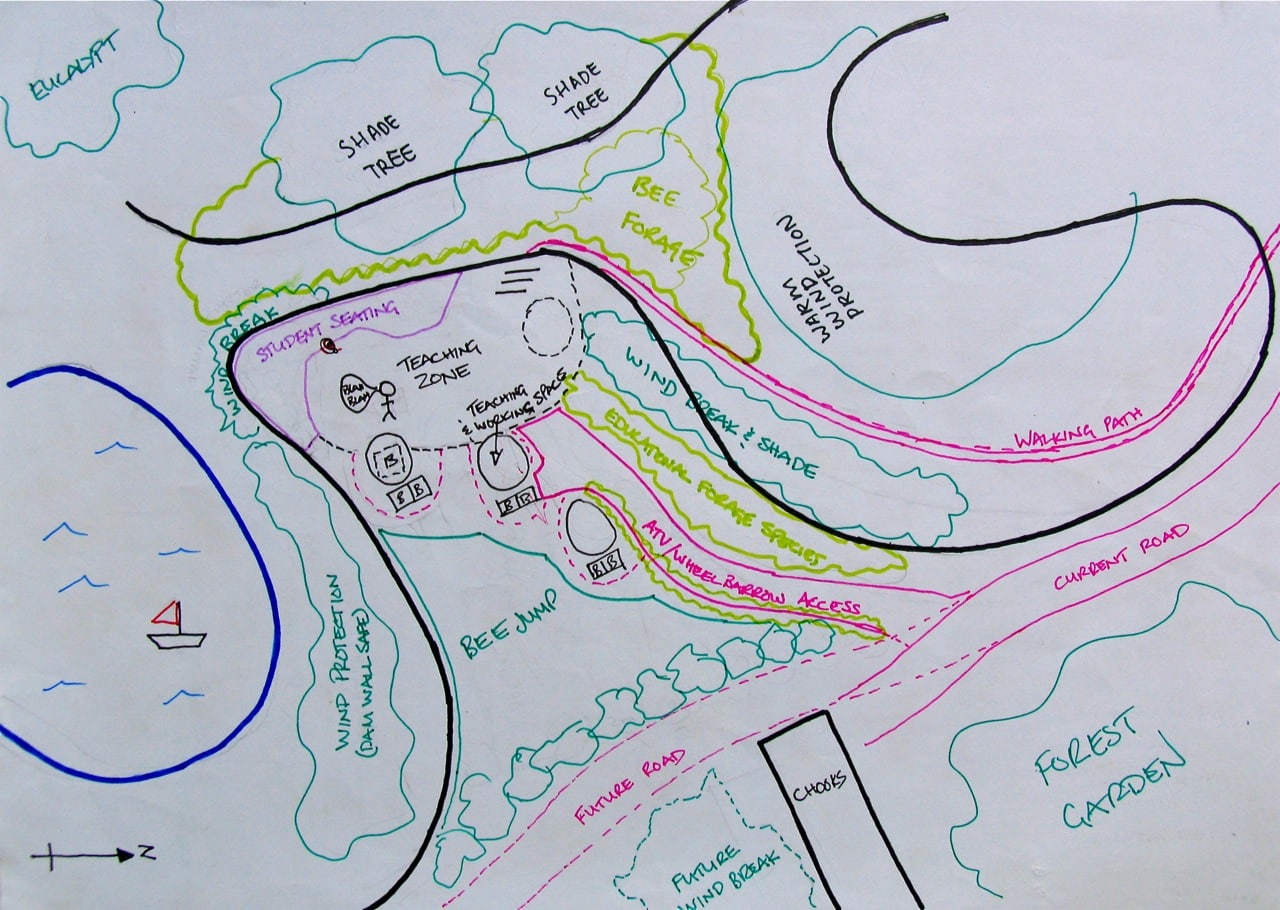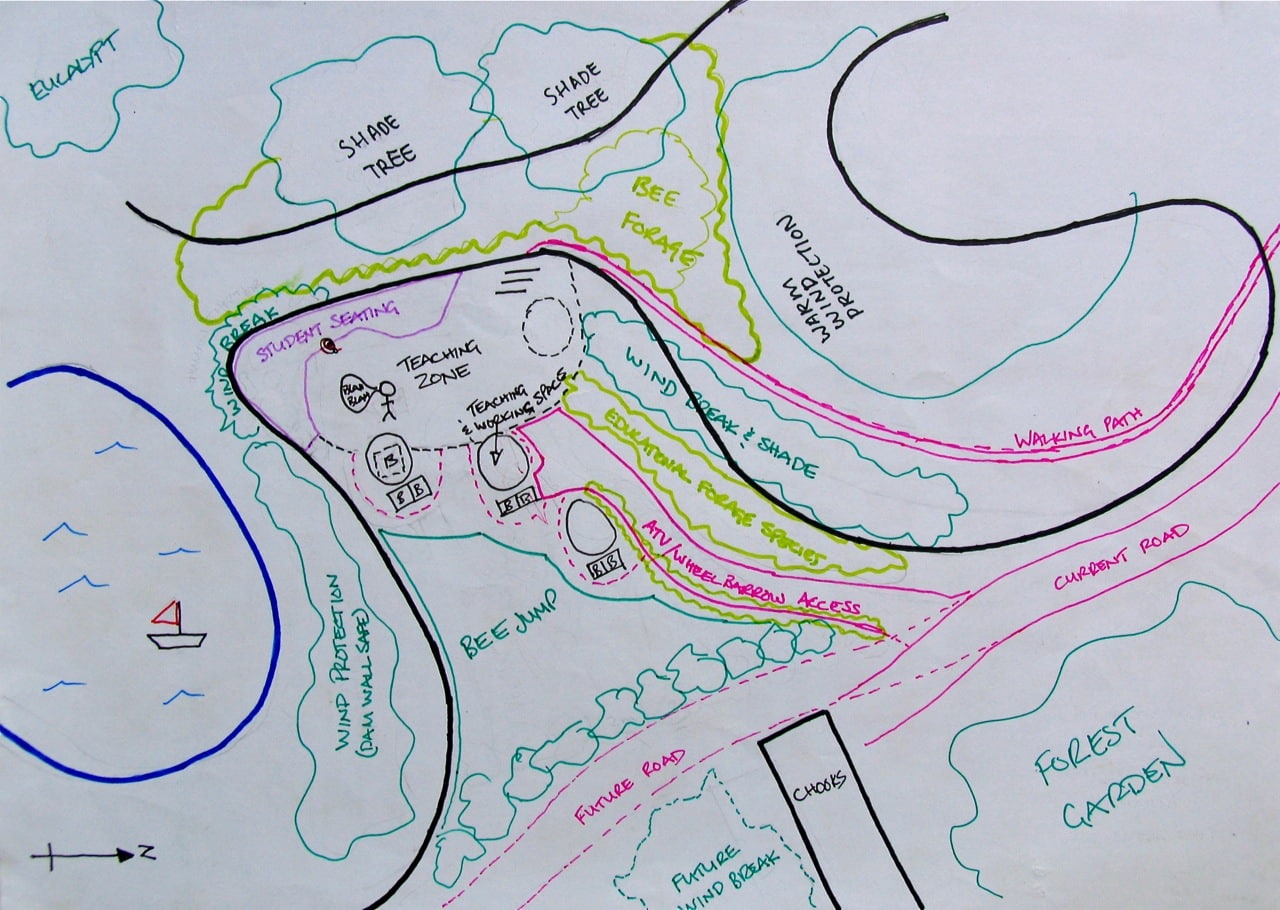 Designing the Warré honeybee apiary at Milkwood Farm has taken some protracted thought and planning. As well as designing for bee health, we're also designing for educational access and best-practice Warré beekeeping, on a slightly tricky site.
The site selected for the apiary is a good one for our climate – an E-N/E facing nook, protected from western sun and southern winds. The main challenge has been the slope, and the fact that the surrounding earthworks that protect the site also limit its access.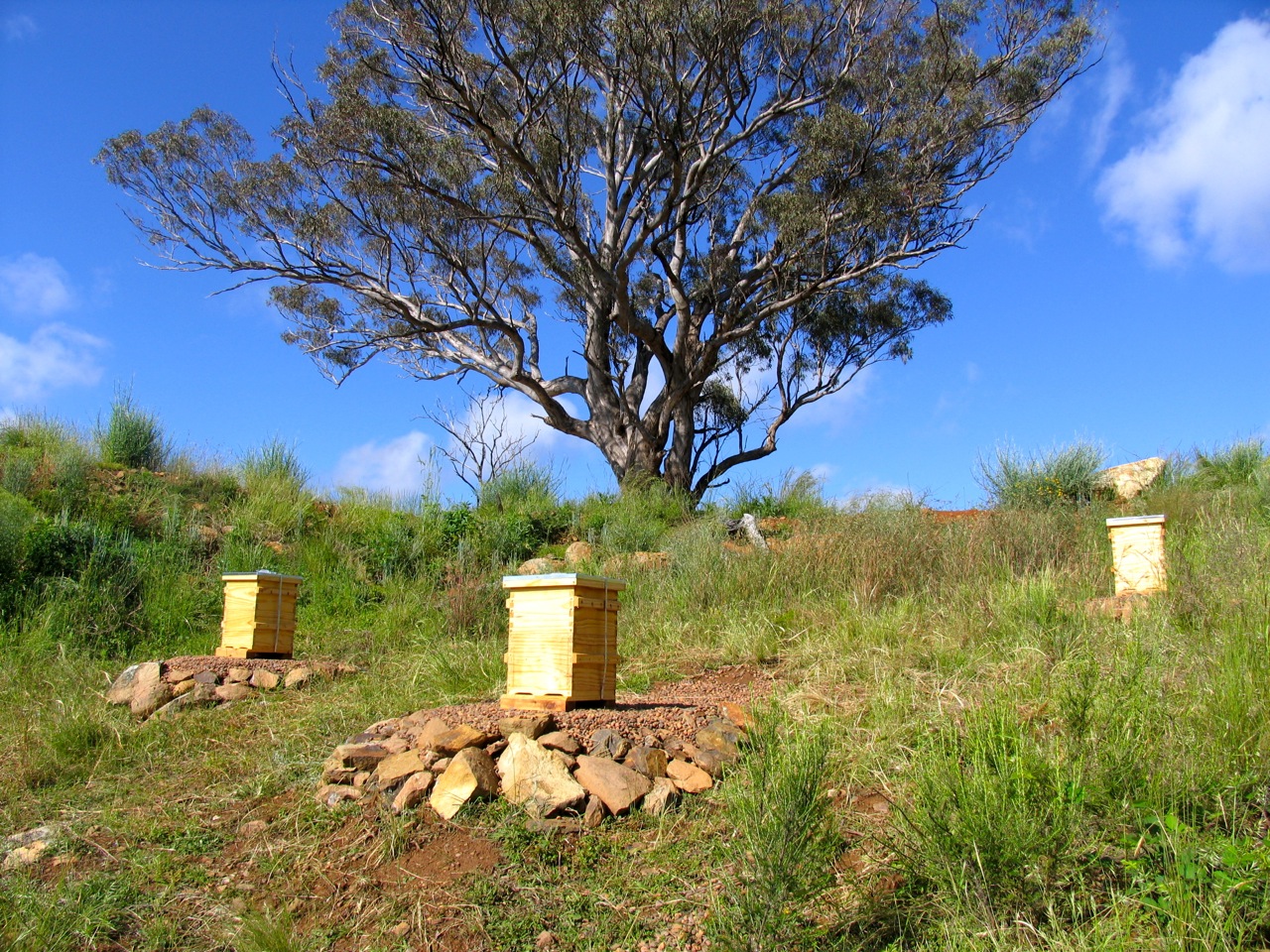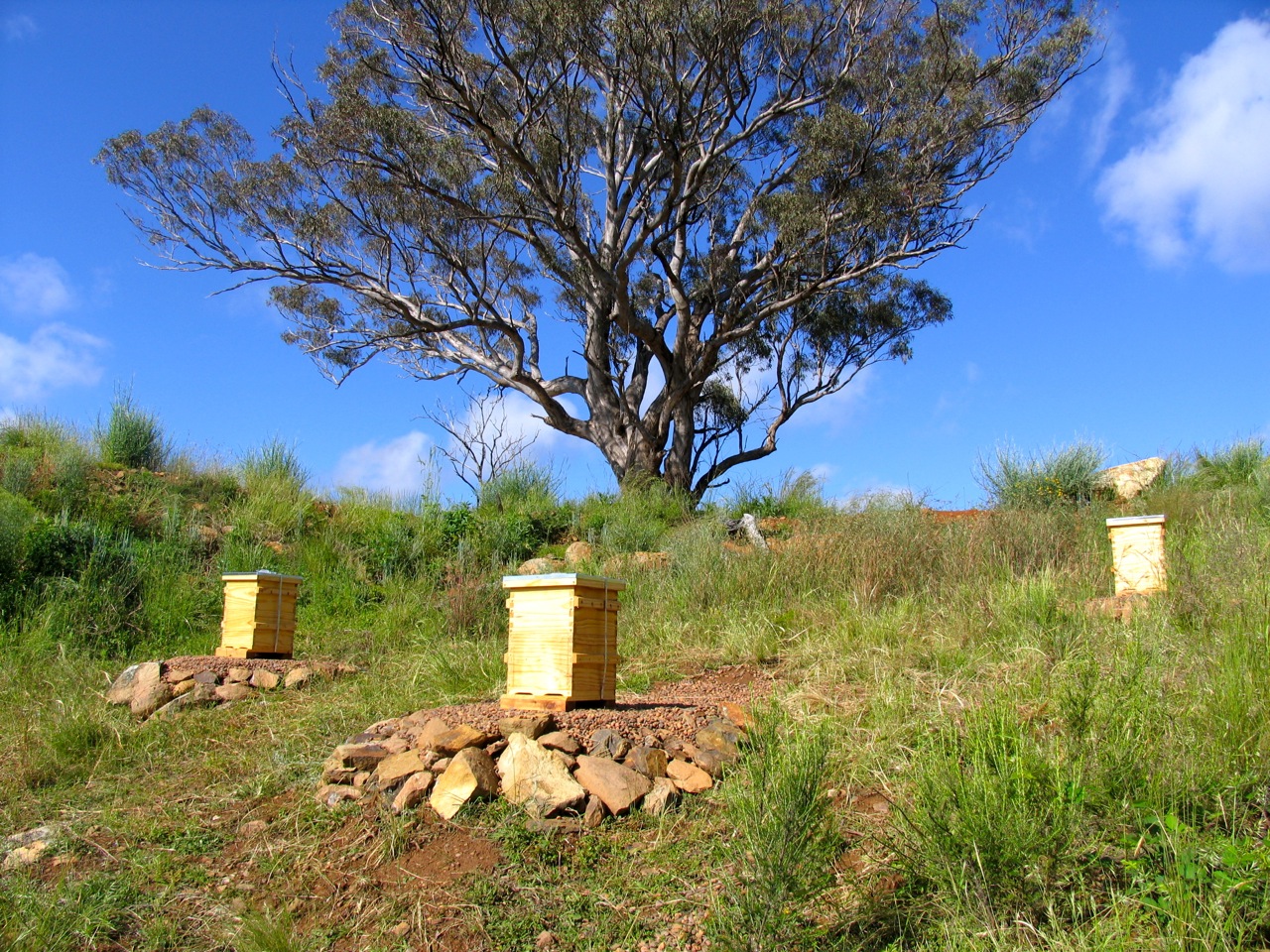 The alcove that the apiary is sited in sits between the former and current top dams, above the forest garden and the chicken strawyard. From there, the bees can fly directly into the forest garden and down the hill to the market garden, which they are dutifully doing, pollinating many plants as they go and greatly aiding our yields.
It became clear soon after Tim Malfroy helped us set up the apiary however that this was going to become a hub of Warré beekeeping education, and so it became important to sort out good access for 25 students at a time, in a way that ensured everyone could watch and participate in the hive craft safely.
Optimal health for the hives was also our priority. As we use no chemicals whatsoever in our hives or beekeeping, the hives need to be managed in such a way that leads to resilient, healthy colonies.
With all this in mind, Tim produced a sketch of what he thought would work best for the hives in our situation:
In brief, this consisted of a series of hardwood stands for the hives, in an area planted with bee forage in front of each hive stand, and with ample space behind each hive stand for working in.
The hardwood hive stands get the hives up off the ground, which helps with ventilation and moisture management (so important for preventing chalkbrood) and also helps manage (and hopefully prevent) small hive beetle by getting the hives up off the ground.
In addition to these benefits, the hardwood stands make working in the hives much easier on the beekeepers back (a full box of honeycomb is very heavy!) and make for a more efficient workflow, whihc means you can be in and out of the hives quicker, which is of great benefit to colony health.
The access to the hives is also important in an educational setting. Ideally, the apiary would be entered from behind, so that no matter what was happening with the bees that day, students would be out of their flight paths.
Given our site, back access was going to be really difficult without inducing a forced march up a 45 degree hill (the old dam wall, now the suntrap). Which is not much good for students, and even worse for a beekeeper with a heavy box of honeycomb. So we elected for side access.
The side access leads students from the forest garden, up the side of the apiary, and delivers them to the viewing spaces behind the hives, all without having to cross or walk directly in front of the hives, and henceforth through the bees flight path.
This access also means we can get a quad-bike or truck within 10-15m of the hives from the track below, which is great for honey harvests when hefting heavy boxes of honeycomb.
The design project ended up being done by the Milkwood Farm Spring 2011 interns, who did a great job brainstorming and producing a workable design concept: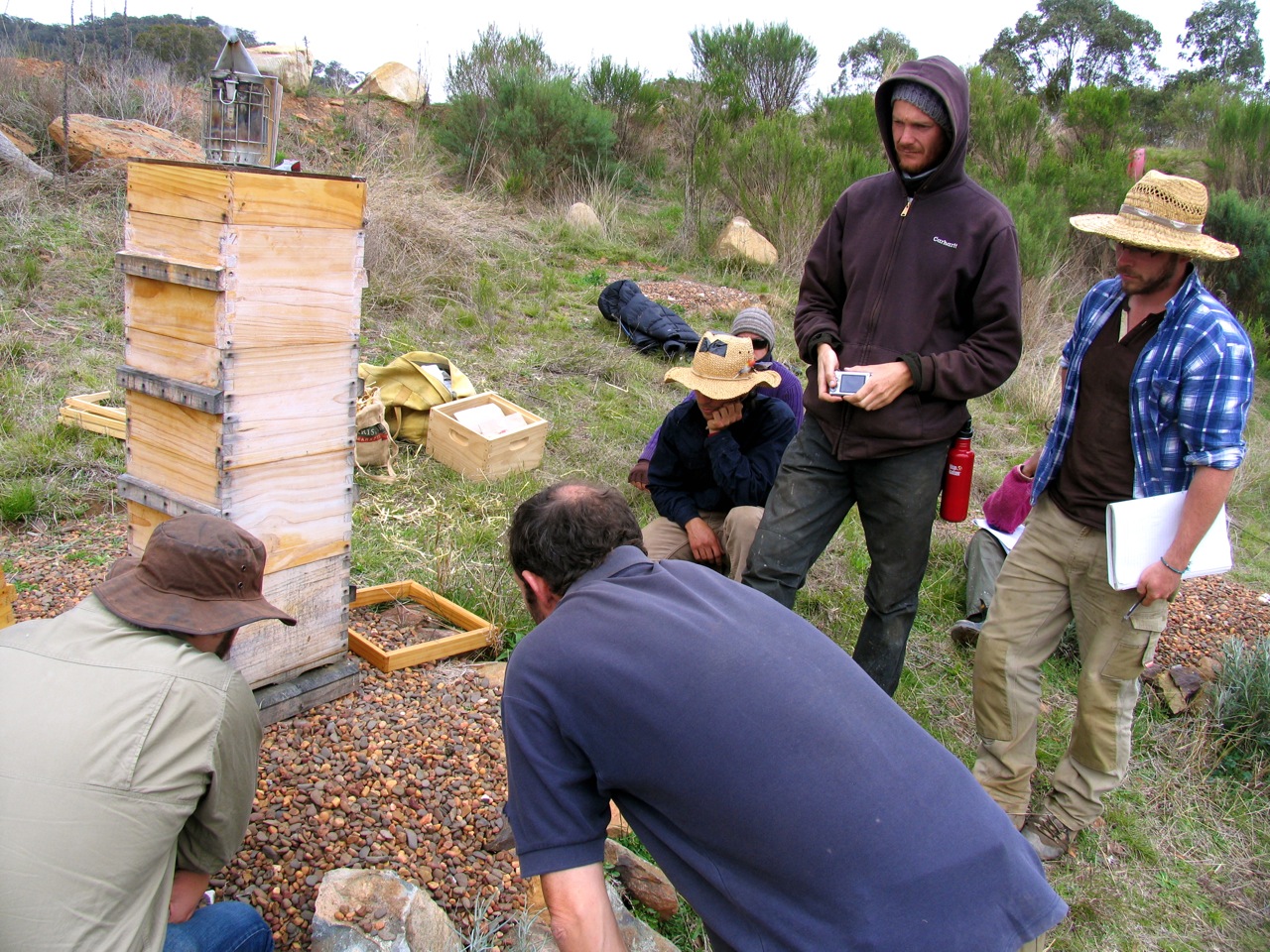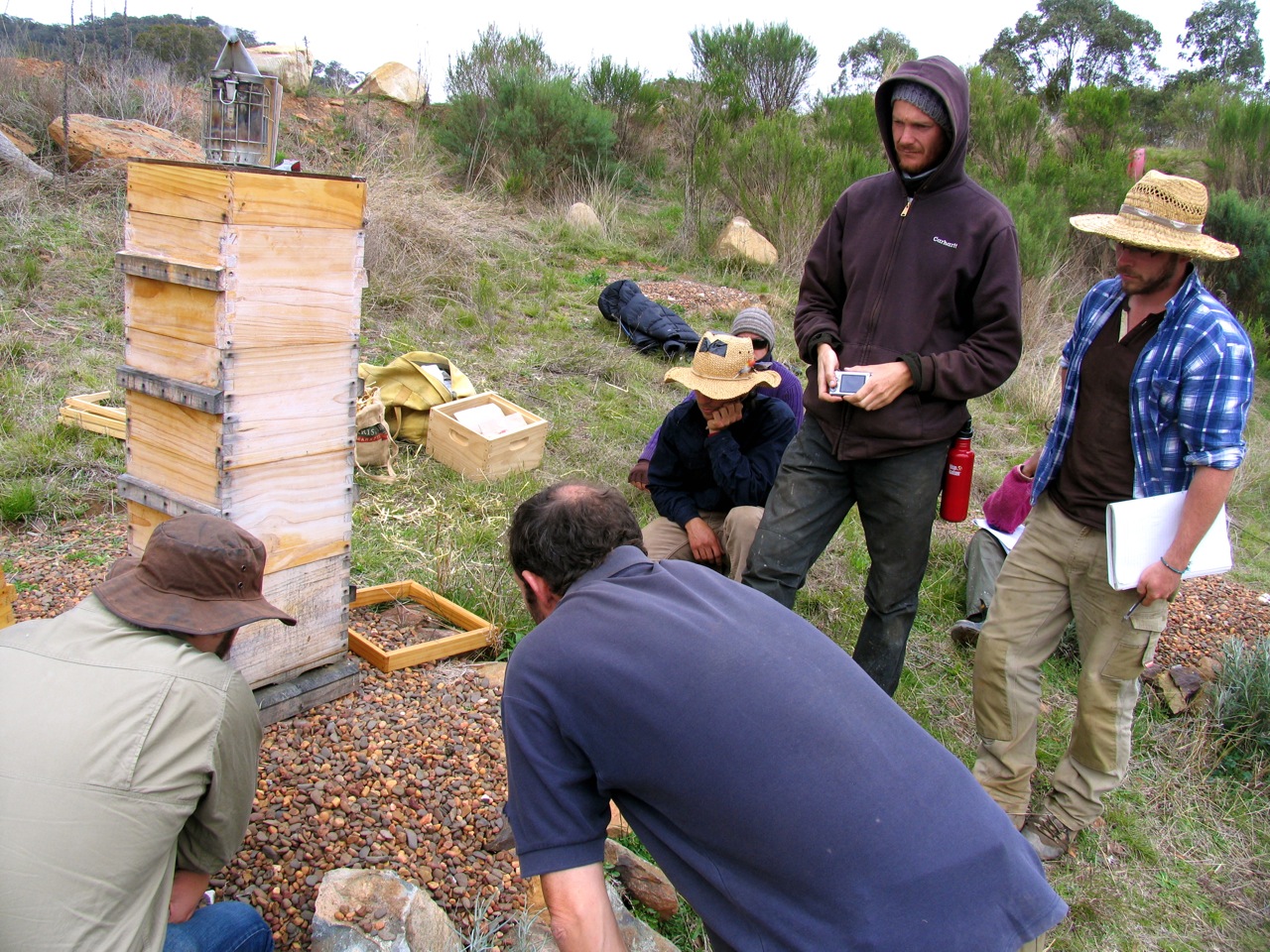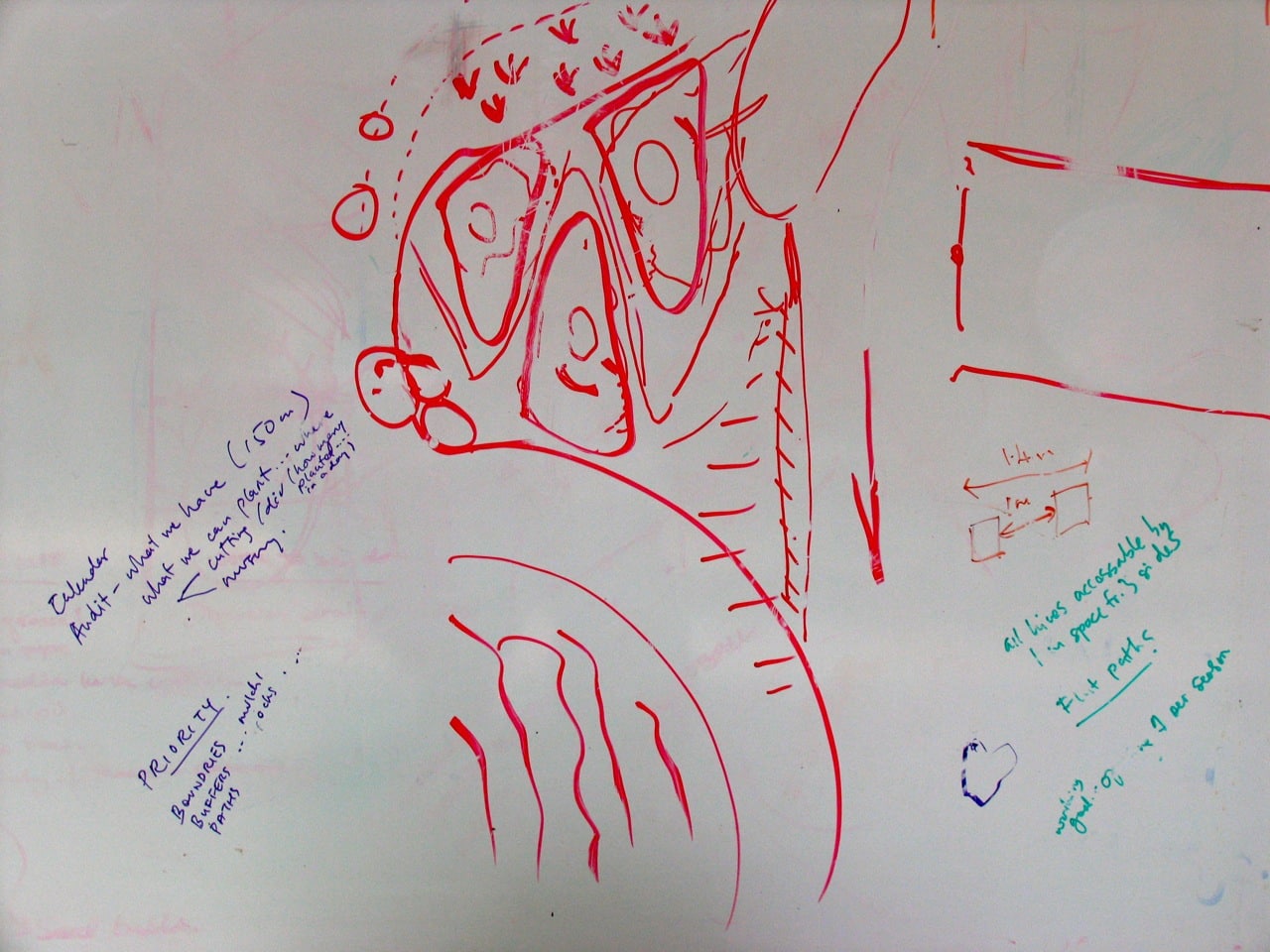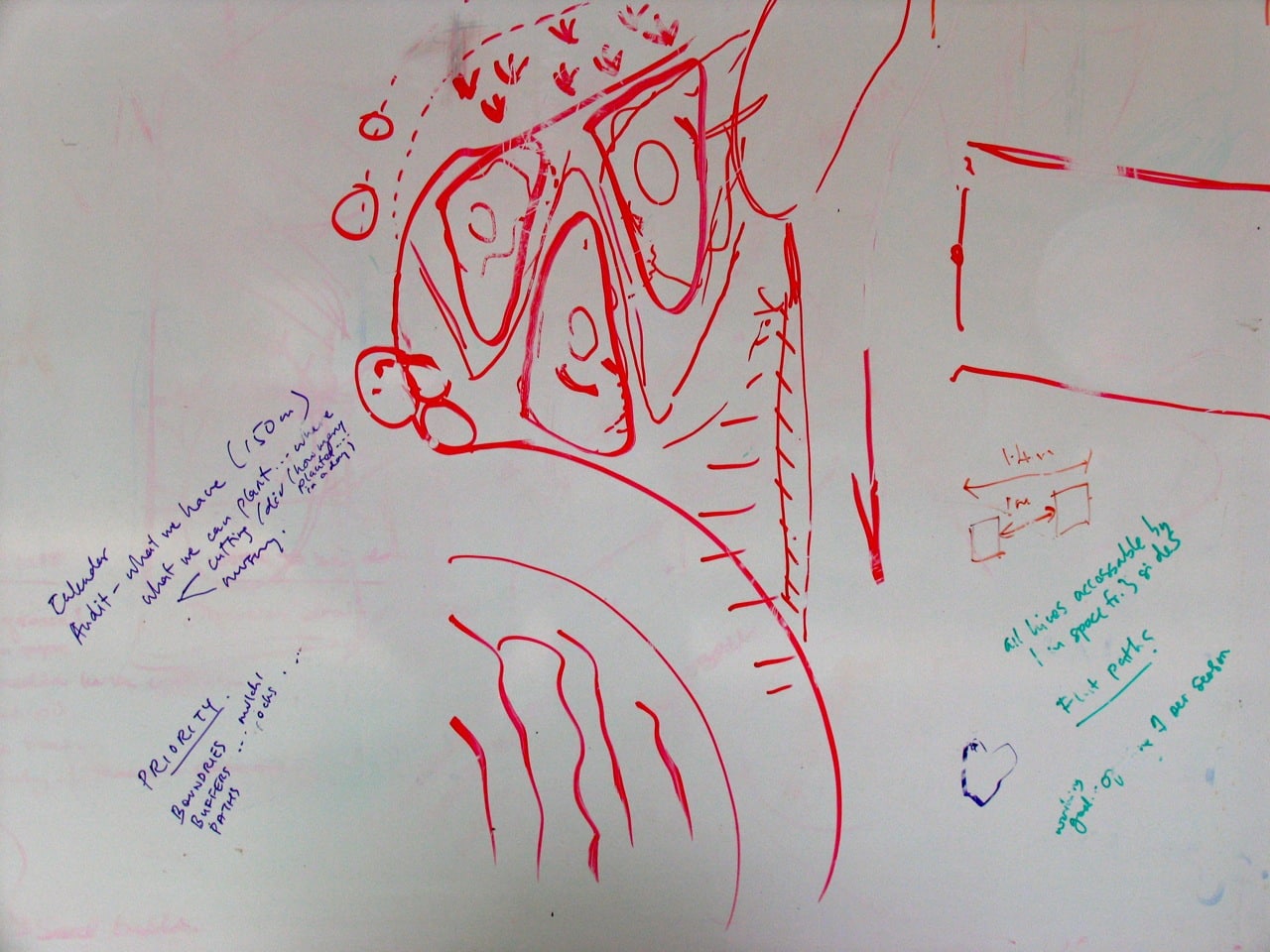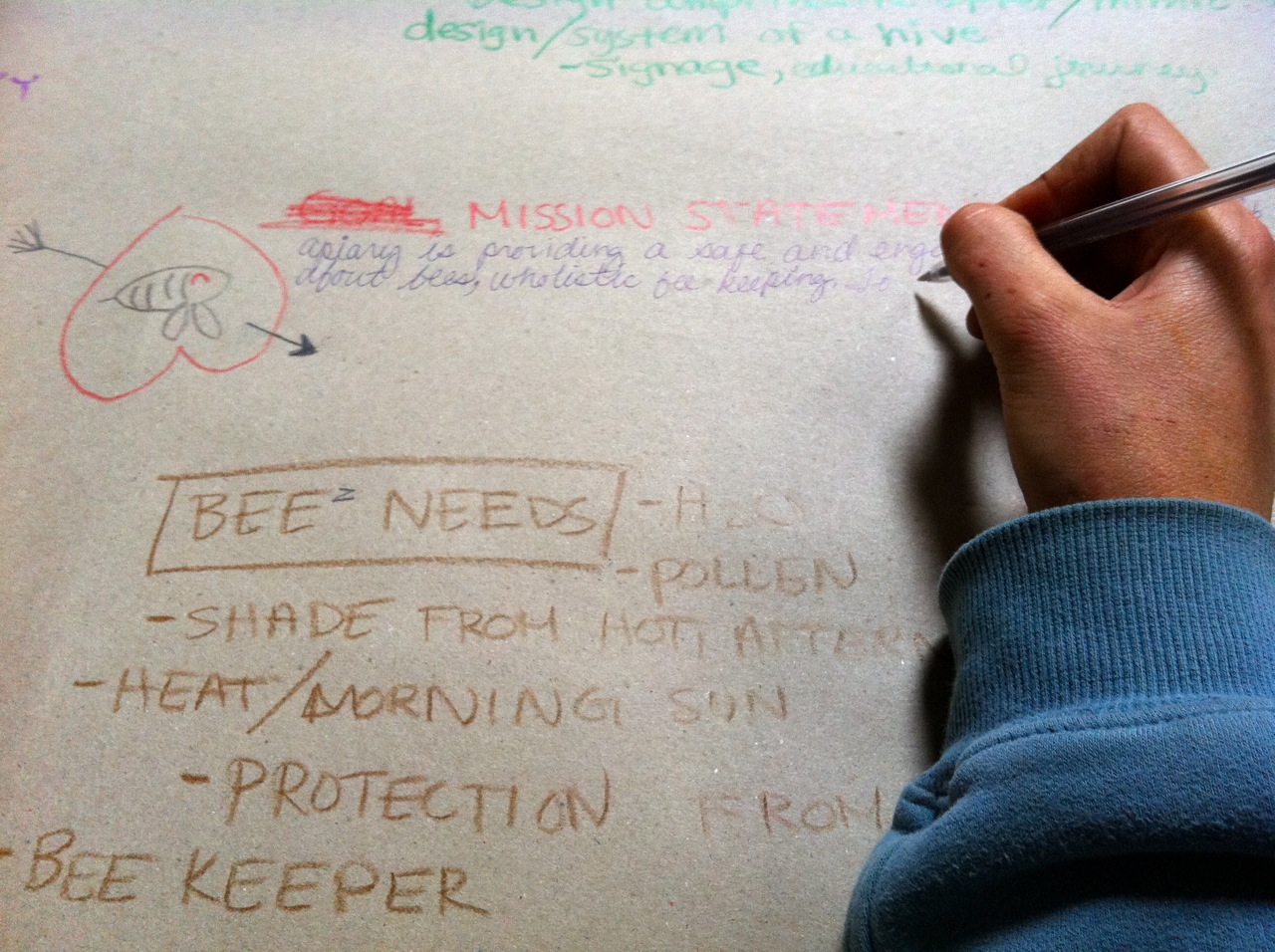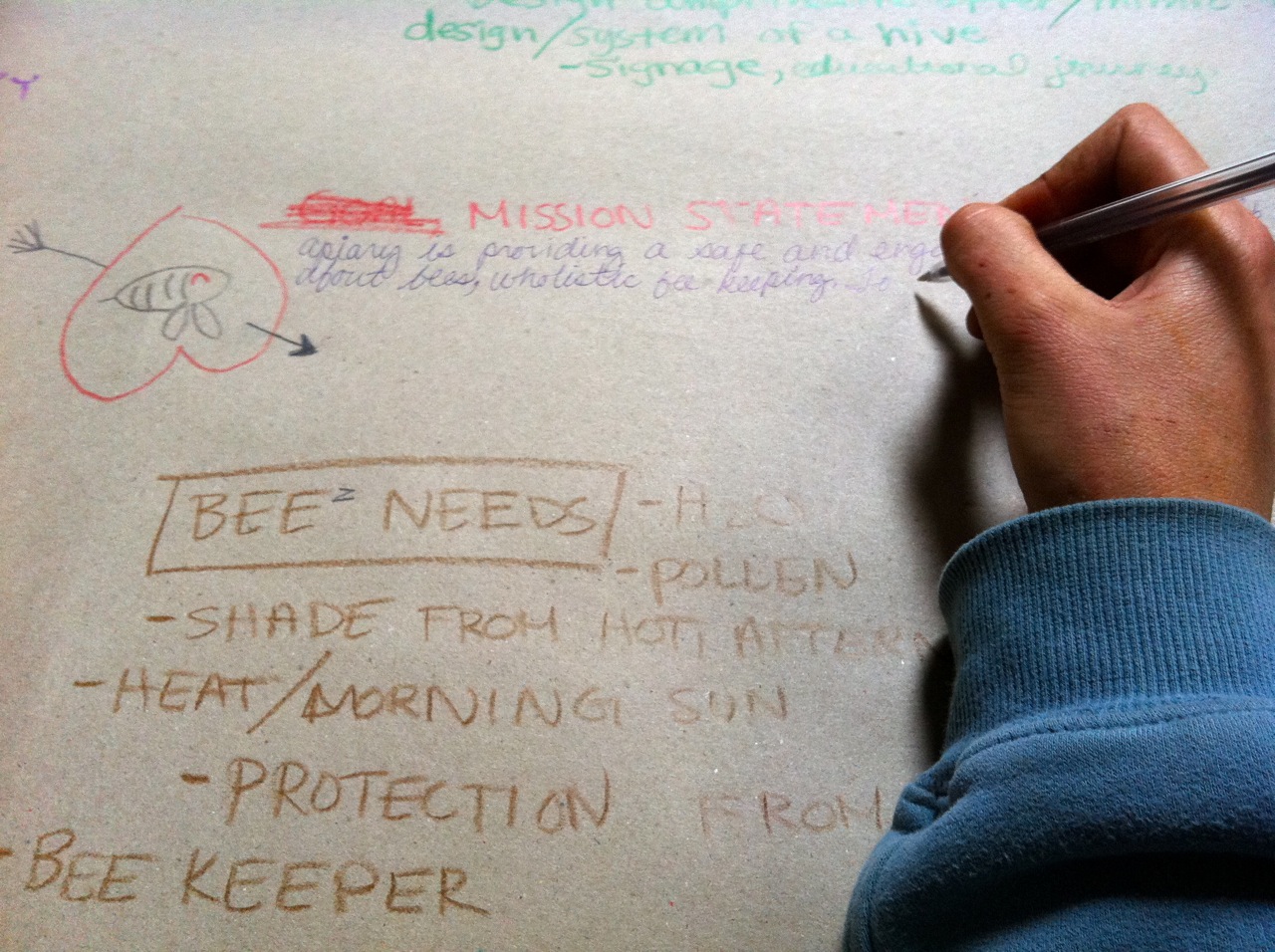 The design team also researched and produced a year-round nectary chart for Milkwood Farm based on existing flowering species and proposed plantings both near the hives and further afield.
For a stationary apiary in a rural area (ie hives that aren't loaded onto a truck to chase honeyflows, nor sited in an suburban setting with prodigious year-round flowering plants coming from many domestic gardens), a nectary calendar is an important part of an apiary's design to ensure resilience.
Adam also whipped up another version of the below bee forage calendar which you can download here – thanks Adam!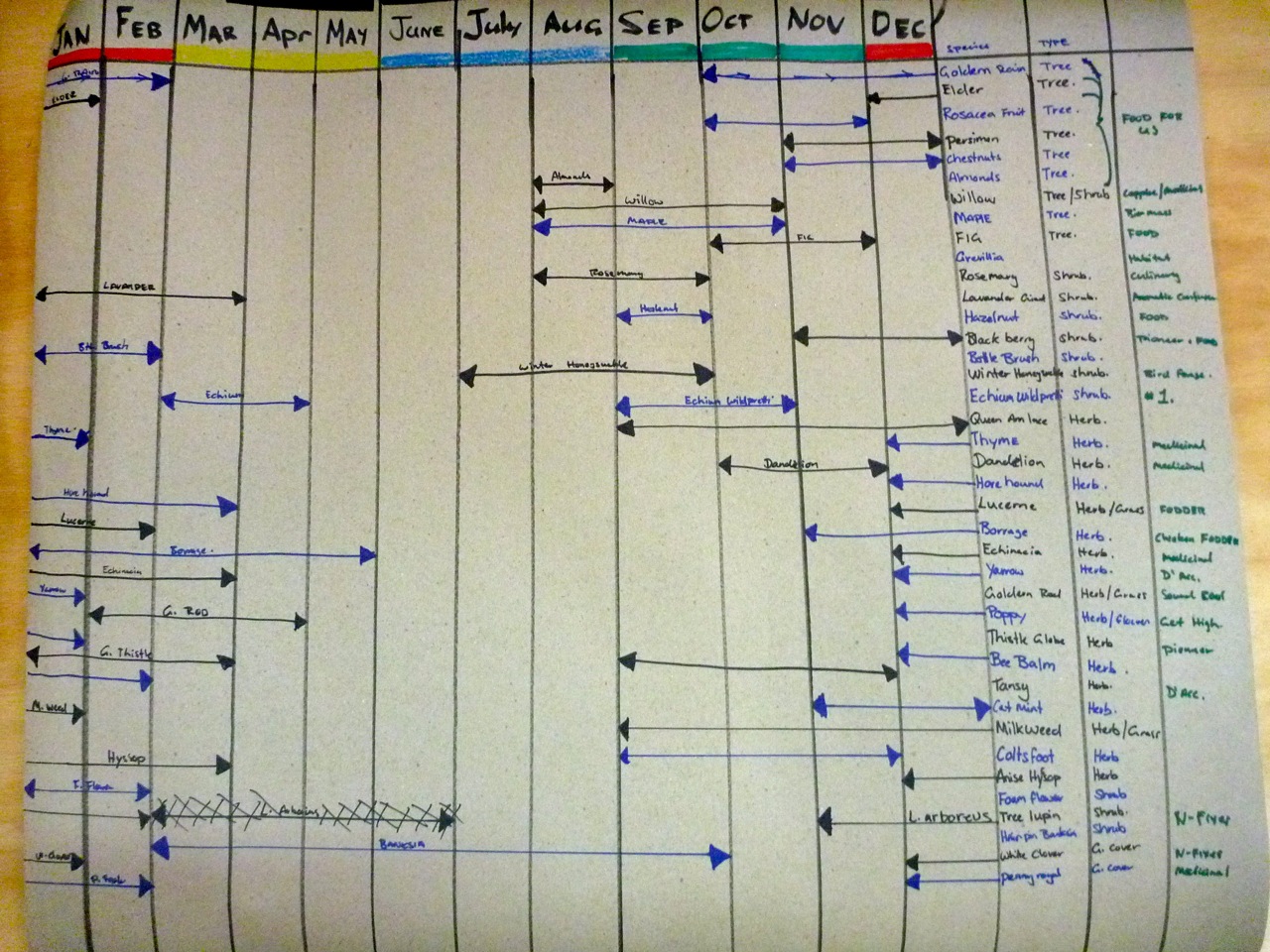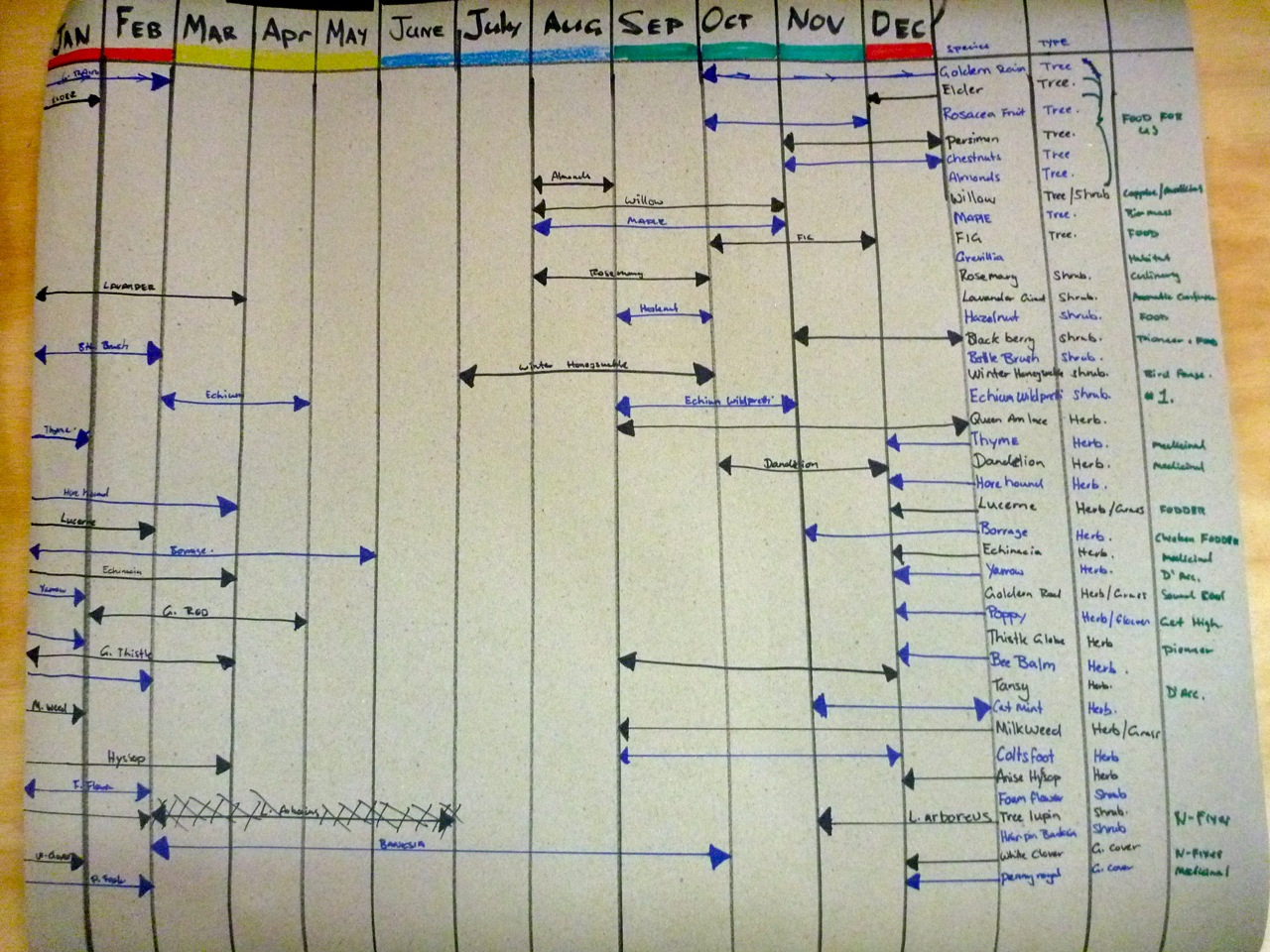 Since implementing this design would mean moving our existing hives, which can stress the bees greatly, we decided to implement it slowly and move the hives in the middle of winter when the colonies had gone broodless and were no longer foraging.
So Nick, Shane and Olivier constructed and installed (with various helpers) two hardwood hive stands that will hold two hives each, with room between the hives to provide extra workspace, and a 2m flat space behind each stand.
At time of writing, we'll be moving the two existing hives to their new stands about a month from now, in the middle of July. If its a good spring in terms of flowering plants and weather, we should be able to split both these hives around December.
This will give us four colonies of resilient honeybees in the Milkwood Farm apiary, and will come close to providing all the honey and honeycomb we require for our seasonal needs as a community. Hooray!
Big thanks as always to Tim Malfroy for his guidance and partnership in creating this Warré apiary. Big ups also to the fabulous Spring 2011 intern crew: Sabina + Jurgen, Olivier, Adam, Claire and Ashely.
If you'd like to learn permaculture design, we run intro and certificate courses at our farm and in Sydney, as well as natural beekeeping courses with Tim Malfroy.
>> More posts about permaculture design at Milkwood Farm and beyond
>> More posts about the Warré apiary at Milkwood and natural beekeeping in general