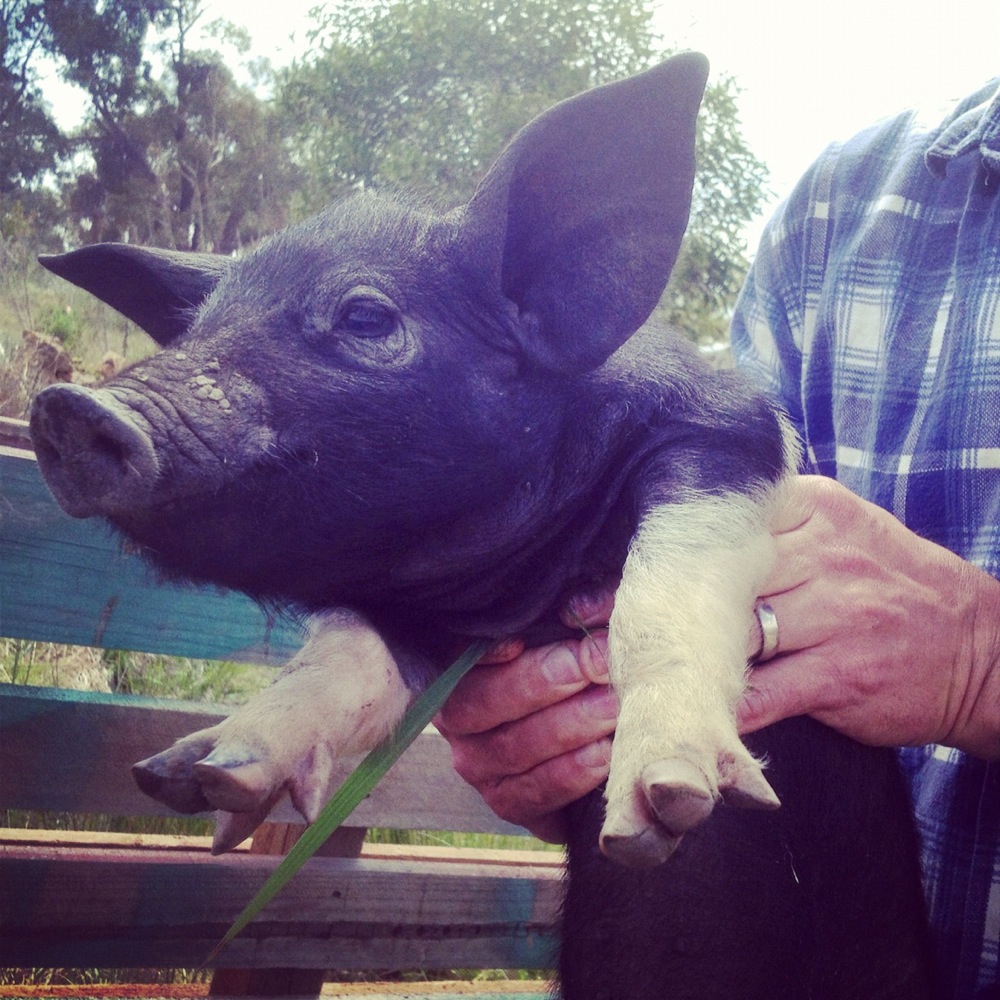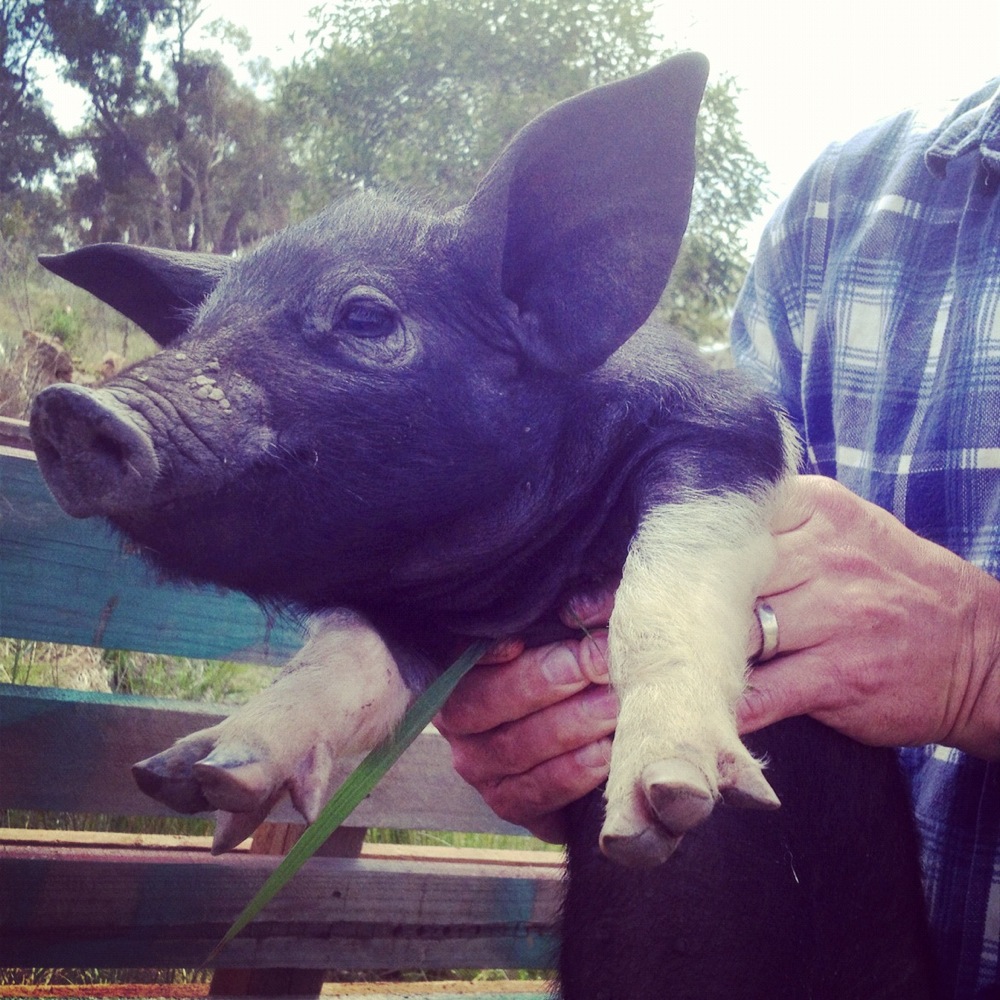 The pigs are back! 6 wessex saddleback piglets, about 8 weeks old, are the new pig tractor team of Milkwood Farm. Welcome little ones.
Back is not of course the correct term as the previous 2 pigs have now been turned into everything from terrine to bacon to roast pork to feed the oscillating numbers of crew, wwoofers and students who pass through Milkwood Farm, but you get my drift.  Which brings me to Milkwood Farm's new animal enterprise manager, Floyd.
Floyd came to Milkwood Farm first as an intern in 2010, and has returned since then for stints as a teacher, in between his various global permaculture and aquaponics designer/practitioner appointments. We're now very happy to welcome Floyd and his wife Gigi to Milkwood Farm full time.
Our long-term plan with Milkwood Farm is to nurture and support multiple complimentary enterprises which all work together and have various synergies for everyone involved.
The first of these enterprises is the market garden, which is run by Michael Hewins, and which supplies Milkwood Permaculture with fresh organic veggies for crew and student catering, with surplus being sold locally.
The second of these enterprises is… animals. Of many types. Exactly what/how/when is up to Floyd, in consultation with the rest of the Milkwood crew. At first, this aspect of Milkwood Farm will be a bunch of micro-enterprises all working together.
The first set of goals of the animal enterprises of Milkwood Farm are:
100% clean, home-grown 'beyond organic' meat supply for crew and student catering
100% clean, home-grown egg supply (chicken + duck for starters) for crew and student catering
Enhanced nutrient cycling for the forest garden and market garden systems
Regenerating the dehesa and pasture sections of Milkwood Farm with mob-stocked grazing
Dairy products (ok that's just me sneaking that in there in an attempt to manifest home-grown cheese and raw milk – this might not be viable given our land – worth a try)
Beyond these immediate needs of our system, we're looking to develop animal systems that result in organic products that can be sold to the wider community. But we'll need to take that aspect a little slower, as our budgets are small and we want to get the systems working well before attempting to expand.
So. First up, pigs. Floyd will be 'tractoring' these 6 pigs across the lower forest garden planting site before taking them on to our patches of forest, where they'll tractor the understorey patch by patch, hemmed in with electric fencing.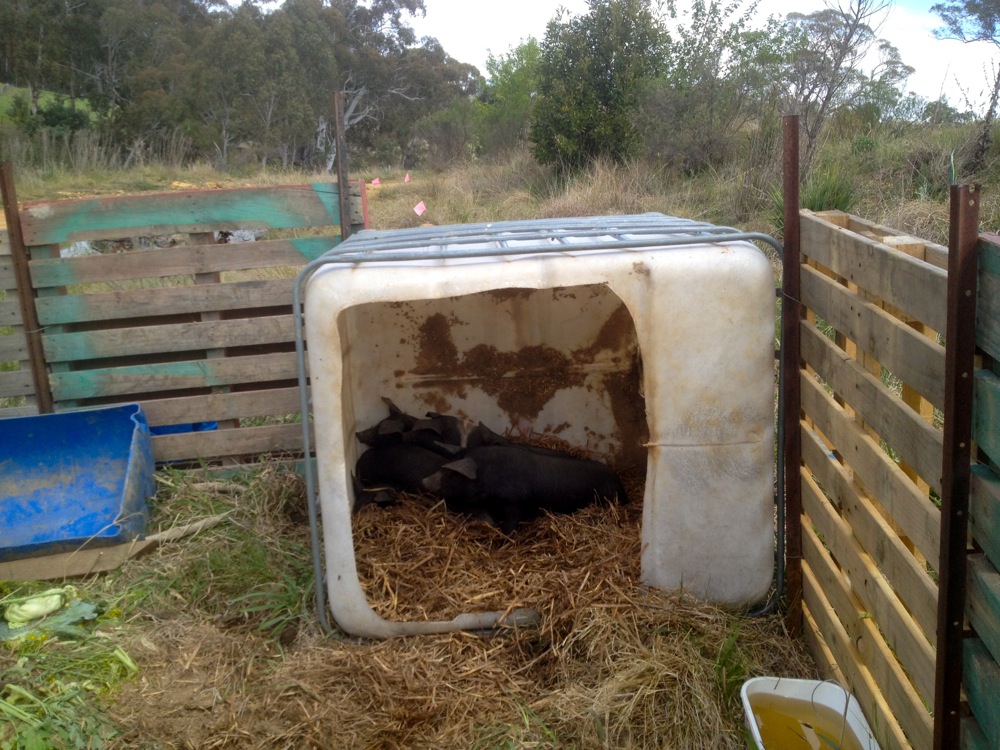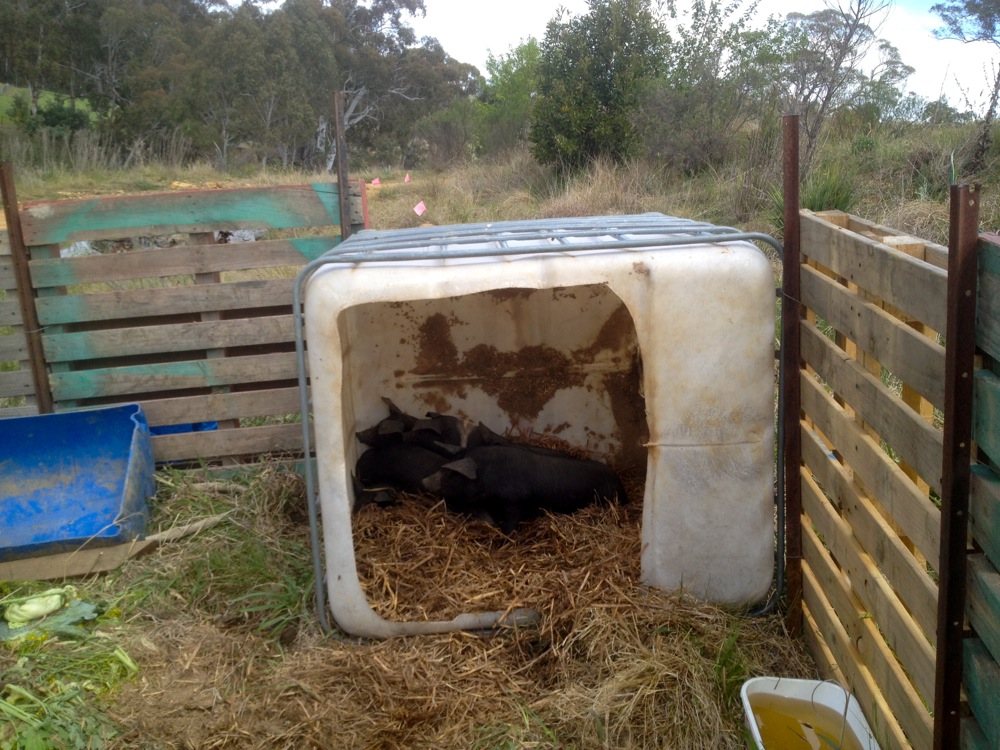 We're taking inspiration for these systems from discussions with Joel Salatin about the techniques he uses at Polyface Farm and also from some great farmers in southern Australia we've have the pleasure of meeting through our education programs.
We'll also be keeping up on the data (inputs, outputs, side effects) of these animal systems, for everyone's benefit. I am sure our figures won't come in as the most strictly economical way to raise pastured pork (a least in our first year), but we'll do our best and share the results as we go.
Viva la Floyd, Gigi, complimentary micro-enterprises and pigs. Here's to new models for creating sustainable community + education.
In February we'll be welcoming Joel Salatin back to NSW to do a series of masterclasses on Polyface Farm's techniques, including a pastured beef and park masterclass, which will be a day of in-depth discussion and knowledge on raising sustainable beef and pigs. You should come.