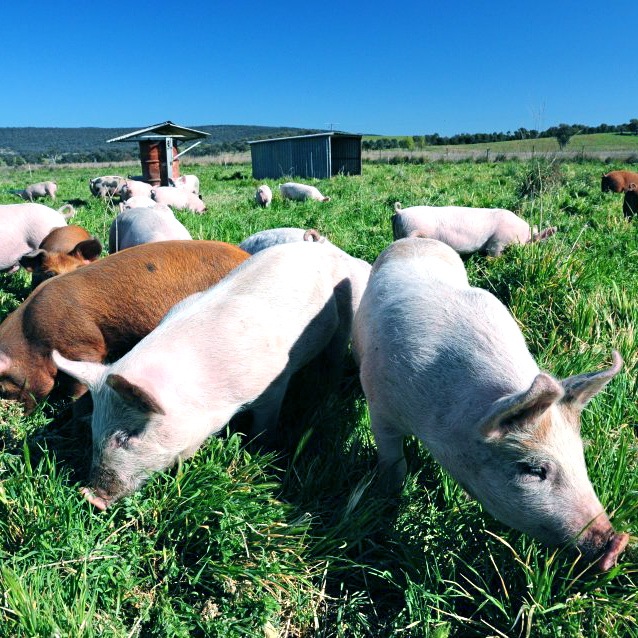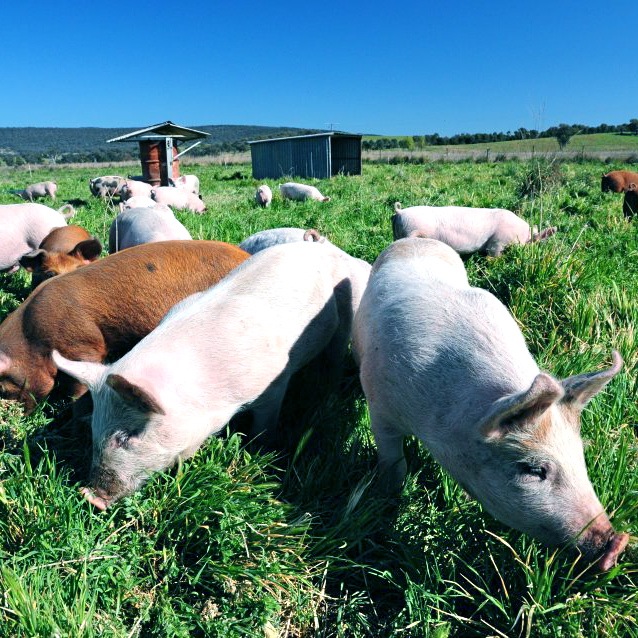 Bit of a golden opportunity, this. Boxgum Grazing is looking for a paid farm hand near Young in NSW. And Boxgum Grazing happens to be a darn fine family-run, holistically managed, pastured beef and pork operation, who want to pass their knowledge on as part of it all. Excited yet?
The story goes that when Joel Salatin made his first trip to Australia in the 90's, there was one small farm that he went to that he said was unlike anything he'd ever seen in terms of stacking animals and yields. That farm was Sam and Claire Johnson's place. And Boxgum Grazing is the Johnson's current farm.
I've had the chance to have some pretty inspiring chats with Sam over the past year, particularly in the subject area of best-practice for pastured pigs, and how they can outpace their factory-farmed cousins in terms of health and size and returns with good grazing management, by embracing the full 'pigness of the pig' and good farmer-to-consumer marketing. All of which results in an actual livelihood for the farmers without having to compromise their ethics. God forbid.
Sam, like many regenerative agriculturalists, is deeply committed to passing on knowledge and ensuring the next generation of farmers please stand up. He asked me to pass this opportunity on to likely Milkwood network folk.
Following on from Boxgum's intern program (which is ongoing), Sam and Claire are looking for someone on a more permanent basis, who may one day want to set up their own business producing and marketing high quality food. Here's the job description:
Farm Hand
Boxgum Grazing is committed to the production of sustainable and high quality food, we are seeking a motivated farm hand to assist with this goal. Boxgum Grazing is an innovative enterprise, which runs beef cattle and free-range pigs according to the techniques of holistic management.
Essential Criteria
The successful candidate must;
• Have a passion for good food and sustainable management practices
• Be a motivated and enthusiastic individual
• Have the ability to work independently and in a practical manner
• Good communication skills
• Ability to learn quickly to new tasks and an attention to detail
• Be able to work on certain weekends at our farmers market stall
• A current manual drivers license
Desired Criteria
• Previous farm experience
• Previous experience in sales or marketing, due to our produce being sold consistently through farmers market stalls.
The remuneration includes accommodation and is dependent on experience. Aptitude will be rewarded. Applications with CV to Boxgum Grazing on cont[email protected]. Applications close 28 February at 5pm.
So if you want to immerse yourself in the arts of holistic grazing, direct marketing and most of all ethical, regenerative farming, here's a fine chance.
You can check out Boxgum Grazing's website and also their Facebook Page http://www.facebook.com/boxgumgrazing which has loads of photos of their operation.
Or if you're not up for the job but you'd like to go see (and you should), Boxgum have a small and gorgeous farmstay cottage as well.
Lastly, Sam will be our guest at the Pastured Beef and Pork Masterclass and also the Pastured Poultry Masterclass with Joel Salatin in Kiama on the 18 + 19 Feb, so if you'd like to have a chat to him there before you apply, sign up, come along and I'll introduce him to you.