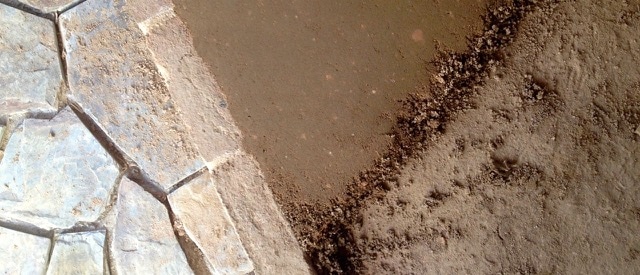 After completing the strawbale walls and the roundwood, reciprocal roof of the Milkwood Roundhouse, we wanted a gorgeous floor to complete this hand-crafted natural building. So an earthen floor was a natural choice.
There's not much easily accessible info out there on how to make your own earth floor, however. So we'd like to share what we learned with you…
All this happened last Autumn. The walls and the roof of the roundhouse were up, and looking mighty fine.
Our floor options, as we saw them, was to make either a poured concrete or earth floor. In the interests of learning a craft and also minimising the embodied energy of the building, we really wanted to take the earthen route.
We had one problem – we didn't know how to do it. And the info available was minimal. And most folks who suggested we do it, hadn't done one either. So it was in all our minds, but not in anyone's skillset.
Eventually, we settled on two possible techniques.
One technique offered low cost but extended drying time, and the other was going to be more pricey but would, in theory, get Floyd and Gigi into their new house faster.
We settled on the option with a higher cost and quicker drying time. If we had our time again, we'd probably use the other method. Live and learn.
Brickies Sand method – step by step
Firstly, we laid down and compacted
100mm of road base
10-20mm of any sand available – (we used river sand) to protect the waterproof membrane above
Then we put down a waterproof layer (we used builder's plastic) – this was to halt the possibility of rising damp in a very wet year
Next we laid down and compacted a 75mm layer of moistened brickies sand, and then it was time for the top layer.
The top layer
Ingredients: a 25mm layer of 4 parts of brickies sand, to 3 parts renderers clay
Method:
Make the mix in shovelfuls, the smaller the better, in a wheelbarrow. Mix well.
Spread it with a spirit level or screed, about 10mm higher than the desired finish level
Then compact it down with a steel compactor – still a few mm higher than the desired level
Screed it with the spirit level – to get it to the right height and level
Polish the floor with a steel trowel and a spray bottle with water to make it nice and smooth and fill in the cracks
The top layer must fully dry in order to go to the next step – curing the floor. Please be aware that in late Autumn, this drying process takes much, much longer than you might like it to.
Curing the floor
Once all that was laid down, it was time to cure the floor. This step is magical (if a little long-winded) – the linseed oil and gum turps bond together around the sand grains to create this hard, smooth, gorgeous surface. Eventually.
The first primary ingredient for curing is boiled linseed oil – if you can, make sure you use RAW linseed oil, because it works as effectively as the other stuff and has less far less toxins in it.
The second primary ingredient is gum turps, or Gum Turpentine – this is derived from distilled wood. Not to be confused with Mineral Turpentine, which is a petroleum solvent. Just because gum turps is natural doesn't mean it's inert, however – you need lots of airflow and skin protection to work with it.
For the 28 square meters of the roundhouse floor's surface, we used 8 litres of linseed oil. For each coat we mixed the ratio then poured as much as possible onto the floor without it pooling. We then applied it with a sponge mop.
Once each coat was absorbed, on went the next one. We did 5 coats all up:
1st coat – 100% linseed
2nd coat – 80% linseed to 20% turps
3rd coat – 60% linseed to 40% turps
4th coat – 40% linseed to 60% turps
5th coat – 20% linseed to 80% turps
6th coat – 100% turps
The end result is a very beautiful, slightly textured, very hard earth floor. It's a pleasure to walk on, works as a thermal sink in colder weather, and is a beautiful addition to the roundhouse.
This method took 8 weeks from start to finish, with high input costs due to all the brickies sand we used, and the endless hours of labour (mostly Floyd's).
Next time, we will make an earth floor the way Sam Vivers, the natural builder that teaches the Milkwood Natural Building Workshops, suggested.
This method would result in lower material costs and less labor (though possibly longer drying time, depending on the climate).
Earthen Floor method 2 – the Sam Vivers method
Lay down 100mm of blue metal as base layer, then a thin layer of sand to protect waterproofing layer
Lay down builder's plastic to provide waterproofing
Lay down 100mm of a cobbish mix – clay, sand and straw: 1 part of sand to 1 part of clay (depending on the quality of the clay) and long straw
Lay down 50mm layer of a thinner cobbish mix with added chaff (chopped straw) – 2 or 3 parts of sand to 1 clay (depending on the quality of the clay) and chaff
Lay down 10mm final layer of thin mix without straw – 3 parts sand to 1 part clay, using finer sand
Cure floor with linseed oil process as per the previous method
Note: each of the layers in this method needs to be completely dry before starting the next layer
So there you go – there are many other ways to build a long-wearing earthen floor other than these two methods, but that's a start.
However you achieve it, an earthen floor is a beautiful addition to a natural home.
It's a hard-wearing surface, it looks gorgeous and , if the building has good passive solar design, this floor will collect and release heat into the house in the cooler months, and help to mediate the internal temperature of the house in the warmer months.
Do you know of any other methods that work well? We'd love to hear about them!