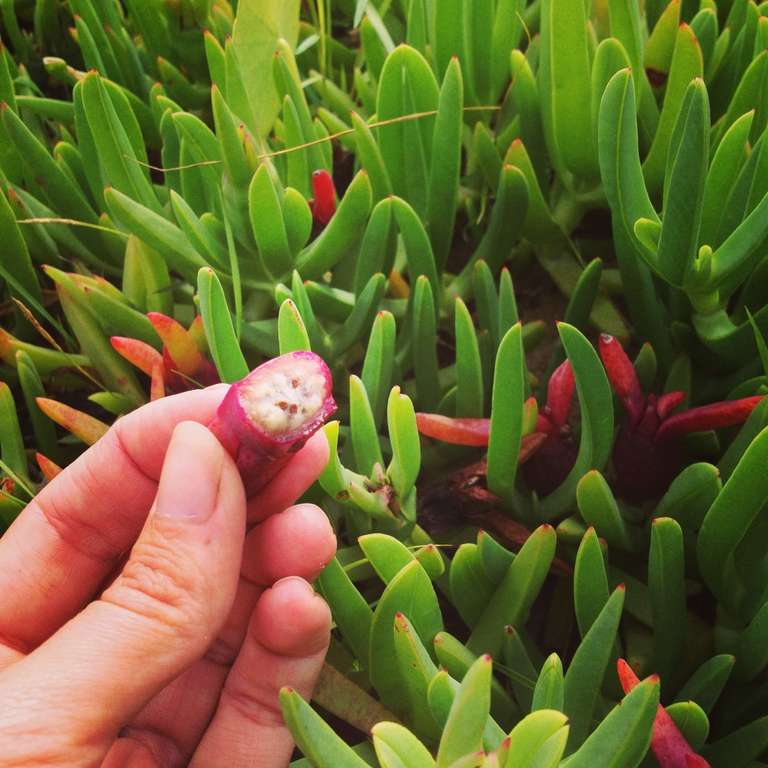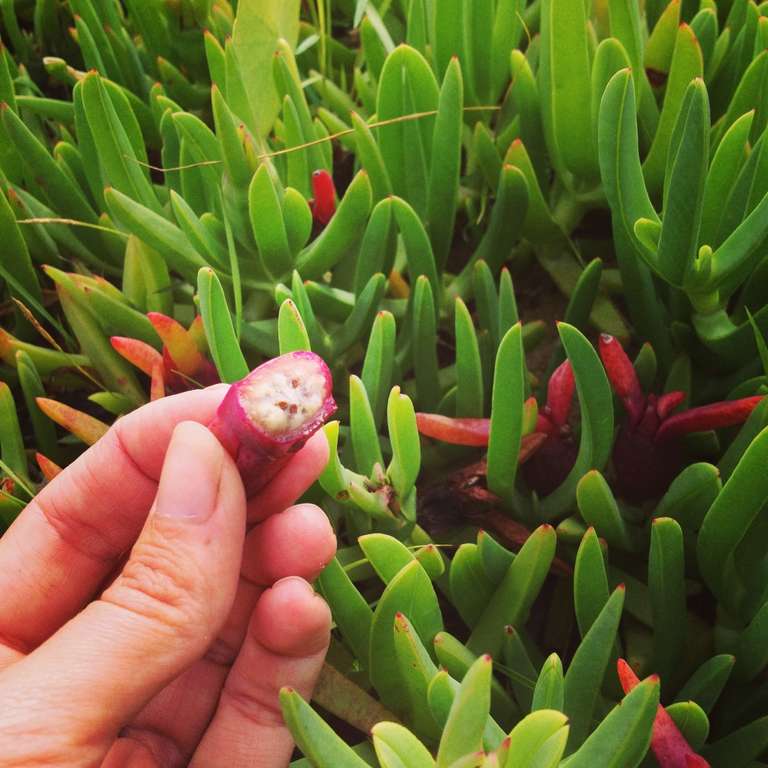 Why this awesomely tangy, sweet/salty native fruit hasn't taken the world by storm is beyond me. Or maybe it's a good thing, for us foraging types.
I'd like to introduce you, if you've not already met, to Carpobrotus glaucescens – the variety of pigface that grows on the sand dunes and costal cliffs of eastern Australia.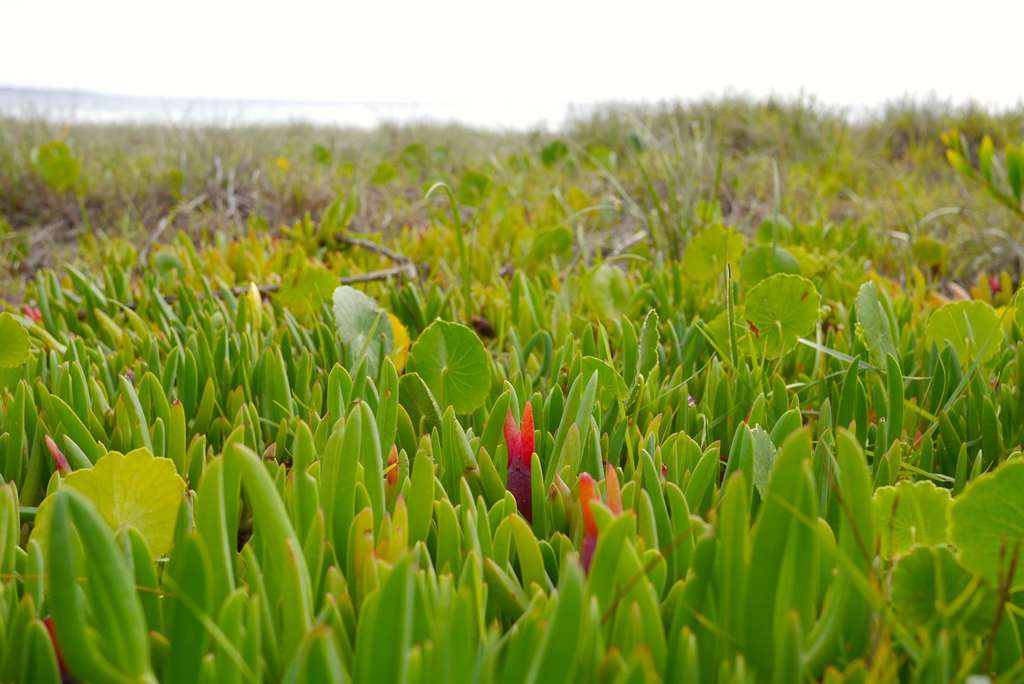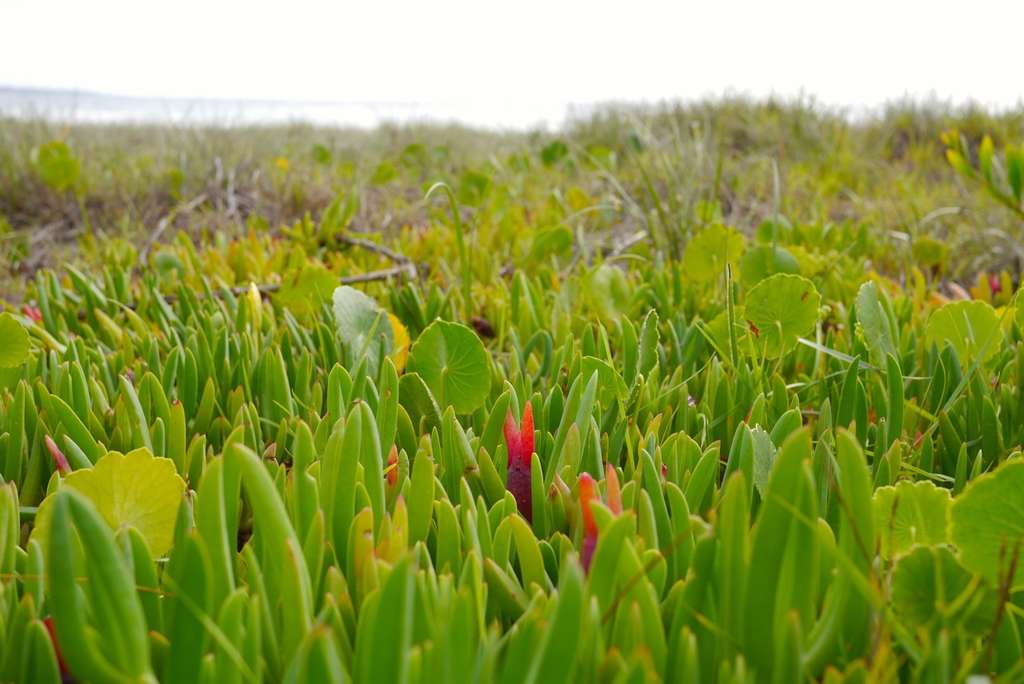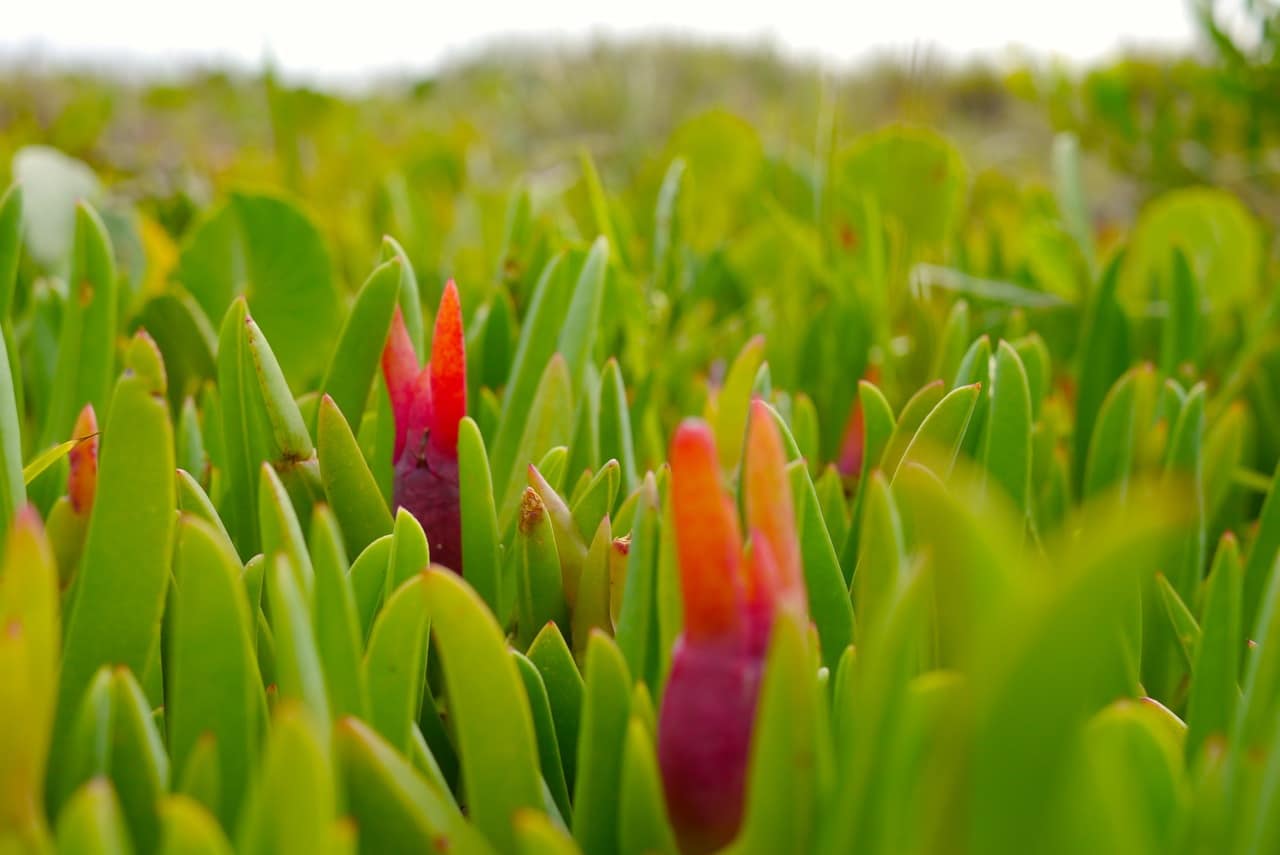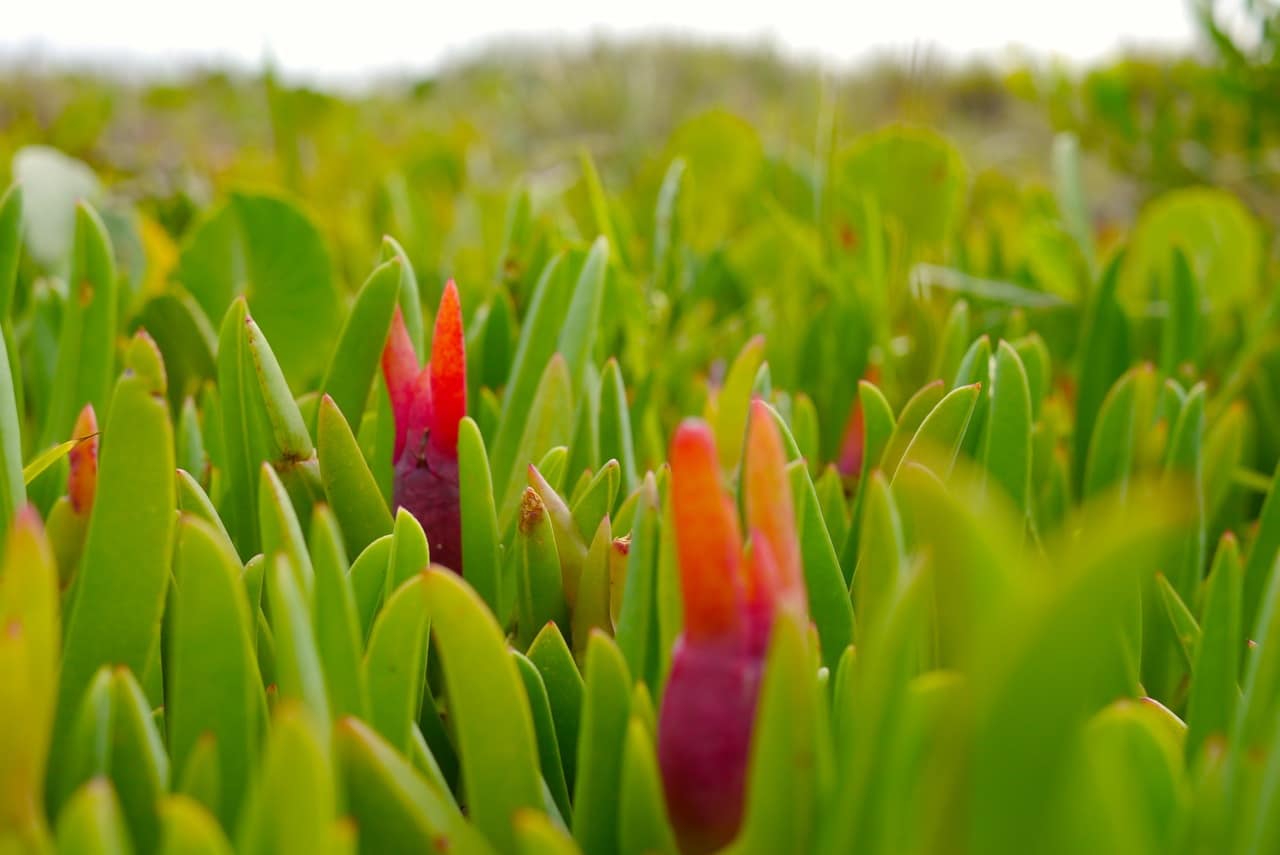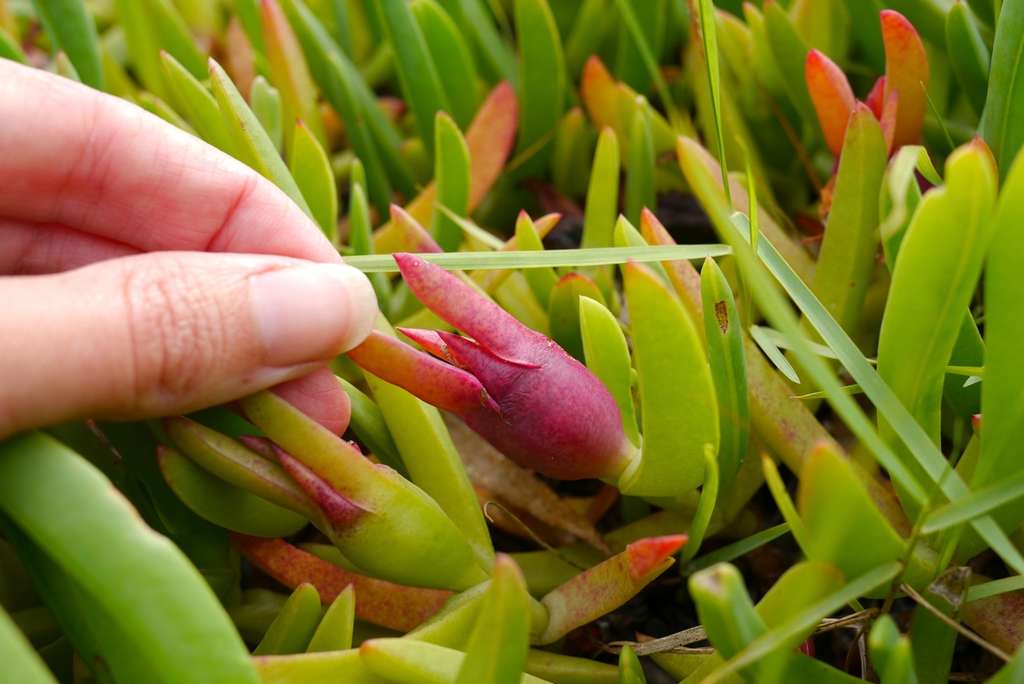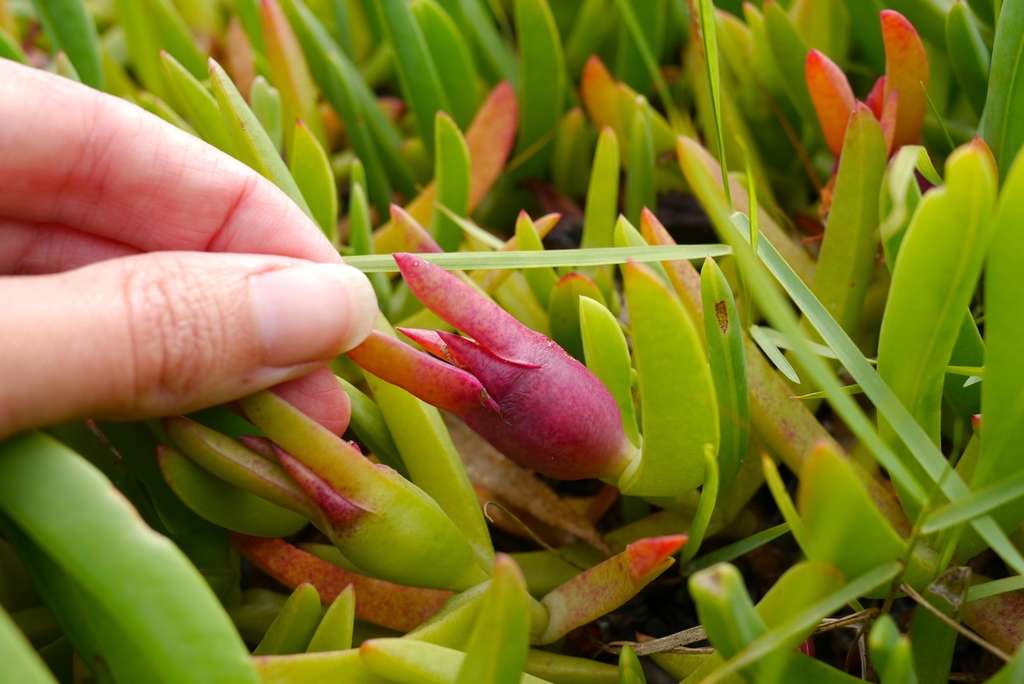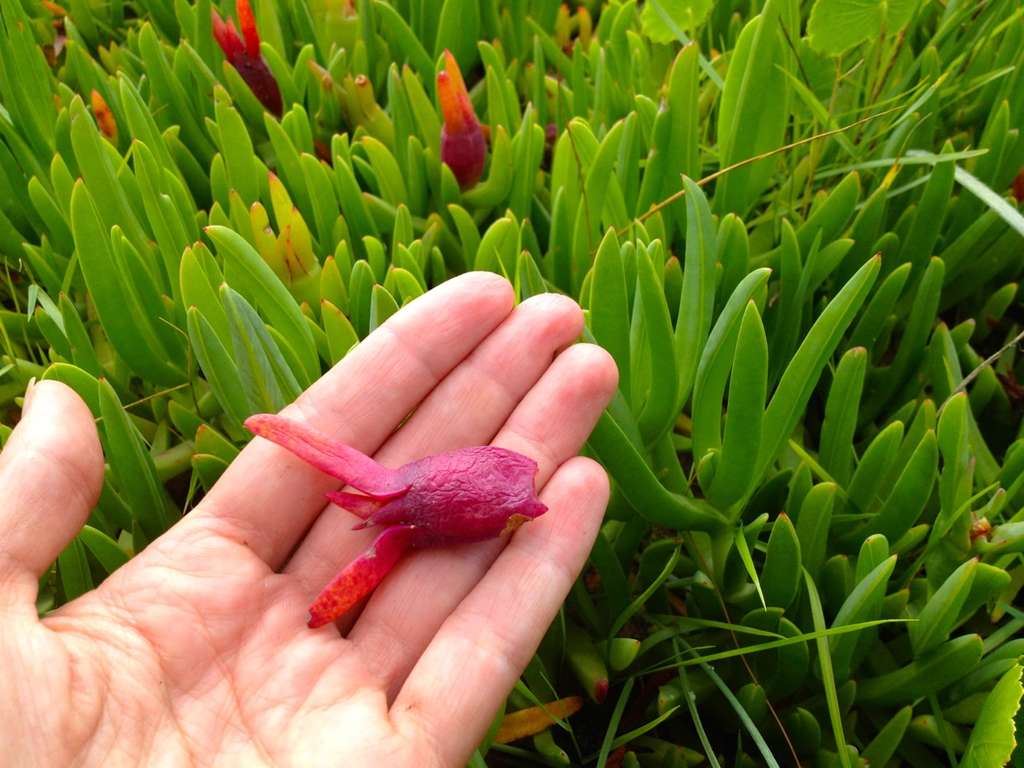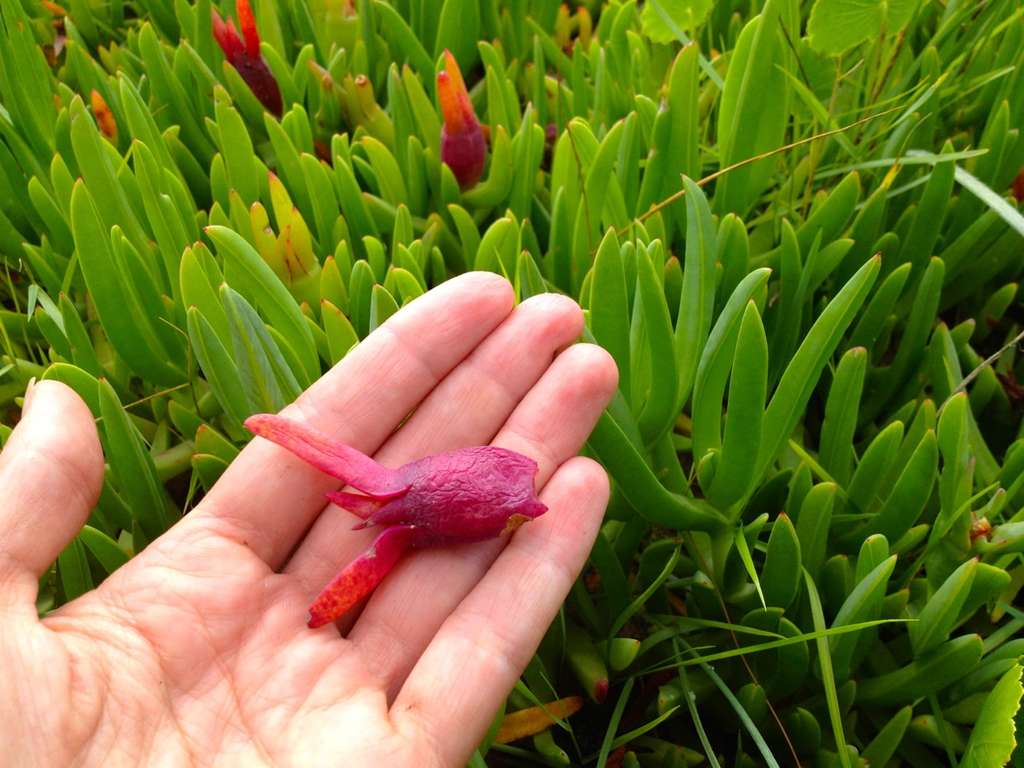 Every part of this plant is edible and/or medicinal – the leaves can be used like aloe vera to lessen stings and burns of the skin, as well as eaten raw or cooked.
Pigface has been eaten and used extensively by the peoples of Australia for as long as there's been people here. Outside bush tucker circles, I believe it is not much harvested at the moment, though white settlers used the fruit for jams and jellies, and the leaves cooked as vegetables.
But it's the fruits that i grew up snacking on… they are hands-down delish – somewhere between a kiwifruit and a strawberry and maybe a fig, with a good whack of salt.
The pigface fruit ripens, of course, when the flower is pollinated and spent. The fruiting body swells up and turns deep red, so they're easy to spot on the otherwise green plant.
Some (perhaps most) folks peel the fruit, but I like them whole – you get that extra salty hit before you get to the sweet interior – a bit like the effect of the sweet/sour in a cumquat.
Inside, the fruit has a texture reminiscent of strawberry. Downright delicious.
If you're looking to go foraging for pigface fruit, keep in mind that they're an important part of the ecosystem – they stabilise the sand dunes and soil, subsequently helping to build fertility. Their flowers support bees and insects.
So try not to squish the plants as you harvest, and of course leave some fruit for the birds and other critters, who play a crucial role in pigface's seed dispersal.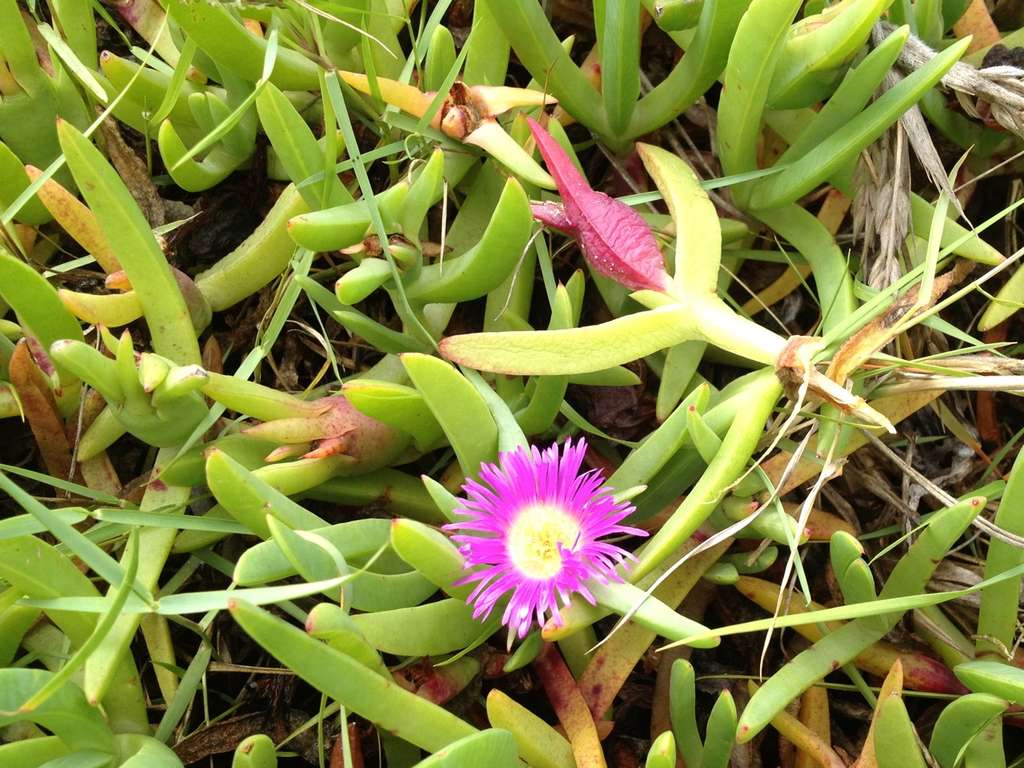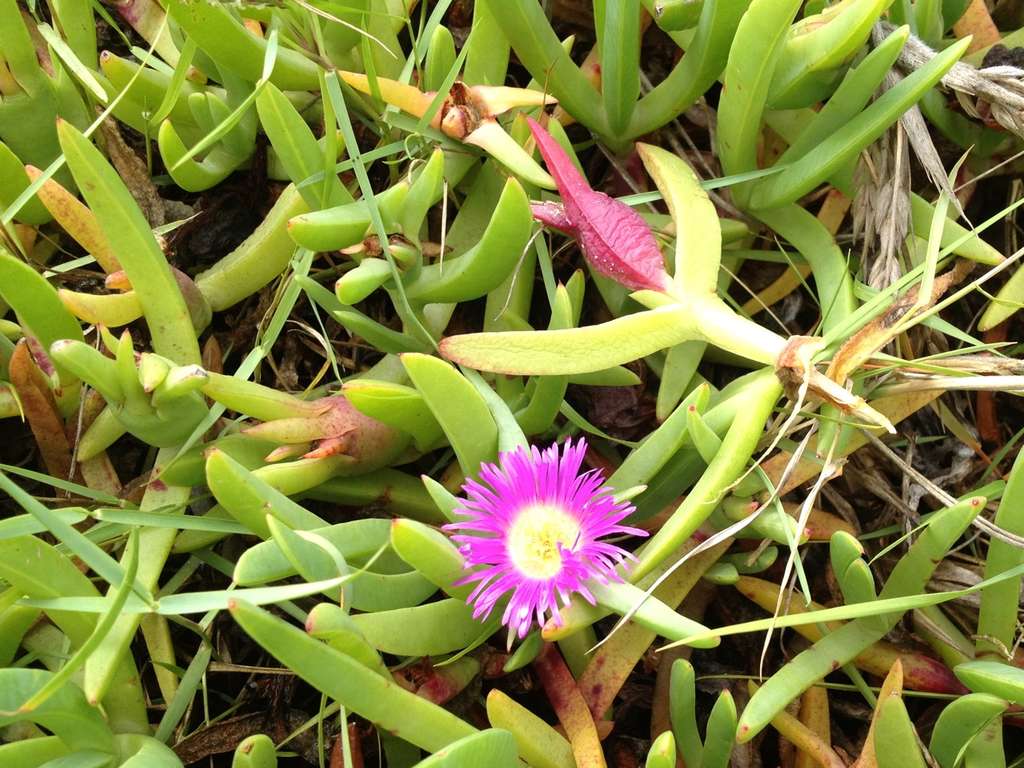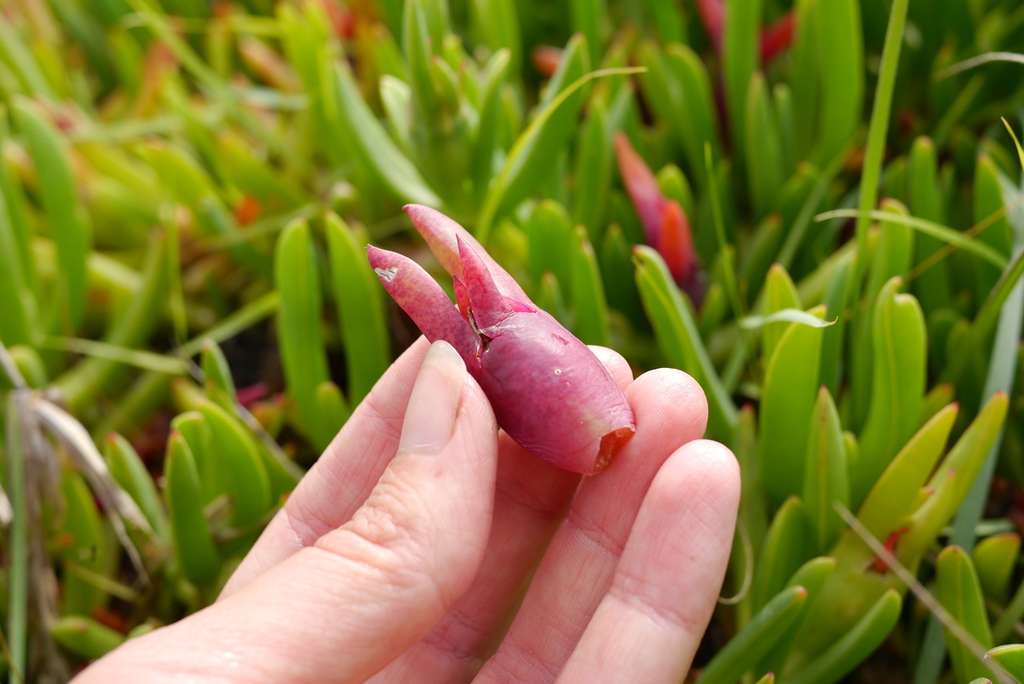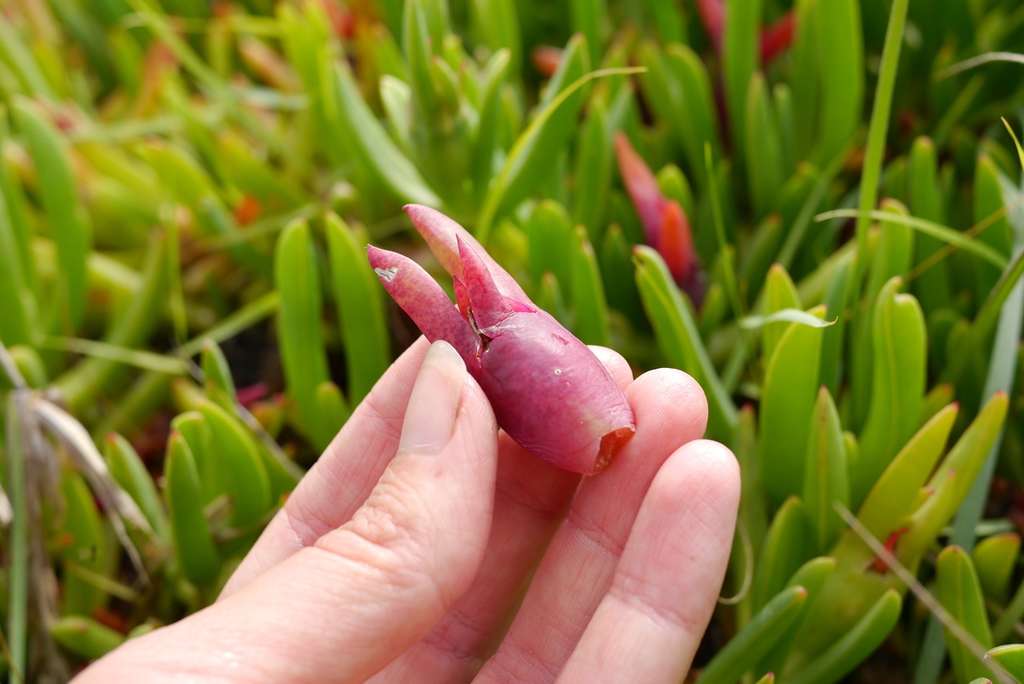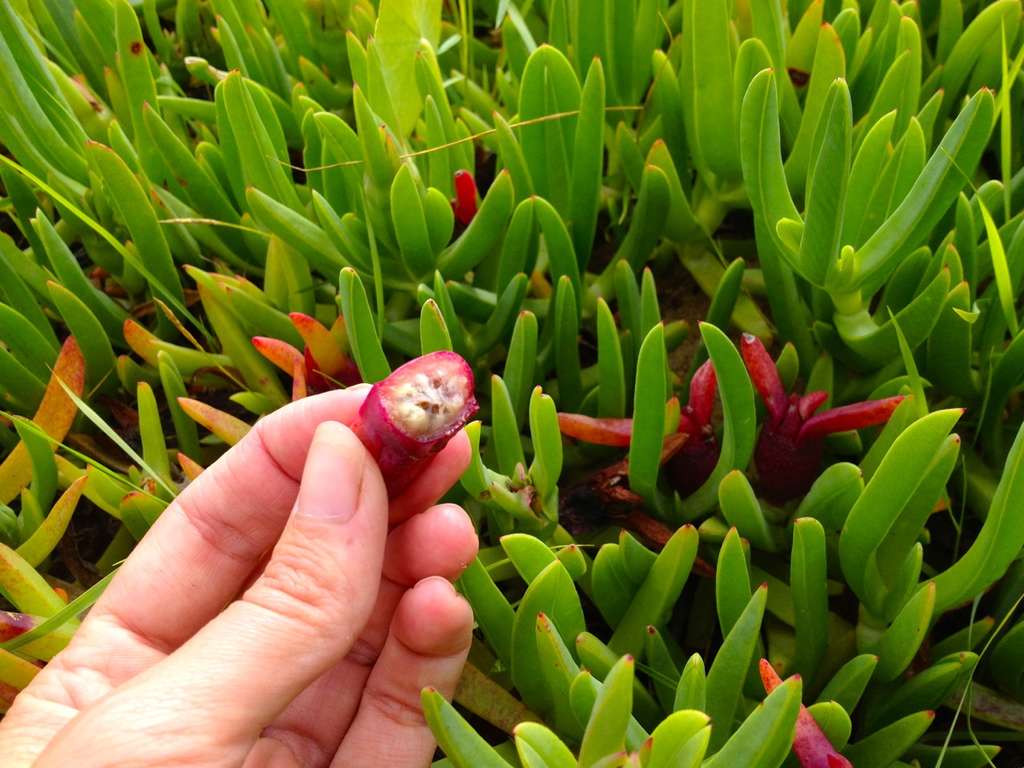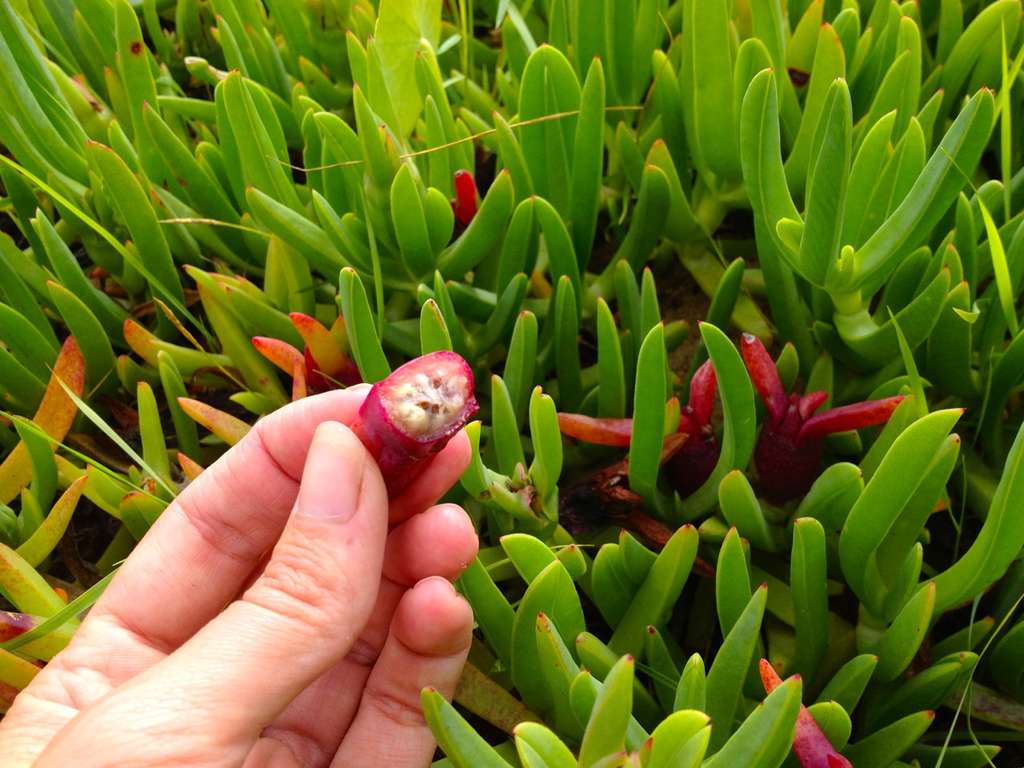 Lastly, a note that there are many Carpobrotus species, some of which are native and some of which are not.
The two most prized for their fruit are Carpobrotus glaucescens (ie this one) and karkalla (Carpobrotus rossii), which is native to Victoria, South and Western Australia.
Happy hunting!
More about pigface: