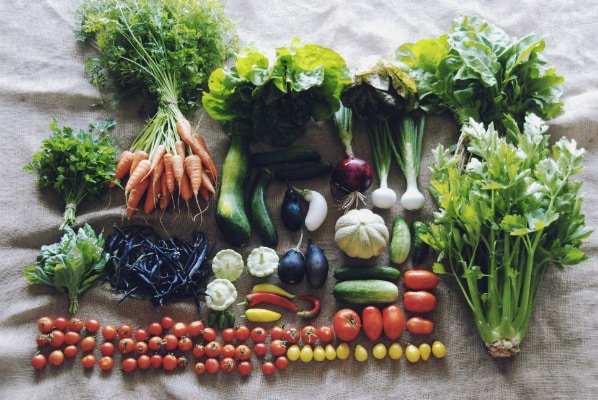 The term CSA – Community Supported Agriculture – gets used a fair bit in this country, sometimes referring (incorrectly) to veggie box schemes filled with veg from far and wide.
But in reality, we have very few true CSAs in Australia; hence our limited understanding of what one is, and why they can be so valuable to their communities. Time to shine a light!
CSA refers to a relationship of mutual support between the consumer and farmer.
The USDA sums up the concept pretty well:
"Community Supported Agriculture consists of a community of individuals who pledge support to a farm operation so that the farmland becomes, either legally or spiritually, the community's farm, with the growers and consumers providing mutual support and sharing the risks and benefits of food production."
In short, it often involves the consumer to commit to the farm, usually paying ahead of the season, and in an ongoing capacity for the farmer's labour, skills, resources and product.
Membership costs pay for the farmer's seeds, supplies, labour and equipment – sharing the risk (of drought, disease, bad weather, etc) and effort involved in the season that lie ahead – and in return the customer receives seasonal, fresh, local produce.
With the benefit of knowing exactly where it comes from, and how it was grown, to boot.
There are several farms doing a pretty great job of this in Australia and one of those is Transition Farm, who grow over 150 varieties of vegetables and fruit on their spot on the Mornington Peninsula in Victoria.
This small-scale family farm run by Peter Carlyon and Robin Koster-Carlyon have members sign up seasonally for their CSA and operate three seasons – spring, summer and autumn.
American CSA programs are typically 22-30 weeks. Transition Farm's 39-week season allows them little time to rest over winter. "To provide boxes in Oct, we need to begin seeding again in mid July," says Robin.
"Stopping the CSA boxes at the end of June, gives us a two-week break from thinking about nurturing food. We are looking forward to those two weeks!"
"We started our CSA with a trial run…a seven week season in 2012," Robin says. "That trial not only showed us that we could grow food on a larger scale (we really weren't sure about this), but the feedback we received was that people liked the CSA model and wanted more.
So we set about cover cropping, building a greenhouse, planning, seeding, weeding, irrigating, and harvesting for a 26 week CSA season in 2012-2013. We increased from 17 families to 55.
And the past season we added Oct, Nov and June and another 25 shares. At the end of June we will have provided boxes for 39 weeks to 80 families."
Members pay for the three months ahead of each growing season and are kept updated with the farm activity through a weekly newsletter.
Each week, produce is picked fresh from the farm (all produce in the boxes come from their farm only), boxed up and either home delivered or picked up from the farm.
And each week, Transition Farm's CSA members get a 'what's in the box' picture.
Not only are these shots darn beautiful, they're a visual calendar of what can grow at this place, in this climate, in this season, without industrial-scale inputs or infrastructure.
Valuable knowledge, indeed.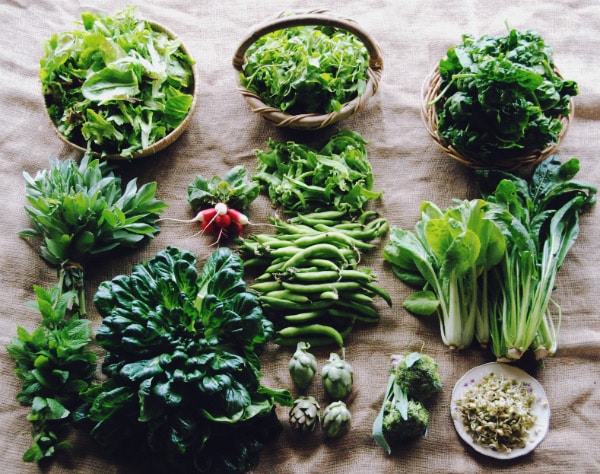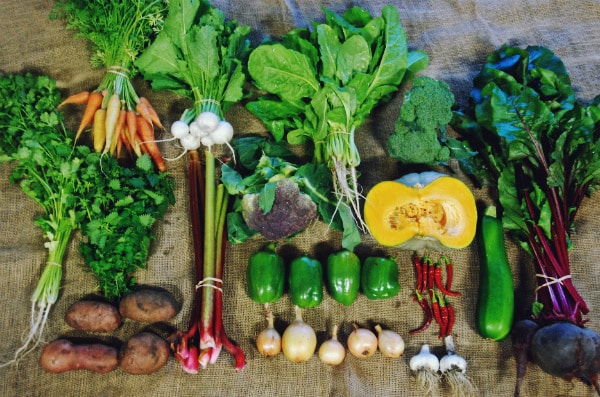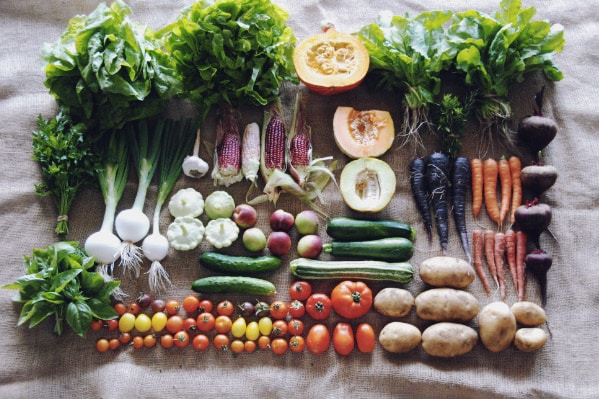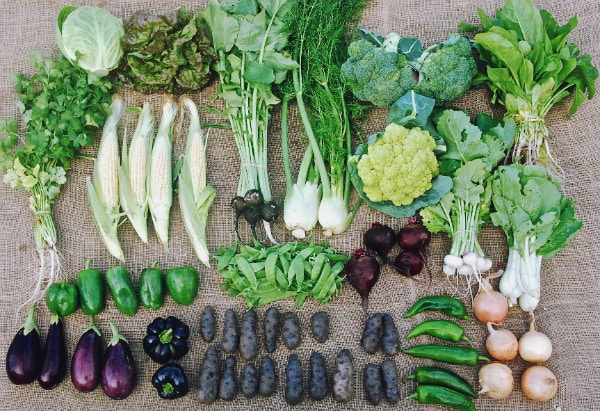 As Peter says, some weeks there's more, some there's less.
"We harvest when things are ripe and perfect for eating. Sometimes that means a box is fuller. Other times the box may be light. We have tried, through planning, to provide an even harvest but sometimes, with weather, plantings ripen at the same time…or go by quicker then we thought."
The good that comes from this?
Customers become accustomed to eating seasonally. And they become inherently aware of what it takes to grow nutrient dense food, how weather affects crops, when they can be harvested, and how successful that harvest may be.
"If you are not accustomed to eating seasonally, you may find that it takes a while to make a transition from eating whatever is at your local supermarket (pretty much everything) to whatever is in your weekly CSA box (what's in season)," says Peter.
"It may surprise you to find that capsicum do not turn red until late February in our area, there may be no carrots in the month of October and it's a bonus if you have tomatoes for Christmas."
From their beginnings, over a decade ago as commercial farmers that were taught conventional ways to grow their produce (a monoculture of potatoes, carrots and raspberries) with a chemical pesticide and herbicide spray schedule, it didn't take Peter and Robin long to switch to their current methods of farming using organic and biodynamic methods.
They now spray with seaweed.
Citing studies that show the dramatic difference in vitamins and minerals in fruit and vegetables being dependent on how they are grown, Transition Farm take the time to build their soil with healthy organic matter, and avoid chemicals and fertilisers.
In adopting a CSA model, Peter and Robin are helping their local community to begin moving away from the corporate commercialisation of food.
"When 'consumers' obtain food from local farmers, they are directly supporting sustainable agriculture in their community as well as receiving the freshest available produce," says Peter.
"We provide practical education for people wishing to grow food (on any scale) and we are trying to promote small-scale agriculture as being a viable and sustainable method of feeding local communities…as it used to be."
Robin and Peter have written up a great deal on their CSA model on their website – namely how it works and why they do it, along with a great overview on their thoughts on community supported agriculture. They also run internships for future growers.
Please give Transition Farm's articles a read and get educated on more strategies for local food futures!
Looking forward, we're going to be checking out some more great CSA models operating in Australia and overseas, so stay tuned.
For those looking for fast-track skills in growing good food, both our Intro to Market Gardening and also our Market Garden Masterclass courses go into both the economics and practicalities of how to grow good food on a community scale, including via CSA models.
Do you have an opinion on CSAs? Are you a part of one? Do you run one? Tell us about it!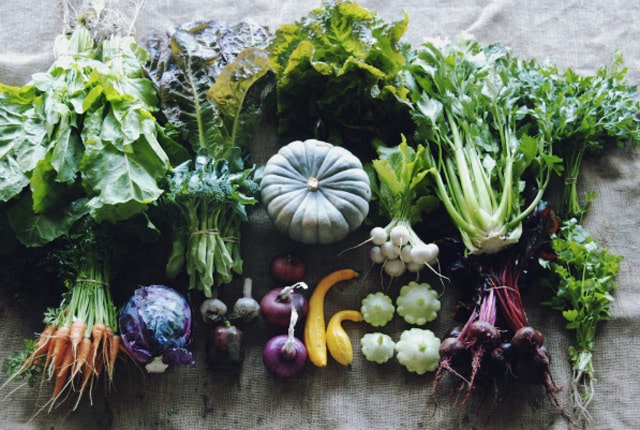 Words by Emma Bowen – grower of good things including GreenUpTop + Slowpoke Journal