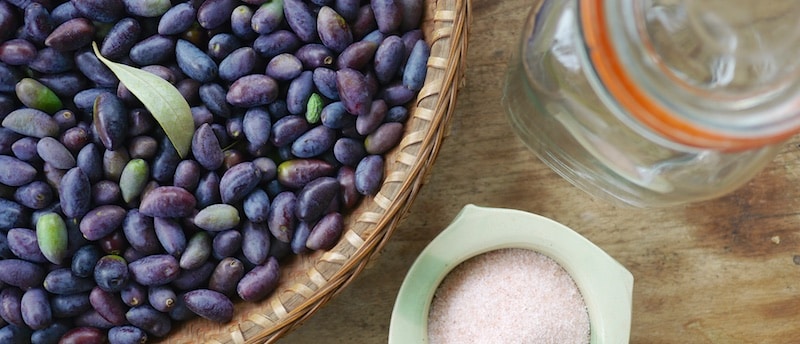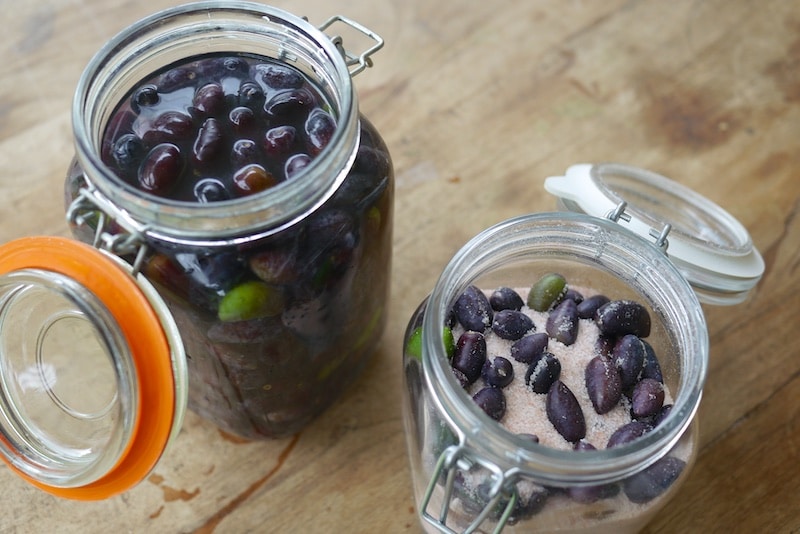 Tis the season to brine olives! Or salt them, if you prefer. Whether you've grown them yourself or foraged them from bird-sown trees, it's late Autumn that you want to pick and cure them.
There are many ways to cure olives, but the essential thing is that you extract the glucosides from them – the chemicals that make the olives very bitter when just picked.
You can do this by curing them in water and changing it daily, or dry salt them, or salt then smoke them, or you can do it with a rather complex combination of water + brine sequences.
Or, if you're slightly time poor amongst your enthusiasm (like us), then straight-up brining is a good idea.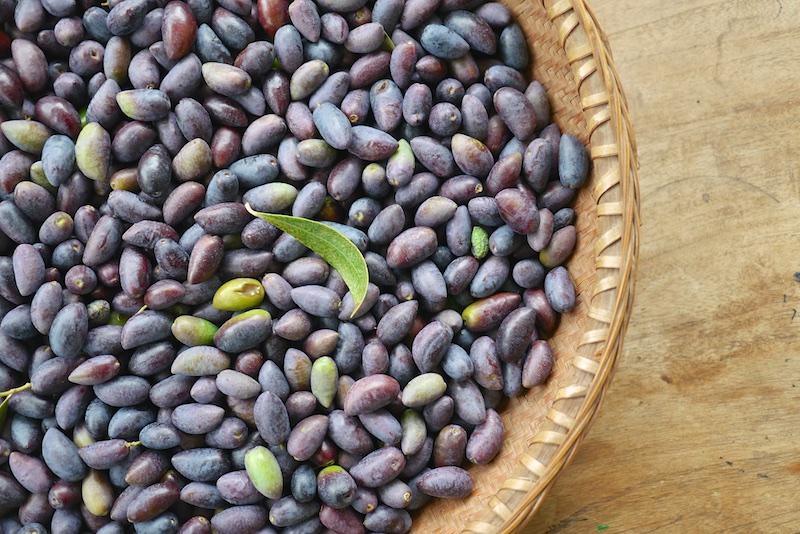 How to Brine Olives
First, procure your olives. Then wash them well.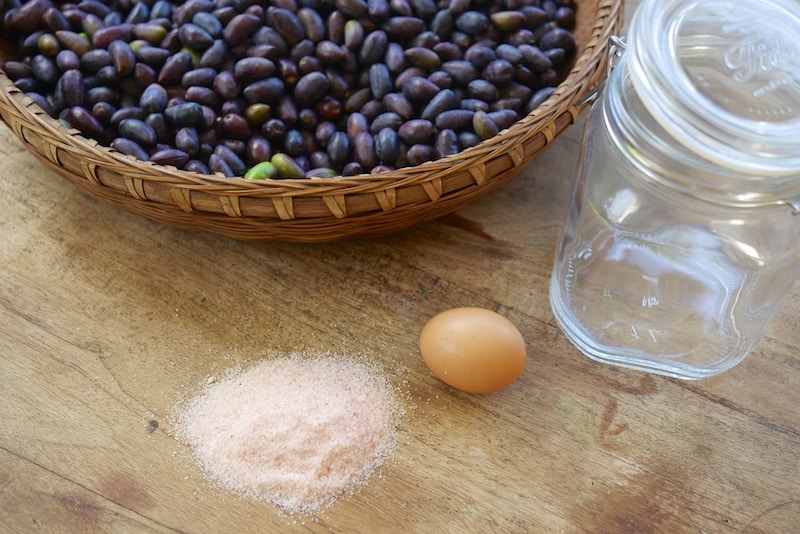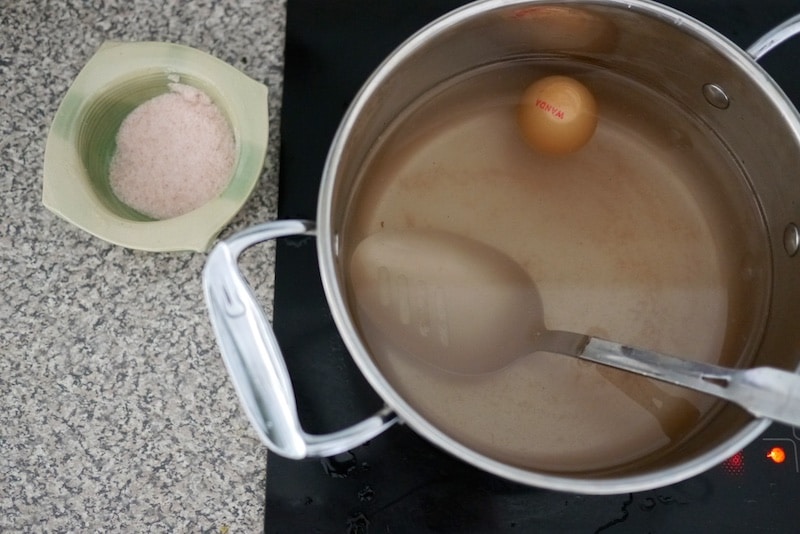 Once your olives are clean, it's time to make up the brine.
Brine recipe:
Use a good, non-iodised rock or sea salt. We used Himalayan rock salt because we have a great drum of it in our pantry, but use whatever you can get that's straight-up salt.
Warm some water (more than you think you'll need) slightly in a pan and add a handful of salt, stirring to dissolve. Then, add the raw egg (**still in it's shell).
The egg is your brine barometer – if it floats, your water is sufficiently salty. If it sinks, add more salt.
Alternatively, you can use the basic ratio of 1:10 to make a 10% brine, which is what the floating egg (should) give you. If unsure, use the ratio instead of the egg.
Pack your olives into a clean jar (squish them down a bit, the tighter the better) and pour the cooled brine over the lot, until the olives are submerged.
What to do for floating olives:
Like any brine ferment, your olives need to be submerged in the brine to do their brine-y thing. To help them submerge, you can add a piece of ice cream container plastic cut to size, or a ziplock bag of water if you wish, or fermenting weights if you have them.
Personally, we just pack the olives in tightly so their ability to float is minimised, fill the brine to the very top of the jar, and seal. It works for us.
Once they're in the jar:
Keep your olives somewhere dark, but not so remote that you don't remember to agitate them every few days to a week. The cupboard is fine.
How long to brine:
Like the proverbial piece of string, it depends – on the size of your olives, their ripeness, and your desired saltiness.
Taste them every a few weeks, and get to know the taste of brining olives – you'll soon get a feel for when they're as you like them. 6 months to a year is the spectrum.
After the brine:
Once your olives are ready and you've drained the brine off them (which will now be very bitter) – it's time to decide how you want your brined olives to roll.
At this point you can store your olives in olive oil, in vinegar, or in newly-made brine in the cupboard for up to 6 months. Adding herbs or spices at this point is good. You can also smoke them. Or just eat them.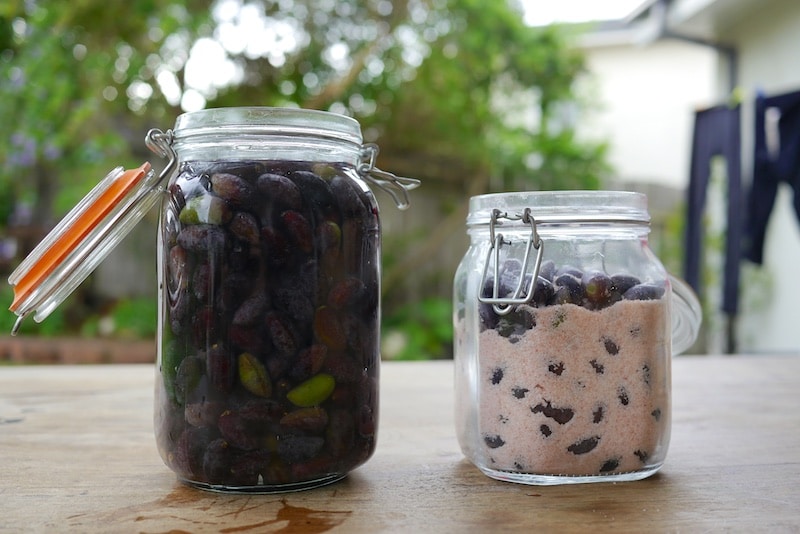 Brined olives on the left, salt cured olives on the right, much needed washing day in the background.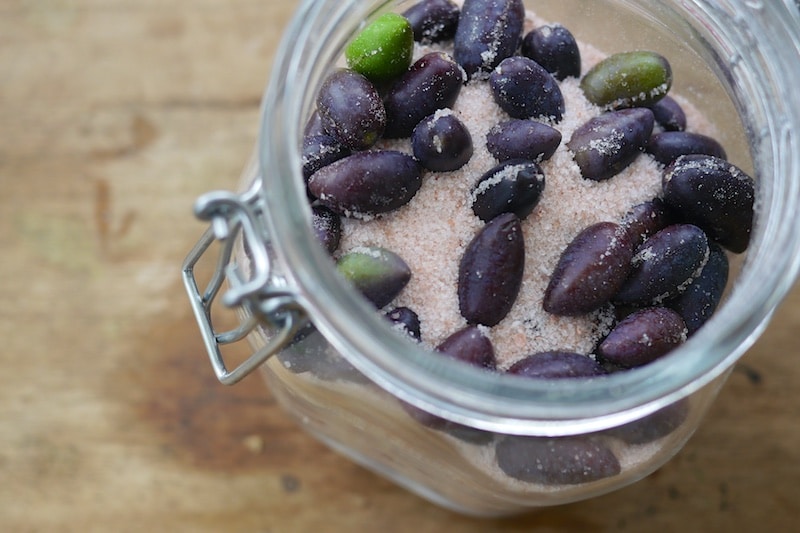 Dry Salted Olives
This method is great for smaller olives (like these kalamatas we scored from a tree on our last road trip).
First up, prepare the olives as above for brining – wash them and slit them.
Then, take your clean jar and add a layer of good quality, non-iodised salt, then a layer of olives, and so on until the jar is full.
The salt will trickle down between the olives, but as long as it's all packed in there, that's ok.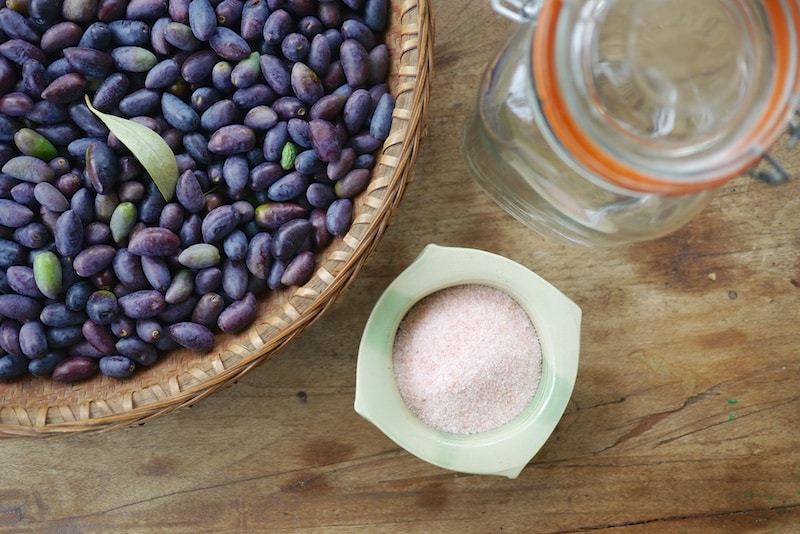 Your salted olives will need a shake and a turn ever other day – the olives will soon exude liquid and the whole jar will become rather slushy. That's good. Keep going.
Start tasting your salted olives at around the 3 week mark, and when they taste right to you (saltier, and a bit shrunken, and slightly sweeter than brined olives), remove the olives from the salt.
Once your olives are duly salted, you can eat them straight up, or store them in oil with herbs. They're pretty darn yummy.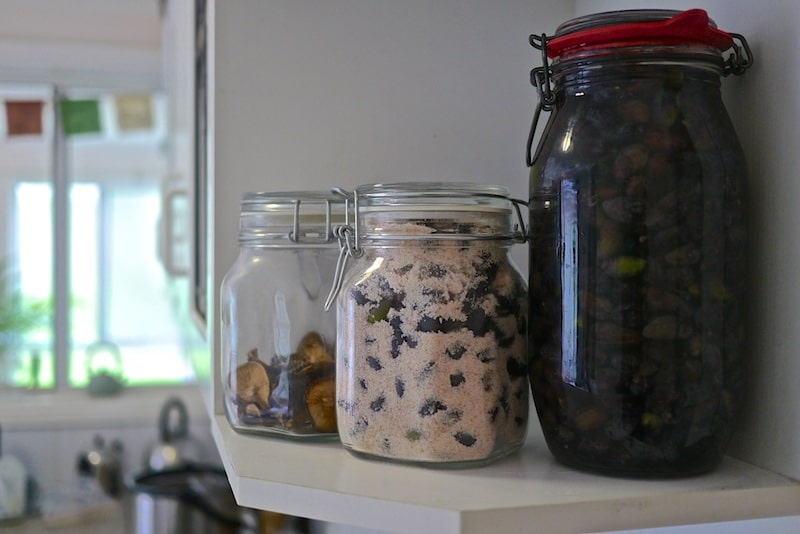 So there you have it! Happy picking + foraging…
More posts about how to store the season with preserves + ferments here.
How do you cure your olives? Got any favourite recipes or flavour combinations for us to try? We'd love to hear…
Lastly, if you're up for a blast from the past, here's a video of Milkwood Nick showing how to cure olives in 2007, from back in the days when we lived in a little caravan on a hillside…