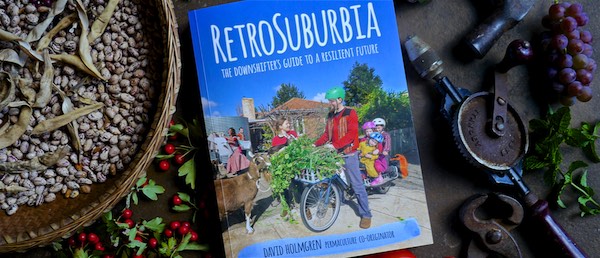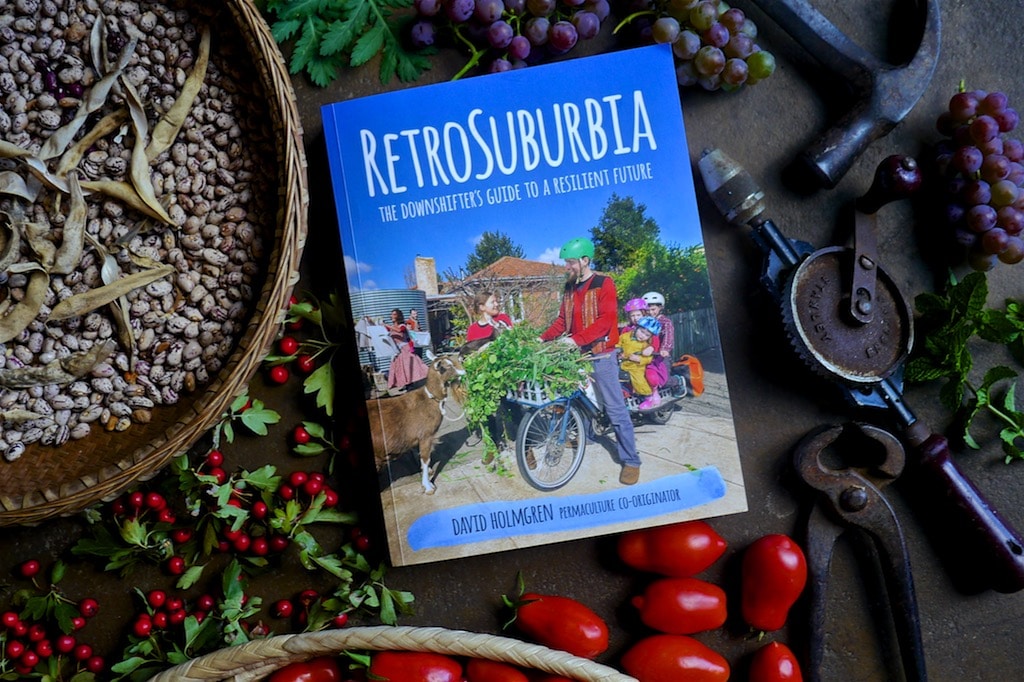 This book is dangerous. In its essence, RetroSuburbia invites and inspires us all to stay right where we are. Turning our suburbs upside down, to make the world we want.
No need to be moving to the country, to the coast or to the hills for a happier, greener life.
That idyllic community? It's probably where you already are. It's potentially all around you – you just need the tools to make it happen. That resilient future you want for your family?
We do this here, in the suburbs. And we do this now.
RetroSuburbia is David Holmgren's long-awaited new book – and in it, he throws out a challenge to all of us – can we adapt in place, and thrive? Can we imagine a resilient future for our street? How do we make that happen? Is it even possible?
Well, yes, it is. And RetroSuburbia, alongside being a handbook, includes many case studies of people already retrofitting their homes and communities to live well with far less, just to prove it IS possible. Alongside 592 pages of ideas, methods, designs and patterns for downshifting to a life filled with more community, more food, less carbon, less waste, and more possibilities.
This book is enormously optimistic. As in, you can't help but grin while you read it. The strategies within Retrosuburbia are also enormously do-able. For all home owners and renters in south eastern Australia and beyond, there's many parts of this book that can be used at your place to make things better.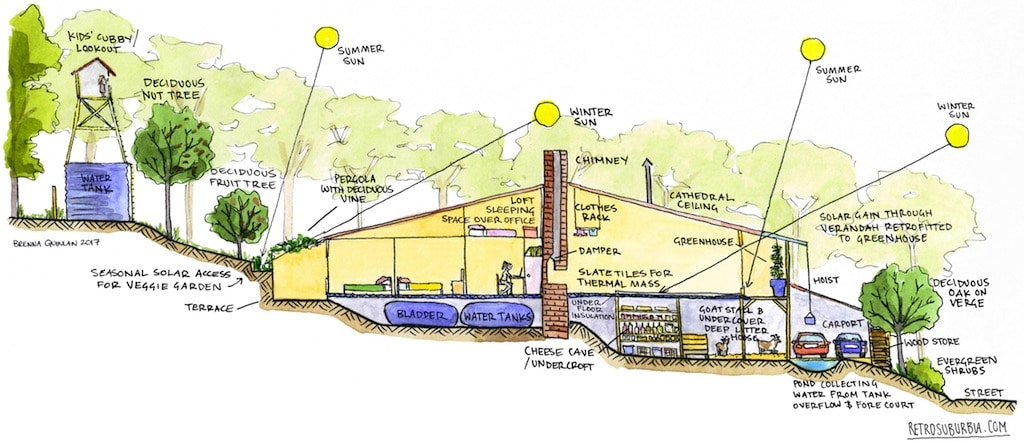 Because alongside a lifetime of permaculture design and systems thinking, David Holmgren is a pragmatic sort. And the fact of the matter is, David recognises that most Australians live in towns or cities. We have the most urbanised population per capita in the world – we live near each other.
And so it follows that this book was bound to happen – an extremely excellent permaculture design handbook for Australians who want to create resilient DIY futures. For both their household and community, wherever they already are.
Retrosuburbia is a large collection of patterns. And it's also a handbook of skills. And it's also a design manual for thinking about and re-jigging our behaviours and needs and wants, just as much as re-designing our roof cladding.
You know what? There's just so much good stuff in Retrosuburbia that, rather than try and find more words to explain why we at Milkwood think this book is so wholeheartedly great, let's just go through the contents. You'll see what I mean.
Retrosuburbia as a manual is built around three fields – the built, the biological, and the behavioural. Of course, all three of these are entwined in any resilient system, but pulling them apart is very useful.
The Built Field – patterns of Human habitats
How to assess a property – Where is it located / How much sun does it get / How is the street arranged / How vulnerable is it to natural disasters / What services are available / What am I allowed to do there / How much are the rates / Is the building easy to retrofit / What's on the site and how's it arranged / What resilience assets does it have / Introducing the Retrosuburban Real Estate Checklist
Warm in winter, cool in summer – Insulation and draft stripping / Passive solar retrofitting / Attached greenhouse / No air conditioning / East and west facing pergolas / Water tank thermal mass / Shadehouse / Passive solar, active humans / Managing personal comfort
Wood Energy – The other solar energy revolution / Sustainable wood supply / Minimising pollution / Wood burning options / Wood processing and seasoning / Wood ash, charcoal and creosote
Electricity: special energy for specific functions – Managing demand / Autonomous or grid interactive / Solar access awareness / Other power options and substitutions / High tech and low tech CHP
Water harvesting and storage – Calculating rainfall and runoff / Understanding and modelling water demand / Autonomous or not / Pros and cons of water sources / Rainwater harvesting and storage systems
Greywater and human nutrient recycling – Passion for humanure / Regulatory obstacles / Safe humanure and greywater / Reuse and treatment of greywater / Commercial solutions
Facilities for food – Principles of food storage, processing and preservation / Outside food processing areas / Inside kitchen / Food storage infrastructure
Retrofitting for bushfire defence – Suburban bushfire hazard review / Retrofitting buildings for bushfire safety / Retrofitting gardens for fire safety / Managing adjacent public land
Storage of Stuff – Balancing hoarding and decluttering / Renting storage space / Borrowing public space / Borrowing private space / Undercover spaces and eave storage / Mezzanines / Racks, stacks, shelving and crates / Sharing stuff / Reducing stuff
Retrofitting for shared living – Making best use of what we have / Patterns for sharing indoor space / Sharing backyards
Built Field – patterns of Human habitats: details and resources
Biological Field – Patterns of Life and Growth
How to assess a garden – Balance of sunshine, soil and water / How deep is the soil? / How big is the fertility bank? / Is soil contamination a problem? / How much water can I access? / How sheltered is the garden? / What's already growing?
Garden Farming (Permaculture Zones 1 & 2) – Just do it / Biointensive vs Natural Garden Farming / Permaculture Zoning; a pattern language of land use intensity / Optimising use of available landO / btain a yield / Economics of garden farming
Building and maintaining soil fertility – Balance and abundance/ Strategies to improve soil
Managing soil contamination – Understanding problems and options / Preventative strategies / Dealing with lead contamination
What to grow where – Priorities for suburban food sufficiency / Appropriate street trees / Multi-purpose shelter and screening
Food growing systems – Intensive rotational vegetable growing / Aquatics in containers and ponds / Mushrooms: growing food without sunshine / Tree, shrub and vine crops
Seed saving and backyard nursery – Priorities and practicalities / Backyard nursery
Domestic animals in suburbia – Animals as non-negotiable commitments / Just Do It? / Working relationships with chooks / Duck wetlands / Loft pigeons above / Quail on the garden ground floor / Other poultry possibilities / Rabbit lawn mowers / Free range guinea pigs / Backyard goats: bringing the dairy home / Bees: synergistic social productivity / Aquaponic apartments for fish and plants / Carnivores as allies
Wildlife in the Garden; by and beyond design – Encouraging beneficial wildlife / Ecological control of smaller pests / Harvesting abundance / Non-lethal deterrents or exclusion / Cats and dogs with jobs
Beyond the boundaries (Permaculture Zones 3 & 4) – Urban agriculture and animal husbandry / Beyond horticulture scale / Agroforestry parklands managed by people and grazing animals / Zone 4: design by nature / Watercourse food and fodder forests
Biological Field – Patterns of Life and Growth: details and resources
The Behavioural Field – patterns of decisions and actions
Ownership and living arrangements – The household form and location matrix / Extended family household / Hosting volunteers / Household landlord / Neighbourhood landlord; create your own community / Sharing house ownership / Co-ordinated purchase of adjacent houses / Relocating to a country town / Renting in preferred area / Shared rental household / Studio living / Squatting / Co-housing by retrofit / Tiny houses / Network nomads
Changing habits for self-reliance and resilience – Hair shirts and frugal hedonism / Home-based work / Daytime lifestyle and seasonal sleeping patterns / Managing habits & addictions / Establishing roles and responsibilities / Multi-tasking / Increasing productivity
Transport and Travel – Working, shopping and socialising at home / Using vehicles and travelling time efficiently / Reducing food (and everything else) miles / Relocalising daily activities / Internet substitutions and quandaries / Transport options / Traveller lifestyles
Creating your own livelihood – Disintermediation / Reducing costs rather than earning more money / The Great Reskilling / From employed to self employed / Future livelihoods / Keeping track of exchanges
Financial planning and security – Personal perspective / Getting out of debt / Retiring early / Salvaging savings / Avoiding social (in)security / Paying less tax by earning less
Sustaining and sustainable diet – Local in-season food / Minimally processed whole foods / Modest consumption of concentrates / Naturally fermented and traditionally transformed food / Different diets for different bioregions and people / Bulk purchasing and reusing packaging / Wild foods, gleaning and skipping / Ecological hunting and fishing / The retrosuburban diet and bioregional food system
Rearing self-reliant and resilient children – Babies and early childhood / Children outdoors / Evaluating risk / Home education / Limit media technologies / Dealing with rebellion / Initiations and rites of passage / The demise of extended adolescence
Health, disability and aging – Risk and safety / Retrofitting ourselves / Looking after yourself / Household medical capacity / The medical system / Alternative therapies / Drug dependence / Homebirth / Aging and disability
Security in hard times – Actively enjoy living in a safe, peaceful country / Risk, reason and reaction / Having a sense of humour / Hedging our bets / Locks, alarms and arms / Self defence / Mobile minimalism / Network of households / Secure and networked communities / Communications technology / Relationships with law enforcement / Local government and self-governing communities
Household disaster planning – General principles and strategies / Bushfire planning / Safe houses / Contributing to community capacity
Decision making, interpersonal relations and conflict resolution – Benign dictatorship and natural authority / Household agreements / Decision-making tools
Behavioural Field – patterns of decisions and actions: details and resources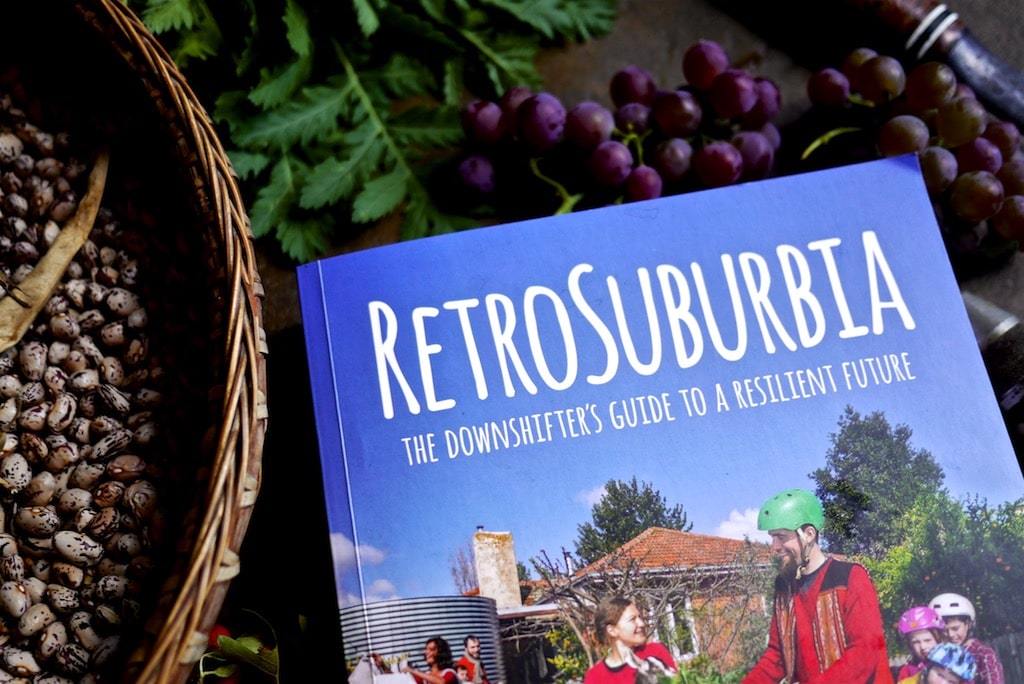 At the end of every sub-heading is a small 'vision' section – a possible future scenario of how a retrosuburban example of what could be – whether it's aging and disability, or preventative strategies for soil contamination, or water harvesting. I loved these little sections – they're part idealism, part very possible reality. Our family loved reading them to each other and imagining how each idea could work (i think the neighbourhood falconer scenario might have been the 8yo's fave)
Also woven throughout the book, in all three fields, are case studies of existing retrosuburban households putting these methods into practice. Some of them call it permaculture and some of them call it something else, but they're all seriously inspiring. There's an overview of the case studies here.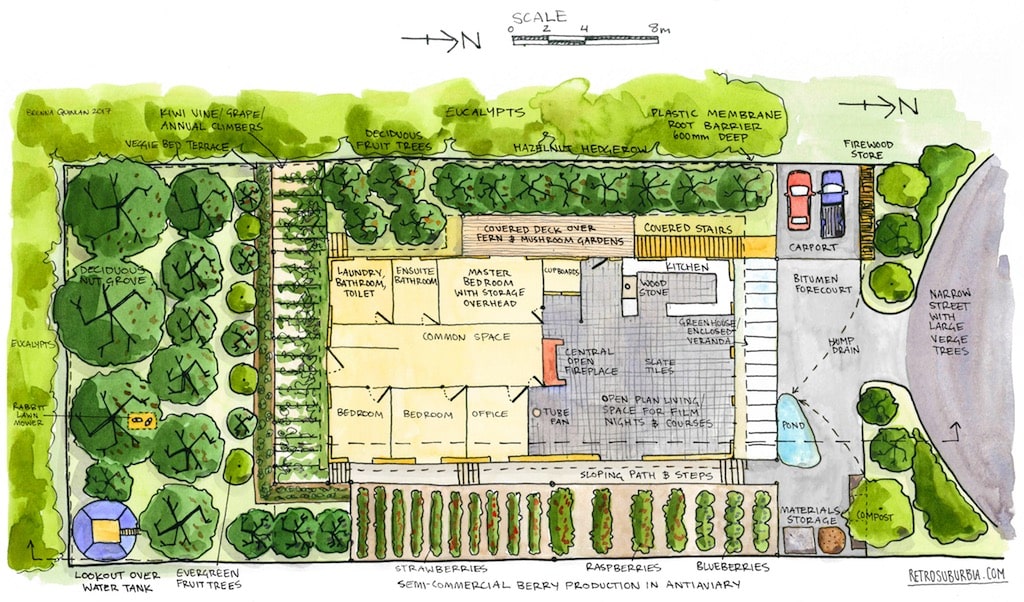 And then there's the appendix, which contains a heap MORE great resources in the form of expanded plans, layouts, designs and more that expand on sections of the book… and then there's also the Retrosuburbia.com site which contains digital copies of the case studies as well as extensive resources for ever subheading. It's a whole world in there!
Living as we do on the property where this book was conceived, written and published, we're also very aware of what a team effort this book was – with Richard Telford (designer, project manager), Brenna Quinlan (illustrator), Beck Lowe (chief text wrangler, project manager), Oliver Holmgren (photographer, photo editor) and Su Dennett (publisher) as well as David Holmgren (author, publisher) – not to mention the crowd support campaign that helped get the first edition over the line…
Do you know how much cost and effort it takes to get a big book like this printed ethically and locally, without going offshore? It's a ton of work. But with years of hard work and the help of generous supporters, team Melliodora did it.
And so even the act of writing and publishing this book speaks back to the retrosuburbia ethic – solar-powered and home-written, fuelled by homegrown food prepared on a woodfired stove powered by a local woodlot, with support and exchanges for work from many people near and far, to help make this collective effort happen. Which is exactly the point. Start where you are, use what you have, do what you can.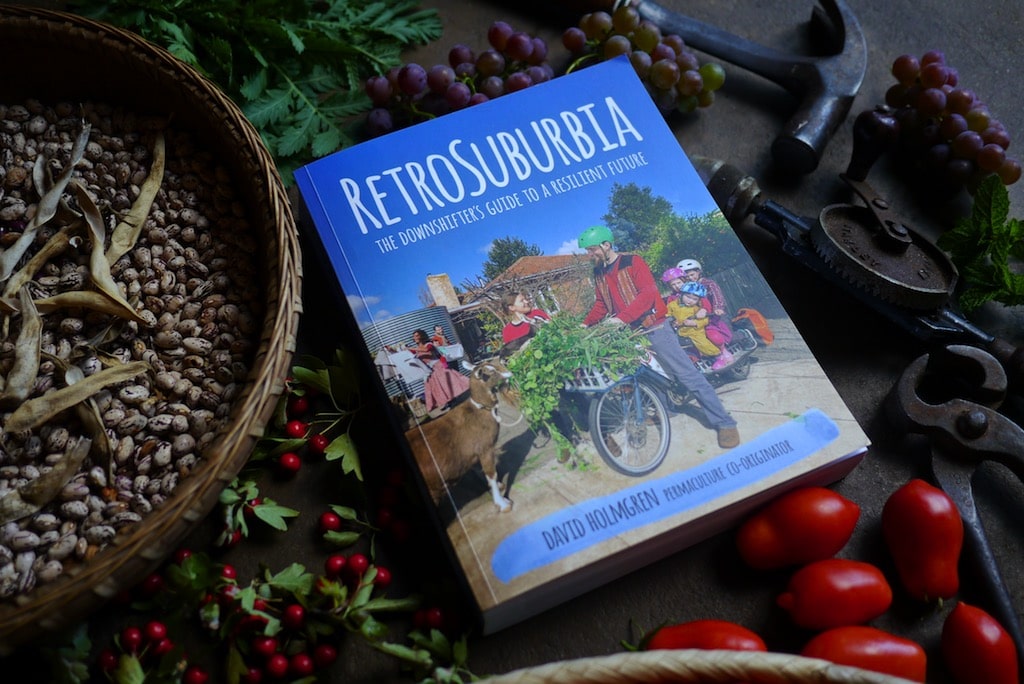 Daring to adapt in place, rather than heading for the hills, might just be the most radical, anti-capitalist, dangerous thinking this side of the suburbs. But this is exactly what Retrosuburbia invites you to do. In its essence, this book is a hefty 2.3kg invitation for you to create the world you want, right where you already are.
Retrosuburbia  – the downshifters guide to a resilient future is published by Melliodora Publishing and available from the Permaculture Principles store.
If you're geographically closer to the US than Australia, you can purchase Retrosuburbia from PermaculturePrinciples US site.
And check out Our Street – Retrosuburbia for Kids available right here in the Milkwood Store
And lastly, we're super excited to be giving away FOUR copies of this fantabulous book away in our newsletter next week. If you're not already subscribed, jump on board! And scan your inboxes for news from Milkwood on Tuesday.
Good luck folks, and we hope any which way possible, you can get a chance to read this book soon, and share it with your loved ones too.