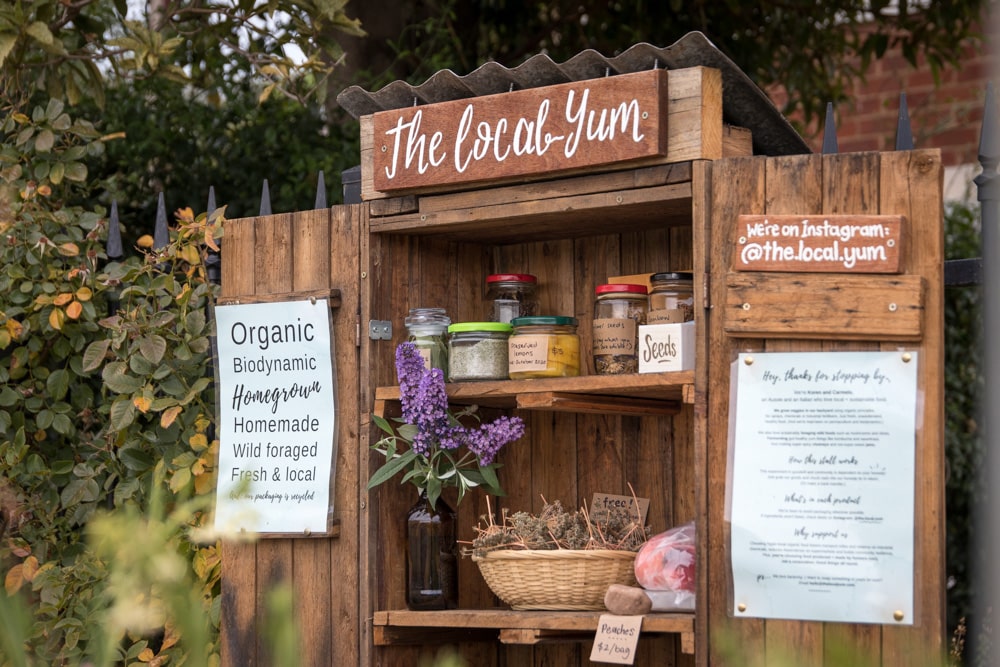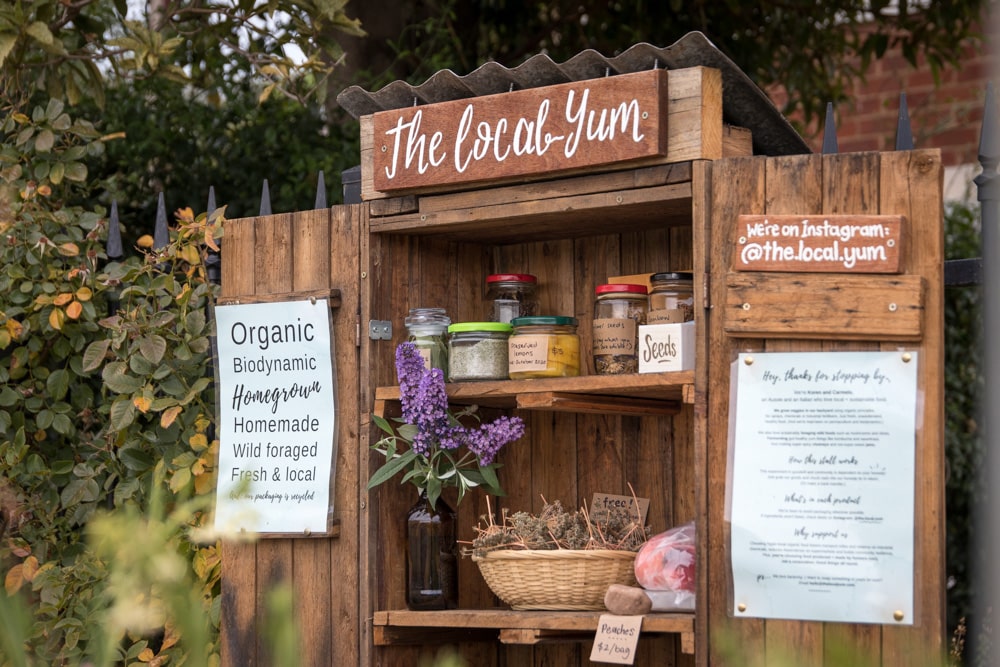 Sharing veggies with neighbours via an honesty stall plonked out the front of your place is an amazing way to build community connection and local resilience – and it's really fun, too.
The basic ideas is this –
You bang together some kind of stall out of secondhand shelves, a bookcase, a broken old fridge … anything that works for you.
Then collect up the produce you have to spare – all those homegrown zucchinis, perhaps, or fruit from that feral apricot tree down the road, or dried herbs for tea; whatever really. Pop it on the stall and allow passers-by to take what they wish.
You can assign prices and leave a cash box on your stall, and trust that people will respect the honesty system and pay correctly (which they mostly do, even in urban areas).
Or you can share food absolutely free, following the 'take what you need, give what you can' philosophy.
The surprising thing about creating such a stall, is that it becomes about so much more than food.
Lessons from launching an Adelaide honesty stall
I say all this as a fairly new stall-keeper myself.
In September 2020, my partner Carmelo and I launched a tiny urban honesty stall out the front of our Adelaide rental, on Kaurna land. It's since become a low-key obsession of ours.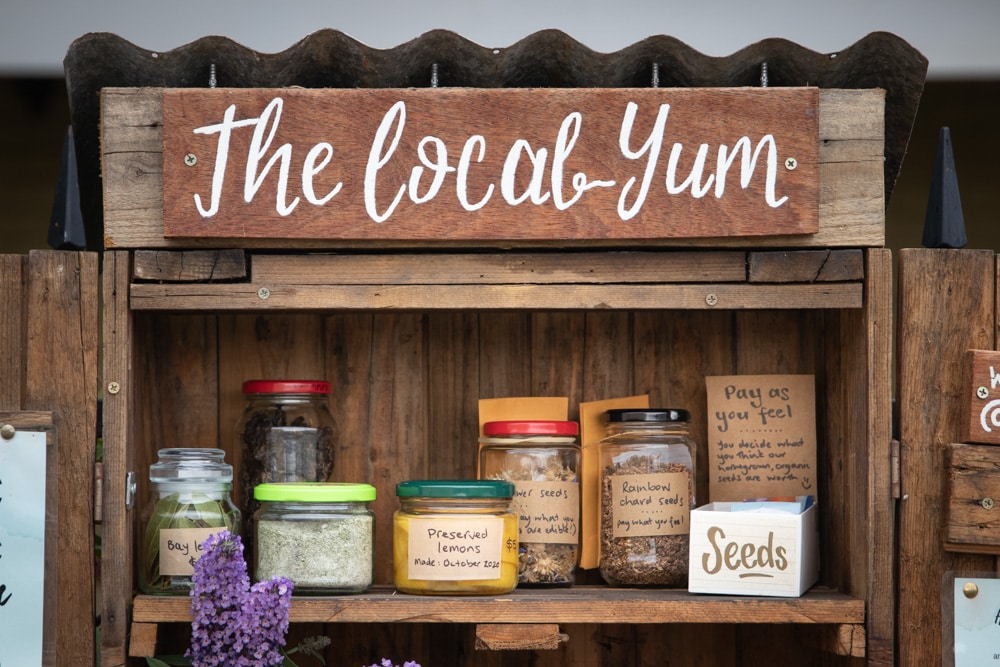 We initially created our stall, called The Local Yum, with plans to share excess produce from our backyard veggie patch.
Side note: this was probably a touch ambitious.
We're novice gardeners, growing on our 500sq m rental property, and barely produce enough to feed ourselves. But we love to forage wild foods, glean unwanted fruit from city trees, and make things out of plants that some folks consider useless weeds. So it works. Somehow.
I guess I'm saying: you definitely don't need to be a super-gardener or have a huge growing space to become an honesty stall-keeper.
Integrating permaculture principles into honesty stall-keeping
We've discovered the simple act of sharing food via our stall becomes a daily invitation to interact with literally all 12 permaculture principles.
For example –
Use Edges and Value the Marginal (principle 11): Street verges are the most marginal spaces in urban areas, often unplanted, uncared for and sprayed repeatedly by councils. We've reclaimed ours, planted it out, made it a space for community sharing – and perhaps gently encouraged others to think more creatively about the space between their front gate and the road.
Observe and Interact (principle 1): This takes so many forms – where is the sun falling on our stall as the seasons change, and how is this affecting our produce? Which products do people love and which tend to sit on the stall for longer, and therefore might need a bit more explanation or tweaking?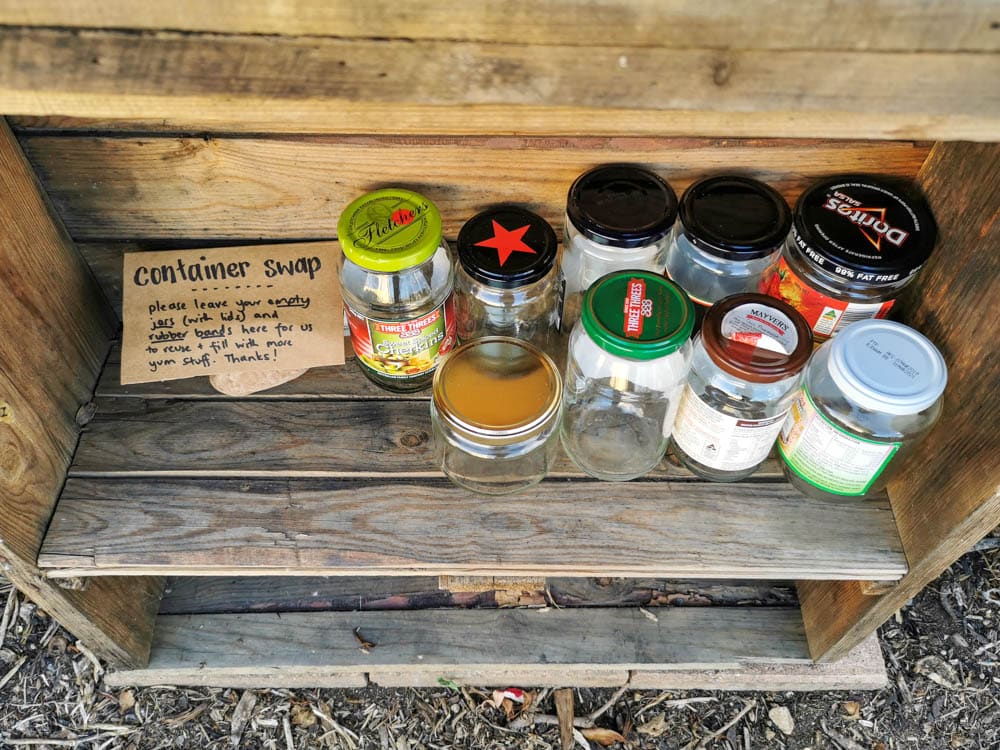 Produce No Waste (principle 6): We aim to package our products in recycled materials as much as possible. So when we run out of jars, rubber bands or pot plants, we pop a sign on the stall asking our community to leave us their old ones, and pretty quickly donations come flooding in. It's a simple way we can keep the circle of reuse happening in our local community.
Apply Self-Regulation and Accept Feedback (principle 4): A little notebook and a pen left on our stall allows passers-by to give us feedback. It's lovely to receive a handwritten note, and folks often leave helpful suggestions about what would work better for them.
And I could go on! But I think you get the picture – honesty stalls really can be a practical way to put permaculture into action at your place.
Beyond the monetary economy: free sharing stalls
Then there are folks who choose to share food absolutely free.
If you're wanting to give this a try, there's a few well-established movements you could get involved with for support and ideas.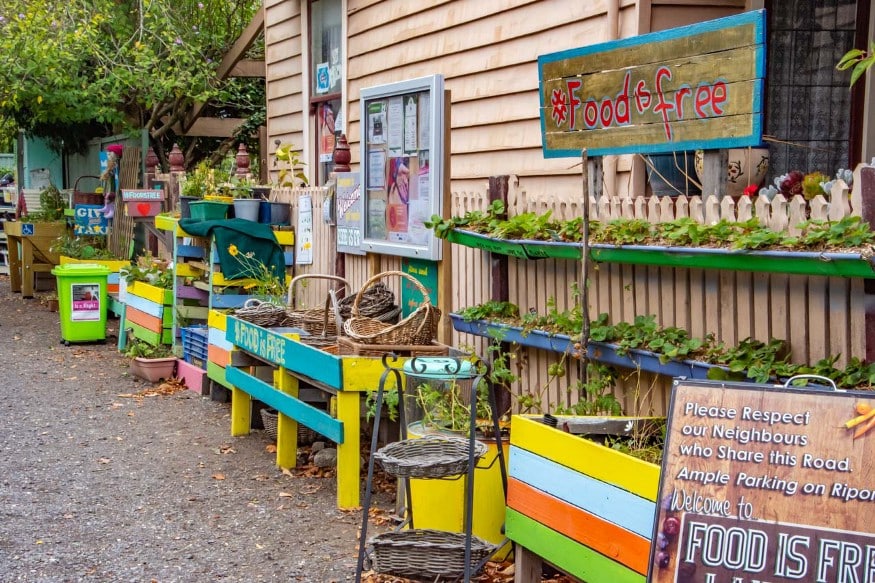 The Food is Free Project began in Texas in 2012. It encourages you to connect with your neighbours by planting a front yard garden or sharing your harvest via a #foodisfree table.
It has since grown into a worldwide community and food movement, with hundreds of cities involved.
Perhaps the best-known example here in Australia is Food is Free Ballarat – at the junction of Wadawurrung and Djab Wurrung country.
Lou Ridsdale (who also happens to be a Milkwood Permaculture Living course graduate, and who is a total legend besides) started the project in 2014 from a laneway next to her rental – a place for people to drop off or collect surplus nutritious food for free, while connecting with the local neighbourhood.
In a similar vein, Andrew Barker began Grow Free in South Australia in 2013, initially just by giving away seedlings in his backyard.
That quickly grew to a national movement of Grow Free carts (you can see a map of them here), all sharing produce, seedlings and more under the motto: 'Take what you need, give what you can.'
"Mostly, we give our time and energy to others just because we can. Because no matter how dire things may seem, compassion can always shine through" – that's the beautiful way Andrew summed it up during his TEDx Adelaide talk.
Other options include community sharing corners, like this cute one by local legend Anna, The Urban Nanna in Naarm/Melbourne.
Or you might join Food Not Lawns, an international network of gardeners and activists dedicated to sharing food, seeds, tools, land, skills and other resources with folks in their local communities.
Are you a keeper of an honesty box, free food stall or something similar? Or perhaps you've always wanted to give it a go? Feel free to comment below and tell us all where you are and how it's going…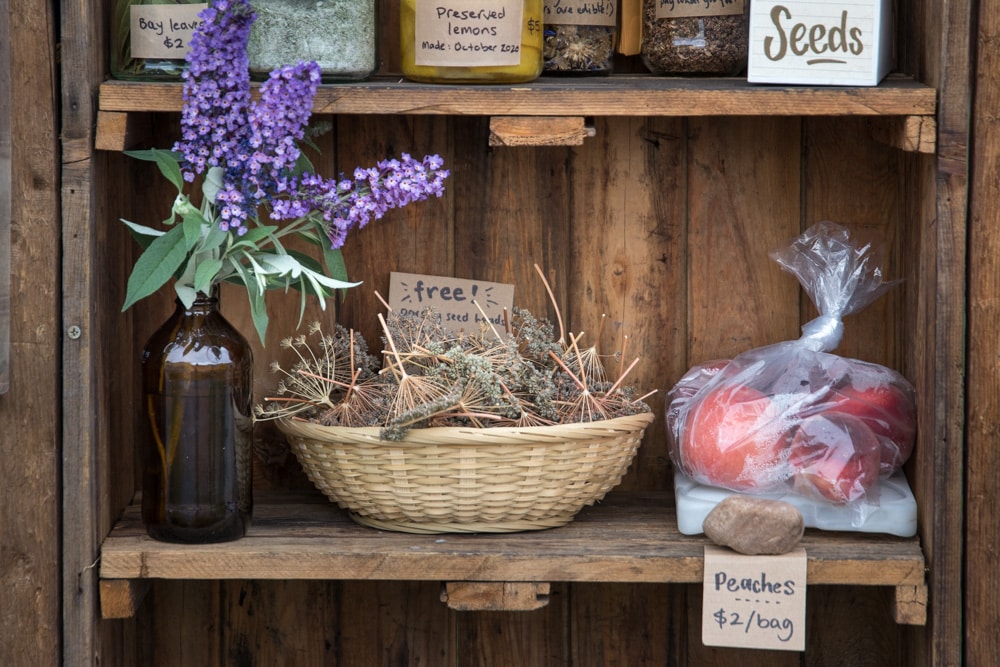 Resources
Articles
Websites and hashtags
We acknowledge that permaculture owes the roots of its theory and practice to traditional and Indigenous knowledges, from all over the world. We all stand on the shoulders of many ancestors – as we learn, and re-learn, these skills and concepts. We pay our deepest respects and give our heartfelt thanks to these knowledge-keepers, both past and present.⁠
Koren Helbig is a storyteller, permaculture renter, Marketing Manager here at Milkwood, and keeper of The Local Yum, an urban Adelaide (Kaurna land) honesty stall full of homegrown produce.