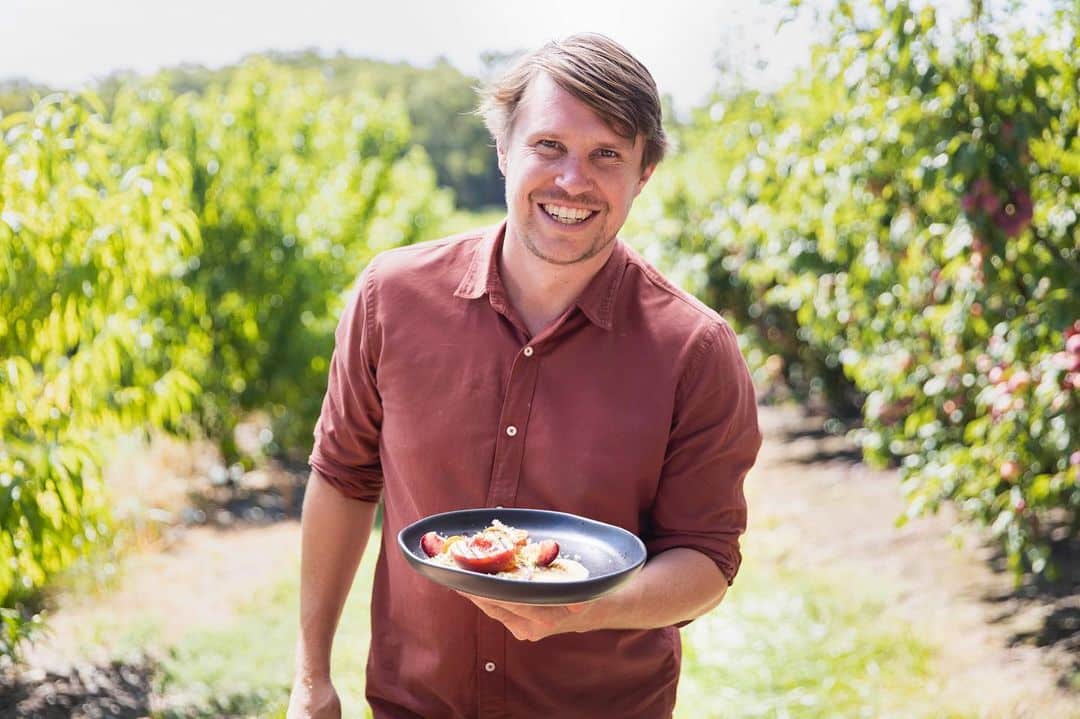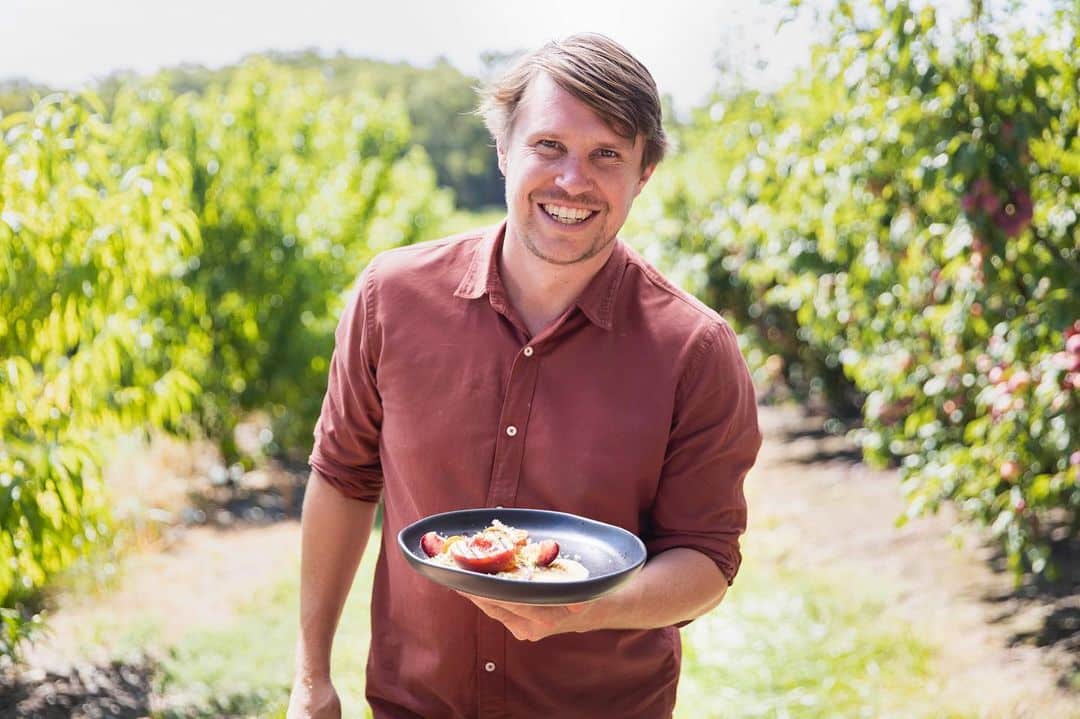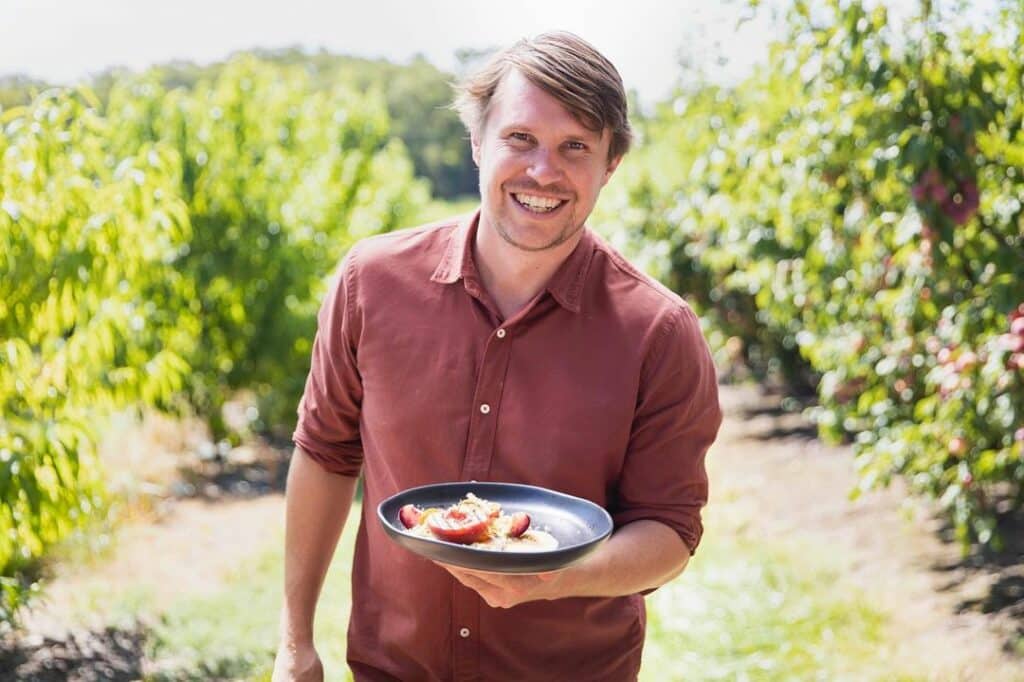 Simon Toohey is a household name to certain food-loving Australians – for the past few years, the celebrity chef has graced our televisions championing plant-based recipes and sustainability in food. Yay, Simon!
And now the former MasterChef finalist is delving into permaculture, bringing the movement's ethics and principles in from the garden to kitchens and restaurants.
Simon, who happens to be a student of our Permaculture Living course, reckons it's time for chefs to adopt closed-loop cooking (embracing permaculture principle six: produce no waste), while helping educate home cooks on how to use all edible bits of a plant.
He's even created a useful YouTube cooking series on how to 'use the whole thing'.
Let's sit down for a chat with Simon about how he's applying permaculture in the cheffing kitchen – and in his small inner-city sharehouse, too…
Simon, hello! Tell us a bit about you first – you're on the tellie quite a bit?
Yes! I have recently – well, probably not so recently now – been on MasterChef seasons 11 and 12, trying to cook up a storm in the most stressful environment ever. This amazing show has built a beautiful platform for me to pursue my love of food and sustainability in food.
I launched Sustainable Earth Network a couple of years ago and we have a season on sustainable farming and products, which brings the great work of farmers, producers and product producers to the screen, along with local backyard gardeners, community gardens and foragers.
I also have a show on Channel 10 called Freshly Picked, which is Australia's first fully plant-based show.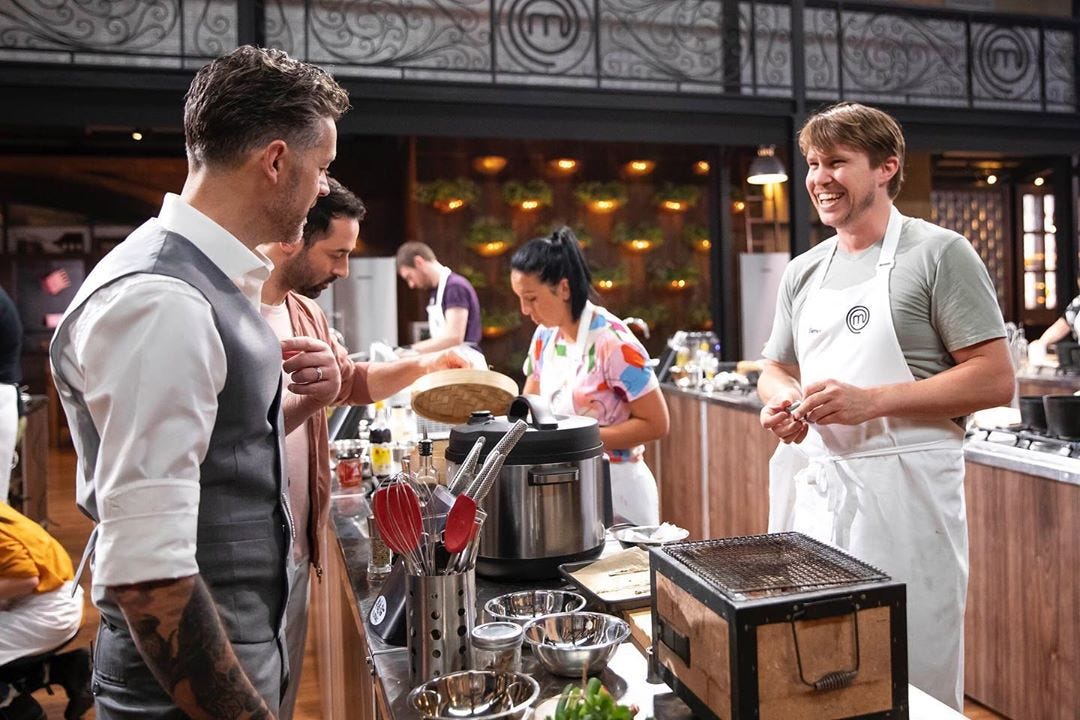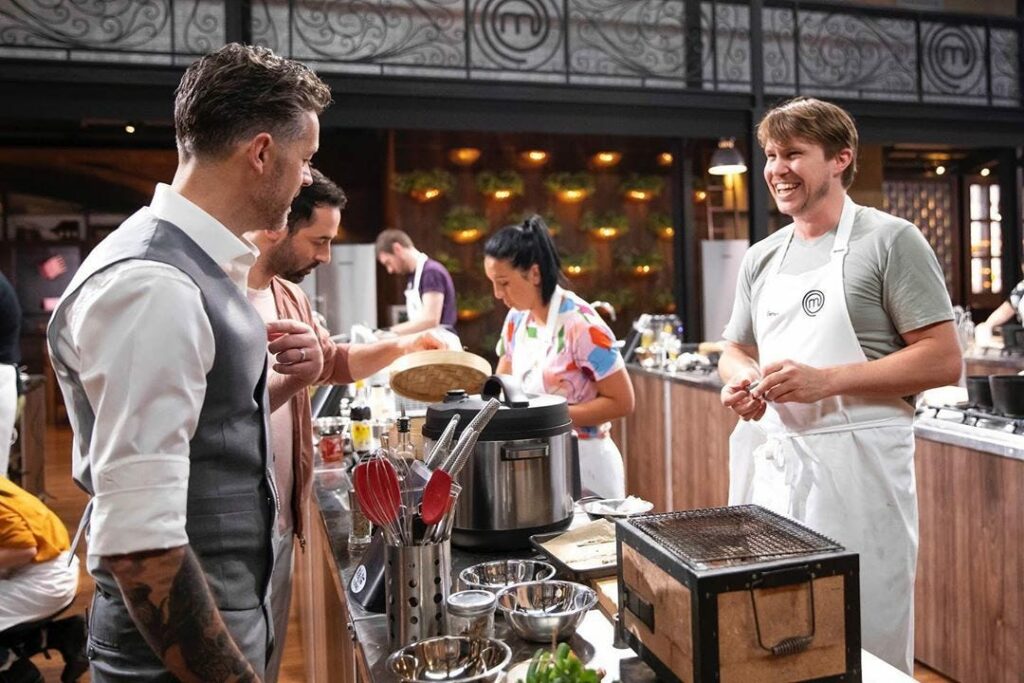 That's a lot going on… so why did you want to study permaculture as well, and join our Permaculture Living course?
I'd been doing a bit of learning and gardening work up in Seymore (in Victoria, Australia) with an amazing man called Brian. He is an absolute guru when it comes to growing, soil, compost and bees, and I learned so much from him. I've been wanting to learn more about permaculture ever since.
At the time I was filming two different shows about plants and it seemed almost wrong to not know enough about permaculture and yet talk about the beauty of plants.
I knew all about Milkwood and so when I saw the course on Insta, I jumped on it straight away, as I knew the quality, history and brilliance of this course. It came at the perfect time.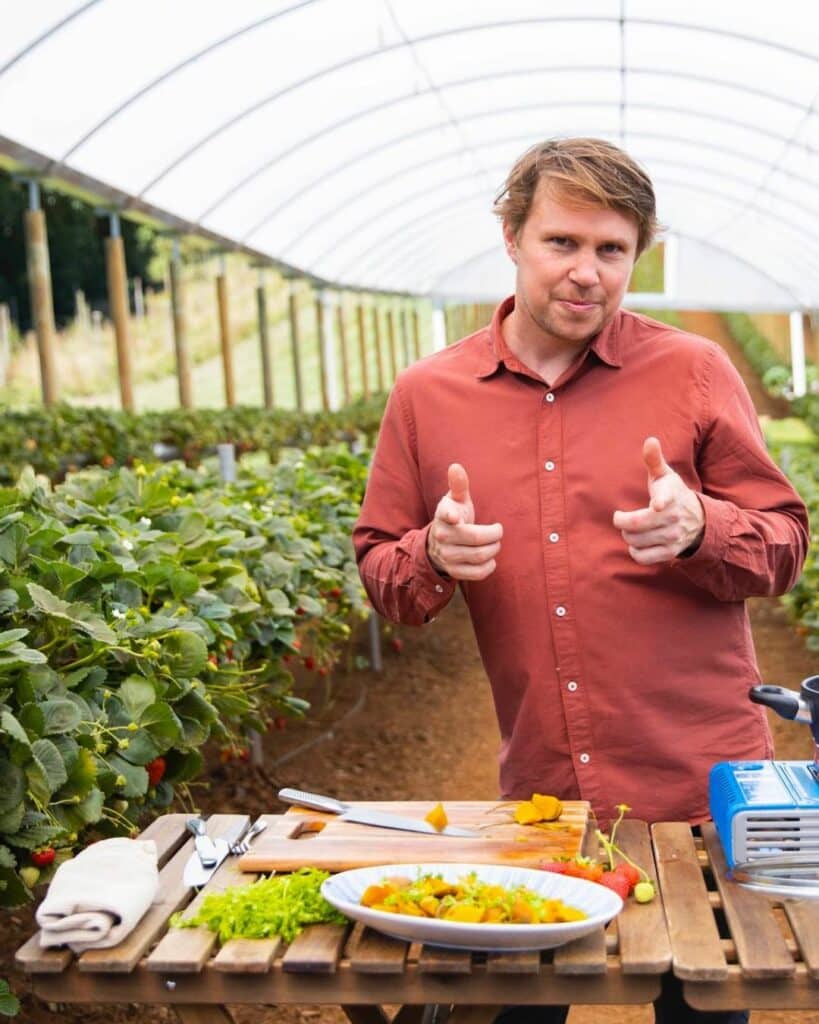 What's the thing that's really stuck with you about permaculture?
Understanding the 12 permaculture principles has been huge – just saying them out loud to myself helped me draw on that principle's information and apply it in a practical way.
There is an aspect of every principle that I have applied since doing the Milkwood Permaculture Living course. The ones I am loving the most are identifying new plants, learning about natives and why they survive so well, learning about my soil along with saving water (catching and storing) and becoming a better composter.
Next it is going to be growing my own mushrooms and probably having a little seed bank out the front of my house – I'm obsessed with saving seeds at the moment.
Also just knowing that leading a strong permaculture life is very doable even when living in a very small sharehouse with four people, a tiny backyard and a giant dog…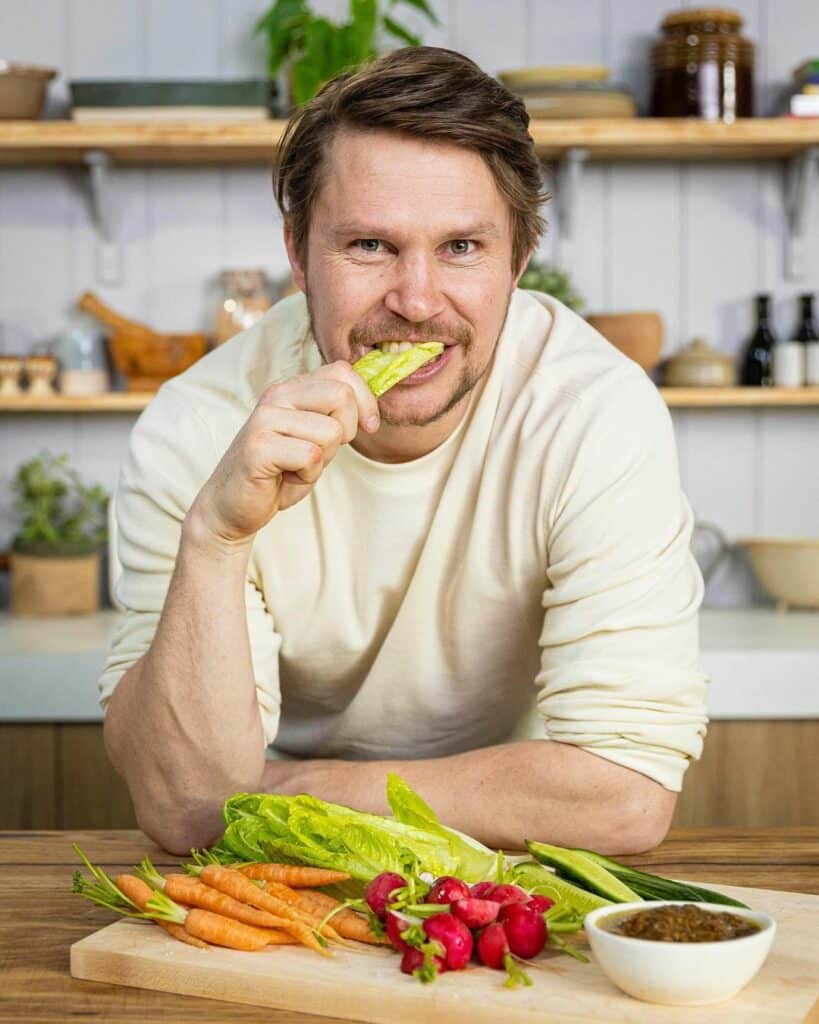 Now you're keen to start applying permaculture ethics and principles to the cheffing world?
I think there's a lot of crossovers between permaculture and the hospitality and cheffing worlds. If a chef doesn't believe this applies to them, then they have not understood where food comes from.
What I really loved about the Permaculture Living course was that it talked about closing the loop. In the chef world, it's the same – from sourcing quality, organic produce to making sure we are looking after the soil. To not wasting anything in the kitchen and making sure we are saving greywater, plus composting scraps and returning them back to the soil.
Permaculture principles apply to cheffing as much as the gardener – along with the consumer and everywhere in between.
By the way – if you want to check out a few places that do this closed-loop system really well, have a look at Silo Restaurant London and Future Food System in Naarm Melbourne. They are going to the extreme with a zero-waste mentality. It's excellent.
That's so great, Simon – thank you. Anything else you'd like to add, before we let you get on with your day?
Just a massive thank you so much for opening my eyes to the amazing world of permaculture. It means a lot to me. So, thank you.

About the author: Koren Helbig is a storyteller, urban permaculturalist, Marketing Manager here at Milkwood, and keeper of The Local Yum, a Tarntanya / Adelaide city honesty stall full of homegrown produce.
We acknowledge that permaculture owes the roots of its theory and practice to traditional and Indigenous knowledges, from all over the world. We all stand on the shoulders of many ancestors – as we learn, and re-learn, these skills and concepts. We pay our deepest respects and give our heartfelt thanks to these knowledge-keepers, both past and present.⁠