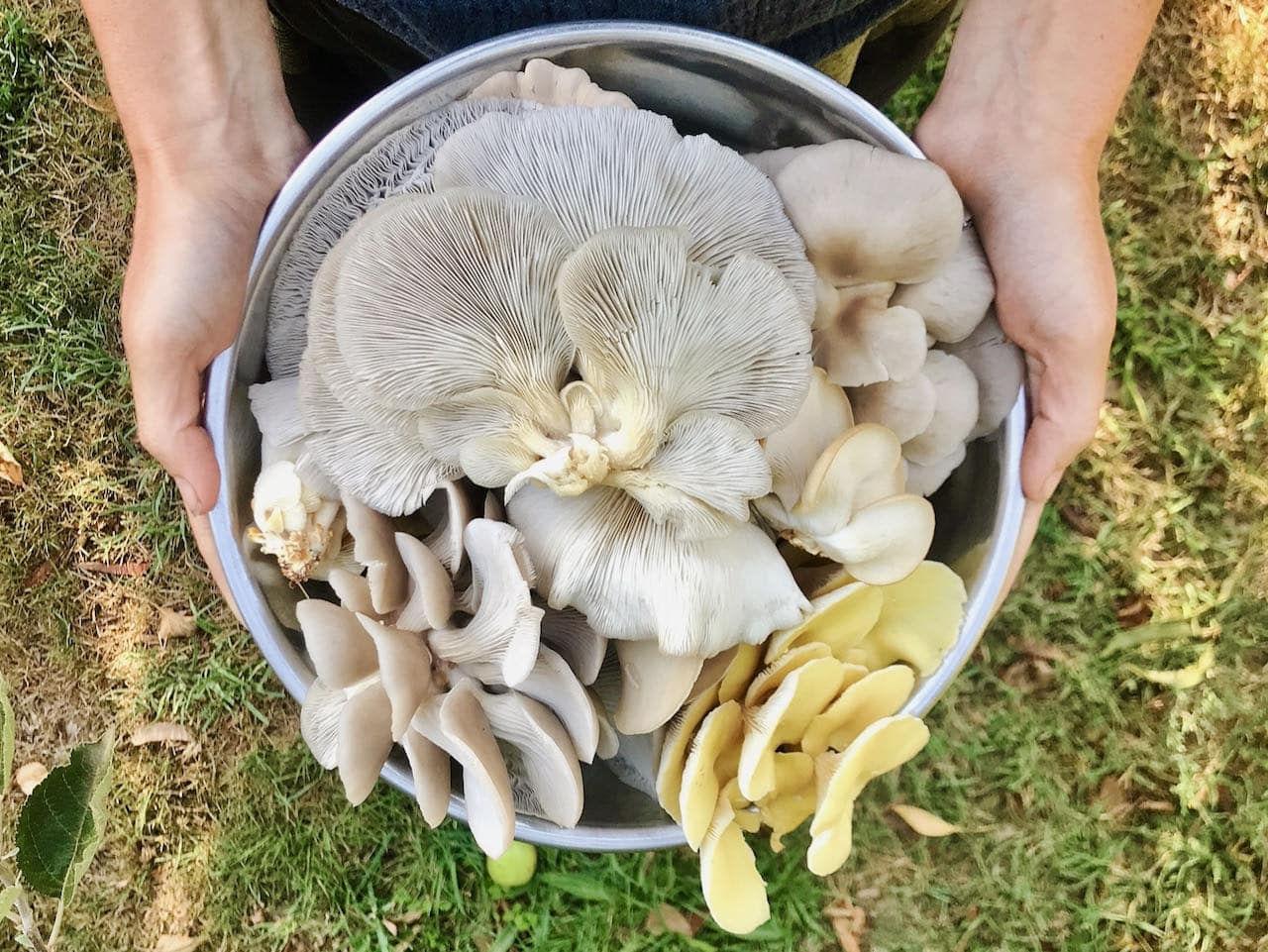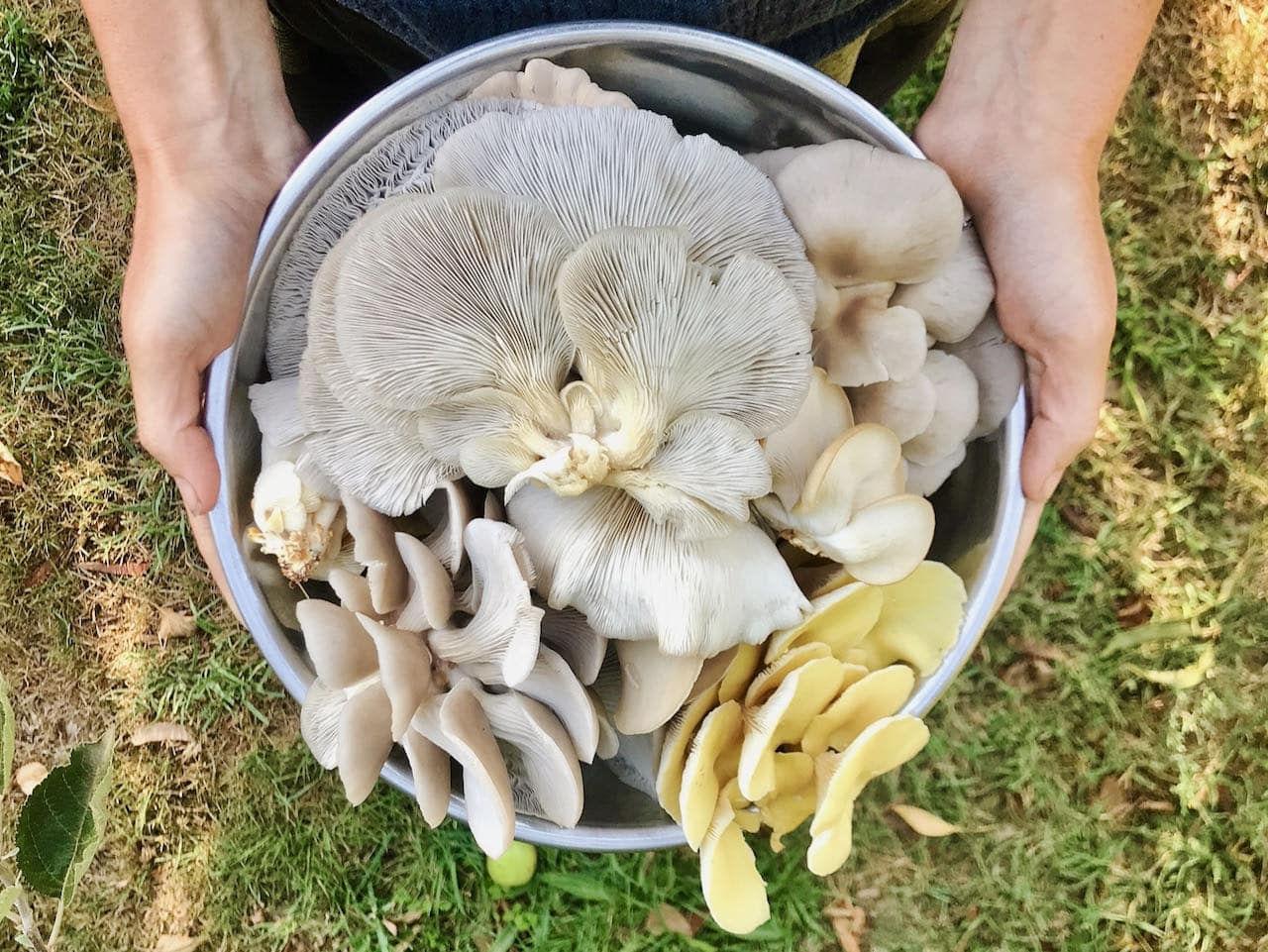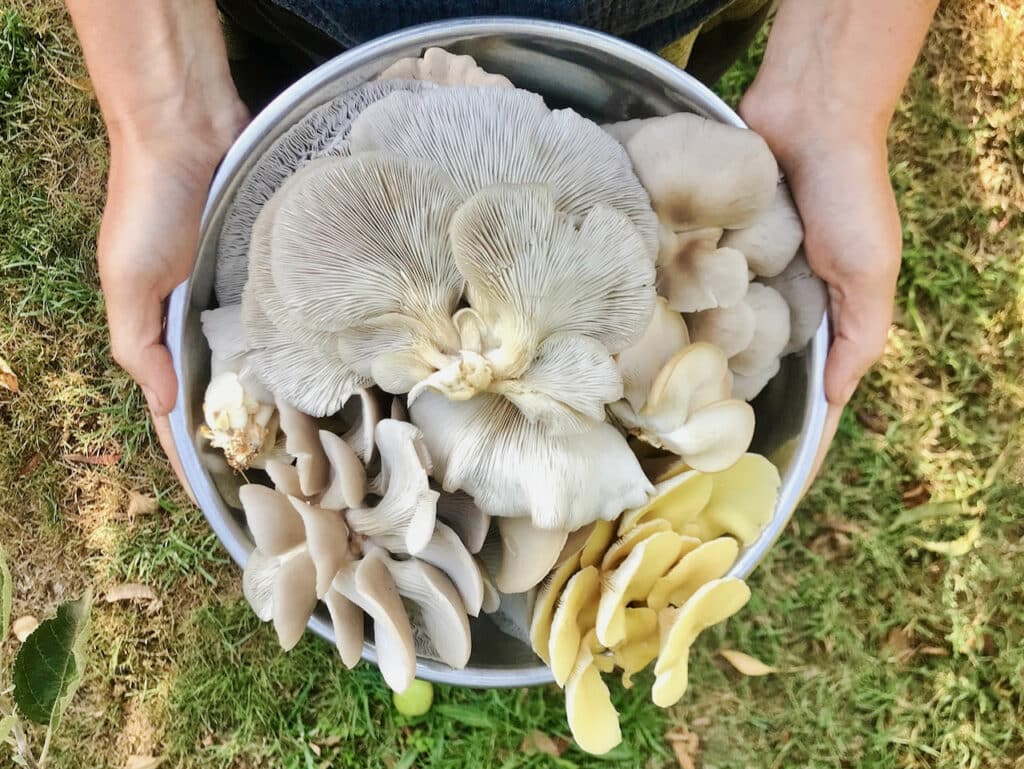 So, thinking about growing your own mushrooms? Great! There are many ways to grow delicious mushrooms at home – AND, despite what you might have heard, you can do it all without single-use plastic!
Why is this important? Well first, there's the waste of single-use plastic, which is industry-standard for commercial mushroom growing – and we're all down with the huuuge consequences of these plastics on our ecosystems and communities.
Secondly, there's the resilience factor – keen to create, build and grow food and nutrition systems at your home, that don't rely on single-use inputs? Mushrooms are a perfect addition to your home food system – but only if you set up a reliable, reusable cultivation system – and for this you're going to want to use reusable gear and inputs, not single-use stuff.
So – if you love mushrooms, but hate waste and are looking for resilience at home, may we introduce you to our reusable, ethical, organic mushroom cultivation techniques – designed specifically for successful, cheap and easy home mushroom cultivation.
With all this in mind, we thought we'd share a lesson from our Home Mushroom Cultivation course – which focuses specifically on Why we cultivate the way we do.
…to walk you through how it's possible to cultivate mushrooms from scratch without single-use plastics and not-great chemical inputs, and also WHY we encourage you to do this – for your health, the health of your ecosystem, and to create a resilient food growing system that is perfect for growing gourmet AND medicinal mushrooms, right in your own backyard.
So – this is a video lesson from inside our most excellent 8-week Home Mushroom Cultivation online course – usually only our students get to see these video lessons, but here's a peek inside…
Video: Why we cultivate the way we do
This lesson introduces the underlying ethos behind the Milkwood approach to mushroom cultivation: an approach that intentionally moves away from the "industry standard" practices that are high-waste and require expensive facilities that are not accessible to the home grower.
You will learn:
Why commercial cultivators use sterile conditions.
Milkwood's approach to lab-free cultivation.
Why single-use plastics are so prevalent in commercial cultivation.
Milkwood's no-waste mushroom cultivation goal.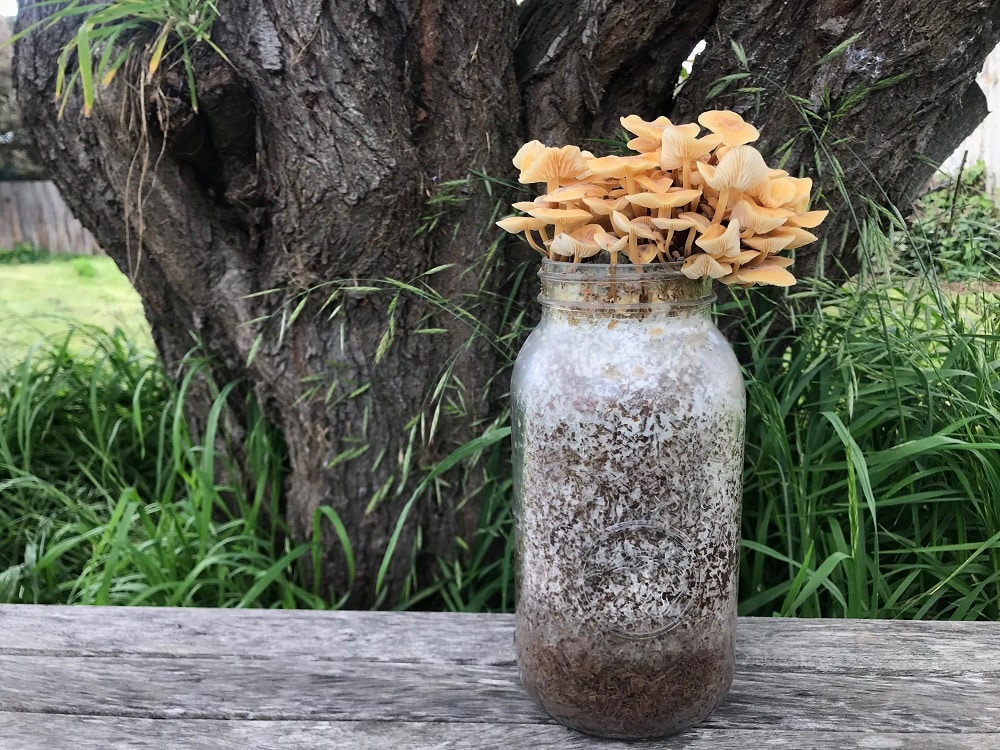 Most store-bought mushrooms are grown in single-use plastics
The big issue with modern industrial mushroom cultivation is the waste and pollution factor.
Single-use, disposable plastic bags are super common at all stages of commercial mushroom cultivation. It's very rare to find a commercial cultivator who reuses containers, especially in high-income countries.
Why is this? It really only comes down to the effort and cost involved in keeping things sufficiently clean.
Labour is far more expensive than disposable plastic, so, unfortunately, the convenience of disposable plastic has won out over using reusable containers, despite the long term health of our planet and communities losing out as a result.
Thankfully, if you choose to grow your own mushies at home, you can sidestep all this.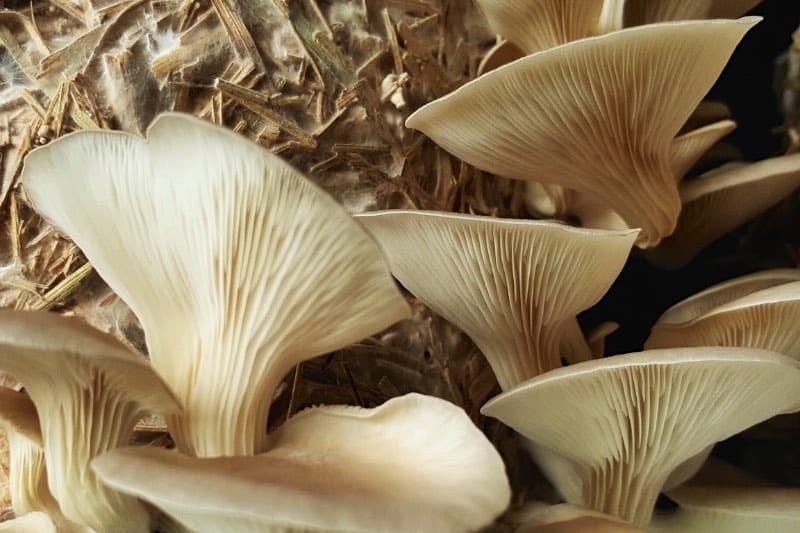 Commercial mushroom growers may also use chemicals for sterilisation
Another not-so-great factor when relying on store-bought mushrooms – commercial mushroom cultivators generally use sterilisation.
These kinds of labs are expensive to set up and often use toxic chemicals, expensive air filtration systems and labour-intensive practices to keep them very very clean.
If you read a lot of the literature about small scale mushroom cultivation, you'll get the idea that you have to create these environments. But actually, you can grow mushrooms at home without needing a lab – using techniques that don't require any sterilisation to succeed.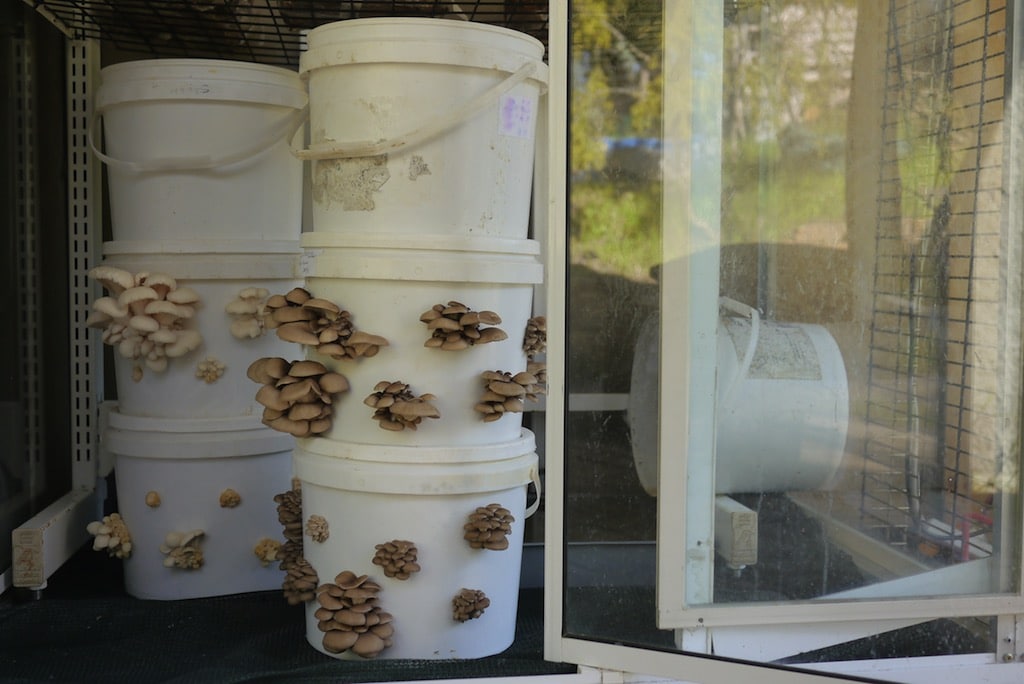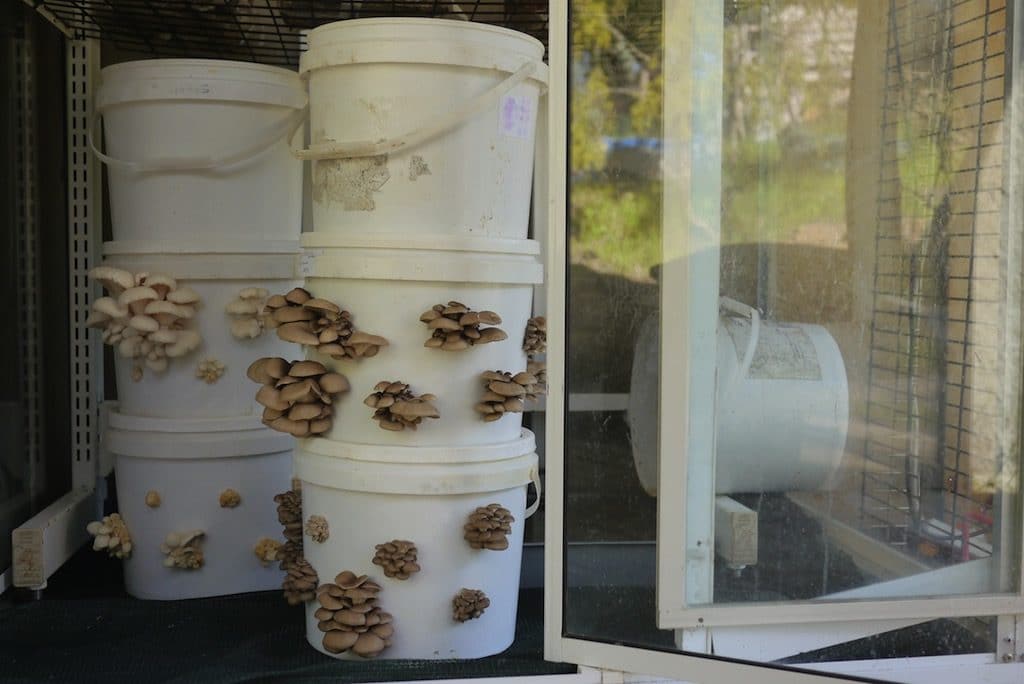 Low-waste Home Mushroom Cultivation – the Milkwood way
Here at Milkwood, we've spent a good 15+ years honing our home cultivation processes down to be as solid and ethical as possible. The way we teach is:
Are appropriate for a beginner, to ensure you achieve a successful grow and harvest a great yield of mushrooms.
Can be adapted to a wide range of mushroom varieties.
Align with permaculture principles, including 'produce no waste'.
Don't require toxic chemicals or too much expensive equipment.
Are appropriate for many contexts and climates, wherever in the world you are.
Ready to learn more about low-waste Home Mushroom Cultivation? You can download our

free 'Getting Started' guide here

.
And we have more information about our 8-week online Home Mushroom Cultivation course here – a great way to learn how to grow oyster mushrooms without plastic bags.
Some more mushroomy resources
A big thanks to everyone who helped create the video and resources above! Firstly to the Milkwood crew for making the whole Home Mushroom Cultivation course, and also Charlie McGee for the music, Brenna Quinlan for the illustrations, and Lara Van Raay for the videography. Thanks, team!
Got questions?
No worries – leave a comment below and we can answer whatever you're wondering. Good luck with learning the ways of the fungi!
We acknowledge that permaculture owes the roots of its theory and practice to traditional and Indigenous knowledges, from all over the world. We all stand on the shoulders of many ancestors – as we learn, and re-learn, these skills and concepts. We pay our deepest respects and give our heartfelt thanks to these knowledge-keepers, both past and present.⁠