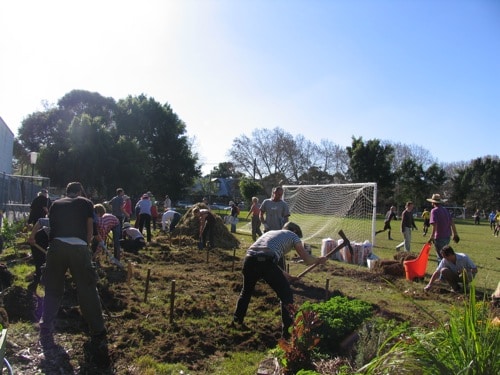 So Winter is ending and Spring is on its way.  We spent this winter just gone traveling to Sydney every weekend to teach Permaculture, which made us feel like short-range nomads very quickly. And the end result is now out there; 36 accomplished urban permaculture designers, who will go on to do amazing things. Not bad for one winter's work.
What was so amazing about this part-time Permaculture Design Certificate course was the incredible diversity of students we had. Being a one-day per week course, these were all folks from Sydney. Mums and dads, uni students, international risk-management specialists, futures traders and school teachers. They came each Saturday or Sunday, depending on what class they were in, sat down and absorbed knowledge.
They dug holes and planted fruit trees and they questioned the fundamentals of what we treat as 'normal every-day living'. They learnt how to design stable, sustainable systems for their families and communities, and they learnt to see their urban surrounds as a feast of possibility.
And in turn, we learned so much from all these lovely folks. They played with Ashar while i had a cup of tea, brought in amazing cakes to supplement my (only occasionally burnt) offerings and brought a HUGE new knowledge base to the class. They became our friends and before long we couldn't wait to get to class each weekend to see everybody and have a chat.
Apart from classes on utilizing permaculture in the urban sphere, soil, water harvesting, trees and their energy transactions and so many other things (see our Permaculture site if you're interested in the details) we went to an amazing urban permaculture backyard in Marrickville and held a 50-strong permablitz at the community garden attached to our class venue.
What i liked best about this course, however, was the the urban permaculture designs the students produced. Everyone worked on real-world projects that they brought to the course – backyards, community gardens, school gardens, public parks, disused lots and even a city farm. And they were amazing! I would love to live in a city that contained such abundant, functional and useful gardens and systems. And maybe, someday, people in Sydney will do just that.
Heck, Sydney now has 40 motivated and competent permaculture designers that it didn't have last autumn – surely something's gotta give. The whole place should be a food forest in no time.
And lastly, and most importantly of all, there were the relationships formed over winter, as a result of us all seeing and chatting and learning with each other each weekend. I watched friendships be made that i know will endure – and they might just change the world while they're at it. We made a big bunch of new friends, and our baby got to play games with multiple new uncles and aunts, which of course he loved. It was truly amazing. Worth all the tiring bits, the burnt cakes and the mr-cranky-pants moments, certainly.
Would we do it again? I think so. It's a good feeling to enter spring knowing you've helped facilitate a bunch of new trajectories over the slow of winter. So watch out Sydney, this spring might just surprise you. There's a host of new permaculture designers about and amongst you, just waiting for the right moment to pounce.
[slideshow]