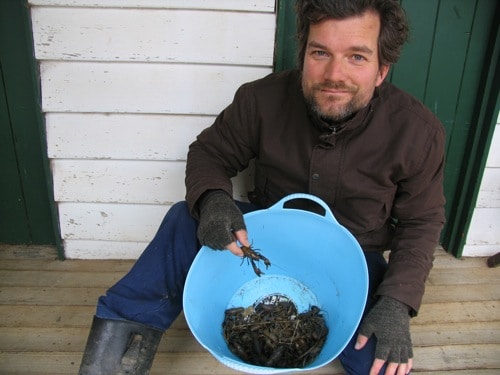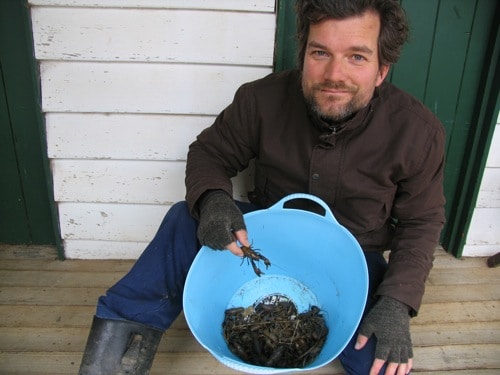 Recently we've un-ravelled one of the mysteries of nature that's been plaguing us for years here at Milkwood. How is it that if you build a dam or a pond, in the middle of nowhere, that over time it naturally becomes inhabited with water-loving creatures like yabbies? How do they know the new water source is there? Can they smell it? Is there some sort of inter-species bush telegraph? This one really had us stumped.
But now, we've seen it for ourselves, so we can tell you too. In certain conditions, the yabbies just walk there.
Last summer, when everything here was dried to a crisp in the drought, we were trying to imagine how the heck critters like yabbies, turtles and so on move from place to place. In high summer, I can't imagine a water-dweller would strike out across a paddock or up a hillside in the hope of finding a new pond to inhabit. They'd be dried to a crisp in a second or two. And then, in winter, it would be so cold they might freeze before they got there…
But in retrospect it all seems so obvious and, as usual, so elegantly designed. Here's how we've seen it work with yabbies: in big rain events, catchments like ponds and dams overflow. This overflow trickles downhill to the next water catchment, which might be another pond, or perhaps a creek. If there are yabbies in the lower catchment, and those yabbies are feeling adventurous (for whatever biological reason), those yabbies may judge that overflow to be worthy of following up to its source, which, i suppose they are betting, is another pocket of water suitable for them to inhabit.
In the case of the overflow from our bottom dam to our creek, the yabbies had chosen well. If they could make it out of the creek, up the bank, across the creekflat and up to the source of the overflow they would have the run of the largest dam on our property. Lots of room for everyone. However (and here I am trying not to channel David Attenborough -esque narration), their journey was not to be an easy one…
Firstly the yabbies had to get past the currawongs, who were picking them off as they made it up the steep bank of the creek and onto the creekflat. It was a bit of a free smorgasboard for the currawongs – they were all hopping about, looking very pleased. The yabbies also had to get past the grey herons, similarly engaged. And then, of course, the yabbies had to get past Nick.
Nick, splashing about in the rain, was admiring our newly filled dams with their perfectly re-set spillways. Going down to the creekflat to see what all those currawongs were doing hopping about, he discovered the march of the yabbies. Being the helpful soul he is, Nick of course went and got a bucket, collected all the yabbies he could find marching (slowly) across the grass, and generously delivered them to the dam above.
The geese were too busy rejoicing in the rain to notice their new neighbours arrive, but as they eat mostly grass I can't imagine they'll be too fussed. A good spring should see a nice big yabby harvest for summer solstice. Or perhaps make that next summer solstice, depending on how long they'll take to grow.
Even if we don't get a yabby harvest this year, at least we've added to the biodiversity of Milkwood. And we solved a mystery, all in one rainy day.
[slideshow]