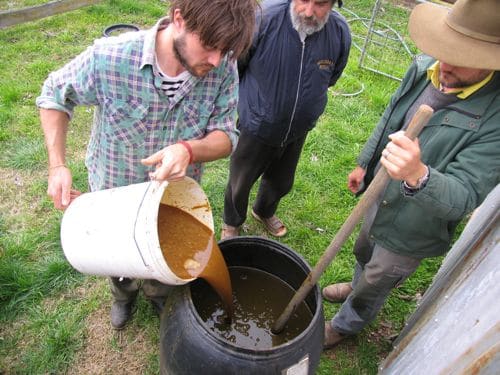 We've brewed up our very first batch of BioFertilizer at Milkwood! Our carefully collected, simple ingredients are all in a big vat next to the woolshed, fermenting merrily. In two months time, we should have 200 liters of concentrated fertility, ready to dilute and spread across Milkwood's creekflat and ridge. Fingers crossed.
BioFertilizer is really a catch-all term for any liquid fertilizer that is good for your soil and which isn't manufactured by a chemical company. We're already working with compost tea at Milkwood to heal and build our fragile soils, and now we're on to BioFertilizer recipes – another tool in our amoury to regenerate this landscape of ours.
This particular recipe was passed on to us by Eugenio Gras of COAS in Mexico. Eugenio specializes in campesina agriculture – ie simple, effective, regenerative techniques that create good soil, healthy land, and good, clean food. The ingredients for this BioFertilizer were super simple, completely non-toxic and readily available. The result, we're told, is a super-fertile brew which we can then dilute and spray across various plantings on Milkwood.
Eugenio and his crew have developed many different recipes for BioFertilizer ranging from simple to complex, all with different applications – we decided to start simple. This recipe is about as simple as it gets, was fun to make and will yield a great brew. This particular recipe is a foliar fermented fertilizer, rich in enzymes and minerals (read: intended to be sprayed onto leaf growth, very good for plants).
The ingredients and the equipment are all readily available, and as long as you understand the point of the ingredients' inclusion, you can potentially substitute where necessary if needs be. This is campesina technology at its best…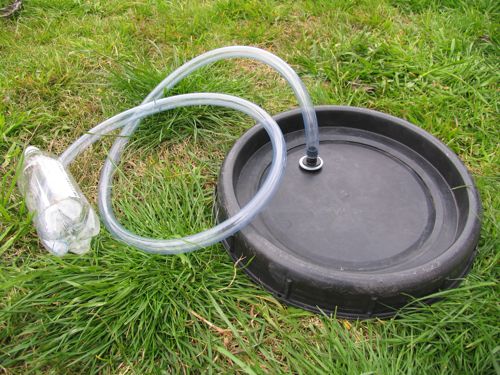 So now our brew is fermenting quietly, in readiness for Eugenio's visit to our farm at the end of this month. It won't quite be ready by the time he gets here but it will be an example of happily farting biofetilizer-in-the-making. Stay tuned for our next biofert making foray which involves cow bones, rice husks and a very hot fire.
If you're interested for seeing Eugenio's processes in action (along with him giving his apparently gob-smacking lectures on campesina technology and regenerative agriculture), feel free to join us at our farm at the end of this month at the Compost Tea and BioFertilizer course we're running: details here.
[slideshow]
And other resources:
Lastly, we'll have to wait till Eugenio gets here before we can ask him, and therefore share with you, the particulars of what this brew creates in terms of nutrients, minerals and enzymes… I'll add a note to this post once we get those answers.
In the meantime, I'm off to source the ingredients for the next brew. And have a rocket powered shower so i don't smell quite so much like BioFertiliser.
You might like to have a look at:
Our other posts on Biofertilizer