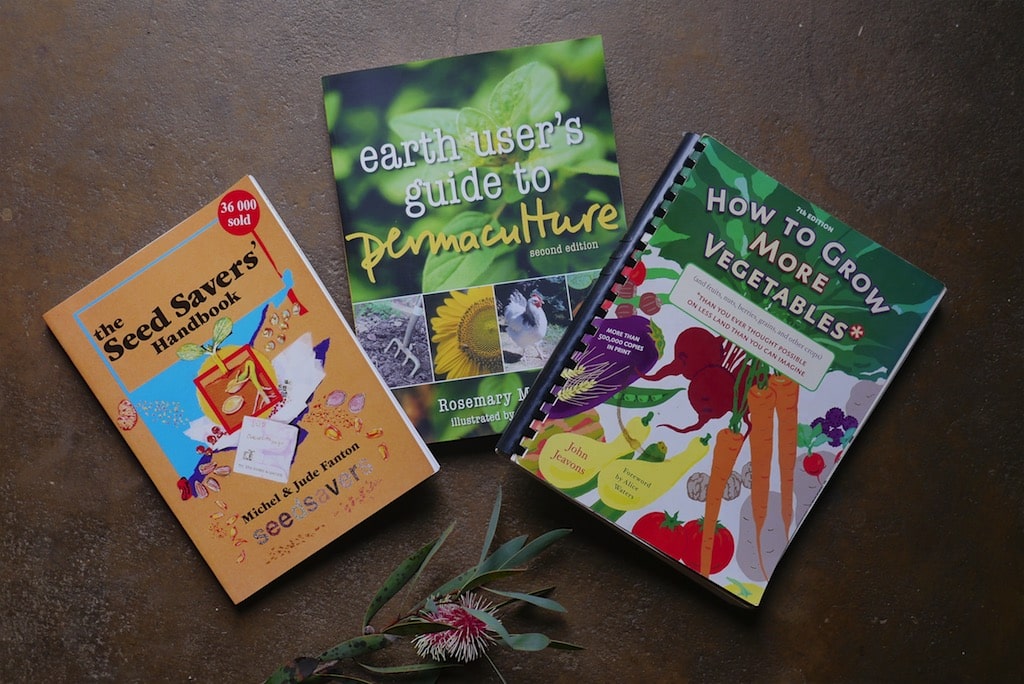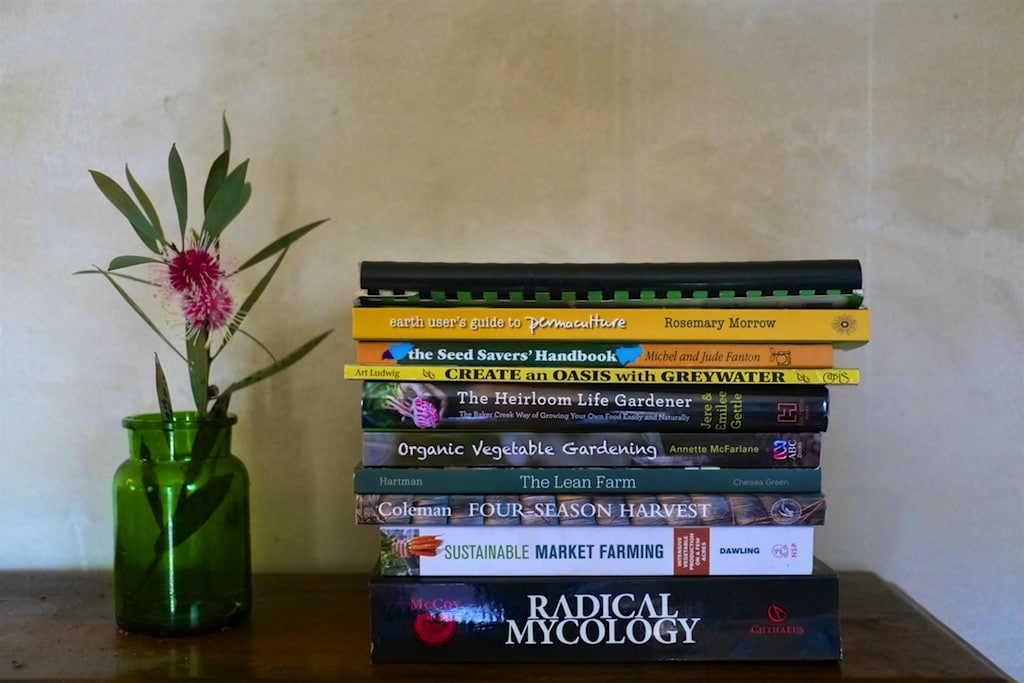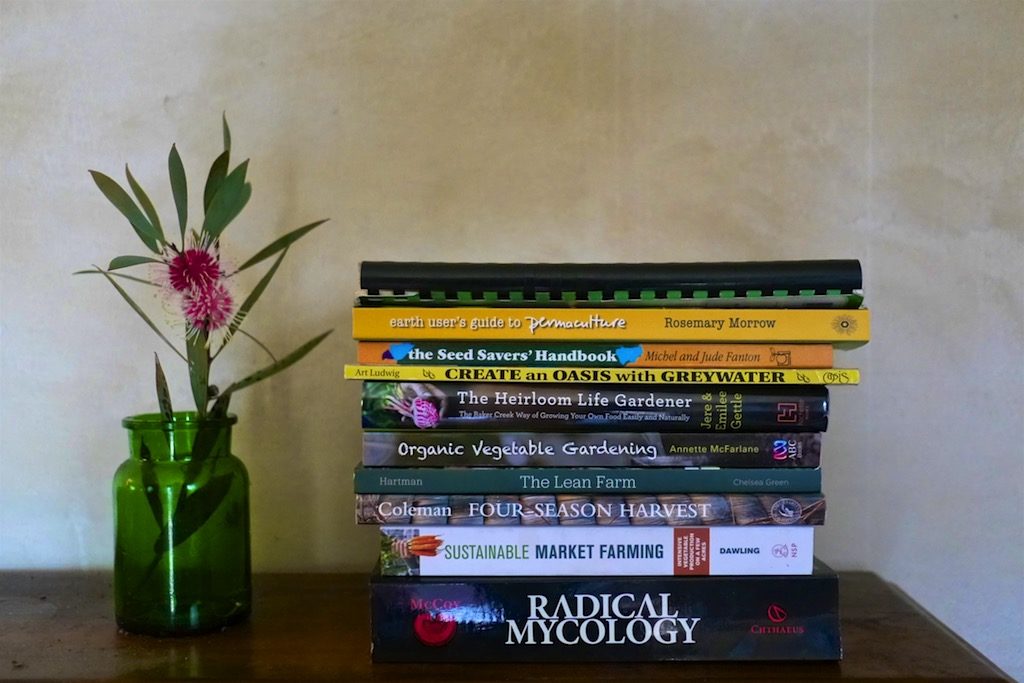 Winter is the season of soup, long nights, and at our house – great gardening books! It's this time of year when we plan, and consider, and compare last year's yields and harvests against what we're dreaming of for next season.
The seed catalogues are strewn across the dining table, there's talk of re-designing that fourth garden bed (the one under the big tree) and it's the time of year when we dream of all the summer crops we might try – while not actually having to grow, tend, harvest and process them.
We sip spicy soup made with passata from the pantry – last season's tomatoes, grown, harvested and bottled for just this time of year when all is quiet and cold. And we read, chat, design, plan, and read some more.
What are you reading? What are you planning? Here's some of our favourite books, that get consulted over and over again. Some of them for planning, some of them for techniques, some of them just to inspire, and to remember why we grow food…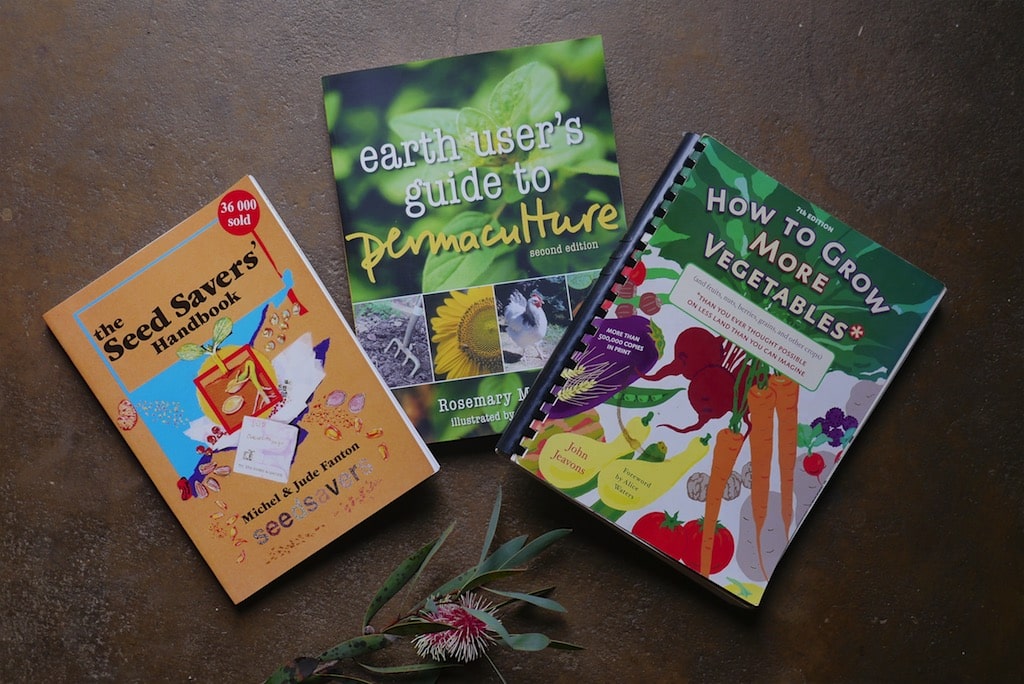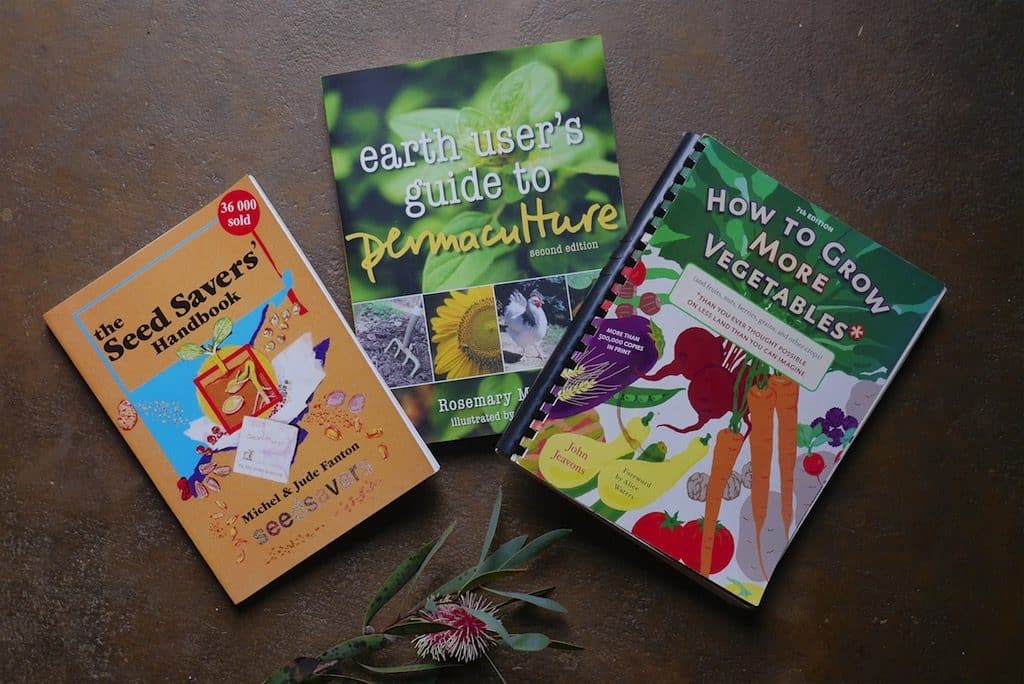 The Seed Savers Handbook – Michel + Jude Fanton
This Aussie classic is a must for anyone intending to start seedsaving, but even before that stage, it's great for it's intimate knowledge of a range of common garden veggies and what conditions they like to grow in.
And of course, if you want to save seed to preserve your varieties, the planning for that starts before you plant, to ensure there's no cross-pollination. This little book is an Australian classic, and great for other temperate/sub-tropical countries as well.
You can get it from: The Seedsaver's website | Booktopia (Aus)
Earth User's Guide to Permaculture – Rosemary Morrow
We love this book so much we give a copy to each student at our Intro to Permaculture courses. It's a solid introduction to permaculture design in general, from a very practical point of view – which of course includes gardening! If you're thinking of re-designing a garden bed or two, or wondering how to integrate your laundry sink water outlet to help something grow, or anything else garden design related, this book is a great start. Written by the legendary Rosemary Morrow.
You can get it from: Permaculture Principles (AU + US) | Booktopia (AU) | Amazon (rest of world)
How to Grow More Vegetables and fruits, nuts berries, grains and other crops than you ever thought possible on less land than you can imagine – John Jeavons
As well as winning the 'longest title of any book in our library' award, this is one of the books we use the most. If you're interested in biointensive growing (we love it as a technique, and use it at Melliodora) then this is the book where you begin. It has extensive charts of plant spacings, seedling propagation and a ton of other interesting things besides. We rate this one highly. I'm pretty sure it's most recent editions aren't spiral bound anymore, so you can even find it in your bookshelf! Bonus. John Jeavon's website has heaps of other resources, too.
You can get it from: Booktopia (AU) | Amazon (rest of world)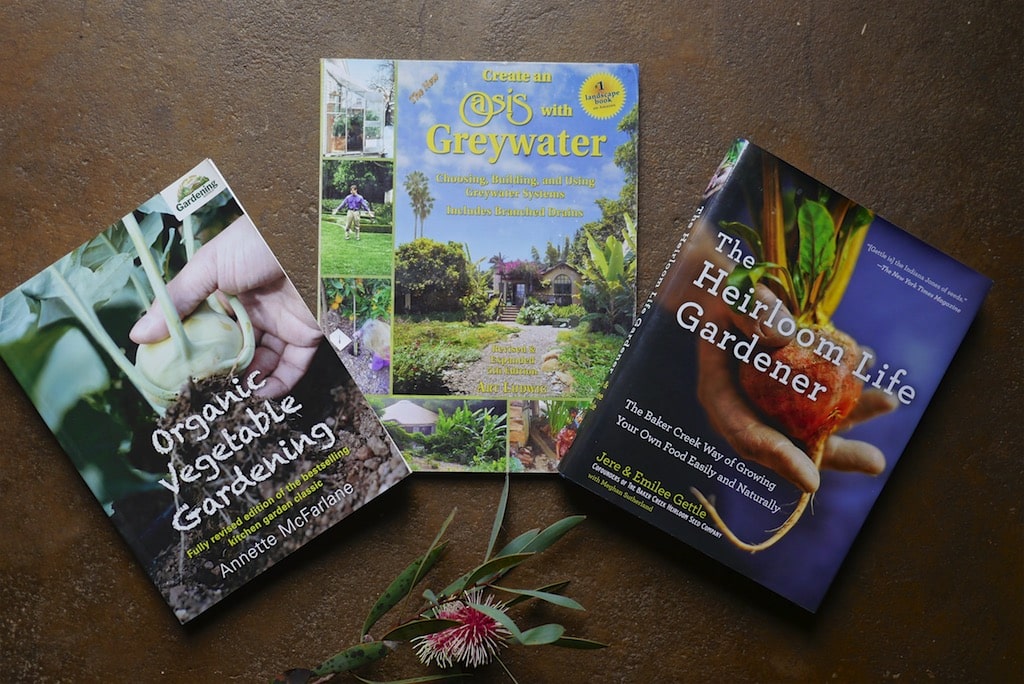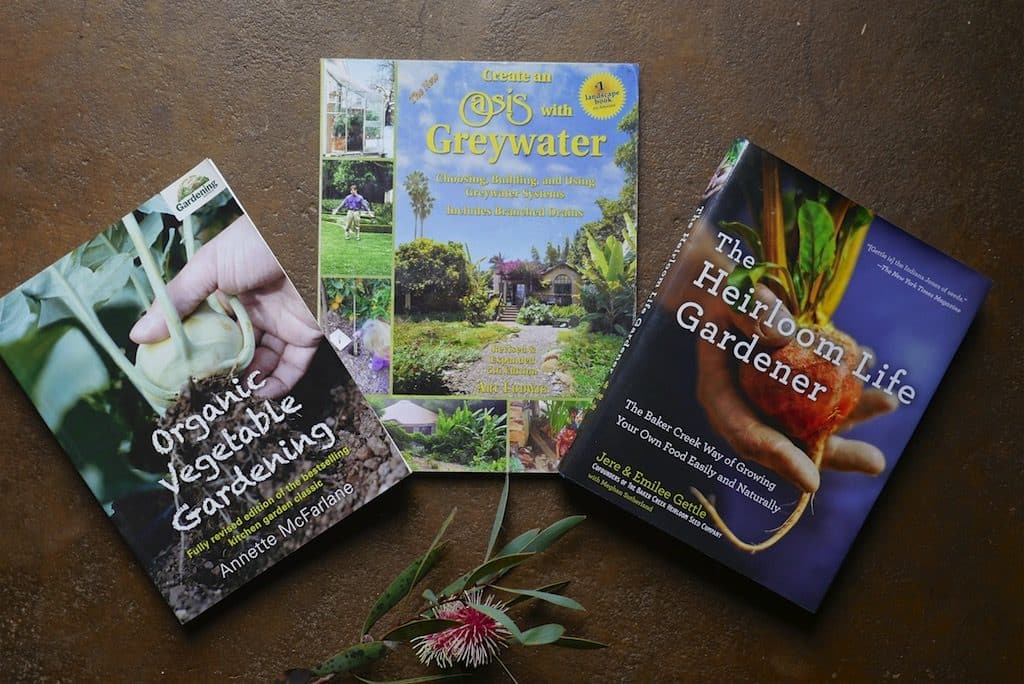 Organic Vegetable Gardening – Annette McFarlane
This is a great organic growing primer for anyone just starting out, especially if you just want to start small and figure out 'techniques' later. It's full of solid information about varieties, growing needs, and taking everything you want to eat from seed to harvest. Annette's website is here.
You can get this book from: Booktopia (AU) | Green Harvest Seeds (AU)
Creating an Oasis with Greywater – Art Ludwig
This awesome book is more up the design end of things BUT with Australian (and many other countries) summers getting drier and drier, using your greywater to water certain plantings and beds, safely and effectively, has never been a better idea. From super simple ideas to water a few fruit trees or a patch of herbs, to the theory and science of how to use greywater safely in simple, effective growing systems, this book is approachable and essential for any home gardener looking to maximise their water supply. Art Ludwig's extensive website (including lots of downloadable greywater resources) is here.
You can get this book from: Booktopia (AU) | Amazon (rest of world)
The Heirloom Life Gardener: the Baker Creek way of growing your own food easily and naturally – Jeere + Emilee Gettle
This book is by the crew at Baker Creek Seeds, an heirloom seedbank in the US whose seed catalogue makes you want to run away and join the seed circus. The book is also a solid growing guide, written by a family who take great heirloom varieties of vegetables from seed all the way back to seed for a living. Great photos alongside a very fulsome gardening book.
You can get this book from: Baker Creek Seeds | Booktopia (AU) | Amazon (rest of world)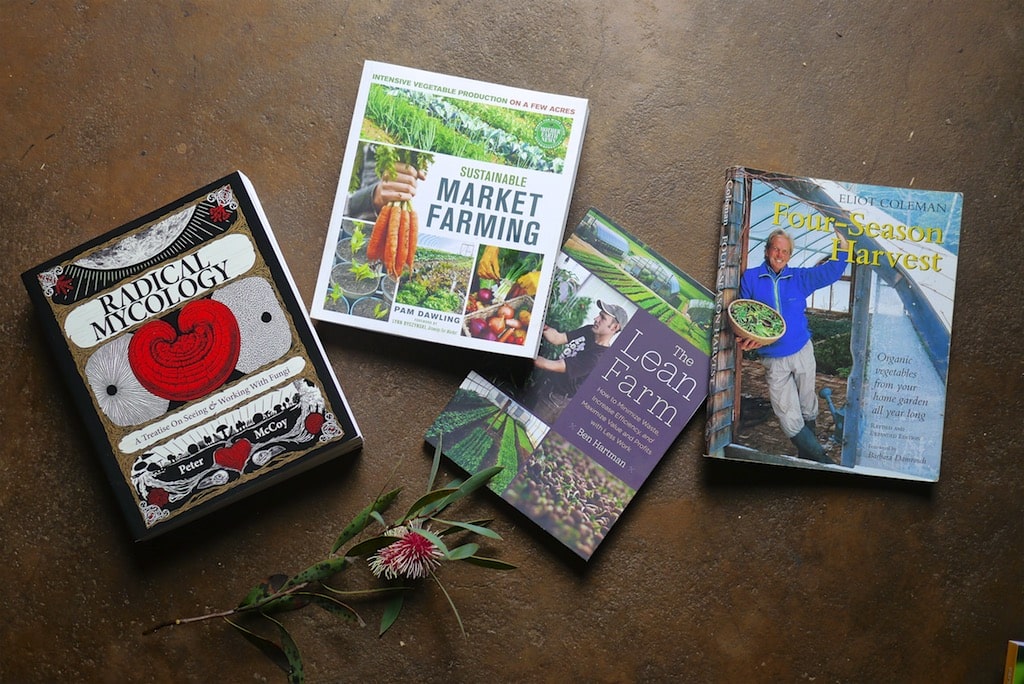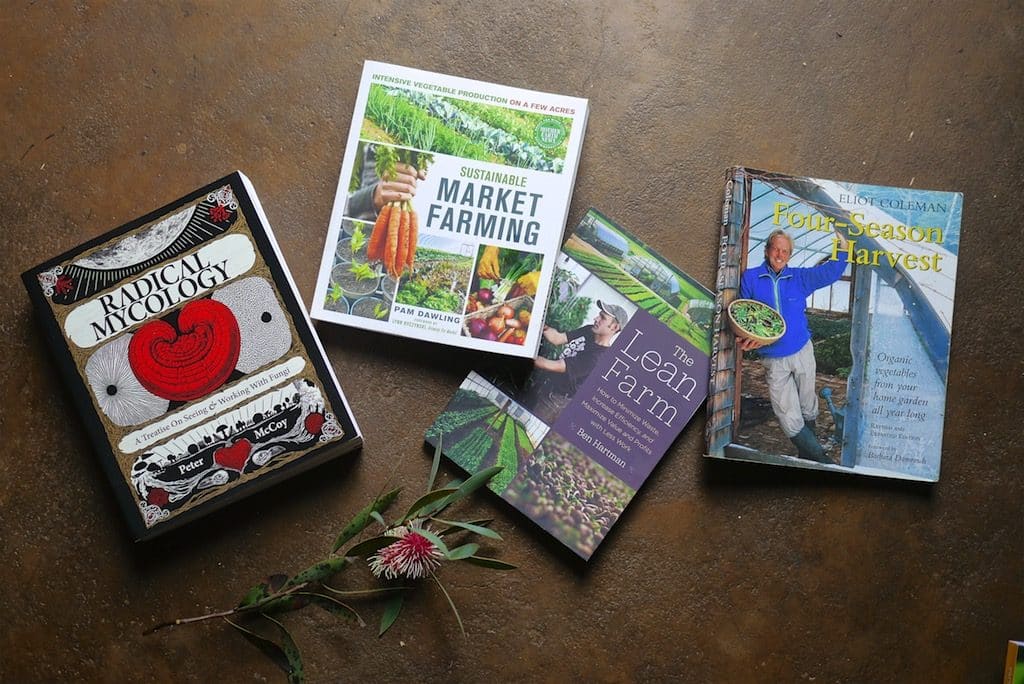 Radical Mycology: a treatise on seeing and working with fungi – Peter McCoy
No garden required! I've added this book for everyone who doesn't actually have a garden, or access to a suitable spot for one, but still wants to grow food. It's mushrooms for you! By the end of this book you will likely be in love with all things fungi, plus you'll have a good understanding of how to grow mushrooms at home in your basement, bathroom or kitchen. Up there with our fave fungi books. The Radical Mycology website is also tops.
You can get this book from: Permaculture Principles (AU) | Radical Mycology website | Amazon
Sustainable Market Farming – Pam Dawling
This book is for the large homestead upwards to small commercial growing scale, but it's still really good for the home gardener if you're like us and growing food for a few households. It's just a really thorough book, with everything spelt out beautifully from bed planning to seed raising to growing and harvesting notes for a wide variety of vegetables. We love this one. Pam's website and blog are also awesome.
You can get this book from: Booktopia (AU) | Pam's Website | Amazon
The Lean Farm – Ben Hartman
This one is all about efficiency from seed to feed, which is a very good thing if you want to grow alot of veggies but don't want to spend ALL your time doing it. Beloved by many of our market gardening friends, this book has alot of good advice that can be applied to backyards just as well as farms. Aimed at making small farms super productive, there's many tips in this book that can be applied at the backyard scale too, in terms of energy efficiency, planning, crop stacking and more. The Clay Bottom Farm website is also full of tips and tricks.
You can get this book from: Booktopia (AU) | Amazon
Four Season Harvest – Eliot Coleman
This classic is for the cool-climate folks because it's full of season extension, greenhouse growing and other great things, though the specific growing info is still solid and applicable to anyone because this is Eliot Coleman we're talking about here. But if you do have a shorter season, and would like to maximise your harvest, this book is a great place to start – and it will lead you to many other resources too.
You can get this book at: Chelsea Green | Amazon
And then there's…
And so many, many more… But we hope there's something here that tickles your interest. We always check our local library before buying anything, we hope yours is well-stocked too. What are you favourite go-to books? Please tell us below, we're always keen for new book goodness!
Happy reading and planning, all xx