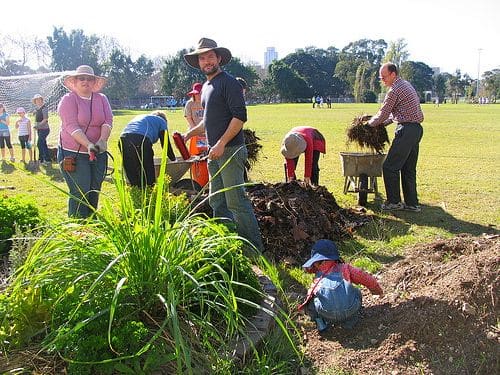 Join us for a fabulous day of digging, planting, learning and growing, with our annual Alexandria Park Permablitz!
10 – 4pm: Monday 13th June: Alexandria Park Community Garden, Alexandria, Sydney.
Everyone is welcome, with light lunch and organic fruit provided. Bring your gloves, your boots, your kids, your dad & your water bottle, and expect to have big day of dirty clean fun.
This year we hope to sort out two things that are threatening this garden's long-term survival: water supply, and couch grass. We'll be dealing with addressing these two issues, as well as a heap of planting, workshops on worms, seedlings, no-dig beds and compost, and of course the annual shovel-and-potato race (the gardeners version of egg-and-spoon).
To get you in the mood, have a look at last year's permablitz report. Contributions of cakes and other yummy things are welcome as always, to supplement our very healthy lunch offerings. Gardening experience is not required, and unbridled enthusiasm is welcome.
We hope to see you there! Rsvp-ing to this event would be appreciated so we know how many vegie wraps to wrap (if you're not on crackbook then just add your rsvp below, or just show up). For details on how to get there by public transport (it's super easy) see the venue details at the bottom of this page.
What to bring:
Water bottle
Hat
Gardening gloves
Any seedlings you'd like to contribute
Garden tools labelled with your name (optional) – there's always more people than tools at this kind of thing! And if you're willing to share them, we will make sure you get your tools back at the end of the day.
If you're further afield and feeling like a bit of backyard transformation, check out melbourne permablitz (the permablitz originators) or their extensive list of regional Australian permablitz groups. Even our friends Rob and Michelle in Calgary, Canada are doing it! It's everywhere!
Many thanks to Alexandria Park Community Garden members for letting us in the gate, and to LoveGrub, the best little cafe in Sydney, for supplying lunch so cheerfully. And to Knock Knock organics for the organic fruit. And to everyone who came last year, and to you, for reading all the way to the end. See you Monday 13th!