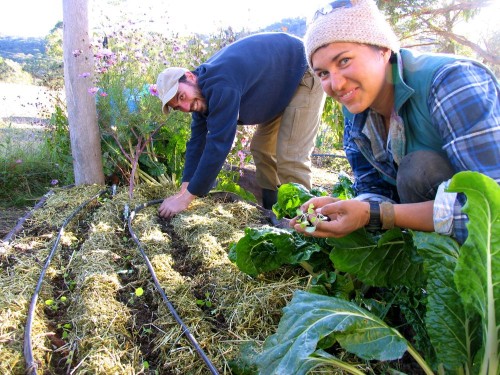 Want to come and get your hands dirty while skilling-up for a future in permaculture and regenerative agriculture? Our Spring internships might be just the ticket!
>> Spring internships: 12 Sept – 6 Dec at Milkwood Farm
Big fat plug? Yes. But applications close on July 6th! And we think these internships are a downright awesome opportunity.

Our internship program is an opportunity to learn a range of on-farm skills as well as further your knowledge of permaculture and regenerative agriculture theory, design and practice.
An internship at Milkwood Farm means opportunities to participate in and learn from everything we're doing and developing on the farm, and the nuts-and-bolts of Milkwood Permaculture's education programs. Our aim at Milkwood Farm is to have our interns leave full of useful skills, and motivated to pursue careers in permaculture and/or regenerative agriculture.
We do this by sharing everything we do and everything we know with our interns and on-farm crew. We are transparent and honest, and we will answer all your questions and share all our available resources with you. We want you to leave our farm confident and capable of pursuing your dreams for a better world.
Within this internship there are available specialties including: permaculture media, permaculture education, animal systems and horticulture.
>> Spring internships: 12 Sept – 6 Dec at Milkwood Farm

Our interns live and work on our small organic farm for 3 months and experience challenging tasks, hard work, good friendships and unique learning opportunities with world-leading teachers and practitioners of permaculture and regenerative agriculture.
This internship is a unique opportunity for acquiring life skills that will guide your future endeavors and to actively participate in both the establishment of an organic small farm and a trailblazing, innovative permaculture education facility.
Essential Requirements:
Permaculture Design Certificate (or equivalent knowledge).
Superb work ethic.
Excellent communication skills.
Ability to work within a task-based system (as opposed to a time based system) of time management.
Dates: 12 Sept – 6 Dec 2011 (12 weeks total)
Internship includes: attendance of 6 world-class courses during internship, additional private sessions with course trainers and Milkwood Permaculture teachers, specialized land based learning programs, full catering for period of internship and use of Milkwood Farm facilities.
Deadline for applications: 6th July 2011
>> Spring internships: 12 Sept – 6 Dec at Milkwood Farm
You might also like to have a look at:
our posts about projects involving

past interns