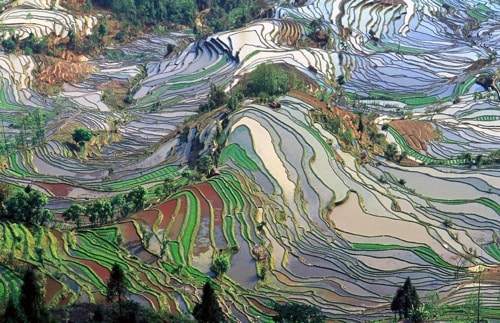 Recognizing simple pattern in nature is easy, and it's the basis of bio mimicry. But just as crucial as recognizing these natural patterns, is thinking about how you can use them to create. That's where the design comes in.
Figuring how to integrate natural patterning into permaculture designs for homesteads, communities, farms and cities in a beneficial way is a core concept in Permaculture theory.
Over this winter we're running a PDC in Sydney, in a one day per week format. After each week, the students get emailed a summary of last week's class.  In case you'd like to peek inside all this stuff, I thought I'd post some snippets of these weekly notes here, for viewing by whoever is interested. This post is Week 3:
Methods of Design & Pattern Understanding:
Firstly, we looked at the concepts in chapter 3 of Permaculture: A Designers Manual – Methods of Design.
We looked at a range of different methods including:
Design by Analysis
Design by Random Assembly
Design by Data Overlay (plan views)
Design by Master Pattern (zones & sectors)
You can explore Nick's mind map of Methods of Design here.
We also explored chapter 4 of Permaculture: A Designers Manual – Pattern Understanding.
The key concepts were:
– Phenomenon (events) occur throughout the natural world in many different media at many different rates and frequencies. Think trees, river deltas, mushroom clouds and lightning strikes.
– Despite the fact that these phenomenon do not share the same media or timings they often share observable patterns.
– These patterns reveal the similar nature of the phenomenon and can provide  an insight into it's likely behavior or end result.
– Pattern understanding has always been an invaluable technique used by humans to make sense of the natural world and to record information which was too complex to record as empirical data. Think of traditional cultures navigating the pacific, planting crops in the deserts of New Mexico or predicting the occurrence of a solar eclipse.
– By learning these patterns we as designers can improve our understanding of our projects and apply appropriate patterns to create designs that provide for the needs of our clients.
And just a couple of pattern images that came up, in case you need reminding of the awesomeness and magnitude at which defined patterns occur and replicate across the natural world…



And a couple of interesting links that came up:
Frozen lightning patterns – made by artist Bert Hickman
Powers of Ten – a film made in 1968 by Ray and Charles Eames which depicts the physical scale of all things and illustrates the self similar nature of the universe… with very retro synthesizers.
Richard Woldendor – an artist who takes amazing aerial photos showing the patterns of the Australian Landscape
When the rivers run dry – by Fred Pearce
A Pattern Language – by Christopher Alexander
In the afternoon we got outside and did what you should always do when your head is full from over-thinking: composting. The important thing to remember when making a compost pile is the ratio of high carbon ingredients to high nitrogen ingredients.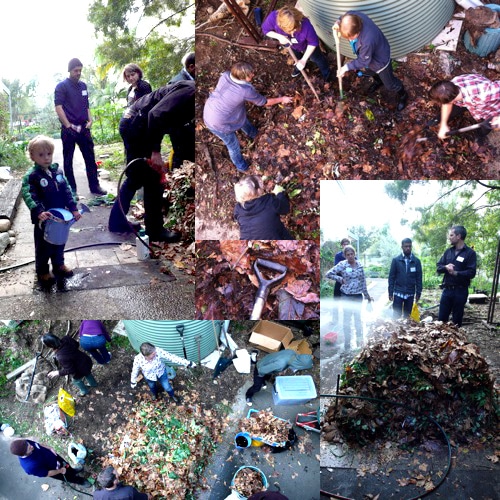 We needed approximately four times the volume of boring/brown/high carbon ingredients compared to exciting/green/stinky/high nitrogen ingredients. Each class made a pile from ingredients the students brought in with them. A great way to finish a full-on day of learning.
Incensed? Hooked? Maybe just curious? Have a look at our permaculture courses and get in on the knowledge.
Related posts: