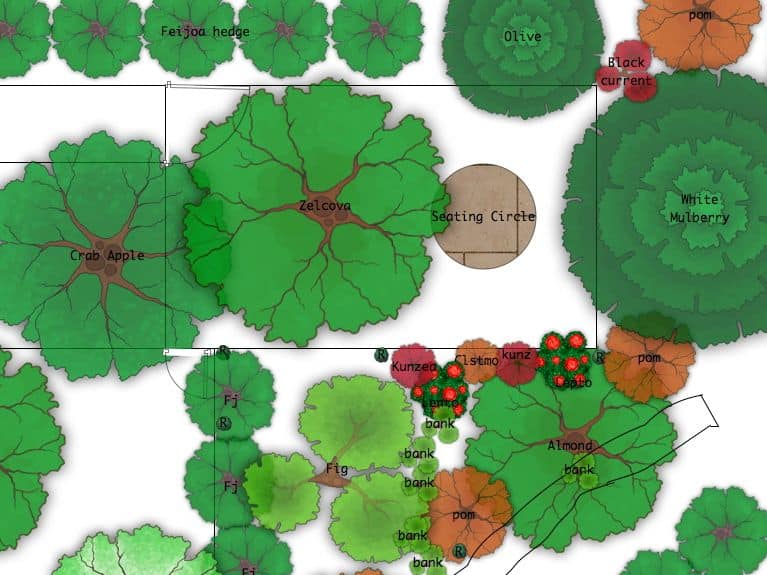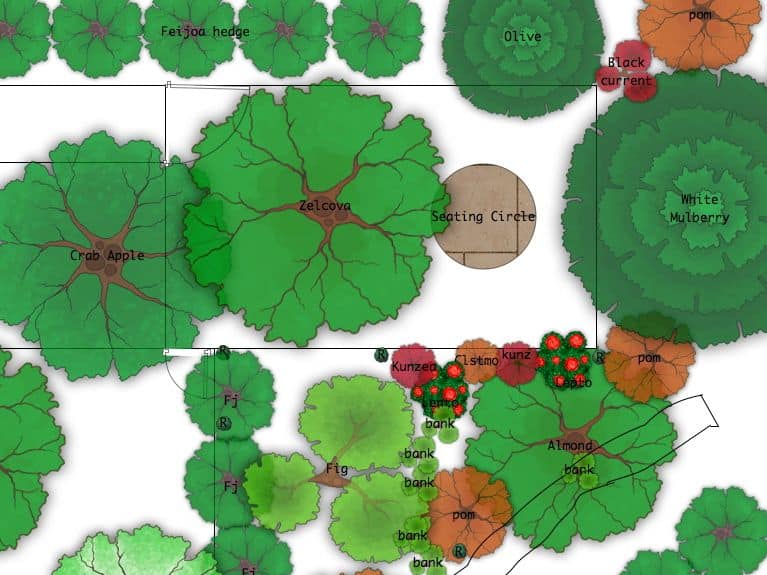 The main food forest at Milkwood Farm sits above our tinyhouse, in a sheltered, east-facing, sloping paddock, with lots of rocky bits and a sprinkling of useful trees. Not for much longer though. We're determined to fast-track it into an incredible, luscious forest garden, dripping with fruit, herbs and shady green nooks.
Enter Dan Harris-Pascal (Harris), our friendly plant whisperer. Harris is currently re-designing this space into an intricate, resilient and abundant forest garden that is suited to our temperate and rather challenging climate. One forest of food for us, coming right up. Or as fast as our climate will allow, anyways.
When we first arrived at Milkwood, one of the first things we did after putting in all our earthworks was start on the food forest preparation. Using our geodesic chook dome to chicken tractor across the hillside, we slowly mulched and planted small circles of ground with pioneer trees and a bunch of fruit and nut saplings.
We hit a couple of snags. The first major prob was our faulty top dam, which directed a small river through the food forest plantings, and killed a lot of trees as they couldn't handle having such wet feet. Yes, we even murdered the rosemary. But then we fixed that problem, by de-constructing the dam and moving it along a bit.
The second snag we hit was lack of water (which is ironic, after the above incident). As outlined here, our rainfall has been very erratic and it was only last spring that our earthworks filled up for the first time. All in all, our food forest has had a hard trot.
That said, we've also harvested buckets and buckets of self-sown pumpkins, tomatoes, silverbeet, rocket and other very useful things from the food forest in the past two years. It hasn't been all bad. But now we're ready to move forward into the next phase – a properly designed and implemented forest garden. Yes please.
So we're starting again. Not exactly from scratch (we do have some trees still in place), but now we have a plan. This spring and beyond, we will progressively install a little garden of Eden above our tinyhouse.
Our forest garden will bear many and multiple varieties of heirloom fruit. It will drip with nuts. It will have carpets of herbs. Our bees will forage, insects will buzz. We will rejoice in its lush, shady greenery in the hottest part of summer, when all else is brown and crispy. Small birds will flit and sing.
The bigger birds will hopefully not flit and sing, nor will they eat all our heirloom fruit. We're going to net them out. But more about that down the track, when the trees are getting closer to bearing.
So that's the plan. The table is awash in books like the Edible Forest Gardens set, Creating a Forest Garden and Tree crops: a permanent agriculture.
Harris is triangulating, contouring and designing madly, muttering about relative placements, nucleus plantings, herbaceous guilds and driplines.
Nick is busy building the tinyhouse below the food forest, but regularly pops up the hill and chimes in about various site considerations in relation to the design.
Harris should have the design for the whole area finished soon. Then it's time to figure out how best to do it all: preparing the ground, make a 5-year planting plan, and figuring out how fast we can move ahead in terms of time, budget and energy inputs.
I can't wait to smell that scent of a forest floor, in the middle of what was, when we arrived, a clapped-out, overgrazed hillside. In the meantime, I'm researching whether pig-tractors are the best way for us to prepare the ground in this scenario. Bear with me.
If you'd like to be a part of this emerging forest garden system, Harris and Nick are running a 3 day Food Forest Workshop on Sept 2-4 of this year. Three days of forest garden design, theory and hands-on learning. It's going to be great and I'm doing the cooking. Get in touch if you're interested.
The first image in this post is a portion of Dan Harris-Pascal's food forest design for Yarralumla School.
Related posts: