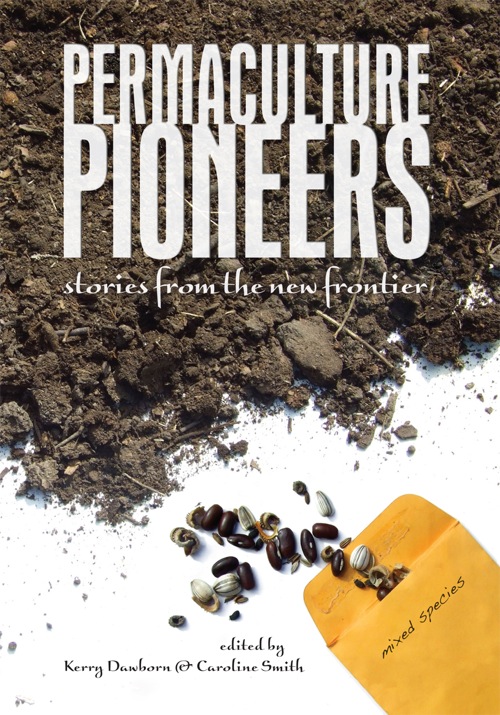 Permaculture Pioneers is a new book looking at the trajectory of permaculture in Australia from the 1970's until right now. It's an amazing and humbling read. And it's launching in Sydney next week on August 25th, with David Holmgren presenting.
At the same event there will be the Sydney premiere of Anima Mundi, a new doco on the future of this planet of ours. Anima Mundi features Vandana Shiva, Noam Chomsky, the Melbourne Permablitz crew and many more thinkers and doers. Sounds like a good night to me!
The launch and film night is on at Chauvel Cinema in Paddington, Sydney on 25th August. The evening starts at 7pm with David Holmgren presenting Permaculture Pioneers, and is then followed by a screening of Anima Mundi, a new film by Peter Charles Downey.
If that's not enough, the screening will be followed by Costa Georgiadis presenting a short shake-up on why Coal Seam Gas is everybody's business (with risks like contaminating our entire continent's ground water, for example), then it's on to organic finger food, drinks, and discussion. Whew.
>> You can book tickets to this event here. I believe the organizers would be greatly relived if you pre-booked. All proceeds go to the Australian Youth Climate Coalition. I'll see you there.
I think Permaculture Pioneers: stories from the new frontier is an important book for a couple of reasons.
This book gives us young-uns a sense of what has gone before. We all (Milkwood very much included) 'stand on the shoulders of giants' in all that we're trying to do and achieve when it comes to permaculture and regenerative agriculture theory and practice.
And while we regularly honor the sources of the info and knowledge and skills we've been passed on, i like the solidity of this object, and it's ability to un-smudge the origins of some ideas and parts of the permaculture movement.
The book is a kind of catalog of esteemed Australian permaculturists, each telling their stories in their own words. Many people we've had the honor to know, work and teach with are here (Bill Mollison, David Holmgren, Rowe Morrow, Geoff Lawton, Russ Grayson) and many MANY more besides.
While not every significant Australian permaculturalist of the last three decades is in here (Darren J Doherty didn't get a look-in, for example), I don't think this book is designed to be a definitive overview; rather it's designed to give a sense of the depth and breadth of the Australian permaculture movement up to this point. And I think it does that very well.
For better or for worse, there seem to be some schools of learning within permaculture education that do not make a focus of 'opening up' students to the work of other teachers and doers as much as they could. Which is a shame, because diversity equals stability and abundance, in all things.
This could be partly due to how we access info these days – each online search leads you through a thread of links and inter-connected nodes, and before you know if you're in a particular branch of the permaculture tree, so to speak. Some branches are more inter-connected than others.
I think this book is most important in that it joins dots and connects people you may not have known learned from, or alongside, each other.  I would have liked to see a fabulous web-like map included in this book showing how each contributor related to each other, but maybe that's a job for an enthusiastic reader (any takers?).
Who got inspired by who. Who worked where in relevance to when. Whose projects influenced which initiatives. Why we have the structures we have today. What has been lost. What has been found.
Reading this book brings back something we were talking to David Holmgren about in May, the subject for his talk at the dinner we held then in Sydney: the idea of 'waves of permaculture', like the waves that ripple through any movement, whether it be activism, literature or industry.
This book is an acknowledgement and an atlas of some of those waves and their side-ripples. It makes me proud to be part of something with so much thought, passion and intelligence gone before, and so much possible yet to come.
As for Anima Mundi, I'm looking forward to seeing it. John Seed, one of the protagonists of the film and it's Sydney showing in particular, is a very deep thinker.
Add to that the interviews with Vandana Shiva (alltime Milkwood hero), Noam Chomsky, Stephen Harding, the fab founders of Permablitz and even Michael Reynolds (Mr Earthship), and you have a lot of possibilities for goodness.
If you're like me and a little shy of esoteric wrappings, I think maybe set that aside, and venture forth regardless with this one. It's got some great contributors and we need more docos and an ongoing discussion around the possibility of 'Earth as organism', in my view.
All in all, I'm really looking forward to this one. Food Connect Sydney are doing the organic snacks, there will be info stalls with interesting groups, and no doubt plenty of firey and meaningful conversations to be had.
Hope to see you there, Sydneysiders. I'll be there with bells on.