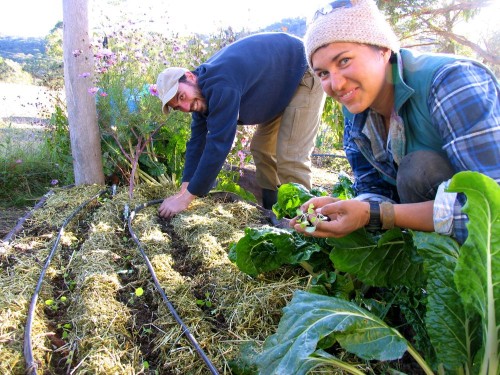 Want to come and get your hands dirty while skilling-up for a future in permaculture and regenerative agriculture? Our next intern program might be just the ticket!
>> Summer/Autumn internships: 25 Jan – 18 Apr 2012 at Milkwood Farm
Big fat plug? Yes. But applications close on November 7th! And we think these internships are a downright awesome opportunity.

Our Milkwood Permaculture Farm internship program is an opportunity to accelerate your skills in permaculture design, process and implementation.
Our interns leave our farm confident and ready to tackle a future as competent permaculture designers with loads of hands-on skills and good knowledge of how to make a range of livelihoods out of permaculture education, design and doing.
Our internship program has been developed to ensure that your 12 weeks at Milkwood Farm are a truly valuable learning experience.
During your time at our farm you will take a range of specialist on-farm courses in addition to our tailored intern program of private lessons and design projects, as well as other seasonal projects that integrate into the farm's seasonal rhythms.
Our aim at Milkwood Farm is to have our interns leave as accomplished designers, full of useful skills, and motivated to pursue careers in permaculture and/or regenerative agriculture.

Essential Requirements:
Permaculture Design Certificate (or equivalent knowledge).
Superb work ethic.
Excellent communication skills.
Ability to work within a task-based system (as opposed to a time based system) of time management.
Dates: 25 Jan – 18 Apr 2012 (12 weeks total)
Internship includes:
Attendance of specialized on-farm courses, extensive private sessions with course trainers and Milkwood Permaculture teachers, tailored design and land-based learning programs, full catering with organic on-farm produce and use of all our Milkwood Farm intern facilities.
Deadline for applications: 7th November 2011
>> Summer/Autumn internships: 25 Jan – 18 Apr 2012 at Milkwood Farm

Interested to see what our past and current interns have got up to?
All our blogposts about interns and their projects