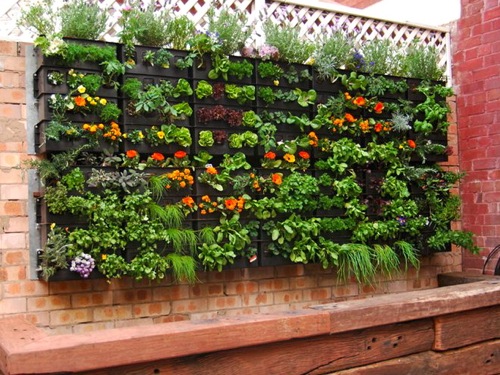 This idea combines two of my favorite urban food growing solutions – vertical gardening, and aquaponics. Can they be friends? Of course they can!
Charlie from Ecolicious in Sydney has been trialling a funky combo of these techniques in various urban gardens he's been designing of late. Vertical growing space of edible vegies and herbs, irrigated by a solar powered pump. And beneath it all, an aquaponics system which cycles fishy nutrients to grow the plants above…
In the Aquaponics workshops that we run with Charlie in Sydney, it's been clear that some students want to design and create vertical systems, to save space and to catch available light.
The modular products that Charlie is now working with are one way to go about it, but there's lots of scope for DIY vertical solutions here too.
Above is a great Windowfarm-esque design created by a student at a previous aquaponics workshop (but maybe even better than Windowfarms, in theory, as it's using aquaponics, not hydroponics, so no nasty chemicals or high inputs).
I think there's also lots of scope to integrate the pallet gardens that are popping up everywhere into this type of design idea… don't you think?
A pallet garden with a small tub (or beautiful nearby pond) of fish beneath it. That's sounding like my type of small-space garden…
We're also now looking at the aquaponics system we installed with Charlie at Alexandria Park Community Center, and we're looking at that wall behind the growbed. Hmm. I think it needs a bit of vertical gardening love, don't you? Maybe next workshop we can get that happening…
Many thanks to Charlie of Ecolicious for the photos and his ongoing enthusiasm and commitment to urban food production, and to all things aquaponic-ish!
Vaguely related posts: