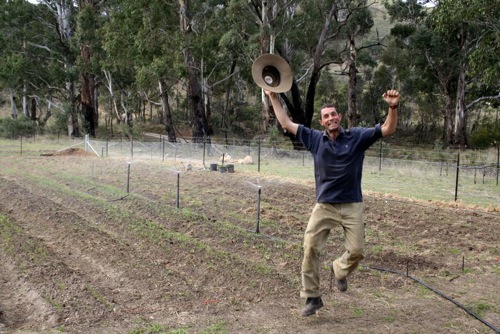 Thanks to the amazing efforts of many forces, I can officially say that we are now feeding everyone at Milkwood Farm from the Organic Market Garden each day! Starting with feasts of fresh rocket, lettuce and pak choi.
It's been an adventure of epic proportions to get to this point. But thanks to our amazing crew, and to Joyce and Michael of Allsun farm, it looks like this whole market garden thing might just work…
It's quite mind-blowing to me to think that only 3 months ago we had some hire-a-pigs tractoring a scruffy patch of creekflat, and that today we have a rocking market garden which is really truly feeding 12 people a day with ease.
Not that I can claim any of the credit. It's mostly all down to Stephen Couling, our Organic Market Gardener (OMG), and his efforts and energy. Which I assure you are quite considerable.
Following on from conceiving this crazy plan back in June (crazy because normal people build and move into their house before worrying about how to feed everyone), we contacted Joyce and Mike from Allsun Farm and convinced them to mentor us through the process of establishing an organic market garden at Milkwood.
Joyce and Mike, as it turned out, didn't need much convincing, and they leapt at the chance. Lucky us. Soon we were planning our first starting an organic market garden course as part of the garden's establishment phase.
Then someone at a course talked to Nick about on-farm traineeships , and how we could put someone through a Cert IV in Organic Horticulture while they worked and learned in our emerging garden. Which we then organized to happen, and so Stephen has joined us at Milkwood for a year. Huzzah!
So now we have someone who is focused on our farm's food supply, in a way that I wouldn't be able to do at this point of mothering, organizing, running a business and all that other stuff I need to do to keep everything afloat. And it is a beautiful thing.
We're now planning to ramp-up production so that by after Christmas, maybe in February, we're supplying 80% of the food that we need for our crew, interns and students at the farm. We're not there yet, but we seem to be pointed in that direction.
I think what I'll start doing here is making a weekly note of what's being planted and harvested at Milkwood, in case it's of interest to anyone.
Our amazing and indomitable farm chef, Rose, is fast making everything that pops out of the garden into the most beautiful, wholesome food. She must get bored of us all going into raptures constantly, I'm sure. But she hides it well.
You can follow Stephen's considerable exploits at the:
His recent post on growing onions is a great one.
Next week's harvest looks like including beetroot tops and cima de rapa (current intern (and closet chef) Olivier's favourite vegetable – can't wait to see what gets made with that!)… fingers crossed we're overrun with tomatoes by Christmas…