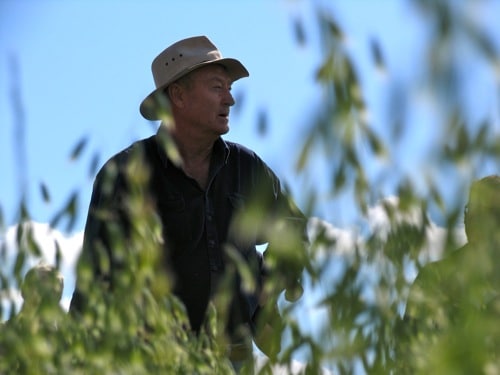 Wow, what a day. Colin Seis in his element, explaining to 30+ folks why pasture cropping is such a big deal. Farmers, permaculturalists and agri-entreprenuers seemed to make up the bulk of the crowd.
There's a lot of interest in this regenerative cropping technique. And so there should be.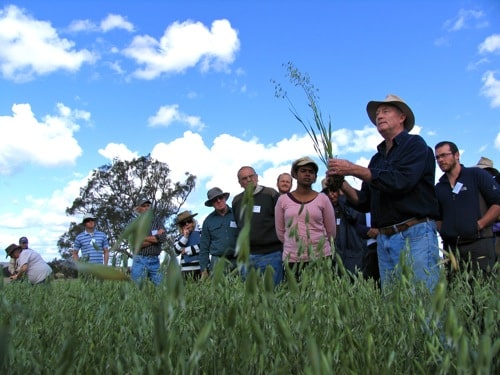 A quick couple of notes from Col's pasture cropping presentation. Winona is Col's famly farm, where he has been developing pasture cropping for over 15 years…
Winona Management (pasture cropping)
Around 25% of Winona is pasture cropped each year
Most paddocks are cropped for one year only (in a row)
Most crops sown are dual purpose (grazing and grain)
Crops sown have been wheat, cereal rye, oats, lupins
15 years ago fertiliser was 100kg DAP (Di-Ammonium Phosphate)
Now 30-40kg DAP or organic/biological fertilisers (different trials in different paddocks)
2011 cost $35/Ha fertilizer, Sowing $30/Ha, seed $15/Ha
Total if contract sown $81/Ha (no pesticides or herbicides used)
Reasons for Pasture Cropping include: grain/fodder, pasture restoration, soil renovation, nutrient cycling and soil carbon building.
For the non-grain croppers amongst us, the above notes could be translated as: this farm is successfully transitioning from conventional cropping to regenerative cropping, while building biomass, soil and retaining nutrients.
You can look at our other pasture cropping posts here, which all have links to more on this subject if regenerative cropping is our thing.
If not, just sleep well tonight knowing that there ARE alternatives to conventional grain growing, that those alternatives work, and that it is both plausible and profitable to transition from destructive cropping practices to an enterprise that heals the land and feeds the community.
Thanks very much to Col Seis for letting us all trample a corner of your oats in the name of knowledge, for your infectious good energy and attitude, and for being brave enough to stick with your + Daryl Cluff's crazy ideas until others caught up.
We're looking to do more Pasture Cropping education at Col's farm in the future. If you're interested, sign up to stay tuned.
And start hassling your local grain growers or suppliers to consider transitioning to regenerative grain cropping!
 This Pasture Cropping Course was part of RegenAG's 2011 Australian program.
RegenAG is a global alliance of farming families & organisations who are committed to helping regenerate the world's farms, soils, communities and on-farm livelihoods. We are the providers of RegenAG in NSW. Nick is also a founding director of RegenAG©.
Completely related posts: