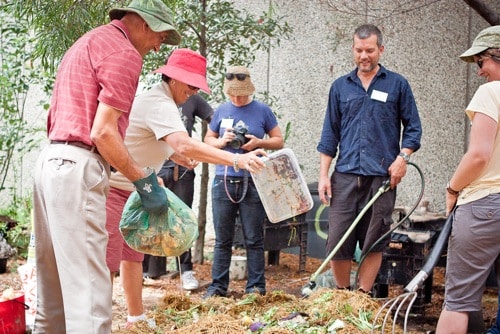 Right now Nick's in the the middle of teaching Milkwood Permaculture's annual summer Urban Permaculture Design Certificate in Sydney, which is always a fabulous two weeks. This year, we have the wonderful Cathy X as one of the students, and she's documenting the process in pictures.
I love this course. It's so similar, yet so different to the PDCs we run at Milkwood Farm – same core curriculum, principles and Nick's fabulous + infectious energy, but realized in the middle of the city, instead of way out in the backwoods. And once again we're blessed to have an awesome group of students to work with for 2 weeks.
And as always, we've got a crew of fabulous guest teachers bringing their specialist knowledge and experience to the course. It's great to be able to engage the students with a range of perspectives during this time – it makes the course so much richer, and i think it helps the knowledge sink in…
This edition, we've got Dan Harris Pascal talking trees, Alexia Martinez talking climate, Adam Grubb talking soils, urban permaculture design and PERMABLITZ (coming to that?) and a couple of other short guest sessions.
All this learning is topped off by site visits to Michele Margolis's brilliant urban permaculture system in Marrickville, and Michael Mobbs' acclaimed Sustainable House in Chippendale. It's a big two weeks…
Here's a couple of pics from the course so far. All photos by Cathy X, with thanks.
Our next two Urban Permaculture Design Courses in Sydney are in March-June (part time) 2012 and July (2 week intensive) 2012
And a quick note that, as part of this 2 week session we're hosting a Permablitz info night on Monday which everyone is welcome to attend. It will be great.
Associated permaculture bits on Milkwood.net
And…