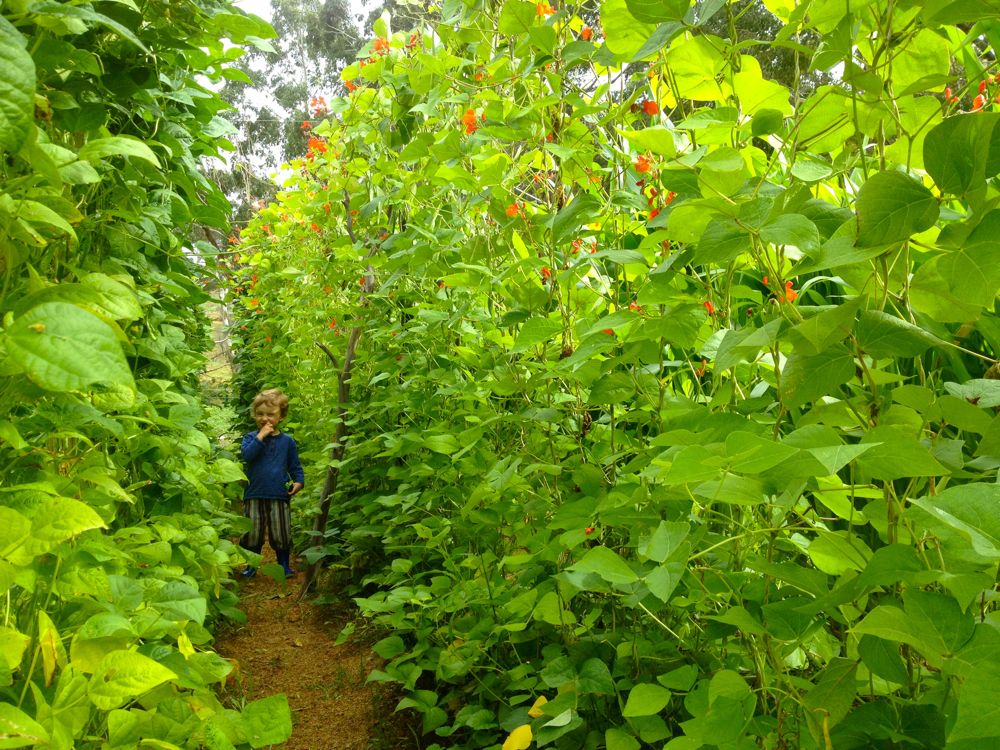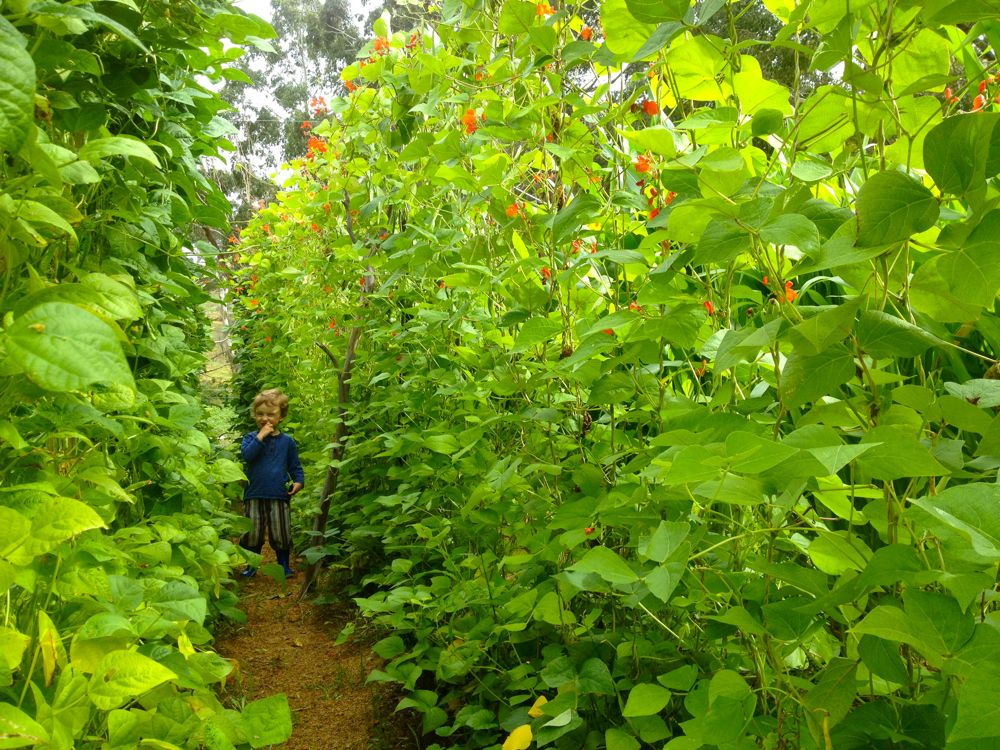 Is it bean season where you are? At Milkwood Farm we're awash in them. Green beans, purple beans, borlotti beans, scarlet runner beans… it's one big bean-athon.
Down in our market garden is a strange and extensive structure called The Bean Banjo. The Banjo is our bean growing trellis of sorts, constructed from polypipe and star pickets, with vertical strings of jute. It's worked extremely well and was very easy to build.
Stephen (the Milkwood OMG) dreamed up The Bean Banjo in the spring as a way to quickly create a climbing bean structure which could be easily harvested from summer onwards.
The idea being that the jute strings could be snipped at the end of the season for easy harvesting of whole bean plants, for the type of beans that you intend to dry. We haven't got to the drying stage in this season yet, but we sure have got as far as the picking of green beans…
Just FYI, here's our bean factoids so far:
Beans planted (inside OMG):
Scarlet Runner Beans: 58
Purple Beans (Purple King): 20
Green Beans (Giant of Stuttgart): 42
Green Beans (Veense) : 96
Borlotti Beans: about 200
Beans harvested so far this season:
Scarlet Runner Beans: 20.2 kg
Purple Beans (Purple King): 2.5 kg
Green Beans (Giant of Stuttgart): 11.2 kg
Green Beans (Veense) : 21.9 kg
Borlotti Beans: none harvested yet (will pick as dry beans)
Which brings us to a total of 55.8 kg of beans harvested so far – all varieties still flowering and producing. Thems quite a few beans! But they're a marvelously versatile and delicious vegetable, so that's fine with us!
So far Rose has cooked up beans as: green bean chutney (to Stephen's mum's recipe – to follow), many and varied bean salads, bean and chicken soup, stacks of steamed green beans as a side dish dressed simply in butter and/or balsamic vinegar, and a bunch of other beany bits.
What's your favorite way to eat green beans? Any fave recipes we should know about?
More posts about:
Rocket Stove Showers (ok that's a bit random but they DO relate – if you grow food, you need a wash)